New Restaurant Alert: The Lost Bread HQ at Teachers Village, Quezon City
You can finally find the lost bread.
The Lost Bread HQ
80 Maginhawa Street, Teachers Village, Quezon City
Contact: 0917-821-2111
Open from 11 a.m. to 11 p.m. (Tuesday to Sunday)
Also read:
CHECK IT OUT: The Lost Bread at StrEAT in Maginhawa, Quezon City
The Lost Bread expands to second branch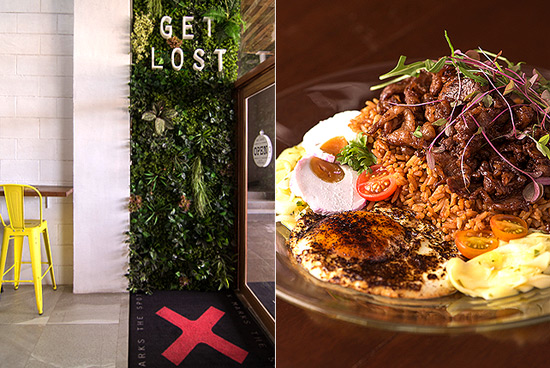 (SPOT.ph) Mention The Lost Bread to any self-respecting food lover across the Metro and surely you'd elicit an exclamation or two over their line of inventive, photogenic milkshakes. Patty Marabut and Emil Ongchuan, the folks behind this Maginhawa staple, however, say these frothy drinks are just the tip of the iceberg.
ADVERTISEMENT - CONTINUE READING BELOW
CONTINUE READING BELOW
Recommended Videos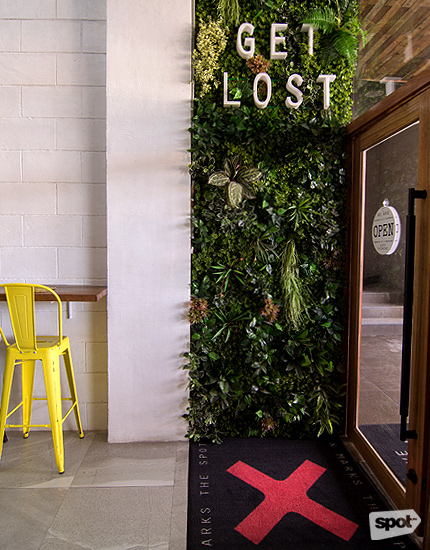 Get lost and find some crazy desserts.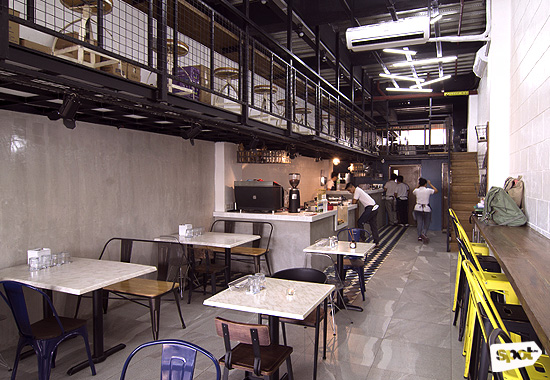 ADVERTISEMENT - CONTINUE READING BELOW
It has a very stark, industrial vibe.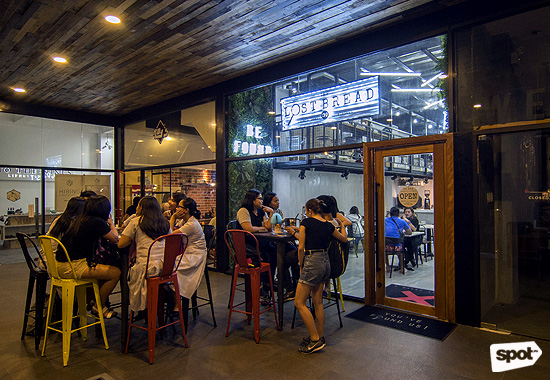 An immediate favorite
The twosome's latest attempt to tease taste buds comes in the form of The Lost Bread HQ, a more inclusive take on their famed StrEat Maginhawa Food Park booth, now dubbed as "The Lost Bread Milkshake Bar." "We don't have just milkshakes here," Patty explains. "We now have rice meals, pastas, and finally, the French toast line."
ADVERTISEMENT - CONTINUE READING BELOW
Due to the limited space in their StrEat pop-up, their French toasts were forced to take the backseat. Now, with a bigger kitchen and a more imaginative crew, the spotlight can be cast on those golden, brioche toasts that they garnish with all our kiddie favorites. The S'mores (P180), for instance, marries sweet endnotes with warm memories of childhood. It's a treat for the younglings, especially, who are likely to get a kick out of mouthfuls of extra large mallows and crushed graham crackers.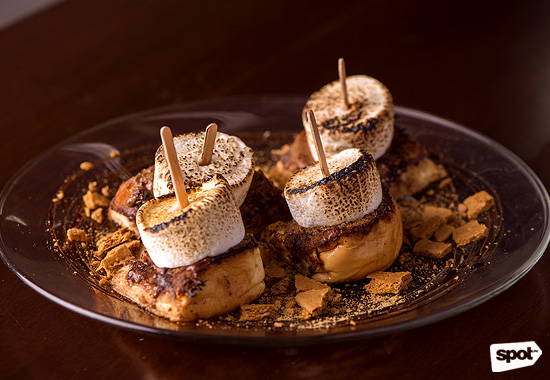 ADVERTISEMENT - CONTINUE READING BELOW
S'mores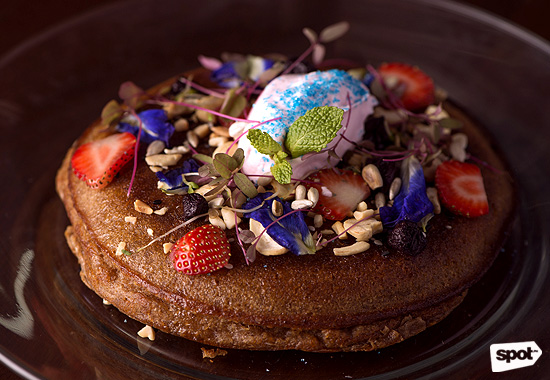 Maple Glazed Hotcake
If you are coming in for brunch, do give the best-selling Maple Glazed Hotcake (P190) a try. The breakfast go-to—inspired by Melbourne brunch specials—is every bit a testament of The Lost Bread HQ's philosophy. "We like to play around with food," Emil says. "We really want to push the limit." This beautiful jumble features a cinnamon batter infused with a fruity twist (they use in-season berries), and finished off with a play of nuts, blue pea and red amaranth petals, and a dollop of double cream (an ingenious blend of whipped cream and cream cheese).
ADVERTISEMENT - CONTINUE READING BELOW
For those up for more filling savory fare, The Lost Bread HQ's strong suits lie in the Beef Tapa with Coffee Rice (P270) and the Stuffed Pork Katsu (P275). Emil says these specialties, while experimental, are still familiar treats for the discerning foodie. "We meet halfway," he explains. "[The Lost Bread HQ] is all about reinventing food and having fun, but we still tone it down so there can be something [on the menu] for everyone."
The Beef Tapa with Coffee Rice, while a popular Pinoy dish, is not your everyday tapa. The dish is a celebration of several intricate flavors: Angus beef tapa, espresso-infused rice, mango salsa, salted egg, and cherry tomatoes.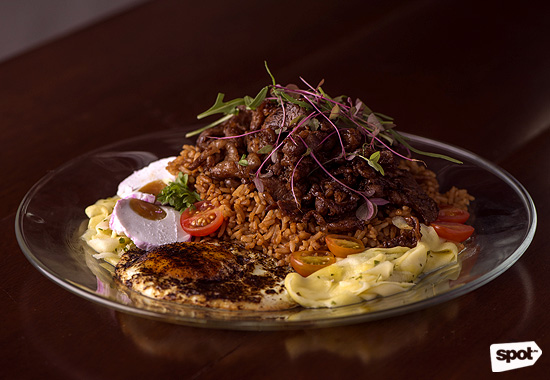 ADVERTISEMENT - CONTINUE READING BELOW
Beef Tapa with Coffee Rice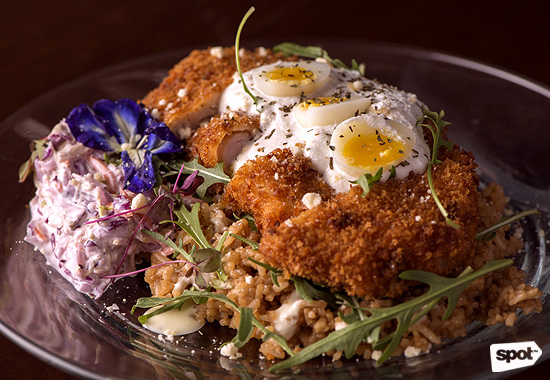 Stuffed Pork Katsu
The Stuffed Pork Katsu, meanwhile, is reminiscent of a heavily packed cordon bleu (full and not the hollow things we so often see). The mound is loaded with honey-glazed bacon and mozzarella cheese, and served atop a bed of rice flavored with oyster juice, sour cream, and garlic. And as if the disparate, pushy flavors weren't enough, you can opt to complement each spoonful with some wild arugula, Parmesan foam, coleslaw, and quail eggs. Really, anything goes when it comes to this dish.
ADVERTISEMENT - CONTINUE READING BELOW
Then, cool down with their crafted sodas, beginning with the Soda Pop (P180). A gourmet, plant-based popsicle from Liq My Stick makes the centerpiece of this drink, which lends a tarty punch to the mango puree, vanilla, and soda water. You can take the popsicle separately or use it to mix the ingredients together.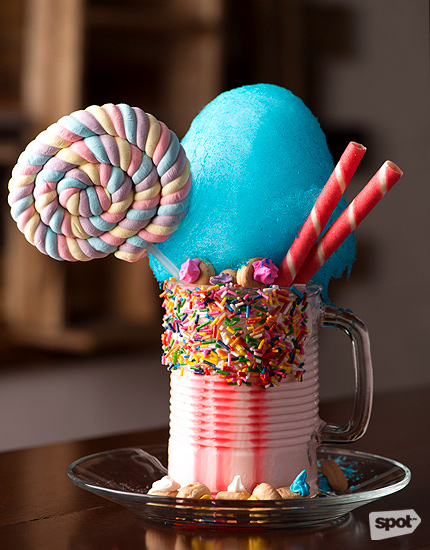 ADVERTISEMENT - CONTINUE READING BELOW
Carousel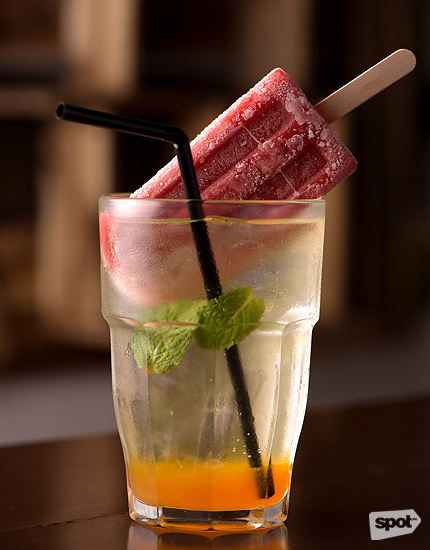 Soda Pop
Another more popular alternative, of course, is their range of milkshakes. Their over-the-top milkshakes at HQ—which they coin "#overshakes"—are snazzier takes on The Lost Bread favorites. Start off with the Carousel (P295), which guarantees bouts of nostalgia with its chosen elements: peppermint cotton candy, Choc-Nut bits, sprinkles, wafer sticks, ganache, mallow swirls, and iced gems.
ADVERTISEMENT - CONTINUE READING BELOW
End your journey by sampling their Pastry Board (P165/two selections, P295/four selections)—a collection that they frequently change to keep guests guessing. Everything on the board is handcrafted in-house by 18-year-old pastry chef Colleen Santiago.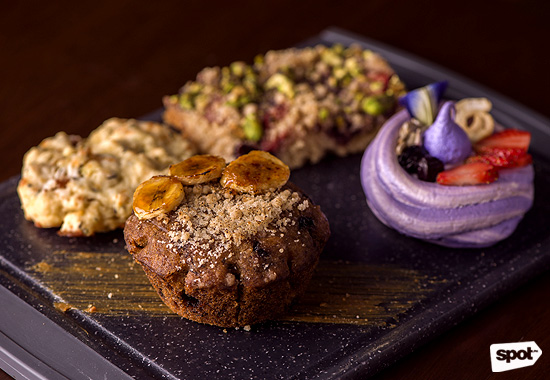 Pastry Board
The Pastry Board we chanced upon is a colorful display of Colleen's mastery of the craft: Pavlova (a chic clump of meringue with Chantilly cream, berries, sunflower seeds, and blue pea petals); Banana Muffin (a soft, spongy cake served with chocolate chips and banana slices); Mixed Berries Streusel (a chiffon block folded with berries, streusel, and pistachio); and Scones (packed with chunks of bacon and cheddar and mozzarella cheese).
ADVERTISEMENT - CONTINUE READING BELOW
Patty and Emil hope that through these fun, random delights, they can be a step closer to reforming the Maginhawa food scene. "We really hope that it transitions to something bigger than just 'cheap food,'" Patty says. "Food should be about high quality, getting your value for money, and [enjoying] the best ambience to hangout in."
Photos by Hans Fausto
Load More Stories