Food Crawl: Cebu City
Take your tummy on an adventure beyond lechon in the Queen City of the South.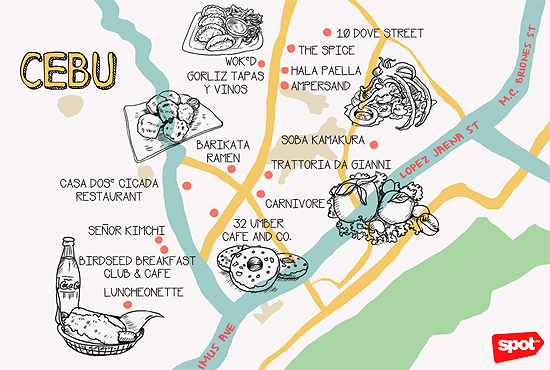 (SPOT.ph) Cebu is growing, and its restaurant scene is keeping pace with so many new joints opening on the island province. We've rounded up a list of 15 dining destinations—a combination of tried-and-tested older outlets and newer eateries that reflect Cebu's vibrant international culinary landscape. Expect no lechons and just a sprinkling Pinoy fare from this list of restos that will remind you of home—not yours, but someone else's far away.
ADVERTISEMENT - CONTINUE READING BELOW
CONTINUE READING BELOW
Recommended Videos
Also read: SPOT.ph City Guide: Davao City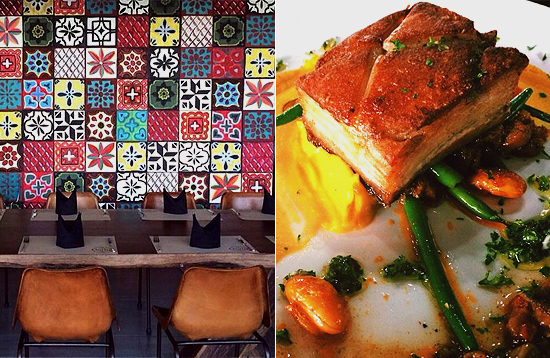 Gorliz Tapas Y Vinos
2/F Streetscape, Paseo Saturnino, Ma. Luisa Road, Banilad
Contact: (032) 564-9825
www.gorliztapasyvinos.com
Open from 5:30 p.m. to 11 p.m. (Monday); 11:30 to 2 p.m., 5:30 to 11 p.m. (Tuesday to Thursday and Sunday); 11:30 to 2 p.m., 5:30 p.m. to 1 a.m. (Friday to Saturday)
ADVERTISEMENT - CONTINUE READING BELOW
Gorliz offers fine Spanish cuisine and a good wine selection to match. The menu has some staple tapas such as the Crispy Anchovies (P180), Tortilla Espanola (P160), and the Gambas al Ajillo (P280) as well as bar menu mainstays such as cold cuts and cheeses. We suggest that you go for some Spanish treasures: the Crispy Serrano with Morcilla, served with mashed potatoes and topped with a gorgeous poached egg laced with truffle oil, and the unapologetically indulgent Pintxos de Foie Gras con Jamon Jabugo de Bellota which are available from time to time. Make a reservation, ahora mismo!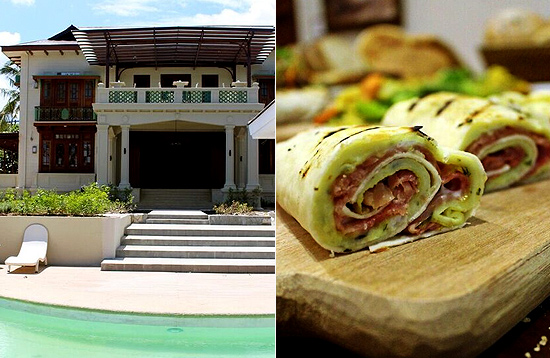 ADVERTISEMENT - CONTINUE READING BELOW
Casa Dos' Cicada Restaurant
Sanjercas Ville Road, Gorordo Avenue
Contact: (032) 239-6265
Following the success of Circa 1900, owner Chef Steve Shrimki is all set to launch Casa Dos this June, a dining and events venue housed in one of Cebu's most elegant residential structures. It has facilities for functions, dinners and poolside parties. While Circa 1900 has gained a following for fine dining, Casa Dos' restaurant, Cicada offers a more casual breakfast, lunch, and merienda menu as well as cocktails and bar chow for those who want before or after dinner drinks. Casual menu, in Cicada's culinary vocabulary, is inventive fusion cuisine; Hainan Style Chicken on Turkish Bun (P285), Leg Ham Omelette with Arugula (P225), Open Sourdough Bun with Thai Fish Cake served with Slaw (P265), Pulled Pork with Atchara Wraps (P210), among others. Guests with cravings for sweets can head to The Noshery, a gelato station and pastry work shop adjacent to Cicada. 
ADVERTISEMENT - CONTINUE READING BELOW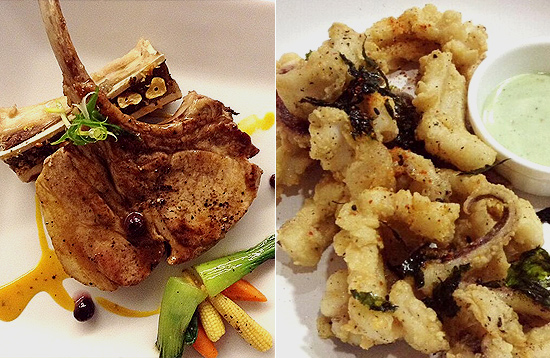 Carnivore
A6, The Gallery, Pope John Paul II Avenue
Contact: (032) 231-1440
/facebook.com/carnivorecebu
Open daily from 11:30 a.m. to 9:30 p.m.
While Gorliz Tapas Y Vino might be likened to sultry, exuberant flamenco music, Carnivore is perhaps the Cebu culinary scene's answer to rap with its hefty servings of in-your-face meaty delights. Expect the usual pork, beef, lamb, chicken, and seafood, plus some exotic wild boar and—be brave now—frogs. For starters, perhaps try the Chop and Marrow (P435) (pork tomahawk and local Kitayama Wagyu beef bone marrow) which is served sans the usual gravy. When in Carnivore, do as carnivores do: spread the marrow over the chops as you would spread butter over toasts, and savor the goodness of tender, juicy meat and glorious fat.
ADVERTISEMENT - CONTINUE READING BELOW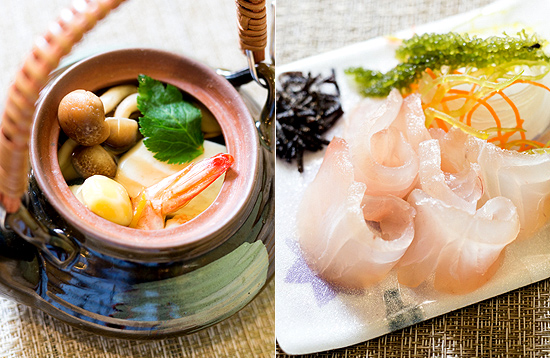 Soba Kamakura
E.C. Building, Greenhills Road, Casuntingan, Mandaue City
Contact: (032) 417-2481
/soba-kamakura.com/en
Open from 12 p.m. to 2 p.m. and 5 p.m. to 10 p.m. (Tuesday to Sunday) (by reservation only)
You're going to thank us for this one. Soba Kamakura's menu reads like haiku—short but moving. The place is sparsely decorated too, an almost meditative space where you can focus on the poetry that's about to unfold inside your mouth. The quiet joint serves just four soba varieties and six side dishes that the chef suggests you order while watching him prepare your meal. Bring your card or cash (lots of it) so you won't faint when you get the bill: The Unagi Soba is the most expensive at P1,380, the Artisan Soba is the cheapest at P760; side orders start at P120 for the Itawasa (slices of kamaboko or fish cake) and go as high as P320 for the Shimeji Dobin Mushi, a dashi soup with shimeji mushrooms. They also have set menus which include an appetizer, main dish, and dessert. Soba Kamakura seats just a few and it's not cheap, but then good poetry does come with a price.
ADVERTISEMENT - CONTINUE READING BELOW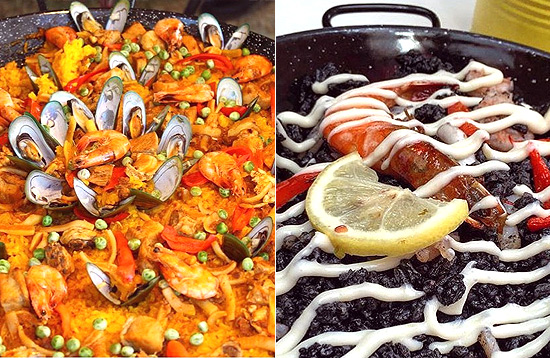 Hala Paella
Robinsons Cybergate, Fuente Osmena; Banilad Town Center, Gov. M. Cuenco Avenue
Contact: (032) 344-4252
/facebook.com/halapaella
Open from 10 a.m. to 9 p.m. (Fuente Osmena); 10 a.m. to 11 pm. (Cuenco Avenue)
This restaurant serves not just its signature paellas—such as Paella Valenciana (P138/solo, P268/grande, P508/familia), Paella Negra (P118/solo, P228/grande, P478/familia), or an adventurous reinvention, the Paella Lechon Paksiw (P128/solo, P248/grande, P488/familia)—but a host of other Spanish dishes such as the Chipirones (P198)—tender baby squid slow-cooked in olive oil, man-sized pork ribs called Chuletas (P108), together with Spanish menu regulars like Callos (P118) and Lengua (P138). For those who want a quick meal that's easy on the pocket, Hala Paella's Bestseller Meals (servings of rice topped with a choice of Callos, Lengua, or Salpicao de Cerdo with Iced Tea) are definitely a steal at P98 per order. You don't have to look far for dessert—there's Churros priced at P78.
ADVERTISEMENT - CONTINUE READING BELOW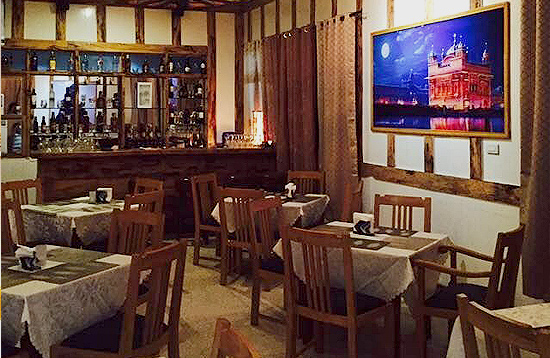 The Spice
Gov. M. Cuenco Avenue
Contact: (032) 349-2166, 0932-418-0750
/facebook.com/Cherrys-the-SPICE-990615391023465
Open from 11 a.m. to 11 p.m.
The Spice, formerly known as Cherry's The Spice (back when they used to have Cantonese food on the menu), has become a favorite among Cebu's habitués who crave authentic Indian cuisine. The Chicken Tikka Masala (P180) and the Chicken Biryani (P250) are popular with its clientele; don't let the sauce go to waste, order some naan bread (P30) to mop up the leftovers.
ADVERTISEMENT - CONTINUE READING BELOW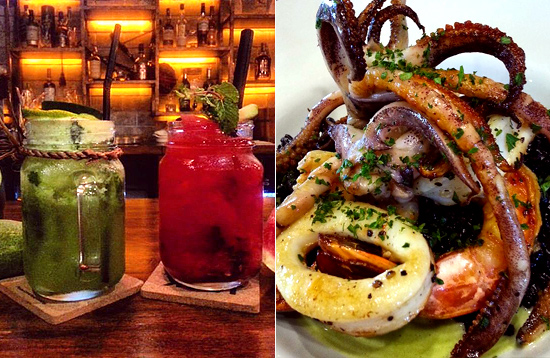 Ampersand
Gov. Cuenco Avenue, Banilad Town Center, Banilad
Contact: (032) 416-1233, 0917-835-8841, 0943-498-1744
/facebook.com/AmpersandCebu
Open from 11 a.m. to 3 p.m.; 6 p.m. to 2 a.m.
Hardcore fans of Tom Hines—the man behind the kitchen of Smith and Butcher Grill Room in Manila—can add Cebu's Ampersand to their pilgrimage. The outlet serves European fusion cuisine—such as Chicken Curry (P380), Seafood Risotto (P590), Seared Lemon Zested Squid (P380)—together with bestsellers like the Prime U.S. Angus Rib Eye (P1,400 for 300 grams, P1,998 for 500 grams), Slow Braised Lamb Shank (P680), Ox Tongue (P650), and Smoked Baby Back Ribs (P580). Ampersand is also known for its cocktails—perhaps you can start the evening with the seriously naughty La Querida (P285), a curious ménage a trois of jackfruit, rum, and bitters.
ADVERTISEMENT - CONTINUE READING BELOW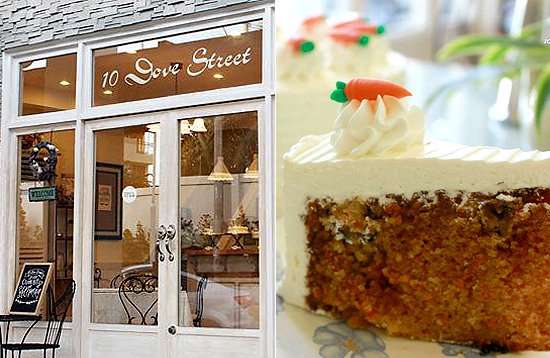 10 Dove Street
Oakridge Business Park, 880 A.S. Fortuna Street, Mandaue City
Contact: (032) 418-1010, 0917-625-7013
/facebook.com/ten.dove.street
Open from 10 a.m. to 10 p.m.
Entering 10 Dove Street is like coming home to a doting grandma with the restaurant's pristine, country-style interiors, old-fashioned china, linen-topped tables, and soft lighting. The 10 Dove Street Experience (P250) includes your chosen combo of soup, salad, sandwich, and dessert; while the Kitchen Favorites (P275) includes soup, entree, and dessert. There's Clam Chowder (P90), Ceasar Salad (P110), and sandwiches like Chicken Waldorf (P120) and Country Roast Pork (P200). For your main course, there's a bevy of choices, from seafood, chicken to pork and pasta dishes. It's also a perfect place for quiet afternoon coffee and tea, which you can pair with confections from the dessert bar. 10 Dove Street has become a favorite for diners who want something familiar and comforting.
ADVERTISEMENT - CONTINUE READING BELOW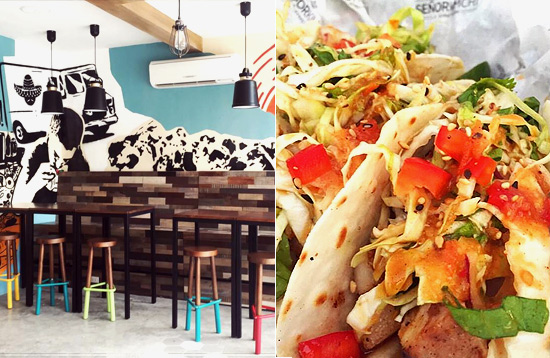 Señor Kimchi
Unit F18, Axis Entertainment Avenue, Escario Street
Contact: (032) 255-0183
/facebook.com/senorkimchi
Open from 11 a.m. to 10 p.m. (Sunday to Thursday); 11 a.m. to 11 p.m. (Friday and Saturday)
A Filipina and a Korean bring an L.A. trend to Cebu with the opening of Senor Kimchi in December 2015, serving Korean-Mexican fusion cuisine. A sampling of the outlet's crowd favorites might serve as a nice introduction to this exotic combination; order the bestsellers, such as the Mushroom Poppers (P155), Chimichanga (P245 to P265), the Salad Bibimbap (P245 to P285), or one of their Fushion Tacos (P165 to P195).
ADVERTISEMENT - CONTINUE READING BELOW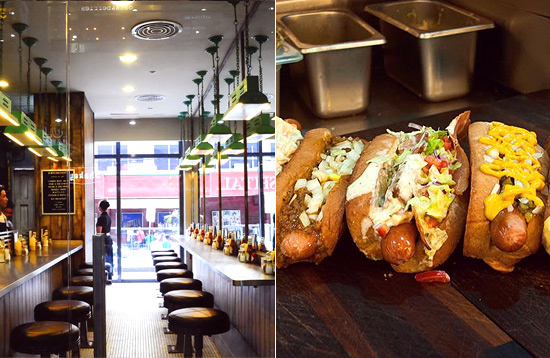 Luncheonette
G/F Robinsons Cybergate Cebu, Don Gil Garcia Street, Capitol Site
www.facebook.com/LuncheonetteCebu
Open daily from 10 a.m. to 9 p.m.
The Abaca Group is known for its upscale dining and drinking outlets such as Tavolata, Beqaa, Maya among others. Its latest venture offers something for those on the go. Luncheonette serves American diner short order mainstays such as Smoked Pork Sausage Sandwich (P209), Hamburger (P269), and Cheeseburger (P299), as well as all-day breakfast fare like Corned Beef Hash (P199), and Spam and Eggs (P159). Luncheonette's retro interiors hark back to the fun '50s, and make a pretty background for selfies, too.
ADVERTISEMENT - CONTINUE READING BELOW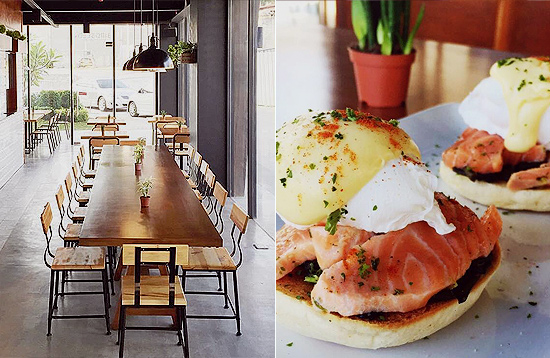 Birdseed Breakfast Club & Café
Unit F19, Axis Entertainment Avenue, Escario Street
Contact: (032) 254-9463
/facebook.com/BirdseedBreakfastClub
Open from 7:30 a.m. to 10:30 p.m. (Tuesday to Sunday)
Having just opened in January, Birdseed Breakfast Club & Café is fast becoming a favorite among Cebuanos and tourists alike. Try the resto's bestsellers, such as the home-made Bacon Silog (P200), the signature Fajita Sandwich (P245) made with their own corned beef, Triple Stack Buttermilk Pancakes with Maple Syrup (P200), Eggs Benedict (P200), or Buttermilk Chicken with Waffles (P320). Wash down your meal with the Cookie Monster Shake (P100) (chocolate chip cookies, chocolate syrup and topped with cream), Avocado White Chocolate shake (P95), or for something light, the Birdseed Tea (P90). Just in case you need something with a kick, there's the Tipsy Two Seasons (P160), the Summer Punch (P160), and the Tipsy Strawberry Seltzer (P170). They boast of an extensive coffee menu, too.
ADVERTISEMENT - CONTINUE READING BELOW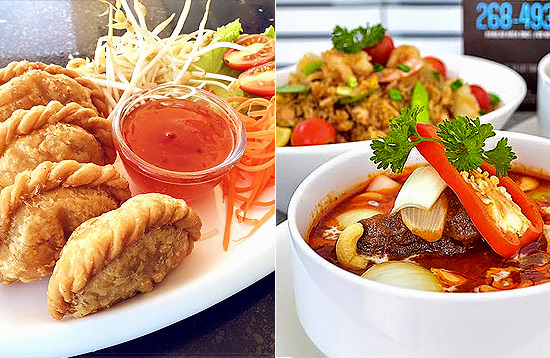 Wok'd  
Streetscape, Maria Luisa Road, Banilad
Contact: (032) 268-4933
Open from 11 a.m. to 2 p.m., 6 p.m. to 10 p.m. (Sunday to Thursday); 11 a.m. to 2 p.m., 6 p.m. to 11 p.m. (Friday and Saturday)
For those craving Thai food, you can head over to Wok'd where you can have your fix. Choose from the menu's standard fare—like Thai Fish Cakes (P245/four pieces), Thai Beef with Chili and Basil (P400), Thai Fried Rice with chicken slivers (P380), Chicken and Cashew Nuts (P400), and Duck Pad Thai (P400) among others—which you can wash down with a nice glass of Thai Iced Tea (P75).
ADVERTISEMENT - CONTINUE READING BELOW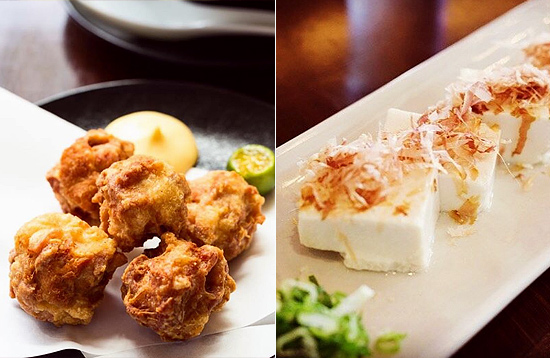 Barikata Ramen Bar
G/F Calyx Center Building, W. Geonzon Street,  IT Park, Lahug
Contact: (032) 268-9582
www.facebook.com/Barikata-ramen-bar-873922936032587
Open daily from 11:30 a.m. to 2:30 p.m.; 5:30 p.m. to 10:30 p.m.
It opened in September 2015 and has since served countless steaming bowls of pork-broth ramen and other Asian dishes like Ebi Mayo (P190) (deep fried prawns with Barikata mayo), Mapo Tofu (P150) (tofu with spicy minced pork), and the Piri Karadon (P230) (rice topped with spicy pork. Sapporo beer is available, too (P180) for those who want an authentic Japanese meal through and through. There are interesting entries for daring diners; try the Red Togarashi Dessert (P150)—vanilla ice cream topped with chilli pepper.
ADVERTISEMENT - CONTINUE READING BELOW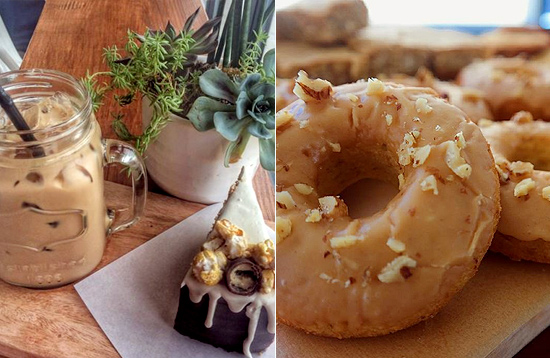 32 Umber Café & Co.
The Forum, Archbishop Reyes Avenue
Contact: 0932-804-7983
/facebook.com/32Umber
Open from 1 p.m. to 9 p.m. (Monday to Friday); 1 p.m. to 10 p.m. (Sunday)
Irene Abellana and her business partner (who is also the café's baker) Trixie Young wanted to "level up Cebu's coffee game, without sounding like coffee snobs," Irene explained. 32 Umber Café & Co. seats just 25 for now, an intimate place where Irene and Trixie can explore the world of beans, roasts and blends with their customers. Their bestsellers are the Iced Mocha (P150) and Iced Caramel Macchiato (P160), and just recently, they introduced the 12-Hour Brew. They serve some kick-ass sweets too, so if you need a sugar fix and a waker-upper, you know where to go.
ADVERTISEMENT - CONTINUE READING BELOW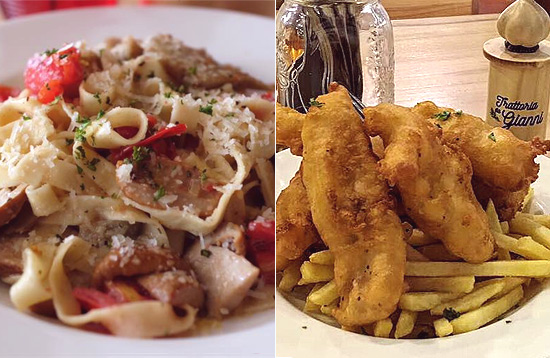 Trattoria da Gianni
Crossroads, Banilad
Contact: 0977-842-2786
/facebook.com/trattoriadagiannicebu
Open daily from 11 a.m. to 11 p.m.
This quaint destination has created a lot of buzz since its soft opening in April. With its laidback and welcoming interiors and good ol' Italian home cooking, Trattoria da Gianni is as warm and comforting as a big Italian-style hug. The trattoria has a fully loaded menu of pastas (the Avocado Pasta Salad is P300), bruschettas, gnocchis (P380), and ravioli dishes (P380)—it's going to be tough choosing what's for lunch or dinner. Get your cameras ready for those foodgrams or a rare celebrity sighting—Matteo Guidicelli is known to wait on tables in his family's restaurant during his time off from acting.   
ADVERTISEMENT - CONTINUE READING BELOW
Photos from the official Facebook pages and websites of 10 Dove Street, 32 Umber Cafe & Co., Ampersand, Barikata Ramen Bar, Birdseed Breakfast Club & Cafe, Carnivore, Casa Dos, The Spice, Gorliz Tapas Y Vinos, Hala Paella, Luncheonette, Señor Kimchi, Soba Kamakura, Trattoria da Gianni, and Wok'd
Also read: SPOT.ph City Guide: Davao City
Load More Stories