Game Over
31 Xavierville Avenue, Loyola Heights, Quezon City
Contact: 0933-028-5298
Open daily from 4 p.m. to 1 a.m.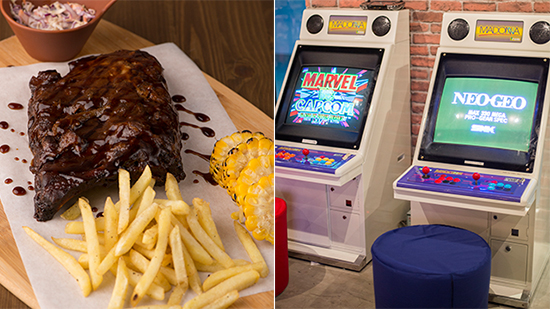 (SPOT.ph) How do you find Game Over on the busy streets of Quezon City? Just look for the retro, neon, eight-bit "Game Over" sign. The glowing light is almost hypnotizing, beckoning you—like a moth to a flame—to step inside this geek-themed wonderland.
Wall-to-wall geeky memorabilia will visually assault you upon entry. To your right is a glass showcase of 3DS designs, from Pikachu to the classic NES controller; to your left, Link's sword and shield from the "Legend of Zelda" series. Along the path are framed diagrams of cross-sectioned joysticks and other tech. There's also a huge widescreen HD TV and an incredibly long couch that can seat around 10 people at a time.
Further along is an old-school arcade cabinet featuring games like "Marvel vs. Capcom" and "Metal Slug." By the bar, you'll see a sprawling map of Middle Earth from The Lord of the Rings. This is the cave you gamers have been looking for—your home away from home. This is your geekdom.
ADVERTISEMENT - CONTINUE READING BELOW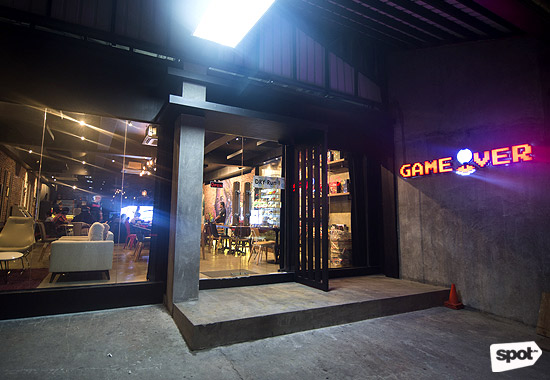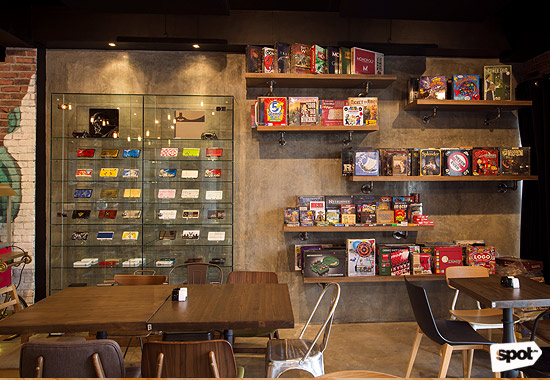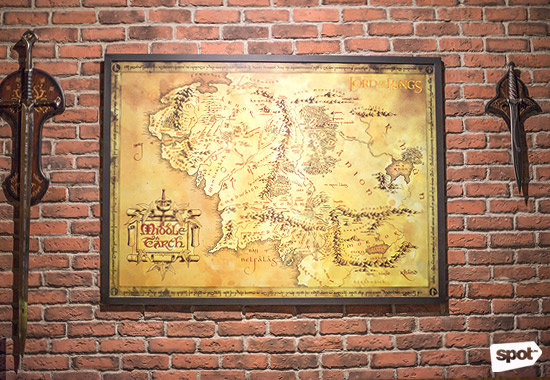 ADVERTISEMENT - CONTINUE READING BELOW
Recommended Videos
Geek haven
Game Over, which is barely a month old, is the brainchild of RJ Ronquillo, who recruited his fellow gamers to start the venture. "This idea is a reflection of our personalities—we're all into games, we love food and drinks so we just wanted to combine our interests," says co-owner JC Cuevas.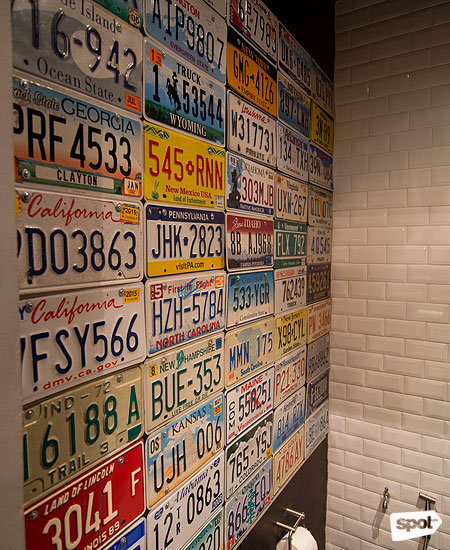 The cool restroom
You can tell how much love the owners poured into this passion project. They make it a point to be up-to-date with the games (they're trying to get the much-hyped "Overwatch!"). The prop weapons, diagrams, 3DS handhelds, and other gaming knickknacks are from RJ's personal collection, and they're dedicated to maintaining the gamer aesthetic, down to details like salt and pepper shakers shaped like video game controllers and diskette coasters.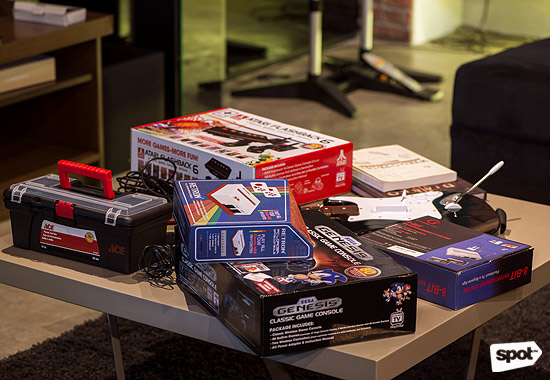 ADVERTISEMENT - CONTINUE READING BELOW
All kinds of consoles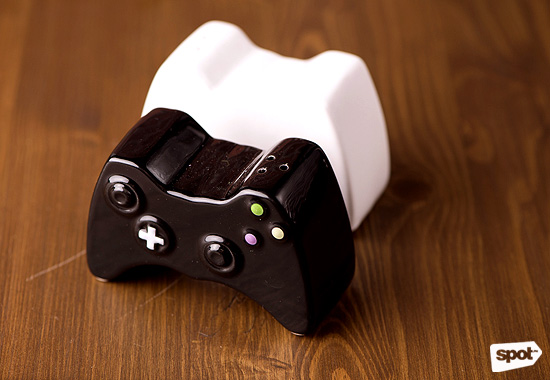 Salt and pepper shakers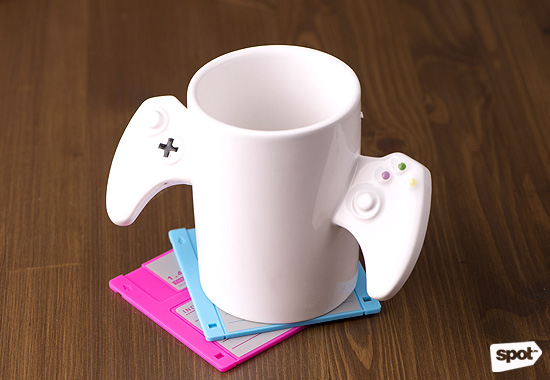 Careful details
Even Game Over's bathroom interiors exude extreme geekiness with classic Nintendo 64 video game cartridges and controllers adorning the walls—all so you can wistfully reminisce about your childhood while on the toilet.
JC adds, "We built Game Over to make a better community for gamers. Since we're usually labeled 'antisocial,' it offers gamers a place where they can socialize with their friends."
ADVERTISEMENT - CONTINUE READING BELOW
Game Over has every console imaginable, from Wii U to PS4, and even Atari. For a consumable fee of P950, you can enjoy drinks, food, plus one hour of play on the widescreen TV; every extension is P450/hour. Another option is the P450 consumable fee, which comes with the same inclusions, except that you play on the medium TV sets; extension costs P150/hour. The setup encourages you to bring a group of friends and bond.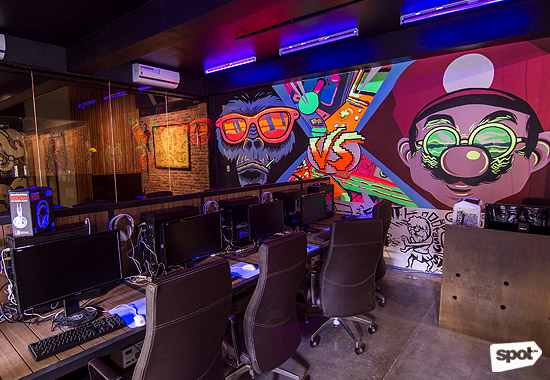 PC station
PC enthusiasts aren't left out either. Inside a small room, you'll find a mini Internet café decked out with gamer-themed graffiti art on the walls. Game Over offers online games like "CS: Go," "Rainbow Six Siege," and "Steam" games for P80/hour. The computers are rigged with an i7 processor, GTX 970 graphics card, and run on 16-gigabytes of RAM each. Optimum gaming conditions, indeed.
If all gaming stations are booked, go old-school and try some of their board games while waiting. It costs P200 for play-all-you-want.
ADVERTISEMENT - CONTINUE READING BELOW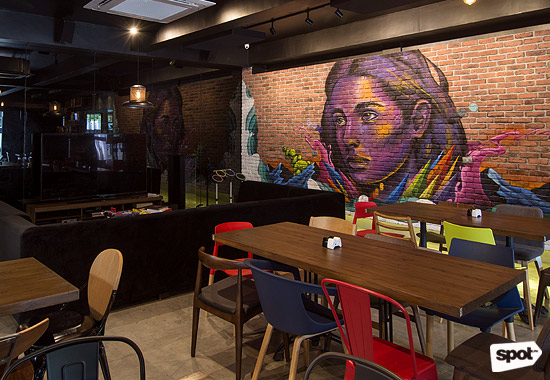 Dining tables
The people at Game Over have done their best to cram the place with all sorts of geeky collectibles, ensuring an enjoyable gamer experience, but they didn't compromise on other important aspect: food and drinks. 
When he designed the menu, Chef Ernest De Guzman remembered that his customers will be at Game Over primarily to play games. He made sure that the dishes (a mix of Mexican, American, and Asian comfort food) are convenient enough to eat with all the wild gaming going on.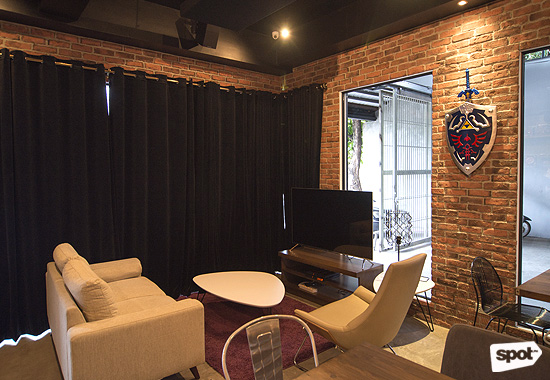 ADVERTISEMENT - CONTINUE READING BELOW
Couch for utmost gaming comfort
It's not hard to imagine what kind of food you'll see at a gaming restaurant—easy treats that you don't have to think about (or even look at) to enjoy. But Chef Ernest's meals not only cater to the discerning foodie, but also to the meticulous Instagrammer. His dishes are strewn with edible flowers and artistic swipes of sauces (the kind you usually see in a fine-dining restaurant). Even non-gamers would appreciate the type of attention they lavish on their menu.
The Super Cheezy Pizza (P260) is an ooey-gooey mess. It's made up of Gruyère, mozzarella, sharp cheddar, and blue cheese, perfect for sharing with the squad or consuming alone if you love pizza at a Teenage Mutant Ninja Turtle level. It's delightfully stringy, with a bright tomato aftertaste. It's best paired with a round of friendship-ruining games like "Mario Kart" or "Super Smash Bros."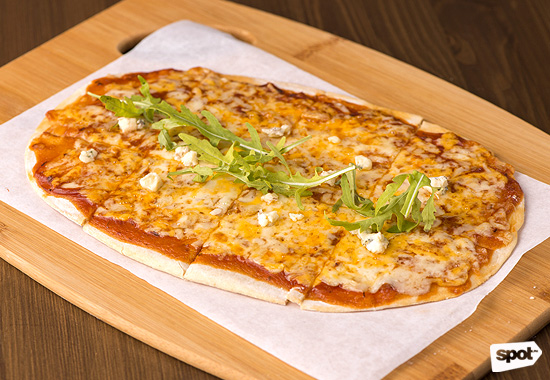 ADVERTISEMENT - CONTINUE READING BELOW
Super Cheezy Pizza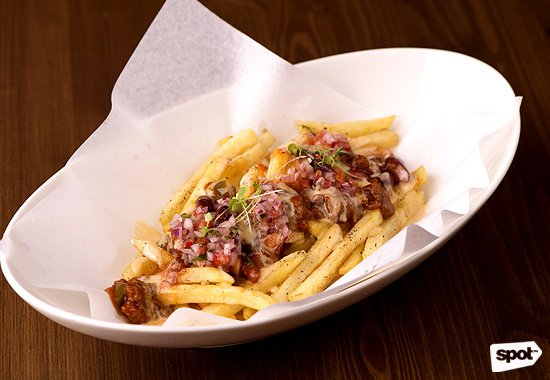 Nacho Fries
Nachos may be traditionally considered finger food, but you'll need a fork for the Nacho Fries (P285). The potato batons are fully loaded with ground beef, tomato sauce, red beans, cheese sauce, and salsa. Don't spill all over the controllers while you're playing "Uncharted 4."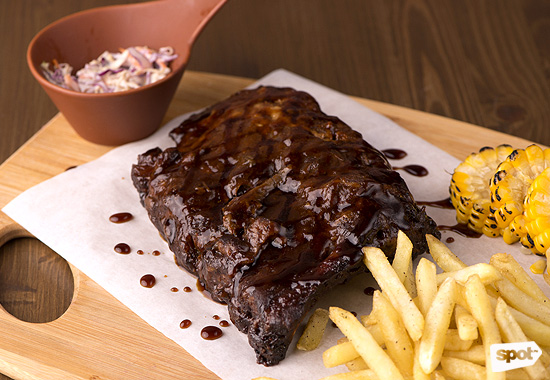 ADVERTISEMENT - CONTINUE READING BELOW
Game Over Rack of Ribs
If you're exploring a chill RPG, slurp up some X.O. Pasta (P210). The oil-based angel hair pasta is reminiscent of yakisoba. You might have to hit the pause button for the Game Over Rack of Ribs (P740), though. You're going to need to focus on savoring this big, hulking slab of juicy meat. They're tender and fall-off-the-bone, slathered in a homemade glaze that paints a sweet-and-sour Pinoy flavor. It balances the salt and cuts through fat.
Finally, nibble on some Calamansi Cheesecake (P175) to get the sugar rush you need to beat the opposition in Overwatch. This cake is a mixture of mascarpone mousse and calamansi juice, topped with a chewy layer of mango jelly. It once again teases your sweet and sour sensibilities. For something unfailingly decadent, cut through the Molten Lava Cake (P180) for a stream of fudgy chocolate filling.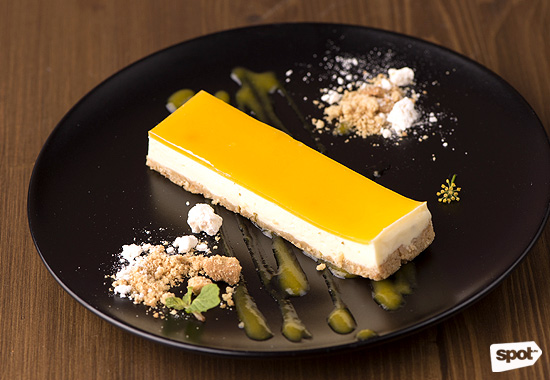 Calamansi Cheesecake
ADVERTISEMENT - CONTINUE READING BELOW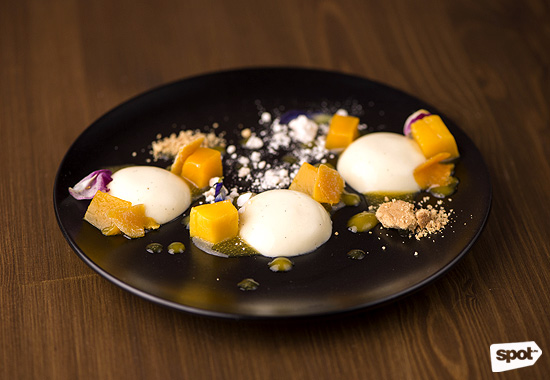 Mango Surprise Pannacotta
A more elegant affair is the Mango Surprise Pannacotta (P175). This floral refresher has a vanilla bean base with dried, edible flowers and microgreens, and a smear of passionfruit coulis.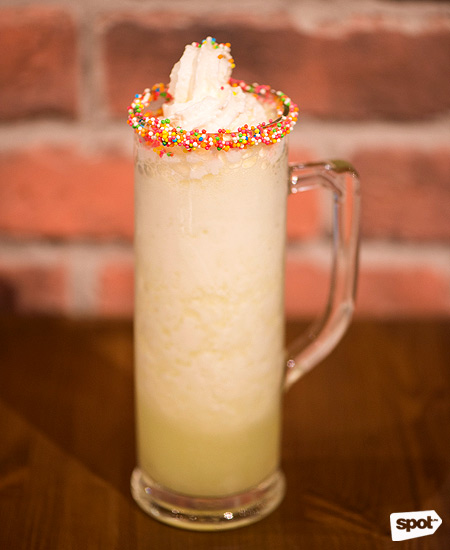 Irish Kisses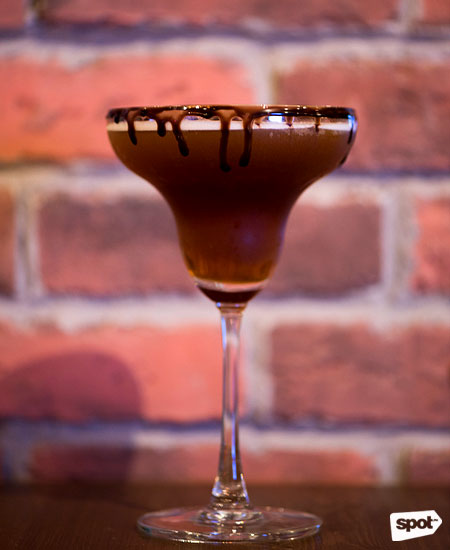 ADVERTISEMENT - CONTINUE READING BELOW
Caramelatini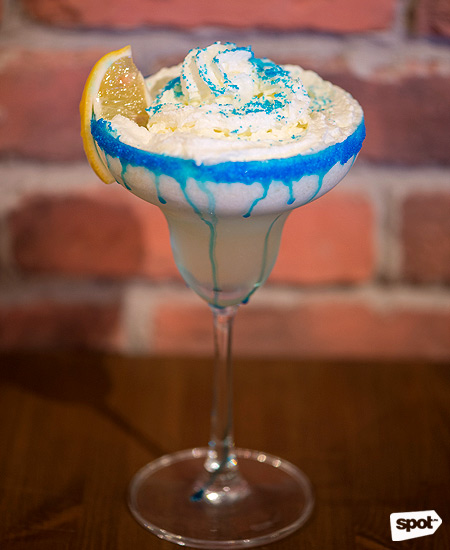 JC Blues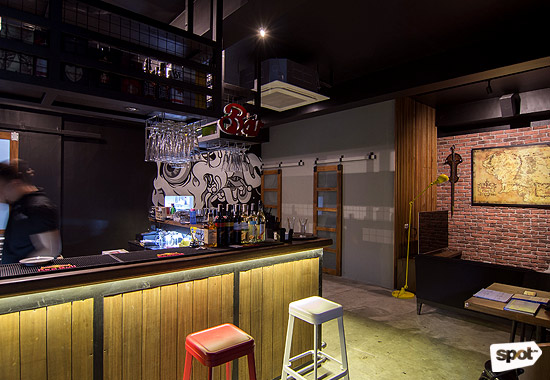 The bar
If you need a spike of alcohol in your system before playing a round of MOBA games, their bar offers Caramelatini (P160), Irish Kisses (P160), and JC Blues (P170).
With Metro Manila filling up with board game cafés, JC knew they had to stand out. With planned tournaments for Hearthstone, Counterstrike, Dota 2, NBA 2K, FIFA, and Street Fighter, these proud geeks definitely know how to generate buzz. Catering to both the modern and nostalgic gamer, Game Over is, ironically, just beginning.
ADVERTISEMENT - CONTINUE READING BELOW
Photos by Hans Fausto
Share this story with your friends!
---
Help us make Spot.ph better!
Take the short survey
Load More Stories