New Restaurant Alert: Spiffy's Grove in BF Homes, Paranaque
Move over, beer. There's a new craft drink in town.
Spiffy's Grove
Unit A, 412 El Grande Avenue, BF Homes, Parañaque City
Open daily from 12 p.m. to 12 a.m.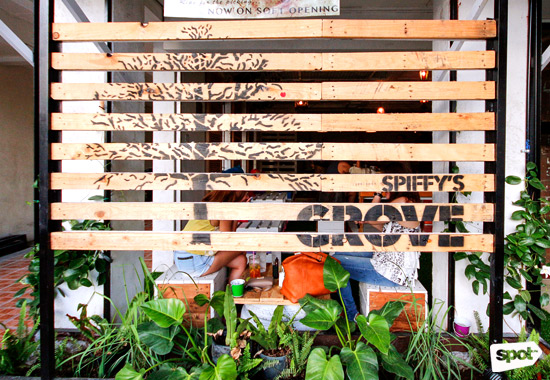 It's like an apple orchard.
(SPOT.ph) After a decade in the daily grind as a corporate professional, Gladys Co decided it was time to part with her desk job, come home, and open a cider bar. The origin of Spiffy's Grove, possibly Metro Manila's only craft cider joint, is as simple as that.
ADVERTISEMENT - CONTINUE READING BELOW
CONTINUE READING BELOW
Recommended Videos
The local craft beverage culture has pretty much exploded in the past few years. Pinoys are now more willing to step out of their comfort zones when it comes to trying new concoctions. Gladys felt the time was right to introduce another craft drink into the fold. Light, fruity, and refreshingly razor-sharp, cider fits right in with our tropical climate and our generally sweet-inclined taste buds.
"The only challenge is to get people to try it. Once they do, they find that they like it," says Gladys. "Many Filipinos really haven't tried cider—more so, craft cider—so they're pleasantly surprised by the taste."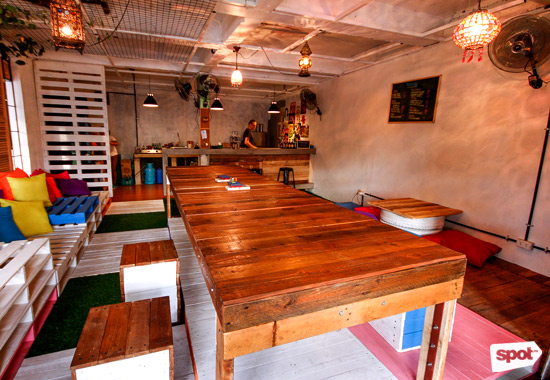 ADVERTISEMENT - CONTINUE READING BELOW
A cool and relaxed place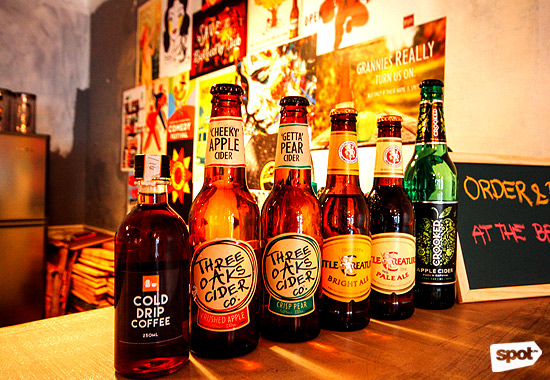 Craft drinks
Just like anything that is made by hand, small-batch craft cider surpasses its mass-produced counterparts in flavor and quality because of attention to detail. The process isn't as elaborate as being made under a full moon with a precise number of stirs and using water from a prehistoric glacier (although such a drink may very well taste awesome, indeed). But careful scrutiny when it comes to selecting the right ingredients and being meticulous with the method make all the difference. Anyone, Filipino or not, can appreciate that.
ADVERTISEMENT - CONTINUE READING BELOW
Currently, because they are still a very small operation, Gladys plans to carry a carefully curated range of craft ciders at Spiffy's Grove. At the moment, two Australian brands are on-hand: Three Oaks Cider Co. and Crooked (P215). The former is available in apple and pear flavors (P100 each), while the latter only comes in apple.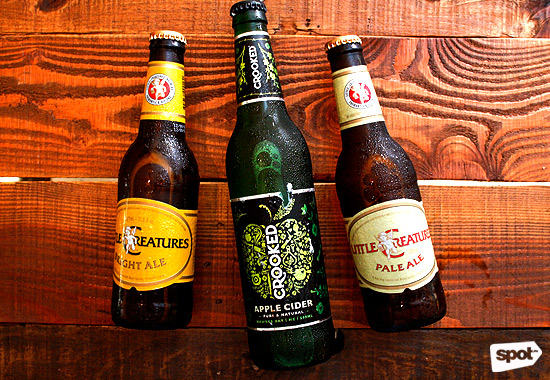 ADVERTISEMENT - CONTINUE READING BELOW
Not your usual drinks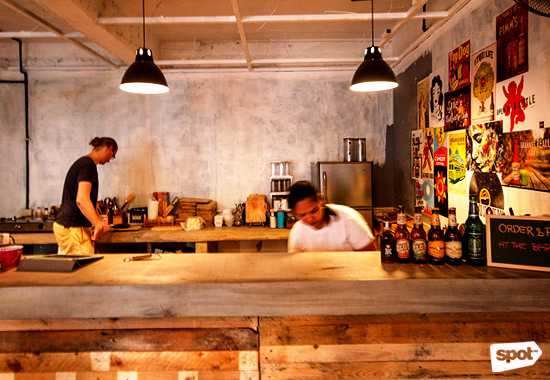 Where the magic happens
Crooked feels very similar to champagne. It smells like green apples, but tastes like grapes. In contrast, the Three Oaks Pear is tart and very light, while the Apple has a balanced sweet and sour note that makes it extremely easy to drink.
ADVERTISEMENT - CONTINUE READING BELOW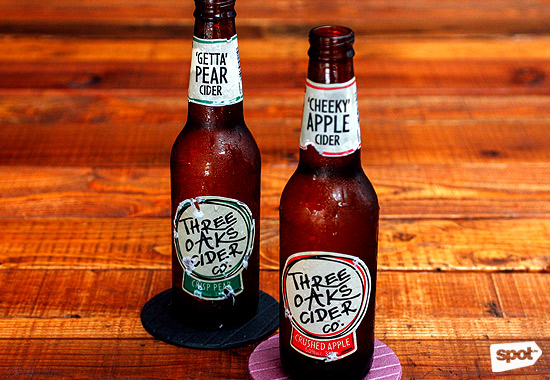 Three Oaks
Gladys intends to rotate the bottles at Spiffy's, depending on what's available from her supplier, to "keep things interesting." It's a very laid-back approach—characteristic of their BF Homes location—but also a a convenient way to keep the craft cider bar evolving.
Just like the drinks, the food offered at Spiffy's Grove will also be on rotation, based on what Gladys feels like serving at any particular time. Two dishes, however, will be mainstays. First, "Jaffles"— sealed sandwiches cooked in a cast-iron mold over hot coals (think childhood "UFO sandwiches" made with a sandwich maker).
ADVERTISEMENT - CONTINUE READING BELOW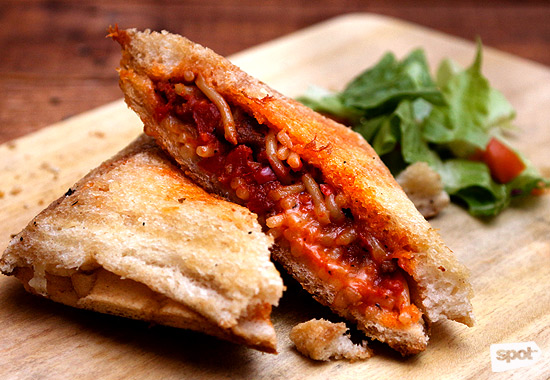 Spaghetti Bolognese Jaffles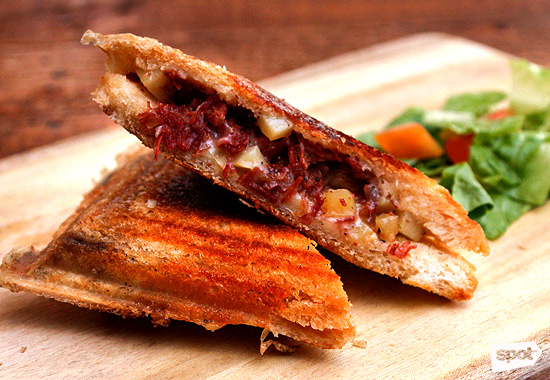 ADVERTISEMENT - CONTINUE READING BELOW
Corned Beef Hash Jaffles
An Australian camping favorite, the Jaffles at Spiffy's Grove are available with Spaghetti Bolognese (P180), Corned Beef Hash (P170), and Ham, Cheese, and Tomato (P170) fillings. The Spaghetti Bolognese is like a trip back to carbo-loading memory lane, when stuffing pan de sal with leftover spaghetti was the perfect afternoon snack. The potatoes in the hash, on the other hand, are cooked with a mixture of herbs, giving them a premium taste and aroma. As for the ham, cheese, and tomato? It's a faultless combination.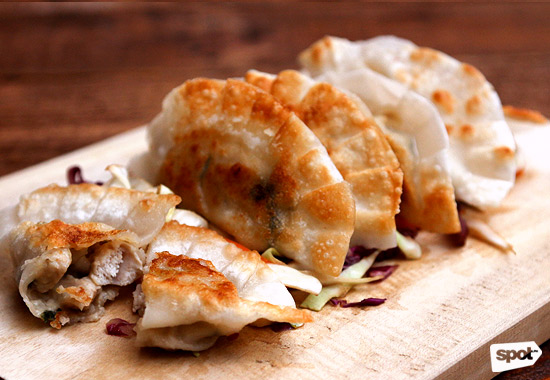 ADVERTISEMENT - CONTINUE READING BELOW
Creamy Chicken Pesto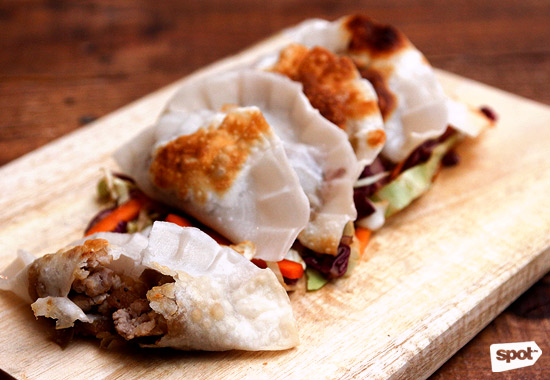 Pork and Apple
The other permanent kitchen item is dumplings—two recipes of which Gladys herself created living abroad while, in her own words, "fending for herself." The Creamy Chicken Pesto (P110) is balanced, with no one ingredient overpowering the other. The eating experience is a bit novel, too—like having a stew stuffed into dumpling wrapper. Her other recipe, Pork and Apple (P110) hovers closer to the cider theme at Spiffy's Grove. The fruit adds a freshness and crunch to the general umami of the dish; best eaten, naturally, with a cold craft cider (the Three Oaks Apple, is our pick) to wash things down.
ADVERTISEMENT - CONTINUE READING BELOW
Spiffy's feels like a random name for a cider bar, but it's the term Gladys and her boyfriend gave to the restaurants and cafes they would frequent abroad. Instead of remembering the names of so many establishments, they christened everything they love "Spiffy's." In fact, when Gladys returned to the Philippines, she used it for her favorite eateries, too.
Now that she's opened her own place though, "Spiffy's" has finally come to have its own straightforward definition. "Let's go to Spiffy's." Well, that just means "let's go get some excellent craft cider." 
Photos by Jericho San Miguel
Load More Stories