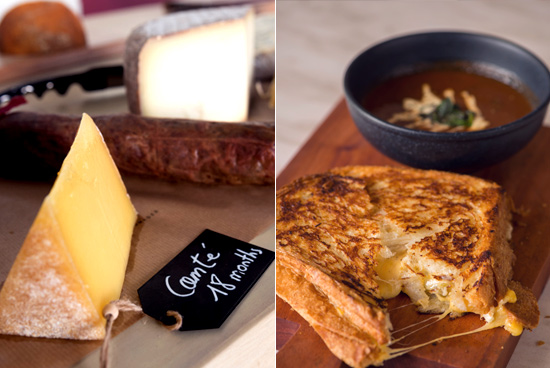 (SPOT.ph) You don't need a significant other to be cheesy. All you need is pizza, macaroni, cake, and maybe a sandwich? We listed the places you can visit when you're craving that kind of affection and attention.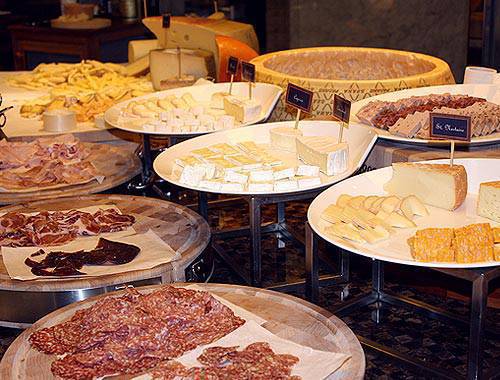 Spiral
Now that it's been five years, we feel that Typhoon Pedring's wild devastation on Spiral in 2011 was a blessing. When the upscale buffet reopened over a year later in December 2012, it welcomed the addition of a world-class Cheese Room. This fragrant edifice stocks up on fresh seasonal cheeses from all over the world (brie, Emmental, Gruyere, Gouda—everything!), as well as prosciutto, salami, apricots, you name it. Spiral's cheesy atelier sparked a trend in other hotel buffets, but their selection (and technology) is hard to top. It certainly makes Spiral's hefty price tag worth it.
ADVERTISEMENT - CONTINUE READING BELOW
Spiral is at Sofitel Philippine Plaza, Pasay City.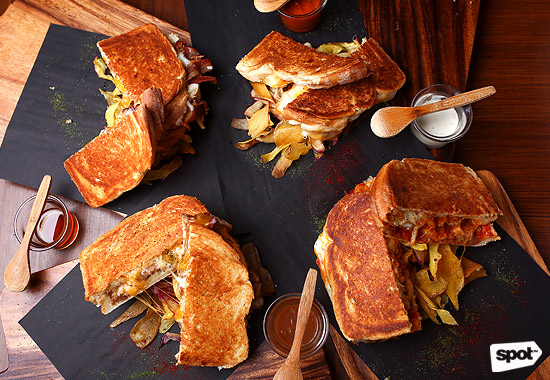 Melt Grilled Cheesery
This restaurant's whole existence is to give grilled cheese sandwiches a stage to shine. It's hard not to fall in love with it. Chessie Torres dreamed of owning a restaurant that's dedicated to cheese, so she and her chef-husband James crafted all sorts of grilled cheese iterations to satisfy everyone's cheesy ambitions. Apart from the classic (P275), they have one stuffed with pot roast (P545), another filled with pizza toppings (P420), another patterned after dulce de leche (P295). One version even comes with a wedge of macaroni and cheese in the middle. 
ADVERTISEMENT - CONTINUE READING BELOW
Recommended Videos
Melt Grilled Cheesery is at Uptown Place Mall, Uptown Bonifacio.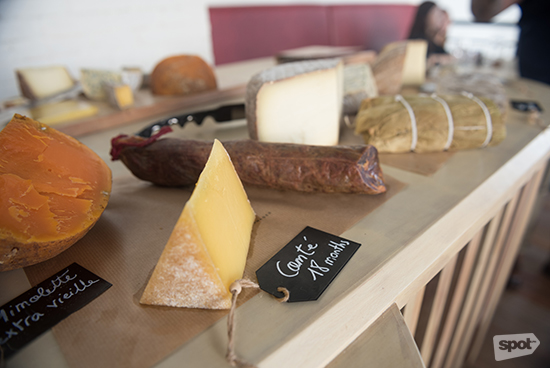 Atelier Vivanda Manila
Atelier Vivanda Manila is different from other Atelier Vivanda branches in the world because it integrates Michelin-starred chef Akrame Benallal's other brand, BRVT. This wine and cheese bar introduces seven gourmet seasonal French cheeses. To emphasize that premium quality, the cheese knife they use to serve these golden babies is made by a French National Artist, who makes only six knives a month. Just like the steak knives, this specialty utensil is rumored to cost 200 euros each.
ADVERTISEMENT - CONTINUE READING BELOW
Atelier Vivanda Manila is at Forbes Town Center, Burgos Circle.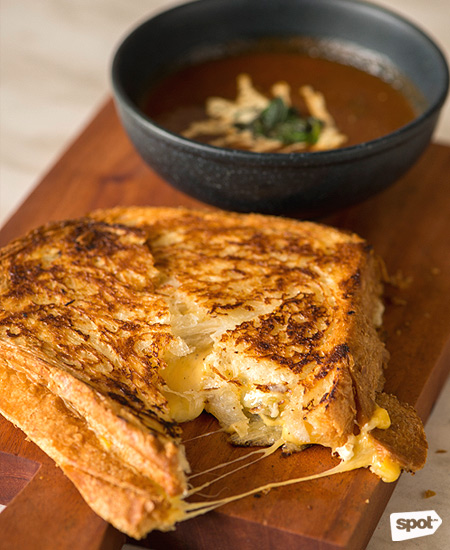 Little Bear Diner 
Before Chef Bear Pau Pastor opened this cozy Kapitolyo outlet, he and his partners ran a stall in Legazpi Sunday Market called The Melt Collective. It boasted 13 to 15 kinds of grilled cheese sandwiches. Little Bear Diner only has a shadow of that selection, but they did a good job picking the most essential ones. They have five that range from basic to a smash medley of mozzarella, American cheddar, scrambled eggs, and bacon. Phew! If you can only get one though, go for the Popper (P215), which is cream cheese, mozzarella, American cheddar, and pickled jalapeños.
ADVERTISEMENT - CONTINUE READING BELOW
Little Bear Diner is at 23 East Capitol Drive, Kapitolyo, Pasig City.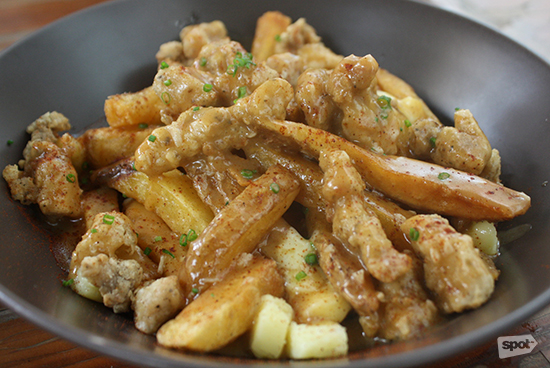 Main Street 
This Canadian restaurant doesn't explicitly declare their cheese-loving ways, but skim through the menu and you'll realize that the chef has a certain fondness for this versatile ingredient. First off, their main item is poutine (P165 to P240)—a Canadian classic of fries swimming in gravy with cheese curds—of which they have five gooey, cheesy varieties. Their updated menu features cheesy macaroni and cheese and an even cheesier shepherd's pie.  
ADVERTISEMENT - CONTINUE READING BELOW
Main Street has branches at Tuscany, McKinley Hill; and 10 East Capitol Drive, Kapitolyo, Pasig City.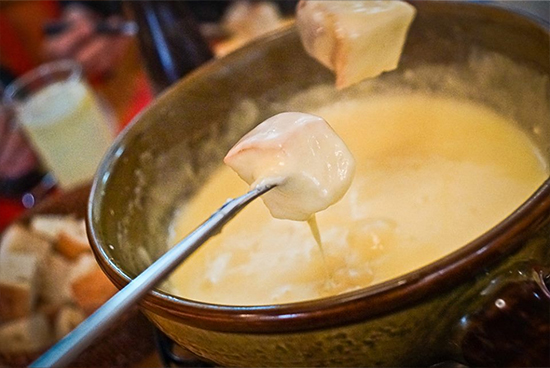 Chesa Bianca Swiss Restaurant 
Apart from watches and knives, one of the Swiss' biggest contributions to the world is cheese—raclette, especially. In 2015, Chesa Bianca held a raclette all-you-can party every Friday for several months. The deal is long over, but cheese is an ingredient that never quits. Raclette still features prominently on their menu (from appetizers to salads to pastas) and they have an entire page dedicated to cheese fondue. There's one that blends Gruyere and Emmental (P1,540); another that uses the same formula plus white wine, tomato concasse, and oregano (P1,540); another that adds Raclette (P1,680); and another that puts together Gruyere and Vacherin (P1,680).
ADVERTISEMENT - CONTINUE READING BELOW
Chesa Bianca is at 7431 Yakal Street, San Antonio Village, Makati City.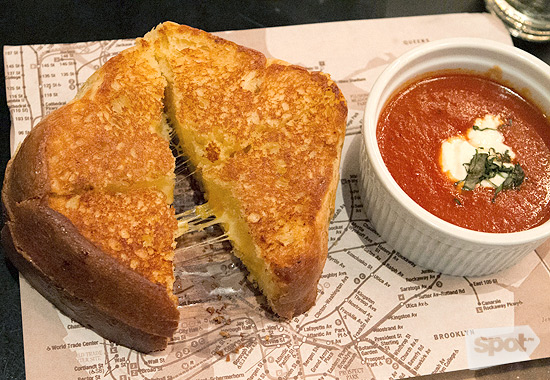 Borough
Borough always finds a way to get onto nearly every one of our cheese-related lists. Whether it's cheesecake (P220) or grilled cheese (P280) or macaroni and cheese (P320), Chef Cuit Kaufman is truly a pro when it comes to this gooey blessing. You won't be perplexed with exotic cheeses here. It's all simple, wonderful, cheesy comfort. 
ADVERTISEMENT - CONTINUE READING BELOW
Borough is at The Podium, Mandaluyong City.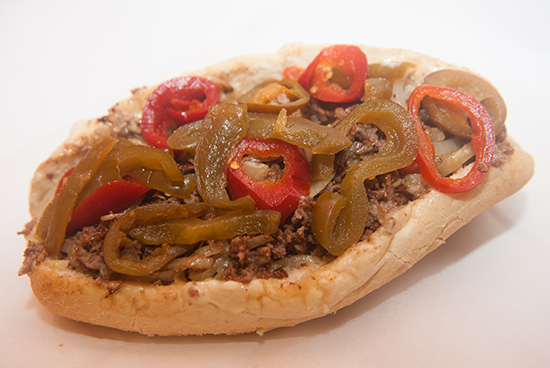 The Cheese Steak Shop 
This Makati haunt is a trove for cheese steak, and what's the most important ingredient in in a cheese steak? CHEESE! It binds together the numerous elements that make up this famous sandwich. But apart from cheese steaks (P280 to P850) in flavors, like steak, chicken, bacon, pepperoni, and spinach, The Cheese Steak Shop also offers other cheesy treats. We're totally digging their cheesy meatball sandwich (P150), cheese fries (P99), and mac and cheese (P120)!
ADVERTISEMENT - CONTINUE READING BELOW
The Cheese Steak Shop is at 140 Amorsolo Street, Legazpi Village, Makati City.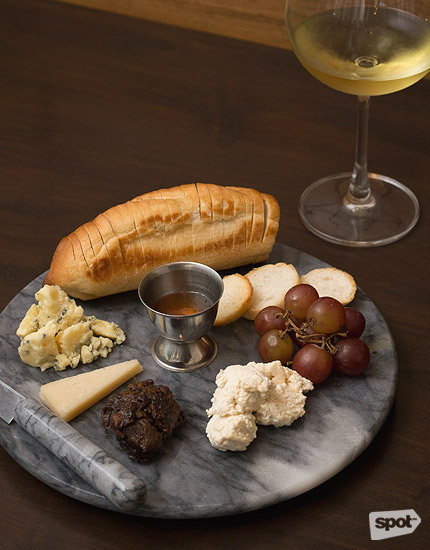 Dolcelatte
Dolcelatte may be famous for their Croughnuts, but they actually have a cheese series called "Cheese Stories." Apart from a superb cheese platter, this golden ingredient makes its way to breakfast skillets, like Tomato Baked Egg (P325) and Baked Spinach and Eggs (P325). Of course, the cheese pizza—a stunning Three Cheese and Caramelized Onion (P485)—and grilled cheese sandwich (P300) shouldn't be overlooked. Even salmon (P575) gets a cheesy ending here! 
ADVERTISEMENT - CONTINUE READING BELOW
Dolcelatte has branches at SM Mega Fashion Hall, Mandaluyong City; and 1616 Quezon Avenue, Quezon City.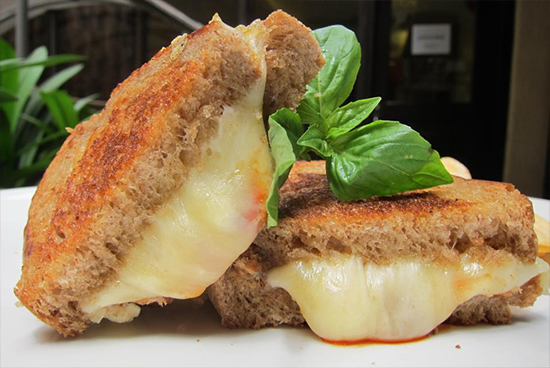 The Old Swiss Inn
What did we just say about the Swiss and cheese? They have a melted Raclette appetizer (P498) with baby potatoes, gherkins, and pearl onions is always a showstopper, but it's their Waatlander Fondue (P938) that has us totally mesmerized by the hypnotic spectacle of cheese. It's a creamy blend of Gruyere and Emmental that's laced with kirsch (a fruit brandy) for a sharp kick. The Wallisher Fondue (P1,128) comes with Swiss wine, Gruyere, Emmental, and Raclette.
ADVERTISEMENT - CONTINUE READING BELOW
The Old Swiss Inn has branches at Somerset Olympia, Makati Avenue corner Santo Tomas Street, Makati City; and Garden Plaza Hotel & Suites, 1030 Belen Street, Paco, Manila. 
Photos from the SPOT.ph archives, by Jason Mariposa (The Cheese Steak Shop), and from the official Facebook pages of Chesa Bianca and Old Swiss Inn
Share this story with your friends!
---
Help us make Spot.ph better!
Take the short survey
Load More Stories