Freezer Burn
G/F Q3, Bonifacio High Street, Bonifacio Global City
Contact: 0927-387-2703
Open daily from 11 a.m. to 11 p.m.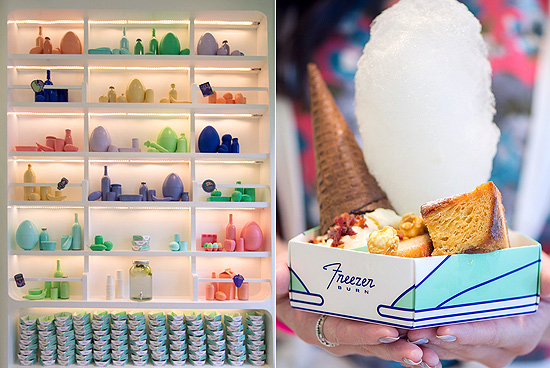 (SPOT.ph) Chefs Miko Aspiras and Kristine Lotilla, the folks behind craft cookie shop Scout's Honor and French-Japanese cafe Le Petit Soufflé, were given the challenge of converting an old camera shop into the next big thing in ice cream. "We felt really strongly about the combination of hot and cold desserts," says Miko, a twinkle in his eye. "We figured it out from there that we wanted them side-by-side, and that the combinations had to make sense." This merging of contrasts was aptly called Freezer Burn. 
ADVERTISEMENT - CONTINUE READING BELOW
The task wasn't easy. Kristine and Miko trained at the Gelateneo and discovered that gelato was extremely different from the churned ice cream they were aiming for. They also started with 45 unique flavors and combinations that they were forced to narrow down for their opening on July 2. "We needed eight solid ones to at least present to the public," Kristine explains. "We had to really run through which ones we thought were good to open [with]."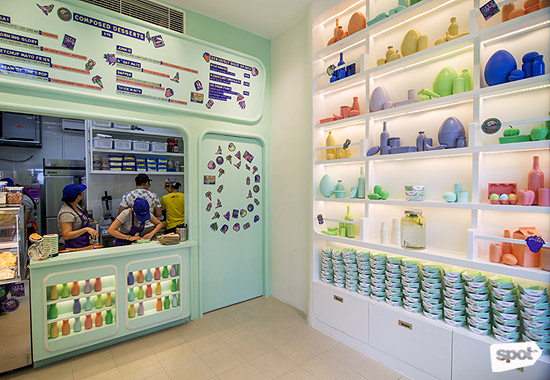 ADVERTISEMENT - CONTINUE READING BELOW
Recommended Videos
This is like the ice cream parlor of our dreams.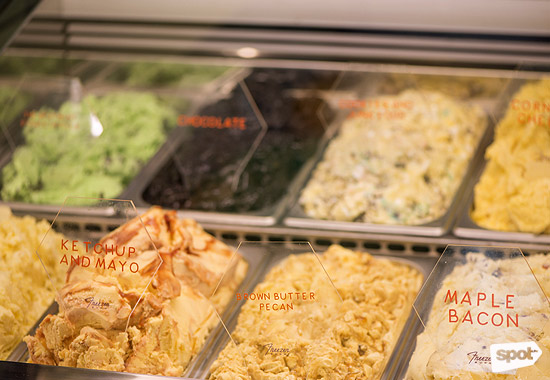 The Super Eight
It wasn't easy to create the kind of ice cream they had in mind—or to pick from their beloved flavors. But the struggle turned to success and now Freezer Burn is teasing everyone with their tagline: "Summer/Winter is coming." (Game of Thrones fans, stay tuned. There is talk of creating a dessert inspired by your favorite series.)
ADVERTISEMENT - CONTINUE READING BELOW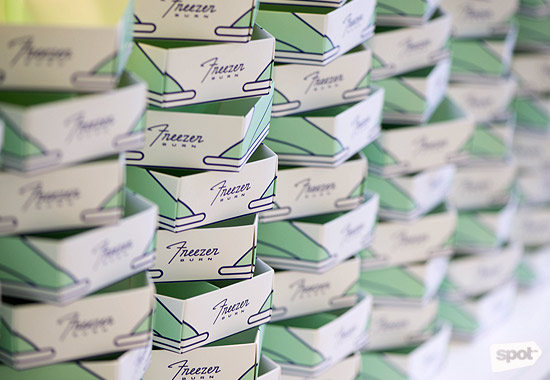 The signature carton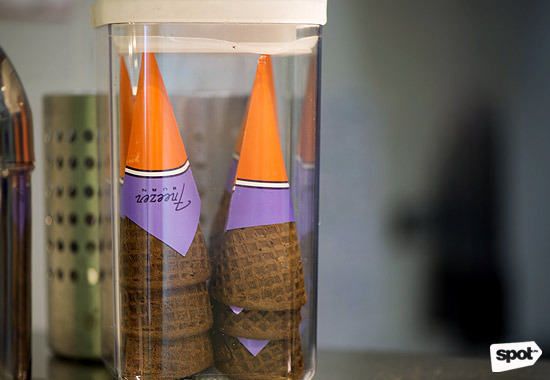 ADVERTISEMENT - CONTINUE READING BELOW
The best part is that the cones come with the carton, too!
Freezer Burn's current flavors include chocolate, maple bacon, ketchup and mayo, corn and cheese, cookies and junk food, butter, browned butter pecan, and mint stracciatella, but foodies and ice cream junkies should expect a new flavor every month (they had 45, after all). Each flavor can be enjoyed in a cone with one scoop (P150), one scoop and two toppings (P180), one scoop and three toppings (P190), or a sampler bowl with four scoops of ice cream (P395). The cones are made of rich chocolate and pair well with all of their unique flavors. The winner is the mint stracciatella with cotton candy on top. Don't be afraid to get your hands dirty, it's worth it.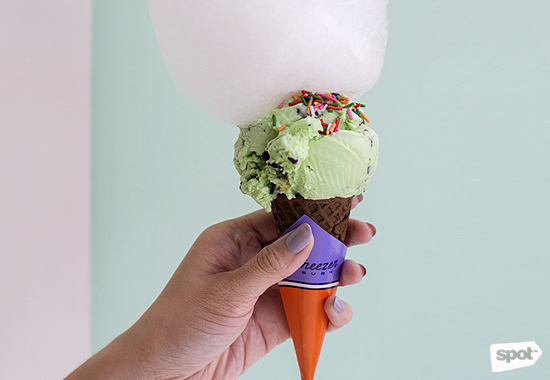 ADVERTISEMENT - CONTINUE READING BELOW
Mint stracciatella with cotton candy
Freezer Burn also serves milkshakes using your chosen ice cream flavor (P250); hot chocolate, which comes in milk, white, or dark chocolate (P200); and ice cream floats (P250).
The main attractions, however, are the composed desserts (P295/each), which are Kristine and Miko's pairing of contrasting temperatures. Freezer Burn's signature hexagonal case is split down the middle, keeping the ice cream on the left, its steaming hot counterpoint on the right. All the flavors are balanced, with the ice cream and the hot complement working together to form one harmonious marriage of flavors. There is no right way to eat them, so go ahead and experiment. We like to dip the hot component into the ice cream; it makes for an extremely delectable bite.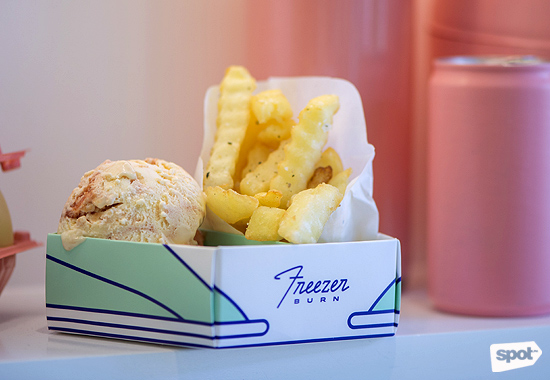 ADVERTISEMENT - CONTINUE READING BELOW
Ketchup Mayo Fries
The Ketchup Mayo Fries is exactly what it sounds like. As unappealing as it may seem, the ketchup mayo ice cream is weirdly delicious and worth a try. Coupled with some crispy salt and pepper fries, this is definitely a standout (tip: let the ice cream melt a bit before you start dipping the fries).
Another showstopper is the Cream of the Crop, which pairs corn and cream cheese with freshly toasted honey cakes and cornick. It's a beautiful balance of textures, flavors, and, of course, temperatures. Do not be surprised if you scarf this all down in under a minute. We did.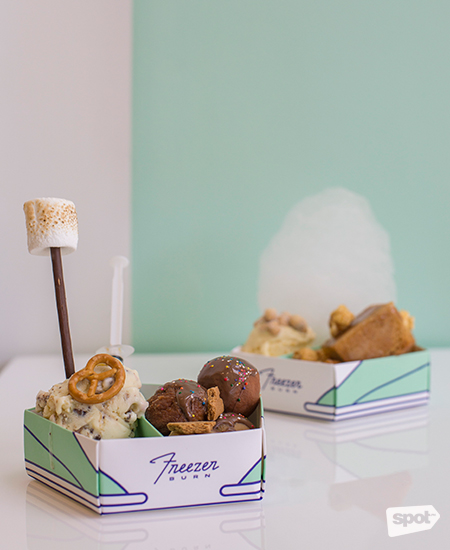 ADVERTISEMENT - CONTINUE READING BELOW
The Junkie, with the Cream of the Crop in the background. 
The Junkie is your best friend on a cheat day. The cookies and junk food ice cream, made of Nips, Cloud 9, marshmallows, stracciatella, and meringue, goes swimmingly with some Nutella donuts. It makes for the ultimate guilty pleasure. It even comes with a syringe filled with caramel sauce that you can drizzle liberally on both the ice cream and the donuts.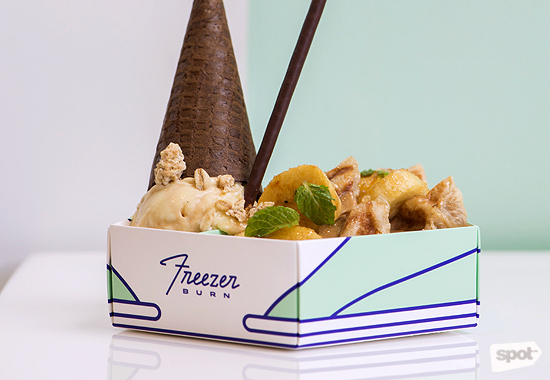 ADVERTISEMENT - CONTINUE READING BELOW
BBPPBB
The BBPPBB, which is an abbreviation for Browned Butter Pecan Peanut Butter Banana, is one of the richer and heavier combinations of the bunch. Warm peanut butter waffle lieges are topped with chopped bananas and flourished with even more peanut butter.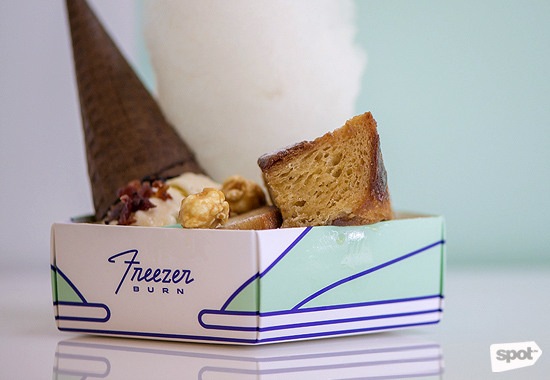 Morning Glory
The perfect dessert for any birthday breakfast is the Morning Glory, where maple bacon ice cream is served with homemade brioche toast and some popcorn. This one also comes with a lot of extra surprises, like a cotton candy topping and some meringue bits hidden within the ice cream. It's a sweet-toothed kid's dream breakfast.
ADVERTISEMENT - CONTINUE READING BELOW
Someone tell Katy Perry that hot and cold do work together. For desserts, at least.
Photos by Hans Fausto
Share this story with your friends!
---
Help us make Spot.ph better!
Take the short survey
Load More Stories