Alqueria's new chef shows why this restaurant is worth revisiting
Fusion tapas and an off-the-menu paella are just some of the reasons.
Alqueria
3/F SM Mega Fashion Hall, Mandaluyong City
Contact: 631-9102, 0916-641-8785
Open daily from 10 a.m. to 10 p.m.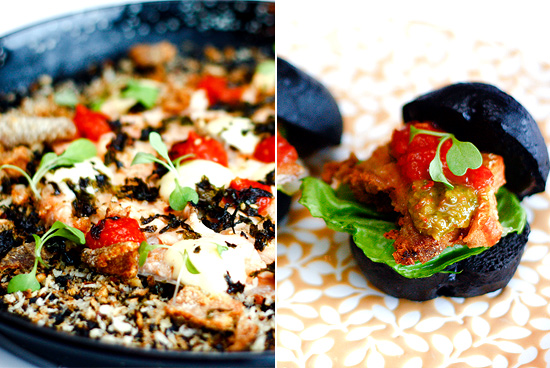 (SPOT.ph) Every Filipino family has staple Spanish dishes they can have any day. Garlicky champignon al ajillo, salpicao, or gambas, with the oil infused so well you'll want to mop it up with crunchy bread; paella Valenciana filled to the brim with chorizo, chicken, seafood, and bright saffron rice; fluffy, cloud-like canonigo covered in sweet cream. 
ADVERTISEMENT - CONTINUE READING BELOW
CONTINUE READING BELOW
Recommended Videos
These are dishes you'd find in most Spanish restaurants, even in non-Spanish ones, and the need to stand out has never been more imperative. Enter Chef Sonny Mariano, the new chef behind under-the-radar tapas haunt, Alqueria. His solution was to revamp the menu, marrying contemporary Spanish classics with trendy Asian fusion, and maintain the older set who spend their afternoons with churros and coffee while attracting young, adventurous diners who crave innovation. 
You can see this intention right away. Alqueria's Sopa de Ajo (P168) definitely did not come out of your lola's kitchen. The bowl comes with a manchego crisp and a poached organic egg, and the dish is finished tableside, with the server adding the lovely garlicky broth just before you indulge. Its carefully prepared ingredients—from the little garlic cake to the shimeji mushroom on the side—add a new textural dimension to an old favorite.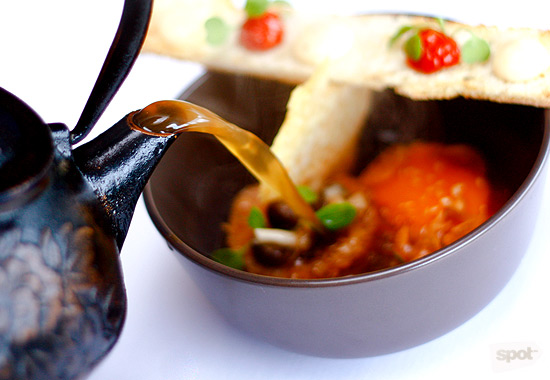 ADVERTISEMENT - CONTINUE READING BELOW
 Sopa de Ajo
Chef Sonny also divided the tapas into five sections—Croquettas, Black Bao, Frias, Pai Tee, and Tostadas—all refreshingly creative. The Black and Claw (P268), under the Croquettas category, is made with squid ink, crab claws, crab fat, and ebiko. It's not a date dish, but that hardly matters—every bite is like a passionate tryst.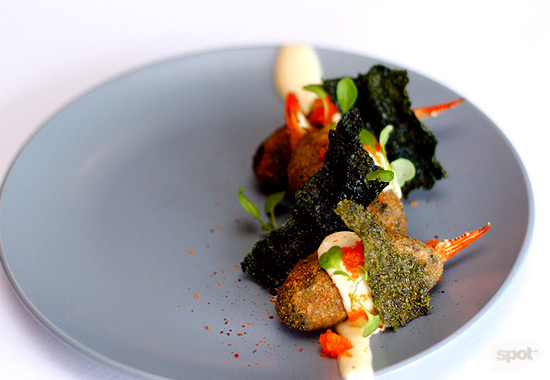 ADVERTISEMENT - CONTINUE READING BELOW
Black and Claw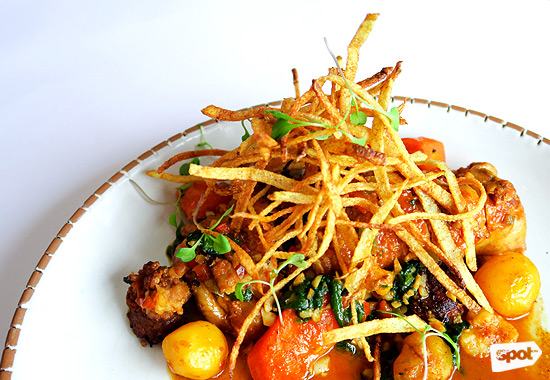 Callos Pai Tee 
The Pai Tee menu is a must-try. They're essentially traditional Spanish tapas served in little flaky pastry cups. The bestseller is the Surf and Turf (P188), where gambas, salpicao, roasted garlic, and togarashi party in a bite-sized, buttery vessel. The Callos Pai Tee (P159) leads the pack. It hosts a familiar medley of chorizo and garbanzos, but lifted with a touch of lime that makes the flavor extra special. 
ADVERTISEMENT - CONTINUE READING BELOW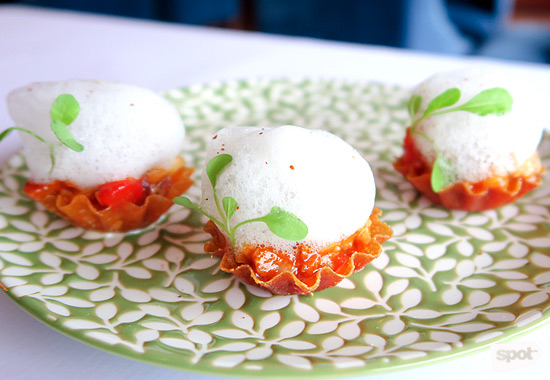 Surf and Turf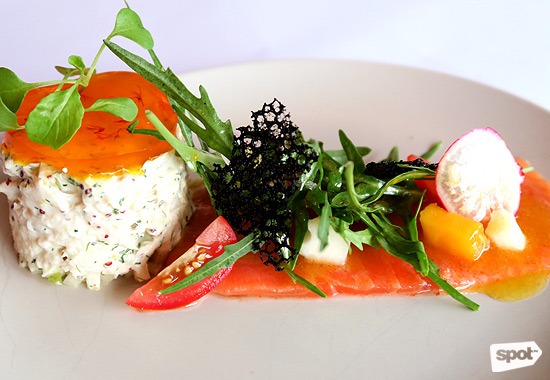 ADVERTISEMENT - CONTINUE READING BELOW
Crab and Salmon Escabeche
Among the Frias or cold appetizers, you shouldn't miss the Crab and Salmon Escabeche (P308), which won Chef Sonny a gold medal at this year's FHA Singapore Culinary Challenge (the most prestigious culinary competition in Asia). The dish is picture-perfect: It's a crab salad topped with saffron jelly on one side and salmon carpaccio with arugula and a passionfruit glaze on the other. Take small portions of both and have them together. You've just found the best seafood dish to enjoy in year-long humidity. 
For those hoping for lighter alternatives, the Tostadas or toast points come with satisfying toppings. Alqueria's version of Caldereta (P228) uses pulled beef shortribs and dehydrated olives served on top of multigrain bread. The contrast of saucy, soft beef and crunchy sour olives is taste bud-teasing treat.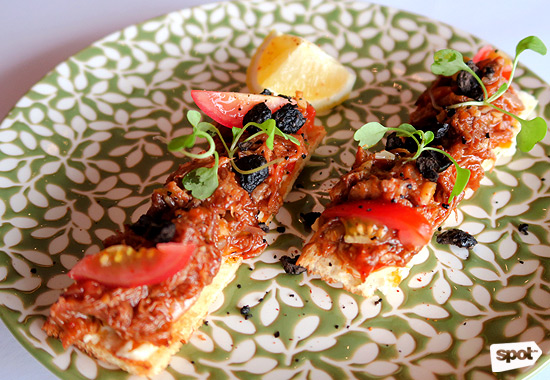 ADVERTISEMENT - CONTINUE READING BELOW
Caldereta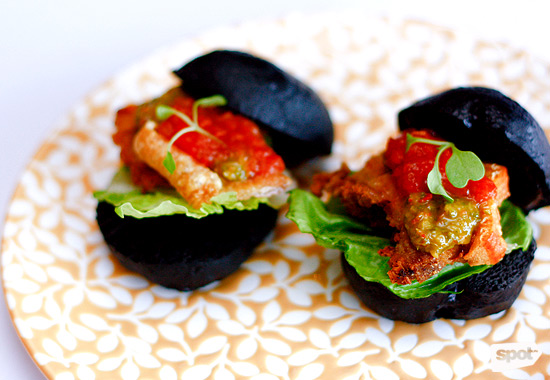 Chicharonnes Black Bao
The Black Bao can be found together with some of the trendiest items on the menu. The mantou buns are painted with squid ink, infusing that distinct flavor into the filling. If you could have just one, you can't go wrong with the Chicharonnes (P198). Alqueria uses the crunchiest part of the pork, and bolsters it with chimichurri, hoisin, and tomato jam. Anyone who appreciates a good bagnet or lechon dish will quickly warm up to this sandwich.
ADVERTISEMENT - CONTINUE READING BELOW
Even the paellas aren't exempted from Chef Sonny's brand of creativity. There's the Salmon al Neri (P698), which is served with squid-ink rice. The torched salmon layer is covered in calamansi aioli, then sprinkled with toasted nori, roasted peppers, and crunchy salmon skin. Think of it as sushi in a pan.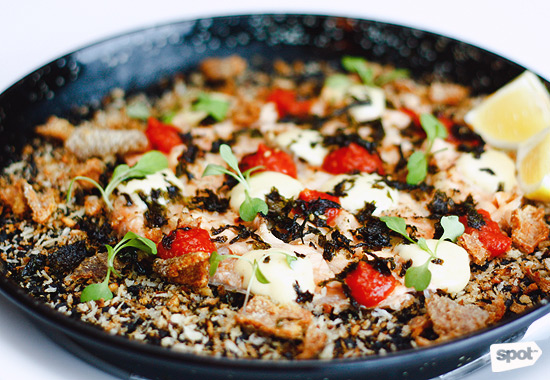 ADVERTISEMENT - CONTINUE READING BELOW
Salmon al Neri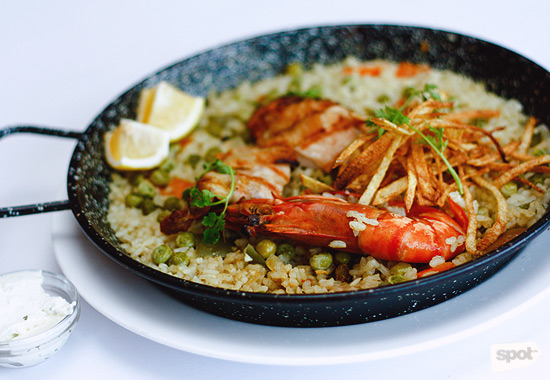 Green Curry
Then, there's the Green Curry (P638), which is paella rice cooked in a green curry base, blanketed with chicken and giant prawns, then served with a Greek yogurt dipping sauce on the side. This quirky combination may sound strange on paper, but the flavors make perfect sense on the palate.
ADVERTISEMENT - CONTINUE READING BELOW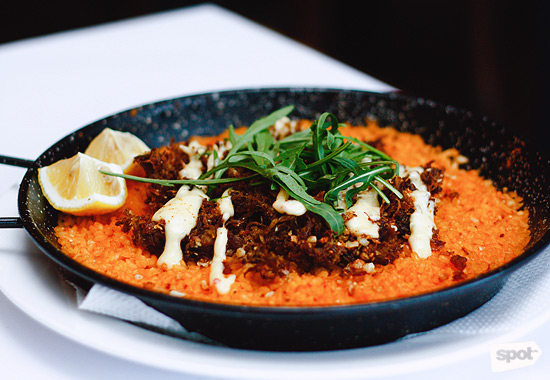 Crispy Mechada Paella
Chef Sonny also lets us in on a little secret. He has an off-the-menu paella that you can order if you ever find yourself looking for more familiar comfort food. The Crispy Mechada Paella (P538) is exactly what it sounds like—a generous heap of flavorful, crunchy beef on top of saffron rice. 
ADVERTISEMENT - CONTINUE READING BELOW
If you're one to pair flavor with more flavor, try enjoying the paellas with some of their main courses. The Beef Belly (P567) features effortlessly melt-in-your-mouth beef in a sweet barbecue-like sauce with green beans and shallots. Another great dish is the Pollo (P488), where roasted boneless chicken is made irresistible with garlic, sweet peppers, spinach, and paprika.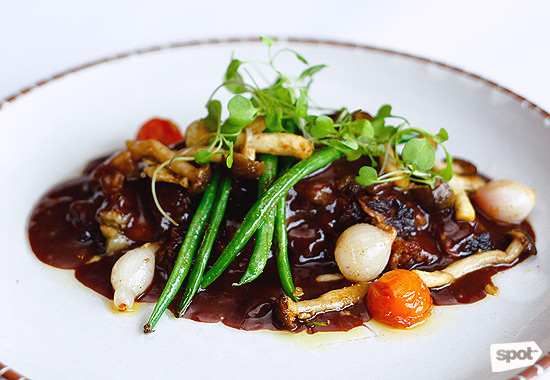 ADVERTISEMENT - CONTINUE READING BELOW
Beef Belly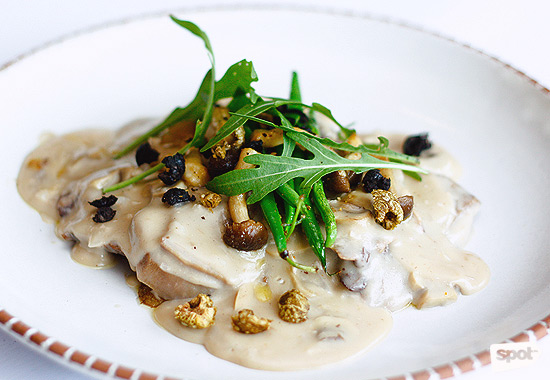 Lengua
The Lengua (P498), which is tender, covered in a light cream sauce, with marble potatoes and dried olives, is, of course, quintessential Spanish and always enjoyable with tapas and drinks.
Desserts at Alqueria have also become noteworthy. The Canonigo with Salted Egg Anglaise (P198) is like a sweet, fluffy cloud covered in salty, creamy love. You might even finish it before the server leaves the table.
ADVERTISEMENT - CONTINUE READING BELOW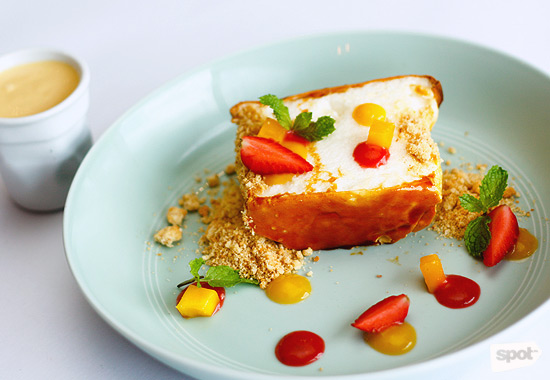 Canonigo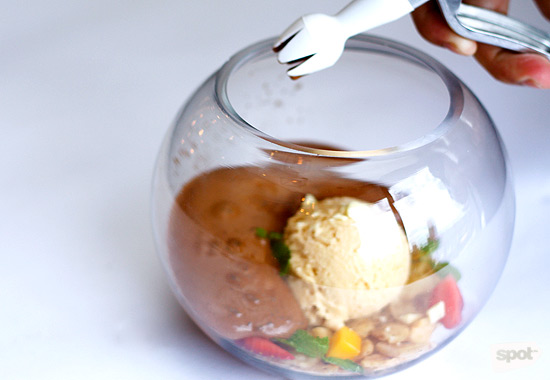 ADVERTISEMENT - CONTINUE READING BELOW
Frio y Caliente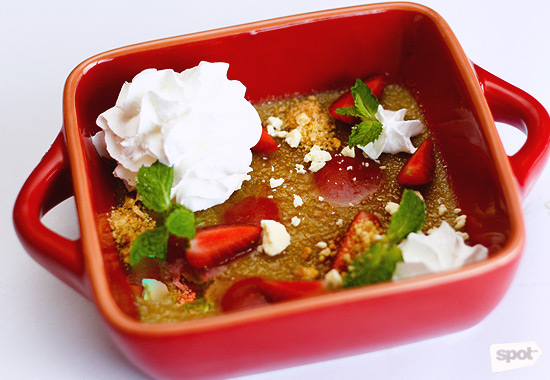 Matcha Creme Brulee
For those who like contrasting textures and temperatures in dessert, you must have the Frio y Caliente (P298). This hot and cold dessert puts together miso salted caramel ice cream with freshly piped hot chocolate mousse—the suave and sharp combination of elements is incredible. Then, there's the Matcha Creme Brulee (P268) which is the perfect blend of sweet and tart, with just a touch of earthiness. It's a refreshing conclusion to the bold flavors of the restaurant.
ADVERTISEMENT - CONTINUE READING BELOW
Asian fusion is changing the course of cuisine in a big way, and Alqueria definitely knows how to make it work for them.
Photos by Pia Babao Guballa
Load More Stories