The Yard at Xavierville, Quezon City
83 Xavierville Avenue, Loyola Heights, Quezon City
Contact: 0917-805-6939
Open daily from 4 p.m. to 12 a.m.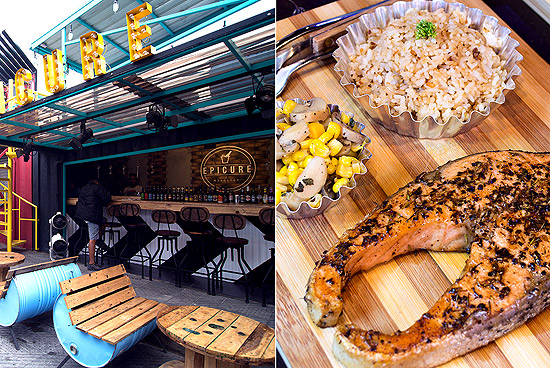 (SPOT.ph) We've seen several food parks take over the Metro, but none comparable to The Yard at Xavierville. The multi-level hangout—the first in Manila—features an assortment of quick-serve delights from around the globe. The park also hosts budding DJs, bands, and artists, who secure spots throughout the week to entertain parkgoers.
ADVERTISEMENT - CONTINUE READING BELOW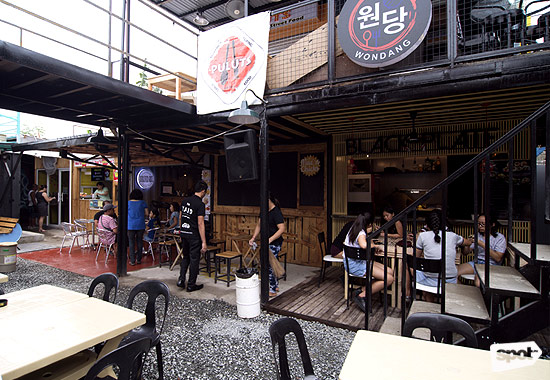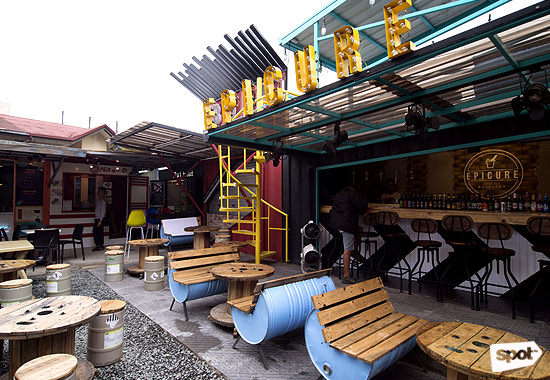 ADVERTISEMENT - CONTINUE READING BELOW
Recommended Videos
Anne Barbara Soriano, Hazel Soriano-Farinas, Brian Farinas, Cohleen Ipapo-Soriano, and Julius Ipapo are the cool folks behind this fantastic enterprise. Their plan was to create a relaxed, no-fuss atmosphere for adventurous and curious foodies and they carefully picked each of The Yard's 30 tenants to ensure that they're all experienced and self-taught cooks who share a love for delicious but value-for-money grub.
Read on to find out more about their food and drink lineup. It's hard not to find one you won't like. 
ASIAN DELIGHTS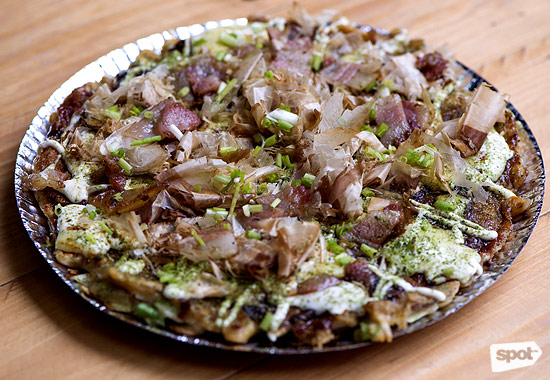 ADVERTISEMENT - CONTINUE READING BELOW
Takami Gyozas & Okonomiyaki
You've probably seen videos of Takami's Cheesy Beef Gyudon (P150/rice meal, P240/group) on social media, where servers torch the rice bowl's layer of cheese right under your nose. The spectacle, which adds delicious smoky end notes to the meal, is only the tip of the iceberg for the modest food stall. It also has a couple of other fusion-inspired specialties, like the Cheesy Bacon Okonomiyaki (P175) or their take on a Japanese savory pancake and Beef Bulgogi Gyozas (P95/four pieces, P115/six pieces), Japanese dumplings that feature a Korean twist.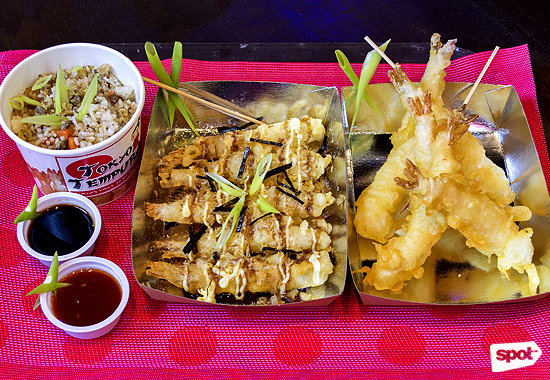 ADVERTISEMENT - CONTINUE READING BELOW
Tokyo Tempura
Tokyo Tempura's claim to fame lies in their selection of reinvented tempura paired with homemade sauces. If you enjoy tangy and sweet taste profiles in one go, the Crazy Tempura (P100) makes for a good starting point. But it is their Unlimited Tempura (P249), which comes with a cup of rice, that takes the cake. Gorge on piece upon piece of this well-loved Japanese delicacy without breaking the bank.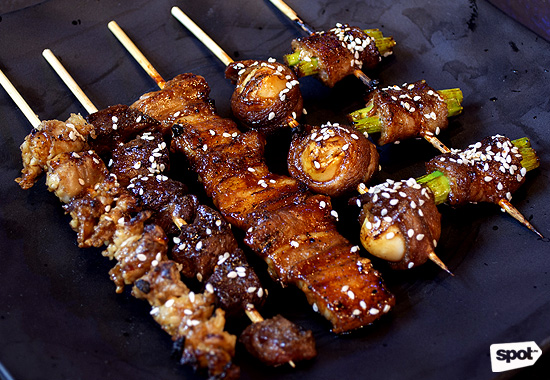 ADVERTISEMENT - CONTINUE READING BELOW
Niku-Q
Regulars at Kapitolyo's Gastropark may already be familiar with Niku-Q's strong suit: grilled-to-perfection kushiyaki coated in special sauce mixes. Have your pick from a range of treats on a stick (starts at P30/stick): Pork with Asparagus, Quail Eggs Wrapped with Bacon, Chicken Skin, Chicken Fillet, and Angus Steak.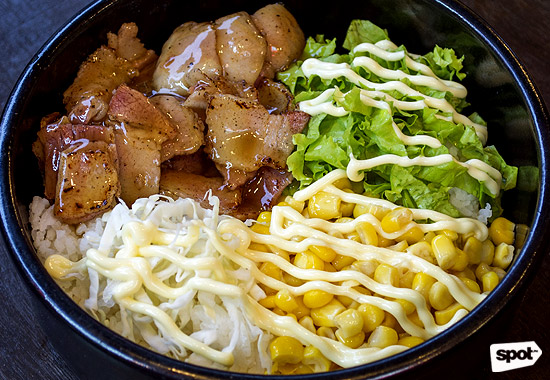 ADVERTISEMENT - CONTINUE READING BELOW
Black Plate
For reconstructed Japanese-Mexican grub, make a beeline for Black Plate where specialties include reinvented ramen and other gastronomic hybrids, like BurriBowls and BurriSushi. Sample the best of what they offer beginning with the Ocean Avenue Sushiritto (P180), a California Maki-inspired burrito served with a side salad; the Tonkatsu Ramen (P220), which marries two Japanese favorites; and the Bacon Burri Bowl (P150), a hodgepodge of pork bits, greens, and corn, topped off with a layer of cheese and Japanese mayo.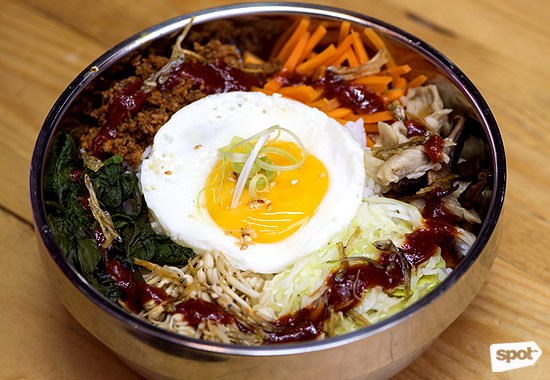 ADVERTISEMENT - CONTINUE READING BELOW
Little Wondang
Fans of traditional Korean cuisine would be happy to know Little Wondang offers Korean staples, but with a Pinoy makeover. Of their offerings, have a look at their Bassam (P135), pork belly slices slathered with a rich barbecue sauce; Bibimbap (P130) a hefty take on the classic; and Chapchae (P130), a masterful mix of greens, noodles, meats, and mushrooms. If you are coming in as a group, their D.I.Y. Korean BBQ option might just appeal to your taste buds. Grill your own meats and vegetables at the comfort of your own table!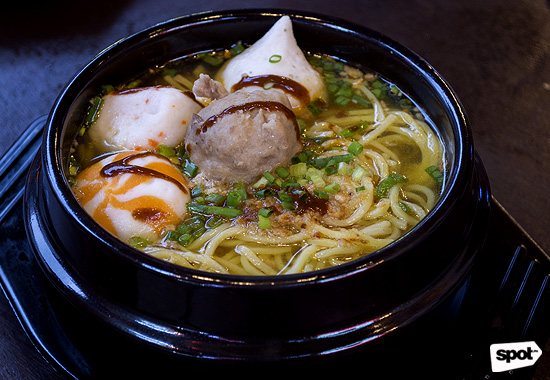 ADVERTISEMENT - CONTINUE READING BELOW
Hong Kong Foodie Street Food
This modest food stall takes you back to the side streets of Hong Kong and Macau. Start off with their assortment of finger food (starts at P40/stick): Fish Tofu, Squid and Lobster Balls, Crab Fingers, and Shrimp Rolls. They also have the more filling options down pat, including the Salt and Pepper Squid, Longganisa Macau (P155), Chinese Sausage with Century Egg (P155), and Noodles (P65/two toppings, P15/additional topping).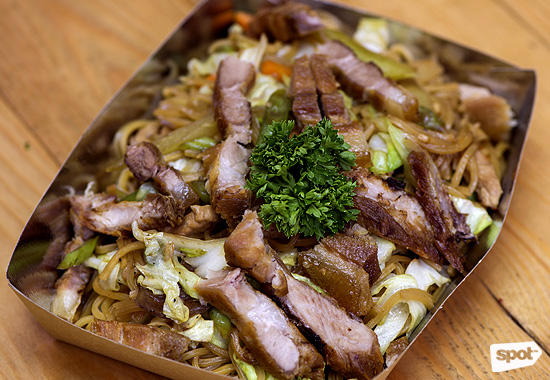 ADVERTISEMENT - CONTINUE READING BELOW
Puluts
Cross over to delicacies that hit closer to home. Puluts' expertise lies in their sisig lineup, and it's the Old-Timer Pork Sisig (P145) we're particularly keen on. Lechon kawali lovers, meanwhile, can enjoy these crispy pork slices atop veggie-packed bihon or canton noodles (P155). Those who get a kick from heat can enjoy sticks of TNT (P60), Puluts' take on fried spring rolls packed with cheesy beef and chili peppers.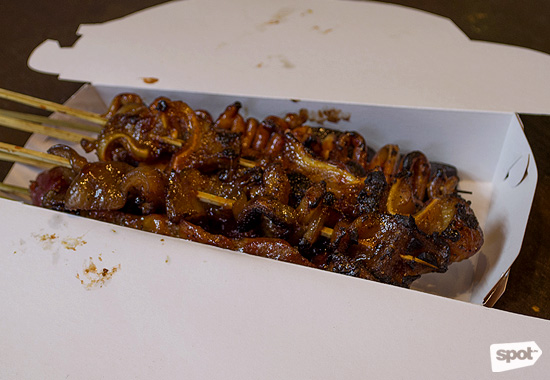 ADVERTISEMENT - CONTINUE READING BELOW
Kotsehawan
A Kotsehawan side trip will remind you of your days in university when it was customary to spend long breaks in the company of street food. Here, you will find all the essentials: Chicken Blood, Chicken Gizzard, Pork Skin, Chicken Isaw, and Barbecue (starts at P15/stick). They also serve liempo, tilapia, and bangus. Everything is grilled on-site in an old, refurbished Beetle, and served in a handy, too-cute Beetle-shaped case.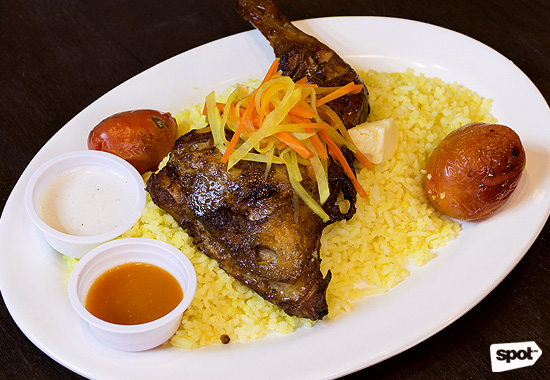 ADVERTISEMENT - CONTINUE READING BELOW
Halal Kebab Express
At the helm of Halal Kebab Express are Chefs Manoj and Violet de Silva, who are best known for their stints as lead chefs in culinary school ISCAM. The two combine their expertise in authentic Persian street food, a collection of spice-filled, mouthwatering chow, that they sell at easy-on-the-pocket prices. Check out their Chelo Juje Kebab and Chelo Kebab Kubideh (P149 each), which they pair with a generous serving of their trademark Halal-certified Persian rice. Do watch out for a full-fledged Halal Kebab restaurant, to open very soon at Unit 6J, Park 9 Alley, Katipunan Avenue.
EUROTRIP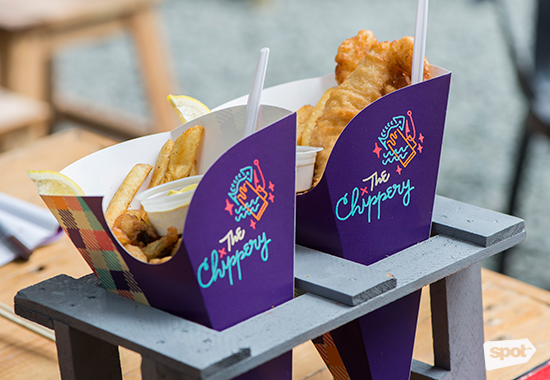 ADVERTISEMENT - CONTINUE READING BELOW
The Chippery Fish & Chip Bar
The Chippery does London by way of Manila with their range of deep-fried seafood cones. SPOT.ph recommends the Oyster and Fish Cones (P165/each), which you can take with your choice of dip (P25/ for an extra serving): malt vinegar, tartar, lime sriracha, garlic lemon dill, and golden spice. Get the Batter Platter (P375) to sample their specialties in one go: fish, squid rings, mussels, oysters, and scallops. Then, wind down with a Deep Fried Chocolate Bar (P125), a beer-battered sweet bar served with ice cream and cocoa dust.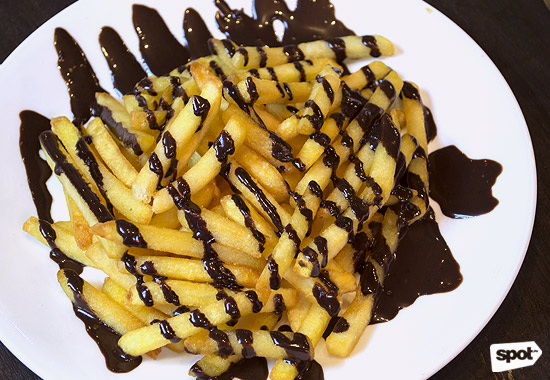 ADVERTISEMENT - CONTINUE READING BELOW
All About Fry Day
All About Fry Day is all about barkada-style eating. Their tagline? The bigger, the better. Have your pick from their specialty fry collection—your choice of Belgian or Shoestring—that come served with homemade sauces and crisp bacon bits. The Heart Attack (P290/Belgian, P260/Shoestring), a messy jumble of golden fries, fried bacon, and barbecue sauce, has become a crowd favorite. They also have variants that take the dessert route: Choco Lover (P190/Belgian, P160/Shoestring) features fries lathered in thick salted chocolate syrup.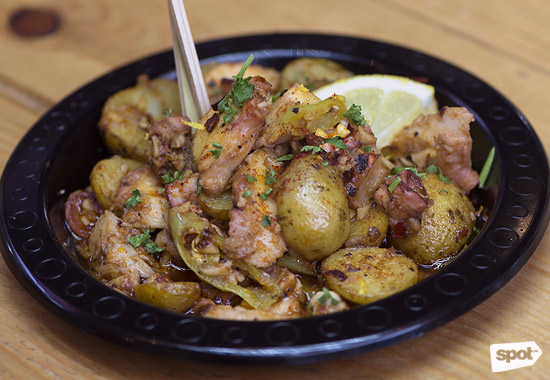 ADVERTISEMENT - CONTINUE READING BELOW
Asombroso
Get your fix of classic Spanish tapas, or light appetizers, at Asombroso. Much like its namesake, the stall is determined to offer "amazing", value-for-money Spanish grub without losing touch of the cuisine's distinct sophistication and flair. Feast on bite-sized Paella Balls (P180), or opt to enjoy munchies such as the Pulled Pork a la Gallega (P160) to go with a cocktail.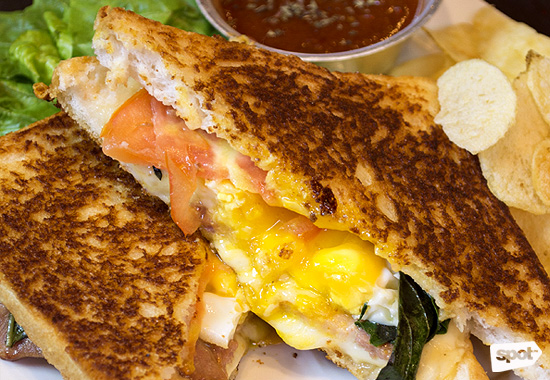 ADVERTISEMENT - CONTINUE READING BELOW
Café Fratello
Wind down for a cup of joe and all-day breakfast treats at The Yard's very own Italian craft coffee stop, Café Fratello. They have several brews on hand, but it's the Choco Mint Frappe (P100) that remains to be one of their bestsellers. Then, take your coffee with the café's bread and butter, beginning with a nostalgic option: the Grilled Cheese Sandwich (P80/solo, P130/duo). Those with a sweet tooth, meanwhile, can satiate their cravings by checking out the toast collection (P85/solo, P150/duo), each finished off with fruit slices, chocolate syrup, peanut butter, or mixed nuts.
MEAT ASSEMBLY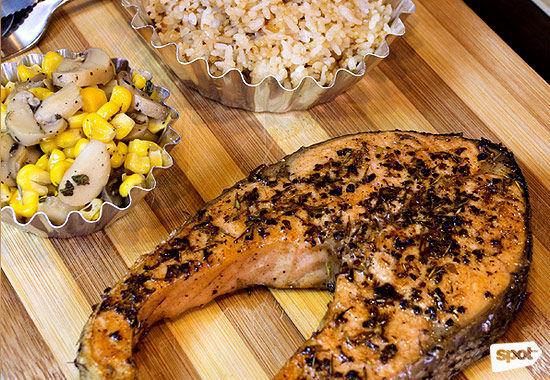 ADVERTISEMENT - CONTINUE READING BELOW
Rustic Box Steakhouse
It's easy to see why diners gravitate towards Rustic Box Steakhouse. After all, who doesn't want juicy slabs of steak at budget-friendly prices? If it is your first time to visit, the team behind this quaint steak stop recommends that you start off with the Porterhouse (P240) or the Herbed Salmon Steak (P230). Should you opt for the former, you will be given a choice of rub (original, Rustic Box special, Jack Daniel's glaze, peppery Tabasco, teriyaki, and Texas BBQ); sides (rice, herbed corn and mushroom, coleslaw, macaroni ragu, mashed potato, and creamy mushroom soup); and doneness. The latter, meanwhile, features a chunky slice of grilled salmon that leaves a zesty aftertaste after each bite.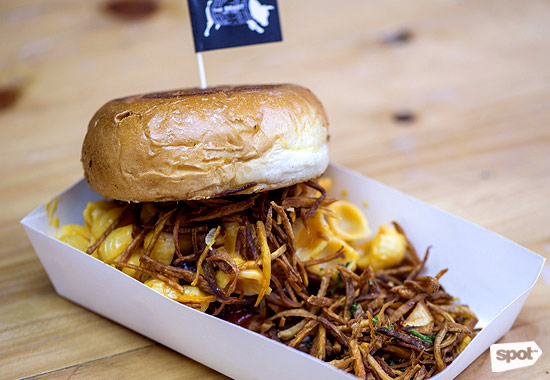 ADVERTISEMENT - CONTINUE READING BELOW
Smoke and Barrel
Smoke and Barrel is the answer to your carnivorous cravings. They carry a modest but powerful line-up of spiced, savory meats served either over rice or sandwiched between specialty buns and served with a side of sweet potato shoestring fries. Bite into their specialty local Wagyu beef brisket sandwiches: The Beast (P230), packed with mac and cheese and caramelized onions, or The Winchester (P190), served with a melted layer of grilled sharp cheddar. Enjoy more tender bites of their trademark wagyu beef brisket, smoked 12 hours slow and low, with the Slow N' Low Smoked Beef Brisket (P220) served atop a bed of warm rice (add P25 for dirty rice) and pickled vegetables. For a slight diversion in flavor, chomp on their Killer Smoked Bacon Skewers (P190) that you can coat with their signature jalapeño jam for added zing.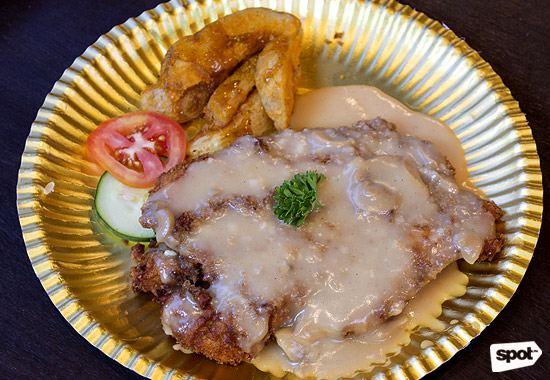 ADVERTISEMENT - CONTINUE READING BELOW
Berliner Grill
Berliner Grill lets you indulge in an exciting combination of German-Turkish delights. Begin with the Chicken and Beef Doner (P139), which was created so diners wouldn't have to pick one savory option over the other. Then, shift to heavier options such as the Chicken Schnitzel (P179), a generous piece of breaded poultry splashed with warm, spiced gravy.
THE AMERICAN DREAM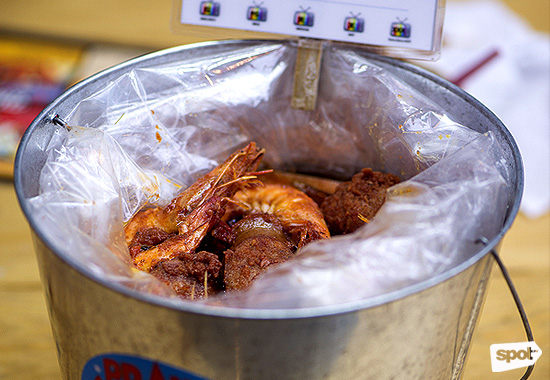 ADVERTISEMENT - CONTINUE READING BELOW
PrawnstarPH
PrawnstarPH is best known for their seafood boil, a product of Louisiana-inspired Cajun cooking. When your loot comes, expect to get down and dirty (read: use your hands when eating). Shovel down their selection of mussels (P120/green, P140/black), shrimps (P150/each), prawns (P190/each), clams (P130), potatoes (P25/each), Andouille sausages (P85/each), and corn cobs (P25/each), which you can complement with their specialty sauces: G-Spot (garlic butter), PG (mild), sexyshotte (Cajun), and hoe eggs (salted egg).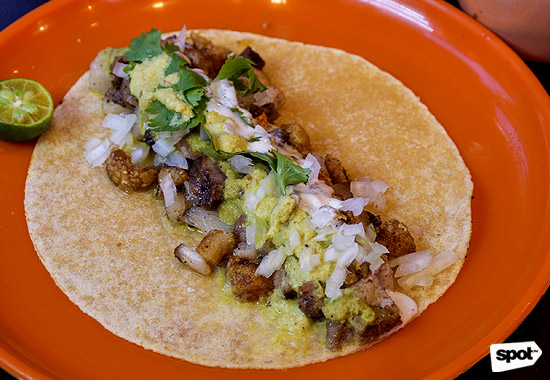 ADVERTISEMENT - CONTINUE READING BELOW
El Chapo's
El Chapo's is The Yard's very own Filipino-Mexican food cartel, known for Fil-Mex-inspired grub complemented with homemade sauces. Of their goods, check out the Yellow Fin Tuna Taco (P120), which goes best with their Asian dressing, and the Lechon Sisig Taco (P125), which is best taken with sour cream or the salsa verde. They also have Beef Salpicao Nachos, plus a range of burritos, to be launched in the coming days.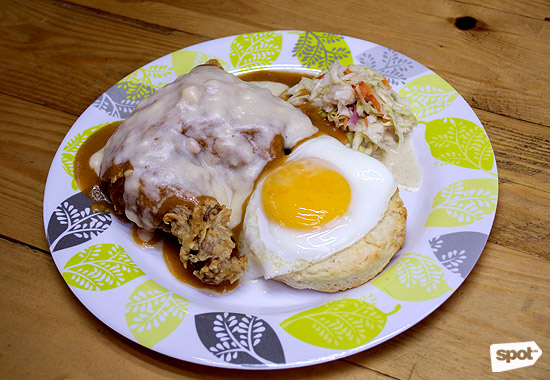 ADVERTISEMENT - CONTINUE READING BELOW
Chix N Biz
Chix N Biz is Chef Ric Ramos' first venture into the local culinary scene. He had a successful stint in Oregon's PonoSoul Kitchen where he spent most of his time cooking up Japanese-inspired comfort food. Now, Chef Ric hopes to revolutionize the native poultry scene by introducing Southern-style fried chicken—fried, then baked—served with biscuits. Each variant on his menu caters to a range of preferences, but it's the Reggae (P165), the simplest, stripped-down option, that you should get acquainted with if you are coming for the first time. The Reggae is a play of their signature chicken, a helping of eggs and cheese, and a blanket of their house gravy.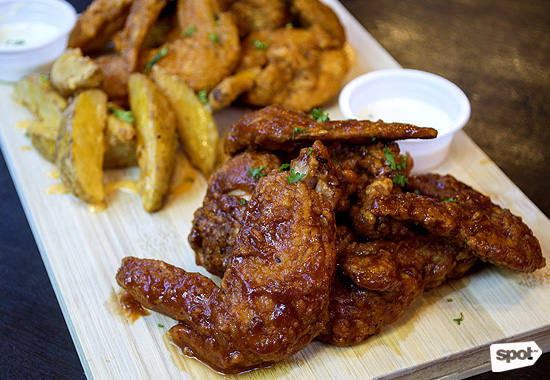 ADVERTISEMENT - CONTINUE READING BELOW
Mac N' Chicks
Mac N' Chicks ought to be your next stop for your fix of comfort food go-to's: mac and cheese and chicken wings. Their mac and cheese come with a twist: in the form of deep-fried balls (P140) that you must dunk in an even cheesier homemade paste. Then, it's only customary to have a wings platter with those fried balls, each one coated by top secret mixes. The Classic Buffalo Wings or the Mac N' Chicks Buffalo Wings (P140/four pieces, P160/six pieces) will be your introduction to this particular food stop.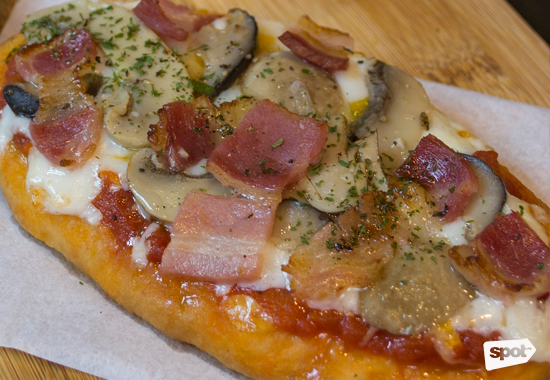 ADVERTISEMENT - CONTINUE READING BELOW
Flat Bread
Flat Bread is your best bet for those rainy-day food cravings. With pizza serving as the inspiration, the folks behind this outfit developed a menu centered on basic roti topped with different sweet and savory pieces. Have a go at the Bacon and Mushroom Flat Bread (P80), which goes best with the Bacon and Potato Chowder (P65). Then, end on a sweet note with a helping of their S'mores Flat Bread (P65). Everything about this place will remind you of the comforts of home.
SWEET ENDINGS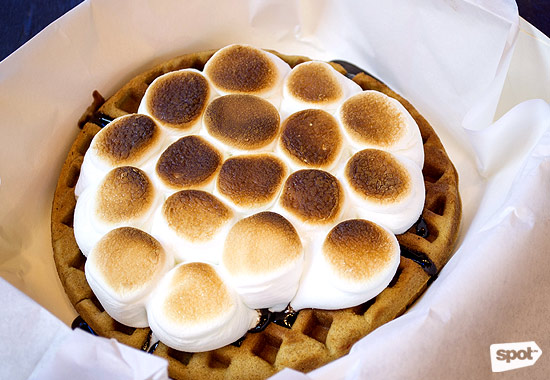 ADVERTISEMENT - CONTINUE READING BELOW
Waff
A mother-daughter tandem brings together favorites from home through Waff, a venue for all your dessert dreams, and more. Sink your teeth into the S'moreflles (P125/solo, P225/group), which marries the classic campfire favorite against a bed of crunchy waffles; the Peanut Butter Waffle Sandwich (P135), a Reese's peanut butter cup in waffle form; and the Red Velvet Cream Cheese Bubble Waff (P135), which is inspired by the Hong Kong side street staple and packed with ice cream and chocolate syrup. Waff also has savory meals including their own take on Sisig (P190) and their Herbed Chicken Wings with Red Velvet Waffles (P175).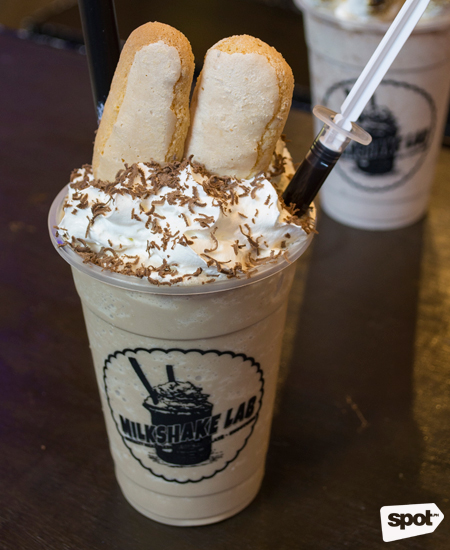 ADVERTISEMENT - CONTINUE READING BELOW
Milkshake Lab
If you are in the mood for sweet milkshakes, Milkshake Lab's explosive collection is a strong contender. Their quirky milkshake line, which uses a homemade base, is topped off with massive coiffures of whipped cream and their signature syringes packed with syrup for a boost in flavor. Milkshake flavors include S'mores, Tiramisu, Red Velvet, Strawberry Shortcake, Blueberry Cheesecake, and White Chocolate Macadamia.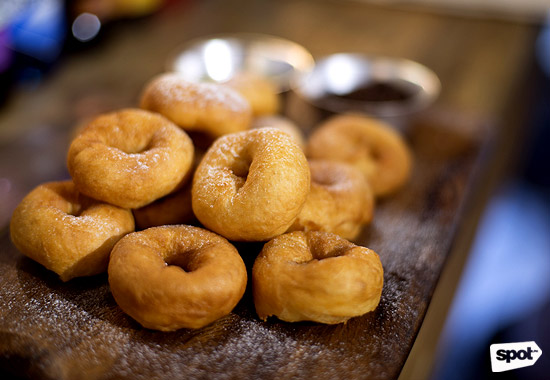 ADVERTISEMENT - CONTINUE READING BELOW
Dip N Dough
The duo behind Dip N Dough takes their cue from charcoal-grilled desserts made popular in Prague. The Chimney Original (P145), homemade ice cream served on a cinnamon-dusted donut cone is a bestseller. In the Chimney with Whipped Cream Cheese (P155), you'd have to eat your way in to enjoy every bit of the sinful dessert. Or, settle on old-fashioned donuts served with original dip choices, starting with their Mini Donuts with Matcha Dip and Crushed Oreos (P175) platter, which can be shared with a friend or two.
FUEL STOPS
Gulp Station
At the heart of The Yard is Gulp Station, the food park's beverage authority. Here, you are given the option to choose from a bevy of coolers, and decide whichever one would be perfect fit for your meal. The Green Tea with Lychee and the Red Raspberry Tea fishbowls (P80/each) are the immediate favorites.
ADVERTISEMENT - CONTINUE READING BELOW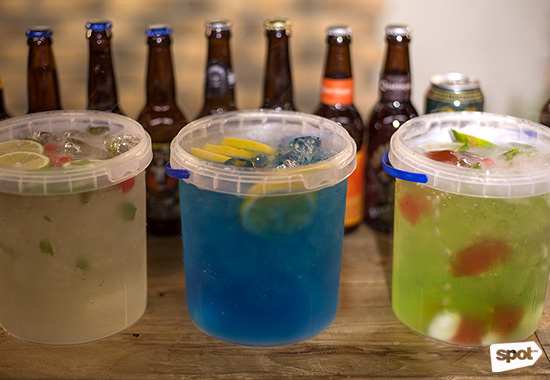 Epicure Mixology
The team behind The Lost Bread and Mr. Diggins has taken on another food concept: Epicure Mixology, where booze is done with a twist. The park's official watering hole serves craft beer, "poptails" (cocktails served with #LiqMyStick popsicles), and liquid nitrogen wine slushies. It is their specialty cocktails, however, that are worth a taste. Each one (P250/1L, P420/2.5L) is served in "Epic Pails": Cherry Mojito, a jumble of white rum, lime juice, mint leaves, and cherries; Citrus Blue, a mix of vodka, blue curacao, and lemonade; and Green Apple Jello, a nostalgic option containing gin, green apple flavoring, and Jell-O bits. The owners are also thinking of opening a stall next door called Burn, where blow-torched ribs are expected to take front and center.
ADVERTISEMENT - CONTINUE READING BELOW
Photos by Hans Fausto
Share this story with your friends!
---
Help us make Spot.ph better!
Take the short survey
Load More Stories