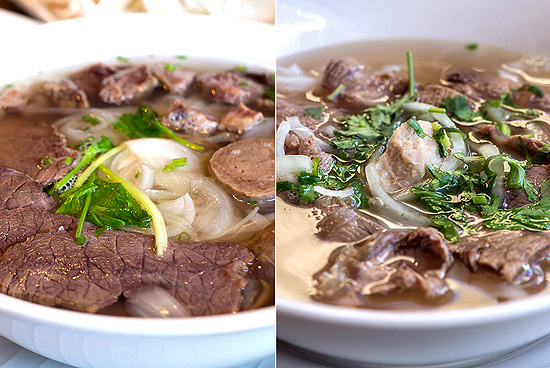 (SPOT.ph) Today's "eat out" trend has taken a toll on our #fitnessgoals, especially with Manila's dining options getting fattier, richer, and much more sinful. For foodies out there who want to take a break from all the decadence, we're sure you'll love this list.
SPOT.ph went all over the Metro looking for the best bowls of beef pho. Clean, refreshing on the palate, and comforting, this Vietnamese favorite was judged based on our pho triumvirate: flavorful broth, perfectly cooked noodles, and tender beef done just right. Whether it's a rainy evening or you just need a warm noodle fix, trust that these 10 pho places will hit just the right spot.
Let's take a pseudo trip to Hanoi.
All SPOT.ph Top 10 lists are researched, paid for, tested, and selected by the writers and editors. They are discreetly conducted without any notice made to the restaurants or their owners. Hotel-run restaurants were not considered for this list.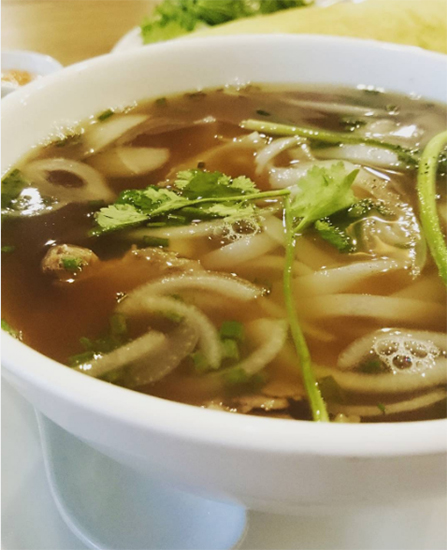 ADVERTISEMENT - CONTINUE READING BELOW
10. Ba Noi's Pho Bo (P225)
The no-nonsense approach to pho is the secret at Ba Noi's. Half the work is already done, thanks to the good broth base that's well-seasoned. The noodles are al dente and the delicate beef adds flavor to every bite. It can be bland at times, but make sure to furiously squeeze out every tarty note in that lime. It will really brighten the broth. 
Ba Noi's has branches at Perea Street, Legazpi Village, Makati City; UP Town Center, Quezon City; and Estancia Mall, Capitol Commons, Pasig City.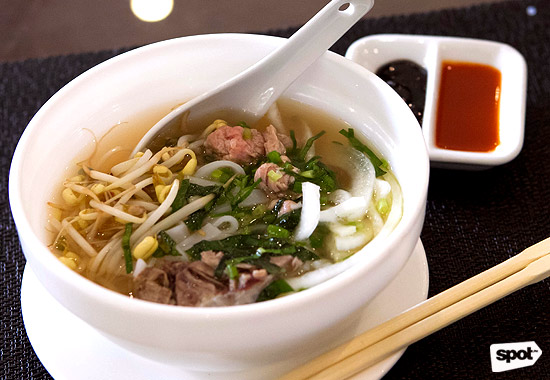 9. Bawai's Pho Bo (P235/small, P355/sharing) 
For those who prefer their broth light, Bawai's is the place to go. Their clear soup is delicately flavored, leaving you to mix your own hoisin-slash-Sriracha concoction to suit your taste. Bawai's doesn't give you extra basil on the side, but you can definitely detect that bright flavor in every sip. The tenderloin and oyster blade cuts are tender and cooked perfectly, making them the perfect texture to go with their firm noodles. Extra bean sprouts are available upon request.
CONTINUE READING BELOW
Recommended Videos
Bawai's is at 79 Katipunan Avenue, Bellitudo Lifestyle Strip, White Plains, Quezon City.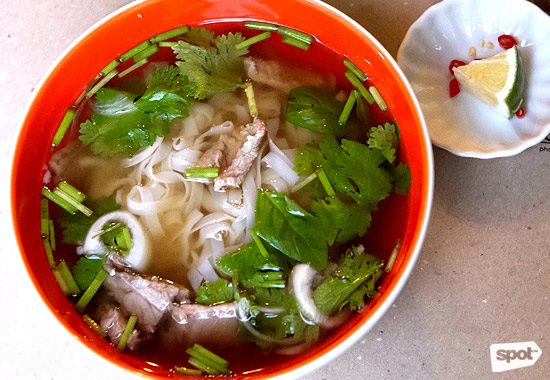 8. Old Quarter's Pho Bo (P235)
A Vietnamese woman biking through a rice field is the subject of a mural at this 16-seater restaurant. The open-air ambience adds to Old Quarter's charm and their limited, but well-thought out menu is a signal that every dish is made with focus and precision. Their pho is a winner—a hearty bowl of fragrant broth with strong notes of basil, cilantro, and onion all building up the generous serving of noodles and beef. We suggest you add a bit of extra chili for a spicy kick and pair your warm bowl of pho with their bahn mi.
Old Quarter is at Unit D RAL Building, 48 Lilac Street corner Kanlaon Street, Hacienda Avenue, Marikina City.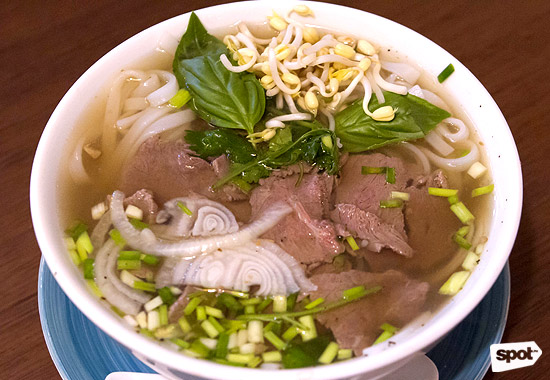 ADVERTISEMENT - CONTINUE READING BELOW
7. Banh Pho's Pho Tai (P200/small, P295/sharing)
Banh Pho deserves more attention than it's getting. This quaint restaurant tucked in a shopping complex in Parañaque serves some seriously good Vietnamese delights. Their pho tai, which features thinly sliced beef cooked to a medium doneness, has just the right amount of spices without being too salty or overwhelming. The best part about this dish is that the noodles are made extra firm, giving it an added layer of texture that'll help you finish this bowl with ease.
Banh Pho is at G/F Park and Shop Center, Dr. A. Santos Avenue, Parañaque City.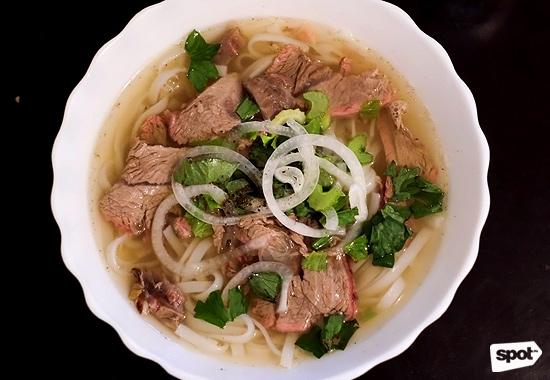 6. Vina Trang's Soft Tender Round Steak Pho (P185)
Hidden in the heart of Makati, this home-turned-restaurant serves quality, homemade pho. Vina Trang's interpretation has some of the best beef cuts we've seen: thicker than the typical serving, but far more tender than the rest. It's also served quite rare, so those who prefer their meat well-done should wait a few seconds before digging in. Vina Trang's broth is also distinctively different from the usual as it is made with celery stalks and generous onion slices. Their pho is so good, it's as if you visited a friend in Vietnam!
ADVERTISEMENT - CONTINUE READING BELOW
Vina Trang is at 8839 Sampaloc Corner Estrella Street, San Antonio Village, San Antonio, Makati City.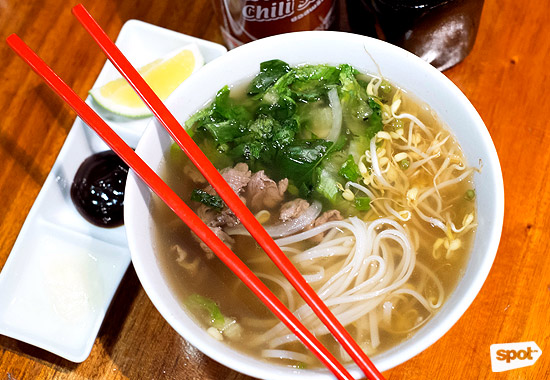 5. P.H.A.T. Pho's Pho Bo (P200/small, P370/large) 
"We serve our pho almost ready to eat" is PHAT Pho's mantra, and we couldn't agree more. Their bowls are probably the hottest we've ever been served, with an aroma you can catch a few feet away. The noodles are great, the beef is cooked right, and the vegetables that accompany the soup come in the perfect ratio. A favorite of those who love flavor on flavor, PHAT Pho serves their noodles with pickled garlic, hoisin sauce, Sriracha, and Thai fish sauce. Clearly it crosses geographical borders. If you're a purist, make sure to add some lemon to balance everything out. 
PHAT Pho is at G/F Serendra, Bonifacio Global City.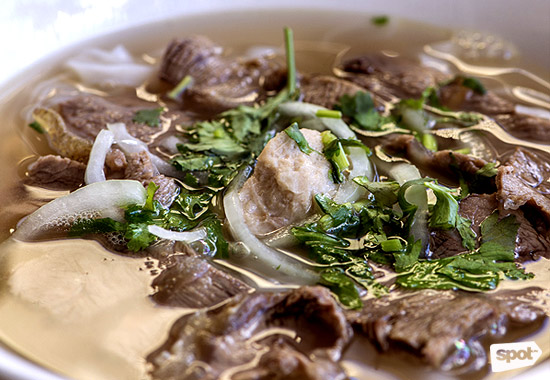 ADVERTISEMENT - CONTINUE READING BELOW
4. Ca Phe Saigon's Pho Bo (P150) 
It's not hard to feel at home at CaPhe Saigon. First of all, it is actually someone's house. Herbs are planted all around, and the basil that goes into your pho? That's freshly picked! That owner Mary Rose Bonifacio is actually Vietnamese only completes that effect. CaPhe Saigon's broth is delicately simmered with beef bones and seven different herbs for six to seven hours to draw out that deep flavor. The noodles are slippery and firm and the flavors are light and right. 
Ca Phe Saigon is at 14 Red Cedar Street, New Marikina Subdivision, San Roque, Marikina City.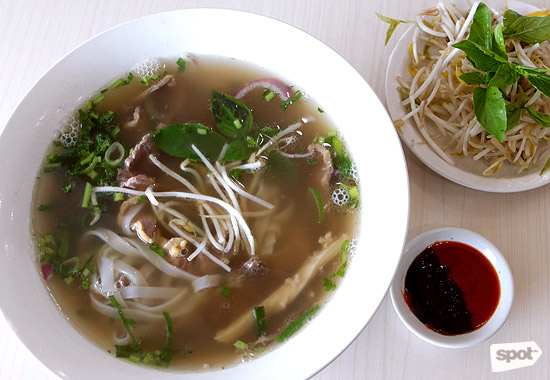 3. Tra Vinh's Pho Dac Biet (P180/small, P230/medium, P299/large) 
Tra Vinh is worth braving the traffic jam for. Originally based in Australia, owner Van Chien Ho harnessed the Aussie way of developing tender beef (Australia has good beef, in case you didn't know) to help create tasty noodle soups. The broth, which is on the sweeter side, flaunts a strong Thai basil aroma that goes well with their homemade noodles. The champion component of this dish lies in the Grade A beef shoulder slices with raw rib eye. Its beefier flavor is balanced beautifully, especially when you add more of the basil and bean sprouts on the side.
ADVERTISEMENT - CONTINUE READING BELOW
Tra Vinh is at Unit 3, 109 N.S. Amoranto Street corner Cordillera Street, Barangay Maharlika, Banawe, Quezon City.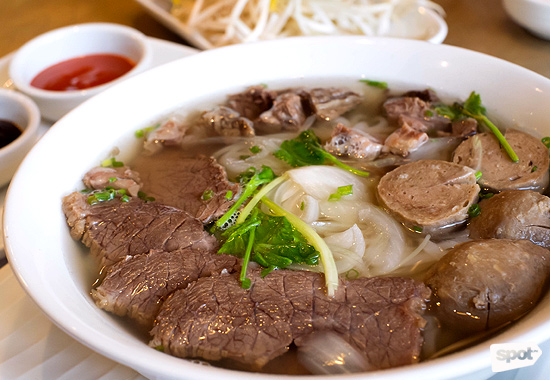 2. Zao's Beef Pho (P265) 
You know pho is good when it maintains its flavorful goodness while keeping your palate clean and fresh even after the meal is done. Zao's beef pho does just that. With minimal to almost no need for extra seasoning and condiments, their beefy broth is enough to power you through any meal. The noodles are a hit with their generous beef cuts, and they even include Vietnamese beef balls in the mix. Enjoyable and simply good, Zao is the perfect demonstration that less is definitely more.
Zao has branches at G/F Serendra, Bonifacio Global City; and 5/F Shangri-La Plaza East Wing, Mandaluyong City.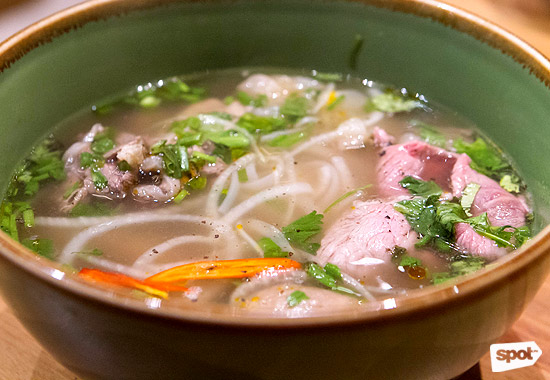 ADVERTISEMENT - CONTINUE READING BELOW
1. Annam's Pho Australian Beef Steak Slices (P320) 
The pho gods have answered our noodle soup prayers with the arrival of Manila's newest Vietnamese restaurant, Annam. If their interiors aren't enough to transport you to the streets of Vietnam, then you must let their bowls do the talking. In Vietnam, pho stalls are judged first with the clearness yet flavorful punch of their broth, then with the firmness of their noodles. Annam's Pho Australian Beef Steak Slices passes both metrics with flying colors. The broth is already pretty flavorful, but it's compounded by the brawny Australian beef on top of the noodles. You'll be licking your bowl clean, indeed.
Annam is at Unit 1880-4, G/F 1880 Building, Eastwood Avenue, Libis, Quezon City.
Photos by Mawi Dagdag, Hans Fausto (Ca Phe Saigon), and Sasha Lim Uy (Ba Noi's)
For other Top 10 lists, check out SPOT.ph's Top 10 Everything Food Lists 3rd Edition. Co-presented with C2 Cool and Clean, it's priced at P195, available at major bookstores.
Share this story with your friends!
---
Help us make Spot.ph better!
Take the short survey
Load More Stories