French appetizers are the stars at this unlimited tapas night
Le Jardin's latest offering provides total value for money.
Le Jardin Manila
W Fifth Building, 5th Avenue corner 32nd Street, Bonifacio Global City
Contact: 0917-8017-6584
Open from 10 a.m. to 11 p.m. (Monday to Saturday) and 10 a.m. to 5 p.m. (Sunday)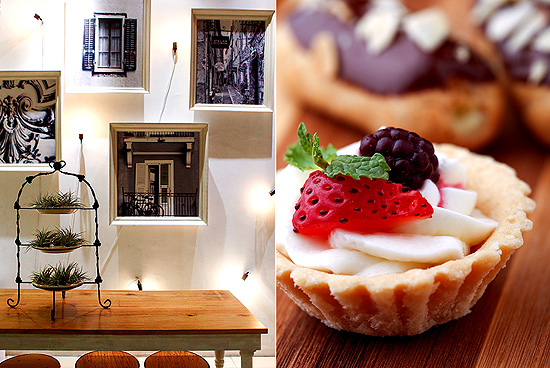 (SPOT.ph) Le Jardin Manila, the IG-worthy French garden restaurant peacefully nestled on top of the W Fifth Building at BGC, aims to please. It's still as pretty as ever, with its decorative foliage, exquisite table setting, and pristine white interiors. Food-wise, the two-year-old establishment isn't holding back, introducing a new promotion that offers free-flowing French eats.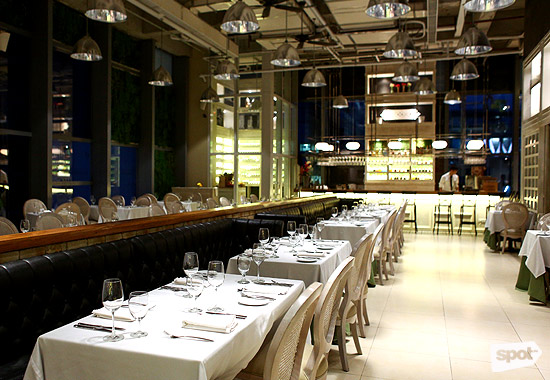 The recently launched Les Tapas Nights offers unlimited tapas and a drink of your choice from 3 p.m. to 7 p.m. daily at P999 net per person. Guests are treated to an assortment of French appetizers and snacks thoughtfully arranged and served in wooden boards.
There are 17 different tapas and a variety of drinks, including beer, wine, and cocktails available. All tapas are initially served in two boards, and diners can request more within the promo hours.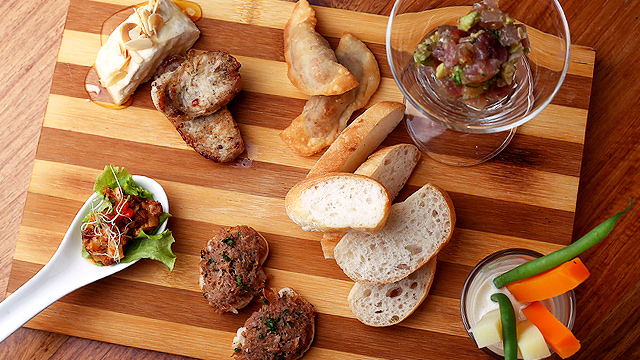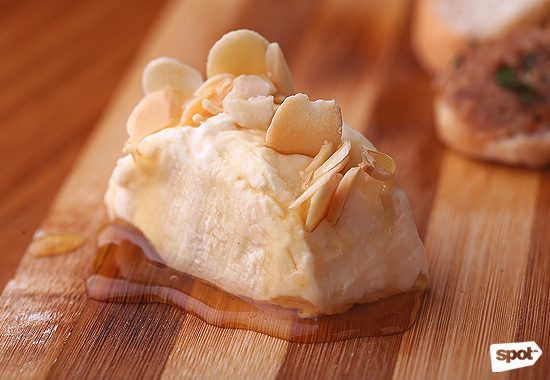 Homemade Cheese with Honey and Almonds
Among the mini creations that stand out is the Homemade Cheese with Honey and Almonds, which is best spread on top of warm slices of their Country Bread. Other house cheeses are also served, like the aromatic Homemade Rosemary Cheese.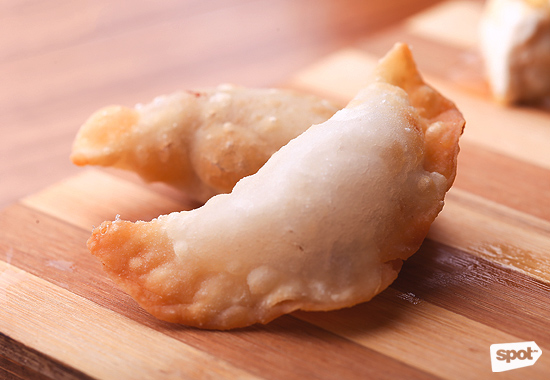 Pork Rillete Stuffed Pastry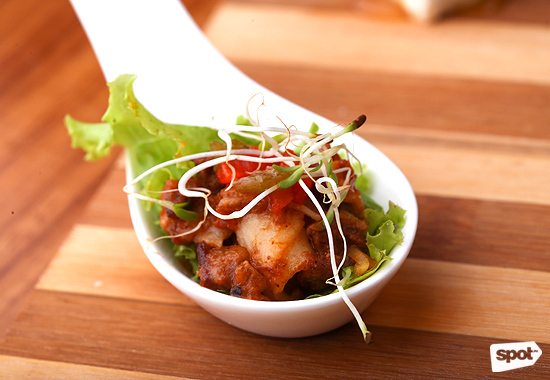 Lamb Lasagne Spoon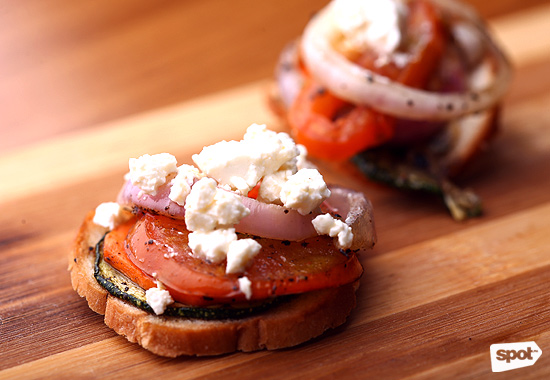 Grilled Vegetable Canape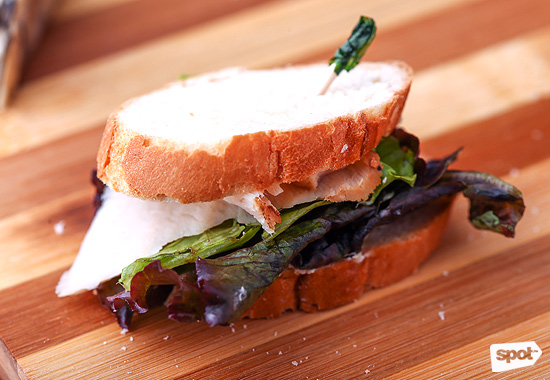 Smoked Chicken Mini Sandwich
The lineup doesn't fall short on savory options. Crowd-pleasers include the Pork Rillete Stuffed Pastry, crunchy pockets enveloping warm shredded sweet pork; Lamb Lasagne Spoon, with tasty lamb ragu that leaves the palate wanting more; Roast Beef Spoon with tender meat slices; and Mushroom Risotto Balls, which marries earthy and tangy hints. Those craving smoky flavors and spices will be pleased with the House Grilled Chicken Sausage, Grilled Vegetable Canape, and Smoked Chicken Mini Sandwich. 
ADVERTISEMENT - CONTINUE READING BELOW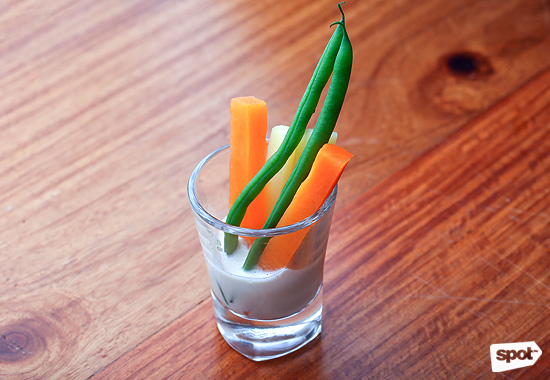 Bagna Cauda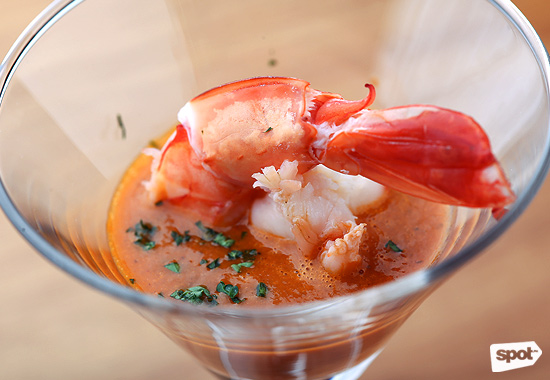 Poached Prawn with Gaspacho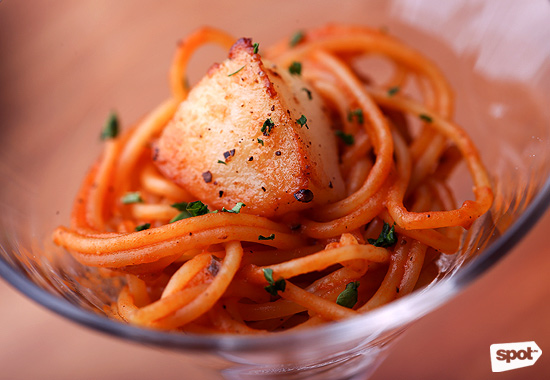 Mini Pasta La Mer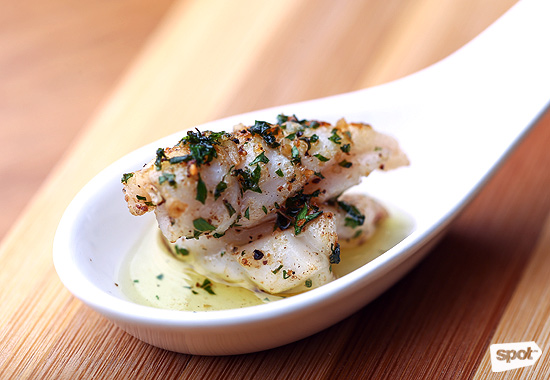 Baby Squid a la Plancha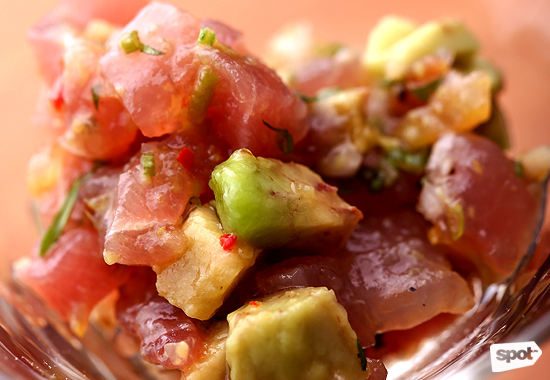 Tuna Avocado Tartare 
Seafood is the star in tapas like the Bagna Cauda, a shot-glass serving of chilled vegetables dipped in pungent anchovy sauce; Poached Prawn with Gaspacho, which has a pleasing balance of flavors; Mini Pasta La Mer, capellini in tomato-based sauce with seared scallop on top; Baby Squid a la Plancha, bite-sized, lightly seasoned squid served in a spoon; and Tuna Avocado Tartare, which is savory to the taste and cool in the mouth.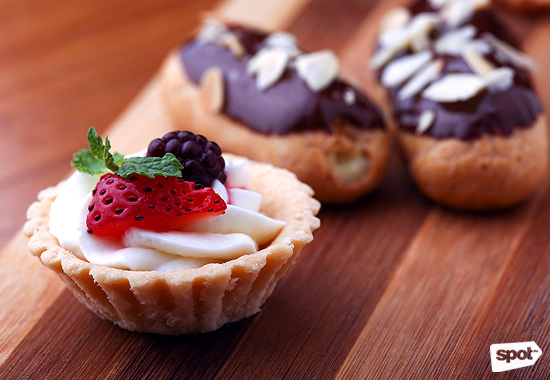 Fruit Tartlets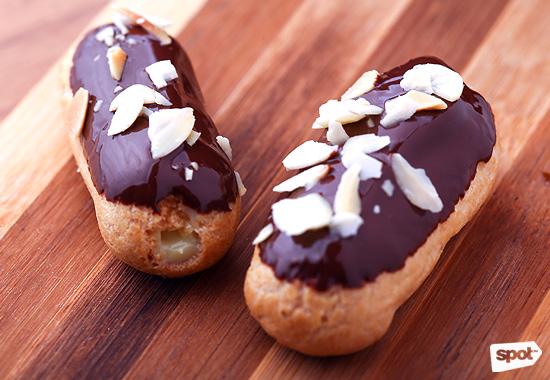 Mini Eclairs
To finish, there are two dessert options. The Fruit Tartlets are topped with strawberry, blue raspberry, and mint leaves, while the Mini Eclairs are generously filled with sweet and rich cream.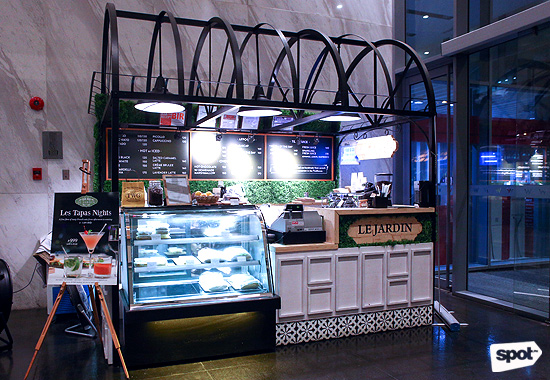 Le Jardin's efforts to make noise don't stop at the Les Tapas Nights promotion. Just recently, they opened the Le Jardin Cafe at the W Fifth Building lobby. The humble kiosk offers to-go items, including artisan coffee, tea, savory rice meals, pastas, pastries, salads, and mini cakes.
Photos by Majoy Siason
Load More Stories