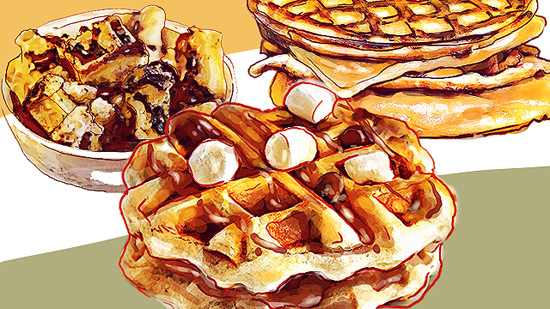 (SPOT.ph) Now that you're most probably done binge-watching Stranger Things all night long, you might be hankering for a snack. Well, we've got the solution for you.
Some of the most memorable and endearing parts of the show are when Eleven expresses her love and fondness for Eggos. How? By gorging on them like mad! And today, we're upgrading the beloved boxed waffles with these easy-peasy Eggo hacks.
Because let's be real here: Eleven + Eggos = #RelationshipGoals.
They're so good, you'll end up wiping that blood off your nose, er, drool from your mouth.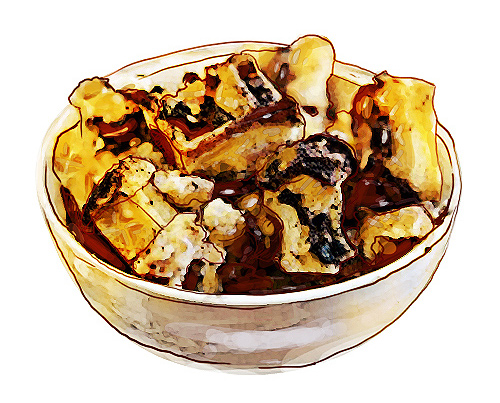 ADVERTISEMENT - CONTINUE READING BELOW
Chocolate Flavored Eggo Bread Pudding
We knew Lunch Lady Phyllis hoarded all that pudding! So why not whip up something fun? Tear up some pieces of Eggos, and mix them in a bowl with some chocolate pudding that you can get in the grocery such as Hunt's Snack Pack (P70).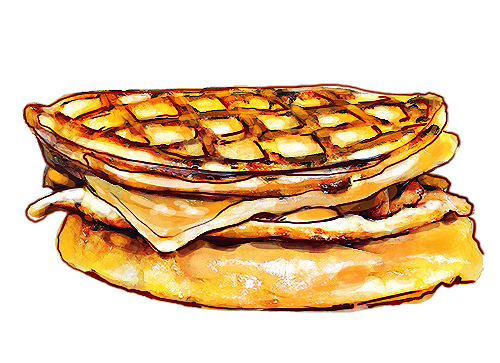 Eggo Breakfast Sandwich
Kickstart your fun-filled day of Demogorgons and small town mysteries by making a handy breakfast you can take on your biking adventures! Place ham or a sausage patty (Purefoods Fiesta Ham, P1,481), add an egg (sunny-side up or scrambled both work fine), then lastly, some cheese (Anchor Cheese Slices, P141).
If you've got no time, grab a fast-food breakfast sandwich and swap the buns! Or if you have a voracious appetite like Dustin, you might want to consider packing more than one sandwich.
Eggo PB&J
Spread a generous amount of peanut butter (Skippy Creamy Peanut Butter, P194.50) and strawberry jam (Clara Olé Strawberry Fruit Jam, P97, or use that Good Shepherd Strawberry Jam, P200, your friend/Tita/Mom got you from Baguio). Drizzle some red on top with something like Hershey's Strawberry Syrup (P104). This sandwich is going to be soaked in so much red sauce that a Demogorgon might mistake it for blood.
CONTINUE READING BELOW
Recommended Videos
Fried Chicken and Eggos
This combo is just as much a classic as the music used in the show. (The Clash, anyone?) Grab some Eggos and your favorite fast-food chicken (KFC, McDo, Jollibee—you get the picture). Then, pour a generous amount of maple syrup on top like Clara Olé Maple Pancake Syrup (P98).
Ice Cream Eggo Sandwich
You think the Upside-Down is chilly? Wait till you try this.
After heating up your frozen Eggos in the toaster, leave them out to cool down (melted ice cream can be such a hot mess). Next, scoop up your ice cream flavor of choice (like Carmen's Best Malted Milk, Nestle Temptations Almond Brownie, P255, Selecta Mrs. Fields Chocolate Chip, P245, or Magnolia Ice Cream Mango Salted Caramel, P250) as the delish dessert filling.
Make it more memorable by testing out different flavors or heck, mash up two flavors at the same time!
P.S. You can make it extra weird by adding some Trolli Sour Glow Worms (P21.50/45g, P54.50/100g) or Trolli Mini Gummi Burger (P39.50). You're welcome.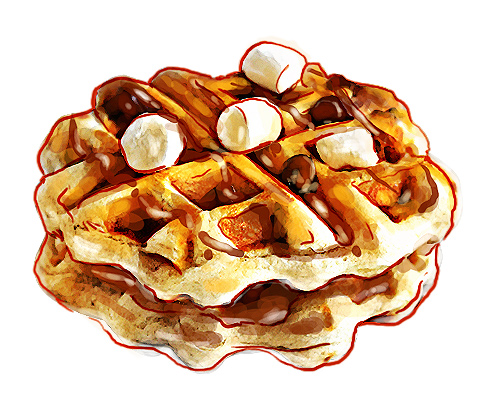 ADVERTISEMENT - CONTINUE READING BELOW
Eggo S'mores
Ditch the graham crackers and swap them with Eggos! Throw on some marshmallows (Pufft Marshmallows, Kraft Jet-Puffed Marshmallows, P350, or slather on PBco Creamy Mallow) and chocolate chunks, like Goya Easy Melt Milk Chocolate Buttons (P85/180g), or spread Nutella (P154.50 to P269.50)—because why not—on top while the waffle is hot.
You'll have s'mores that are fluffier than Steve Harrington's hair.
Eggo Popcorn Mix
A Dungeons and Dragons game can run really long (read: 10 hours), so here's a pick-me-upper to get you through the campaign.
First, cut up the toasted Eggos into pieces and throw it into a big bowl. Next, add your movie snack of choice like Smartfood Popcorn White Cheddar (P90.50). Top it off with rainbow sprinkles or tiny marshmallows that you can buy from any grocery or baking supply store.
Salted Egg Yolk Eggos
Here's a salty and sweet combo you can enjoy while waiting for the Christmas lights to start blinking. Grab some salted duck eggs (the purple ones), or if you want to opt for something more organic, you can try Gawad Kalinga's GoldenducK Salted Eggs (P170). Make the salted egg sauce by heating the yolks on high heat in the microwave. Then, stir it with salt, sugar, and milk and melted butter (add chili if you want!) in a pot over medium heat. Then mix it up in a blender until it's smooth.
Now, here comes the fun part—pour it all over your Eggos. Yum!
ADVERTISEMENT - CONTINUE READING BELOW
Eggo Nachos
Level up your movie snack attack or retro house party with a sweeter take on the finger food. Slice your Eggos into smaller pieces, add sunny-side up eggs (Bounty Fresh Brown Eggs, P114), bacon (Purefoods Honeycured Bacon, P240.75), and beef bits. Drizzle cheese sauce (Cheez Whiz EZ Squeeze, P66), and sriracha or hot sauce on top.
Outta The Box
Yep, just chomp on those Eggos straight from the box—Eleven-style. Pair it with a cold glass of milk to balance out the sweetness. Try Cowhead Pure Milk (P80), Magnolia Purefresh Milk (P77), or Nestle Non-Fat Milk (P84.50). Or even add some McCormick Pure Vanilla Extract (P33.75) and a bit of sugar or honey to your milk!


Share this story with your friends!
---
Help us make Spot.ph better!
Take the short survey
Load More Stories