Da Tang Jardin 
Unit B, Bellagio 2, 29th Street, Burgos Circle, Taguig City
Contact: 0917-551-0846
Open daily from 11 a.m. to 11 p.m.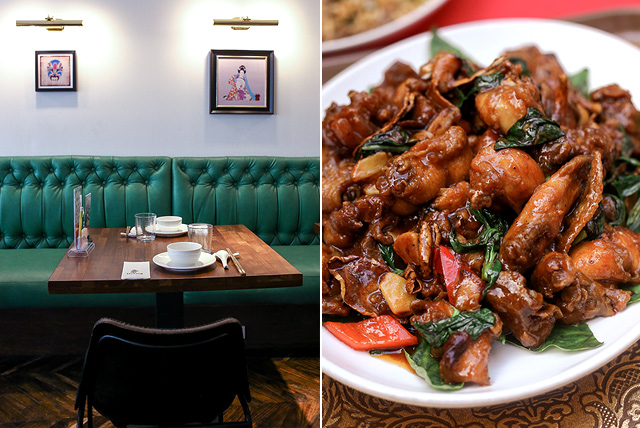 (SPOT.ph) The Tang Dynasty is known historically as one of China's most prosperous, a golden period for food and culture. It is with this in mind that Da Tang Jardin—the newest Asian tapas bar in Bonifacio Global City—was conceptualized. The "Da Tang" pays homage to that illustrious period, and "Jardin" or garden to evoke the imagery of freshness and diverse aromas.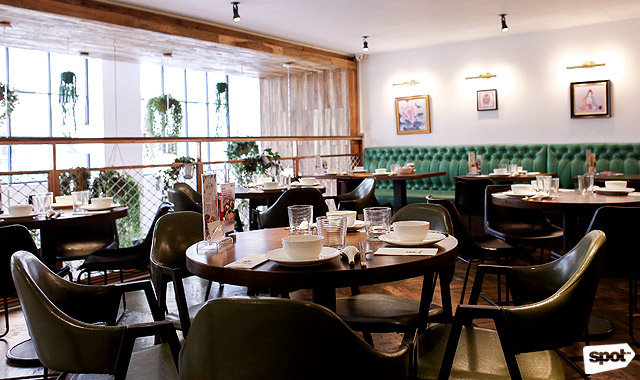 ADVERTISEMENT - CONTINUE READING BELOW
This Asian tapas bar features small dishes inspired by the Eight Great Traditional Chinese Cuisines: Shandong, the oldest and most traditional; Fujian and Cantonese, the regions where many Filipino-Chinese families trace their roots, and the origin of many flavors and dishes of Chinese food we are most familiar with; Zhejiang, the cuisine served to the nobles and elites; Szechuan and Hunan, with dishes so spicy they could numb your lips and tongue; Jiangsu, with its many and modern ways of cooking dishes; and Anhui, a cuisine born from locals living in a mountainous region, encouraging use of local spices, vegetables, and livestock.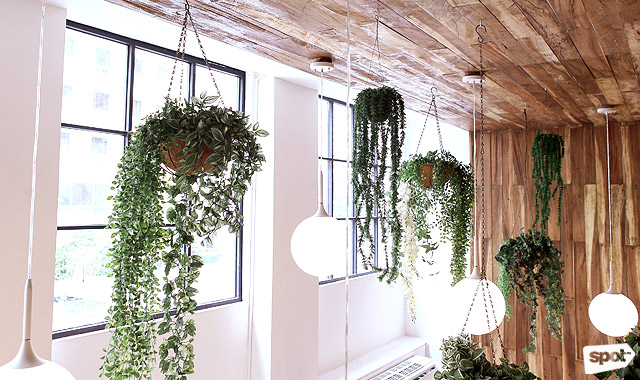 This chic new concept is brought to us by Taiwan International Restaurant Chain Group, Alley Cat, and Da Tang Express Inc. Together these groups put up an authentic dining experience with award-winning Taiwanese master chef William Liu taking lead in the kitchen. His creativity shines through the tapas—providing a new take on traditional flavors and dishes.
ADVERTISEMENT - CONTINUE READING BELOW
Recommended Videos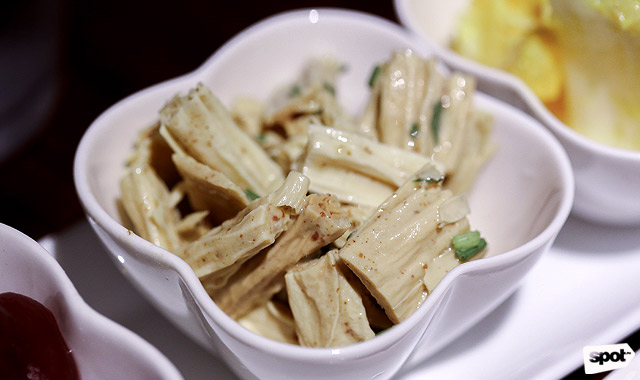 Tofu Salad
A good way to start your meal at Da Tang Jardin is to begin with the small cold plates. The Tofu Salad (P130) is chewy and sweet, the tofu arriving at the table looking like chopped up compressed tofu sheets, tossed in a white sauce.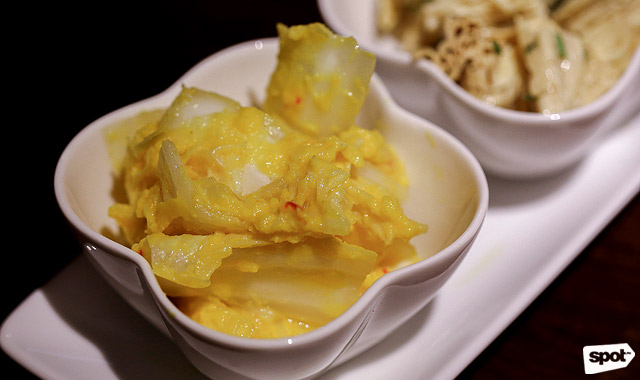 Homemade Kimchi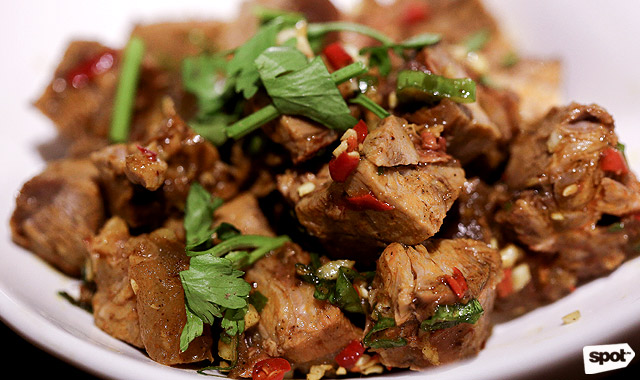 ADVERTISEMENT - CONTINUE READING BELOW
Simmered Beef Shank in Homemade Sauce
The Homemade Kimchi (P130) is a must-try. It is kimchi unlike you've seen before—covered in a bright yellow sauce. But don't let its appearance fool you: This kimchi is still well done, with crunchy leaves and a more sweet, less spicy flavor than the usual. A nicely spicy-savory pairing to this would be the Simmered Beef Shank in Homemade Sauce (P350). To the unsophisticated palate, beef served at this temperature might be a tad strange because it's cold. The beef, however, is tender and spicy.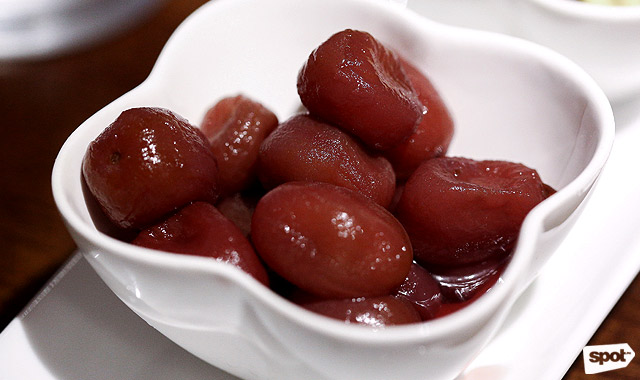 Braised Taro in Sweet Milk
For an even more unconventional experience, be sure to have the Braised Taro in Sweet Milk (P110). When one thinks of taro, the image that comes to mind is almost instantaneously ube and its many creamy permutations. This will undoubtedly shatter that perception, as fermented purple little fruits are placed before you. They taste tart but are interestingly soaked in milk. There's also an interesting alcoholic aftertaste, like fruit soaked in wine.
ADVERTISEMENT - CONTINUE READING BELOW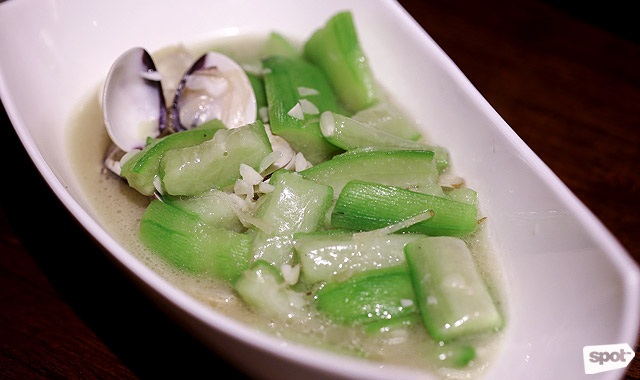 Stewed Patola and Clam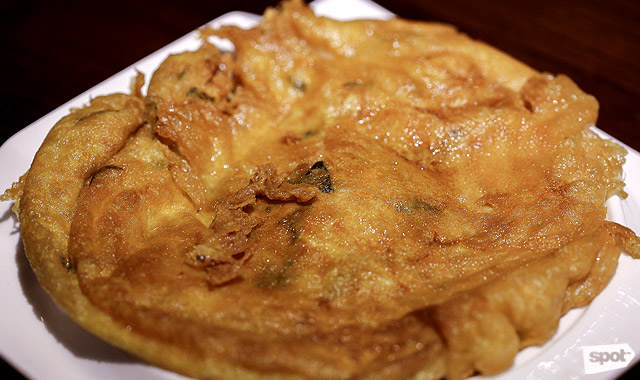 Baked Eggs with Basil
Those who are looking for something more conventional may want to stick with Da Tang Jardin's hot dishes. The Stewed Patola and Clam (P280) is a warm and comforting dish. It's the sort you'd want to have when you're sick and need of a light broth, vegetables, and a little protein. This is a soup you may have grown up having at your family's annual chinese lauriat, a constant, comforting staple. The Baked Eggs with Basil (P200) is another familiar dish—similar to your traditional torta, it's a tad oily but the basil adds a nice aroma to the dish.
ADVERTISEMENT - CONTINUE READING BELOW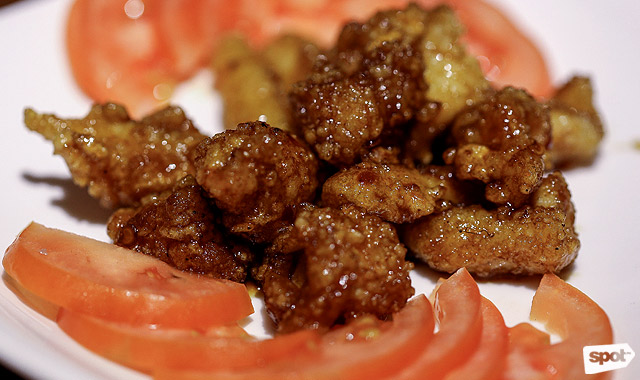 Quick Fried Squid in Honey Sauce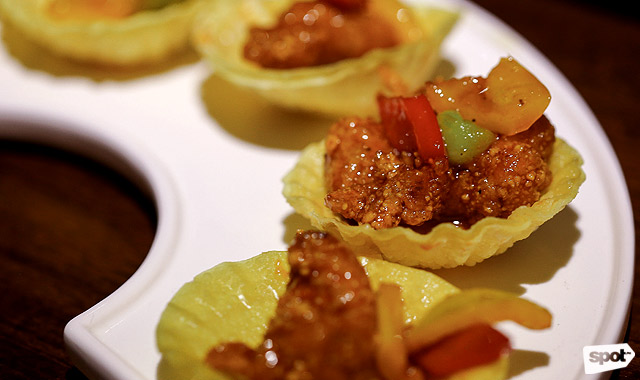 Sweet and Sour Pork
Want something a bit more familiar? Try the Quick Fried Squid in Honey Sauce (P280). It has a great sweet glaze and a nice crunch, but could be served hotter. Another traditional dish with a twist is the Sweet and Sour Pork (P150). Served in a crunchy yellow shell, it isn't the usual stir-fried kind—it's actually better. The pork is flavorful and juicy, covered in crunchy flakes and yet another good sauce. There are sweet crunchy peppers for extra flavor, and the tender-meets-crunch elements all work very well together.
ADVERTISEMENT - CONTINUE READING BELOW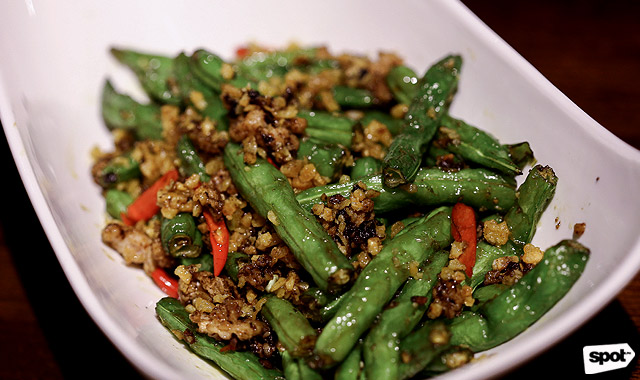 Dry-Fried String Beans with Minced Pork
We highly recommend having these warm dishes with the Dry-Fried String Beans with Minced Pork (P250), a dish that speaks perfectly about the Szechuan spice and the concept of balance in Chinese cuisine. The pork is spiced in a way that will make you reach for your glass of water, but the beans are nice, soft, and buttery to balance that intense flavor. It's also a garlic lover's dream—the dish has so much crunchy garlic you could ward off a vampire.
A visit to Da Tang Jardin is like a little cultural lesson about the diversity of Chinese cuisine and the uniqueness of its many textures and flavors. While some flavors might be a little unexpected, it's still an educational experience that gives you a glimpse at how the emperors may have eaten in the ancient Tang dynasty.
Photos by Majoy Siason
Share this story with your friends!
---
Help us make Spot.ph better!
Take the short survey
Load More Stories