The Lobster and Seafood Shack at Circles buffet will make you happy as a clam
It's a seafood lover's dream.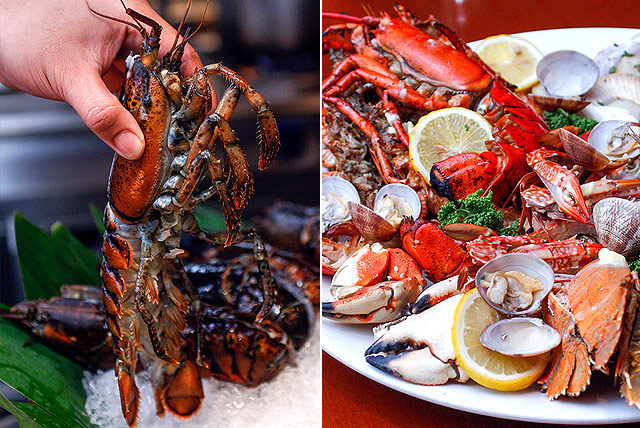 (SPOT.ph) The Circles buffet at the Makati Shangri-La hotel has long been considered one of the best gastronomic smorgasbords in the Metro. From September 9 to October 31, it takes things up several notches by offering discerning (and hungry!) diners the freshest catch of the day as the highlight to their usual generous spread. Think whole fish, crustaceans, and shellfish that are fresh, bountiful, and prepared to your liking. It's enough to spur any lobster lover make a beeline for the buffet.
Take note: This special is only available for dinner on Fridays and Saturdays, and for lunch on Sundays.
The Lobster and Seafood Shack is a dream of a seafood feast that is spread out over two buffet stations. In true "net to table" form, what is available can change from day to day, but you can be sure that there will always be a wide selection of premium lobsters, fish, crabs, shrimps, and shellfish to choose from.
ADVERTISEMENT - CONTINUE READING BELOW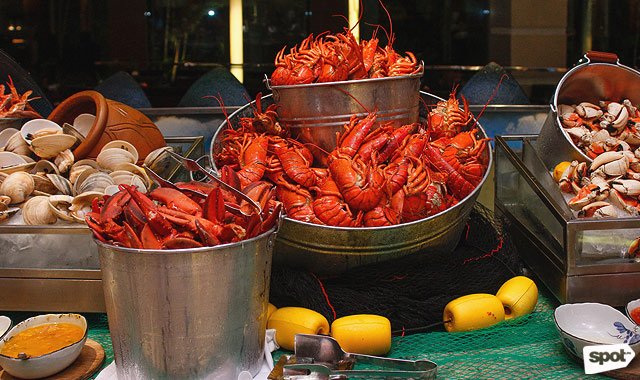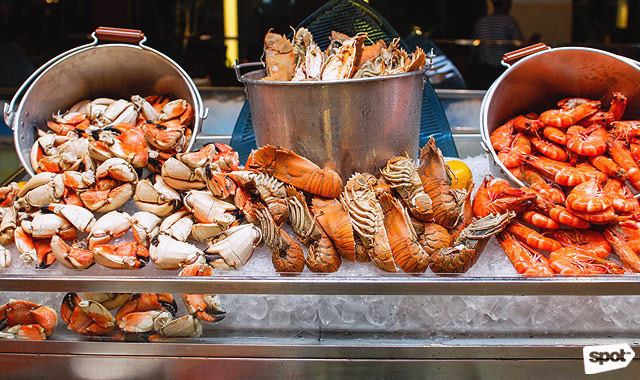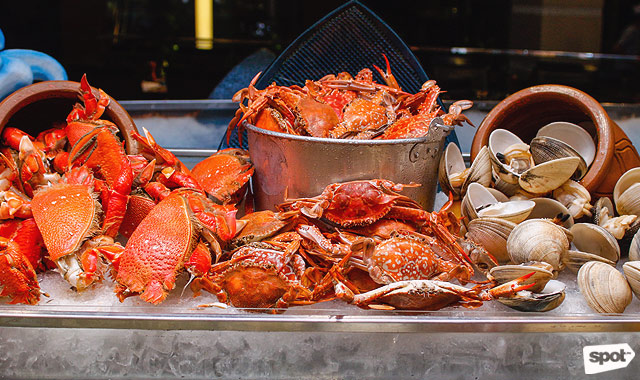 ADVERTISEMENT - CONTINUE READING BELOW
The cold station (which takes the place of the usual Circles cold cuts platters) includes a delectable array of expertly prepped succulent seafood such as tiger prawns, crabs, currachas, slipper lobsters, crab claws, lobster claws, clams, mussels, and oysters all laid out over ice. Simply spice things up with your favorite garnishes and dipping sauces. Choices include everything from mustard mayo to aioli, red vinegar, cocktail sauce, and sweet chili sauce to name a few. If you love oysters, come early (dinner starts at 6 p.m.), as these babies are usually a hot ticket item.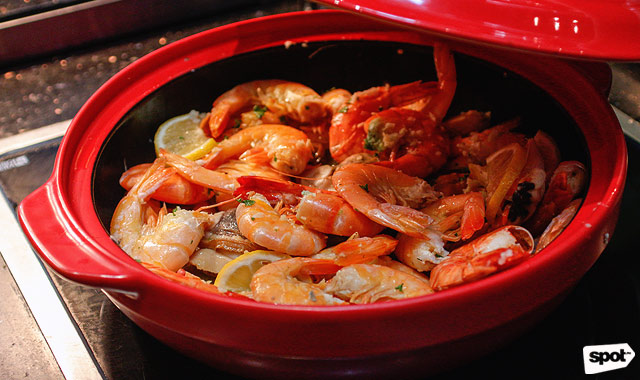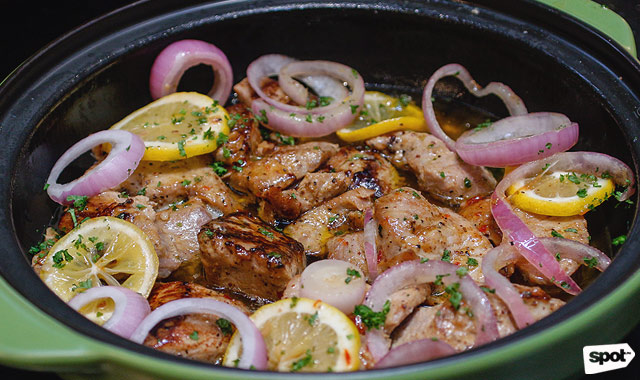 ADVERTISEMENT - CONTINUE READING BELOW
The hot/warm station leaves you spoiled for choice. First off, there are several seafood dishes that are pre-prepped and ready for savoring. Anyone who wouldn't be able to pass the marshmallow test is sure to enjoy these delectable options: Pesto Squid, Cioppino, Salmon with Béarnaise Sauce, Local Sea Bass, and Tuna in Sweet Chili Sauce.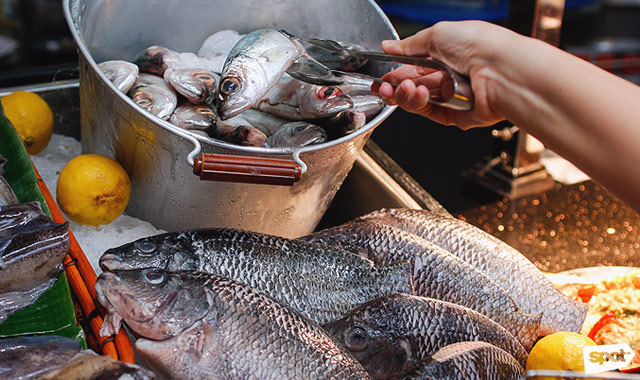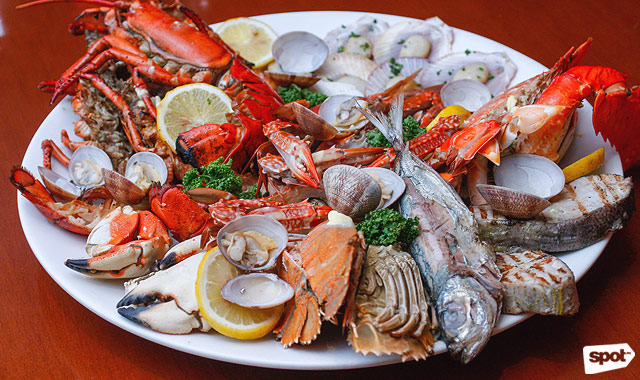 ADVERTISEMENT - CONTINUE READING BELOW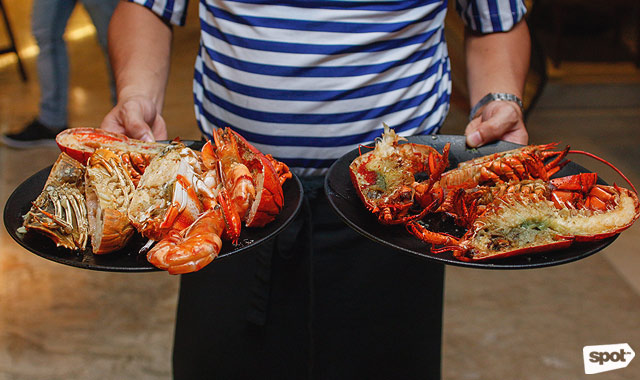 As if that wasn't enough, the hot/warm station also hosts a dampa-style fresh seafood spread, where you can pick and choose from the glistening selection on display, and then ask the chef to prepare your top choices on the spot. Get hooked on mahi-mahi, pampano, mackerel, hasa-hasa, squid, mullet, scallops, and the piece de resistance, the Boston lobster. Have your haul cooked in garlic lemon butter, grilled, cooked up with chili sauce, pan-fried, baked, slathered with cheese—or put your plate in the expert hands of the courteous staff and ask for a recommendation. It's a treat that definitely won't disappoint.
The Seafood and Lobster Shack is offered as part of the Circle's buffet until October 31. The buffet is priced at P2,600 net and is available for dinner on Fridays and Saturdays, and lunch on Sundays. For reservations, email rric.slm@shangri-la.com or call 814-2580.
ADVERTISEMENT - CONTINUE READING BELOW
Load More Stories