50 Best Things We Ate in 2016
Noteworthy dishes in this food-filled year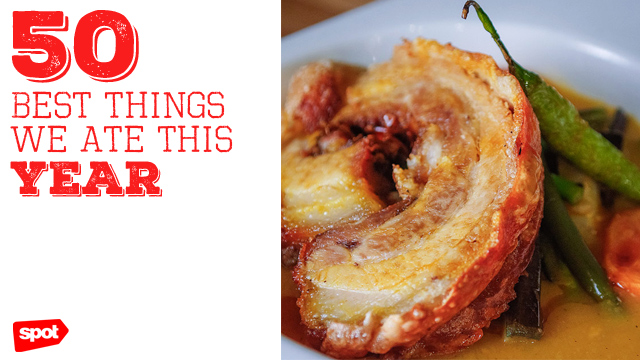 (SPOT.ph) From new takes on local comfort food to unlikely fusion cuisine, as well as exceptional burgers, pasta, and sandwiches that don't stray far from the classic, there was so much to eat and love this year. Here's a roundup of some of the most noteworthy dishes we ate in 2016.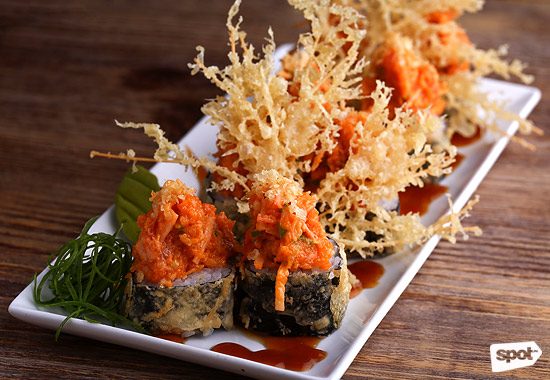 Aburi's Lorenzo Maki
The Lorenzo Maki stands out not just for its picture-perfect look but also for its layers of textures and flavors. Each bite treats you to gooey torched cheese, crunchy tempura batter, and a soft tuna center, with some more spicy tuna on top to give this maki just the right amount of spice without overwhelming the palate.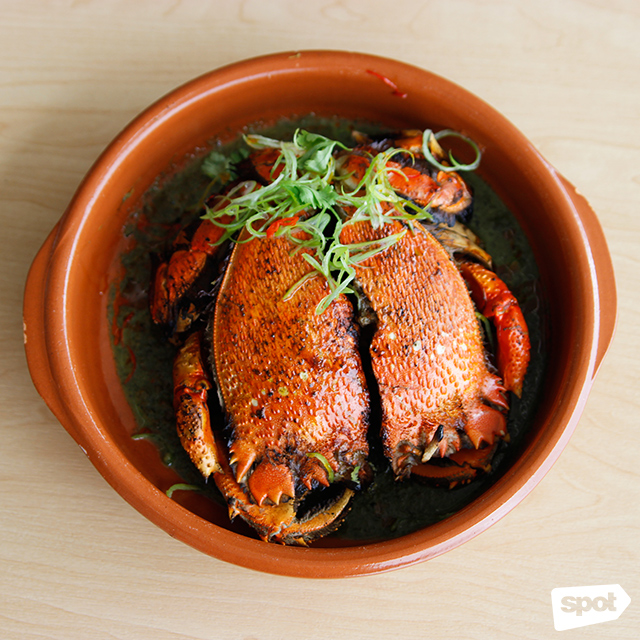 ADVERTISEMENT - CONTINUE READING BELOW
Agos' Zarsuela Zamboaguena
The gorgeous Zarsuela Zamboaguena is a scene-stealer. This dish uses fresh curacha, a crossbreed between a crab and a lobster. The perfectly grilled curacha is then served with burnt coconut, a blend of green spices, and black Taosog curry that complements the sweet meat of the shellfish.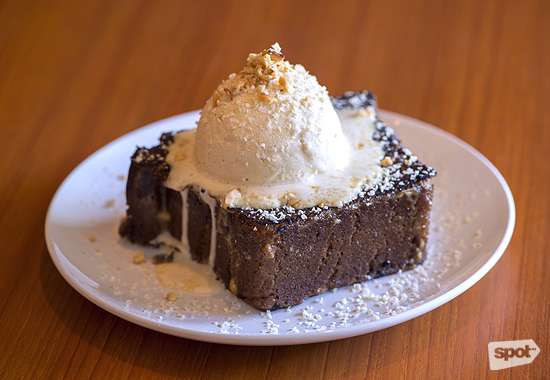 CONTINUE READING BELOW
Recommended Videos
Alley's Caramelized Banana Bread
Banana bread is sadly underappreciated, with the dessert only making an appearance in bakeries and groceries, but after tasting Alley's Caramelized Banana Bread, you'd want to hold appreciation days for this treat all year round. The thick slice of banana bread is perfectly moist, with a caramelized top for extra crunch and sweetness. The house-made cashew ice cream, with its milky-nutty profile, is the proverbial cherry on top of this cake.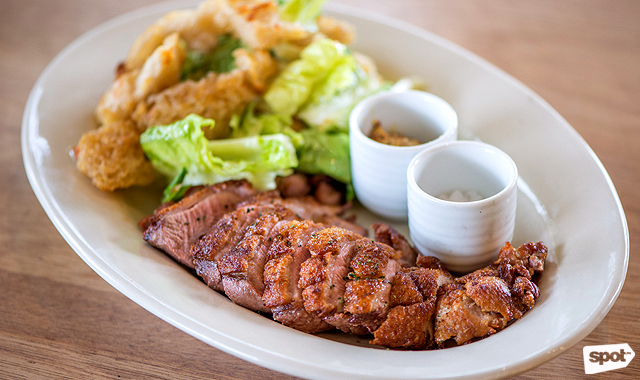 ADVERTISEMENT - CONTINUE READING BELOW
Apero's Smoke Roasted Duck Porchetta
The Smoke Roasted Duck Porchetta possesses a pleasing balance of textures and flavors, with duck that is crisp on the outside and tender on the inside. There is no hint of the duck meat's usual gamey tang—instead, Chef Jacq Tan's masterful cooking only leaves your palate with a rich umami flavor that satisfies.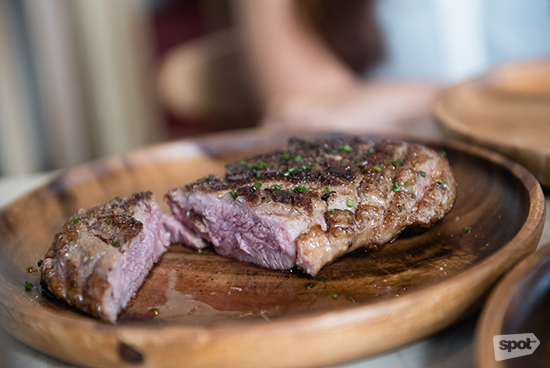 Atelier Vivanda's French Duck Breast
Atelier Vivanda is more famous for their steaks, so the duck may come as a surprise. The French Duck Breast is an unpretentious meal, a slab of duck meat sitting in a puddle of its own juices, but the flavors more than makes up for the dish's straightforward appearance. Its light seasoning allows the natural duck flavor to shine and the pepper oil gives it a boost with some heat.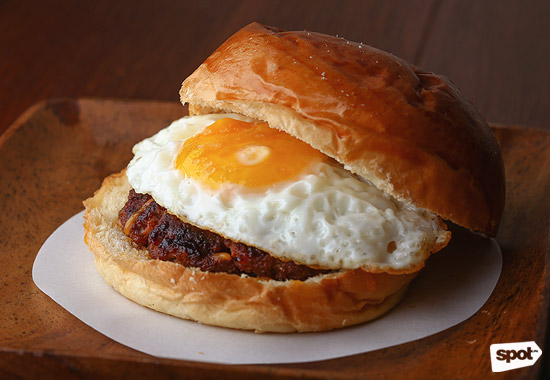 ADVERTISEMENT - CONTINUE READING BELOW
Bean & Yolk's Chorizo Mama
Bean & Yolk's Chorizo Mama is the perfect marriage of Spanish and Filipino flavors between two soft buns. Bean & Yolk uses Spanish-style chorizo for a delicately sweet-and-smoky patty, with a sweet glaze to really enhance the flavors. The egg and cheese are almost unnecessary, but hey, you can never have too much of a good thing.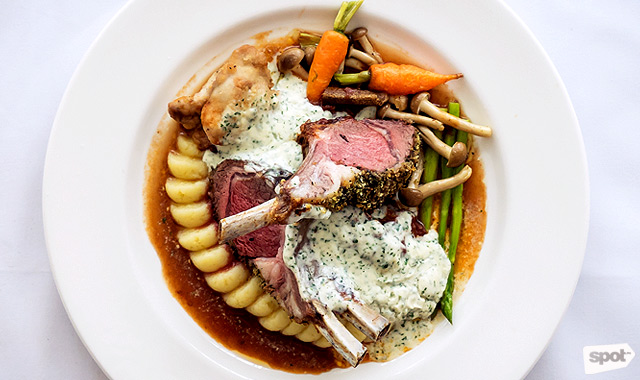 Bistro Manuel's Lamb and Lamb with Lamb
Whether you are uninitiated to the taste of lamb or a fan of the meat, you will definitely love Chef Ariel Manuel's Lamb and Lamb with Lamb. The playfully-named dish features lamb served three ways: roasted, stewed, and as a sweetbread fritter. Flavored with a delightful mix of ingredients like herb de Provencal and Roquefort cheese (for the roasted lamb ribs) and tangy tomato sauce (for the stew), this dish does nothing but impress. The sweetbread fritter is a novel way to present lamb, but its mildly sweet taste will surely please anyone.
ADVERTISEMENT - CONTINUE READING BELOW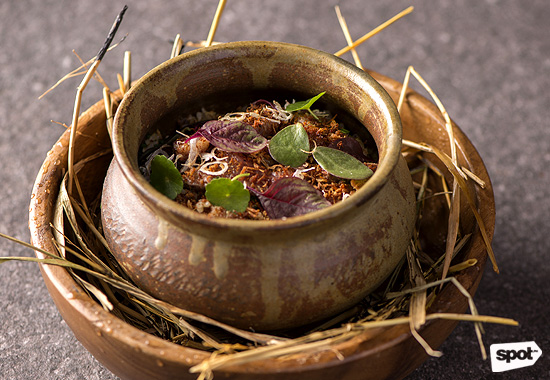 The Black Sheep's Black Sheep Jumps Over The Wall
Black Sheep Jumps Over The Wall is Chef Patrick Go's take on the Chinese classic Buddha Jumps Over the Wall, turning it from soup to fried rice. Black Sheep's version boasts a total of 23 elements—though the main star of the dish, the rice, doesn't get lost in a chaotic mess. Instead beef tenderloin, onions, chicken floss, foie gras, and more blend seamlessly with each other in a symphony of flavors. Chef Patrick seasons the dish with his own "MSG" which is made from ground up dried seafood for just a hint of umami.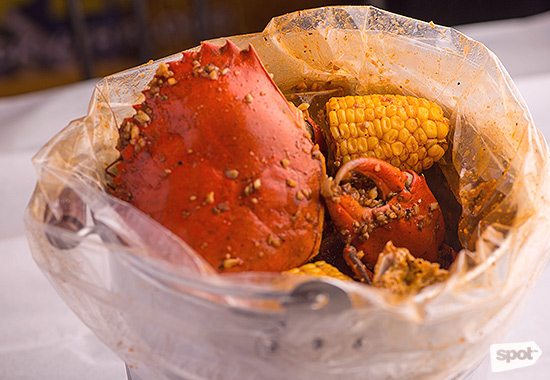 ADVERTISEMENT - CONTINUE READING BELOW
Blue Posts Boiling Crabs and Shrimps' Boiled Garlic Fried Crab
This restaurant is famous in Davao for offering fresh crabs and shrimp in a food-grade plastic bag, swimming in a delicious marinade. They finally opened branches in Metro Manila, bringing with them signatures like the Boiled Garlic Fried Crab. This dish is hefty, with crab lightly coated with a thin flavorful batter that doesn't overpower the sweet succulent meat. You won't mind the garlic breath because your tummy will surely be satisfied.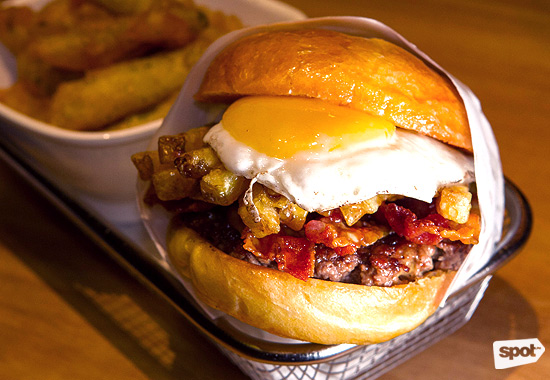 Burger Geek's The Hangover
The trip down South to Burger Geek is seriously worth it because everything is good: from the burgers to the milkshakes, fries, and onion rings. If you love a good breakfast burger (we know we do), The Hangover is a must-try. This burger packs a juicy beef patty that is covered in maple-syrup-infused signature geek sauce, beer syrup, a fried egg, and french fries (yes, between the buns). This burger will definitely perk up your day, hungover or not.
ADVERTISEMENT - CONTINUE READING BELOW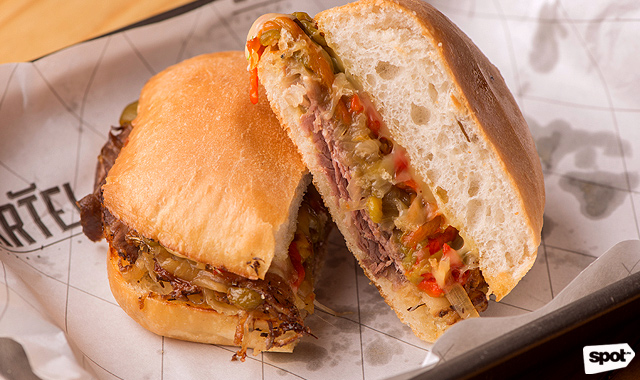 Cartel's Roast Beef Sandwich
This cozy neighborhood cafe and deli in Salcedo Village offers a mean roast beef sandwich. What really makes this sandwich a cut above the rest is the beef, which is roasted in-house. The meat is then sandwiched between soft and crisp buns, with a marmalade-like filling of roasted peppers for an extra kick.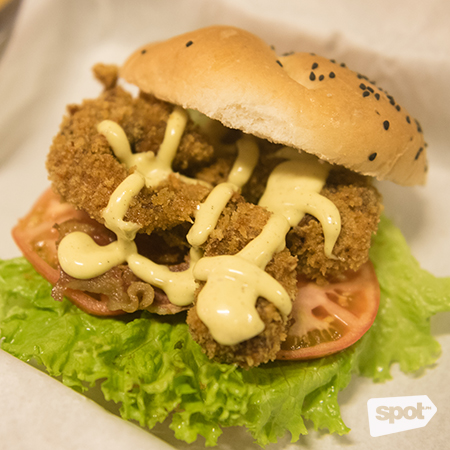 ADVERTISEMENT - CONTINUE READING BELOW
Crunchy Crab's Shrimp BLT
While the Shrimp BLT may pale visually in comparison to the more Instagram-famous Soft Shell Crab Burger, this baby also deserves a turn in the spotlight. Fresh shrimps are covered in panko that's been seasoned with Cajun spices for an extra fiery zing. The crisp bacon just adds more texture and crunch to this yummy burger.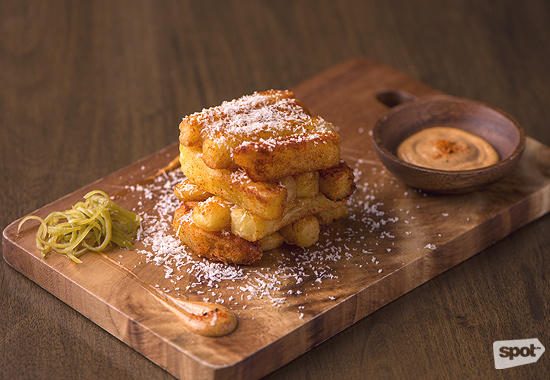 Desiderata Lounge's Parma Fries
Desiderata's Parma Fries are definitely not your usual fries. For one, they're cut into thick log-like slices, fried until perfectly golden, dusted with some paprika, then arranged, Jenga-style, atop a wooden board with a sprinkling of Parmesan cheese and Parmigiano sauce on the side. But these fries are more than just Instagram-worthy; each baton has a smooth, mashed-potato like filling, and is fried upon order to ensure that you get them perfectly hot and crispy. Calling this a side dish is definitely an injustice.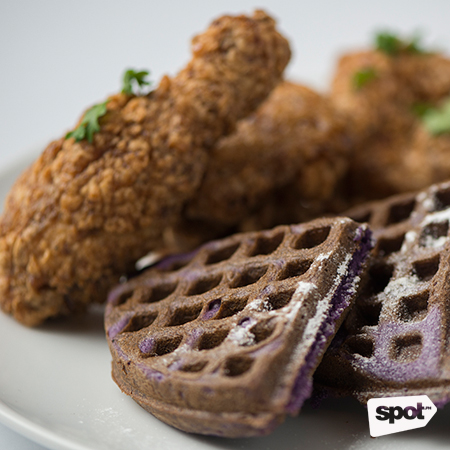 ADVERTISEMENT - CONTINUE READING BELOW
Diner on 16th's Soy Ginger Glazed Chicken and Ube Waffles
East meets west in Diner on 16th's signature dish. While the dark purple hue of the waffles doesn't make it the most picturesque dish, take a leap of faith and give it a try. The savory soy, ginger, and garlic flavors of the fried chicken are the perfect complement to the mildly sweet and surprisingly nutty ube waffles.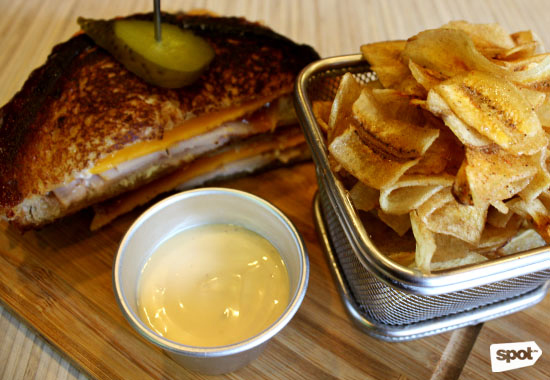 Empingao's Elena Ruz
While not as famous as the Cubano, this classic sandwich also deserves the spotlight, especially a version as good as Empingao's. Chef Kel Zaguirre's Elena Ruz uses brioche slices instead of flattened rolls that are toasted lightly for a subtle crisp. Cream cheese, turkey ham, and strawberry jam are sandwiched between two slices, creating a complex blend of sweet-salty flavors that satisfies with every bite.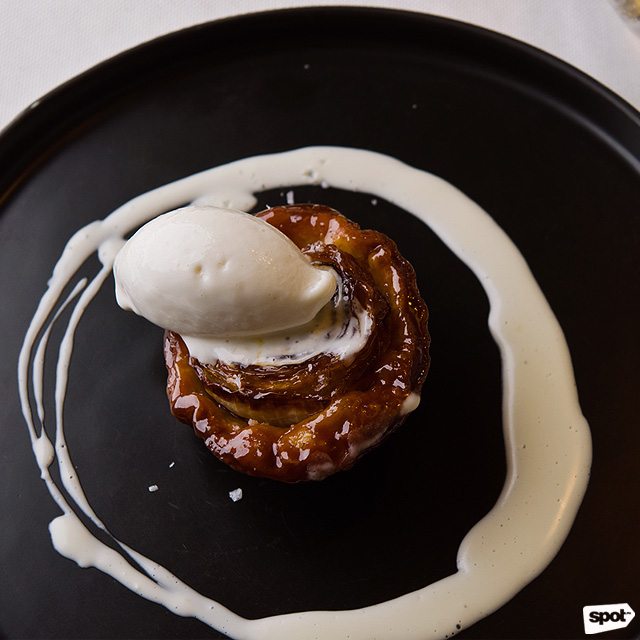 ADVERTISEMENT - CONTINUE READING BELOW
FOO'D's Cipolla Caramellata
Chef Davide's attention to detail and the way certain flavors and textures play off each other is impeccable, and is best tasted in his signature dish, the Cipolla Caramellata. The caramelized onion tart is topped with 24-months-aged Gran Padano gelato, with Gran Padano hot cream drizzled generously around the plate. Take each element in a single bite, and enjoy the blend of hot and cold, sweet and salty, crisp and sticky, playing around on your palate.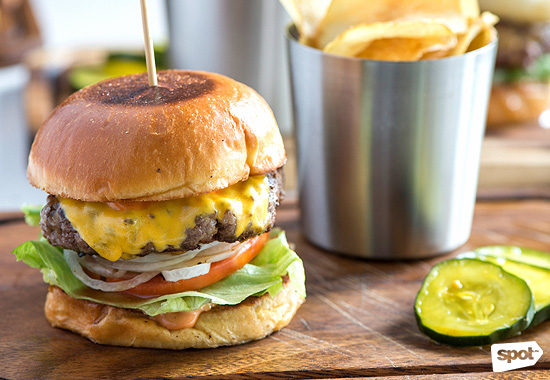 Grind Bistro's Grind Burger
The name "grind" refers to Grind Bistro's patties, which are made in-house—this should be a clue that while Grind Bistro has since expanded to equally winning entrées, the Grind Burger remains to be a must-try. This burger is straightforward and no-frills, with 100% USDA beef that oozes with juice sandwiched with greens, tomatoes, cheese, and a secret sauce between two brioche buns. Because with a patty this tasty, it really doesn't require anything more than the basics.
ADVERTISEMENT - CONTINUE READING BELOW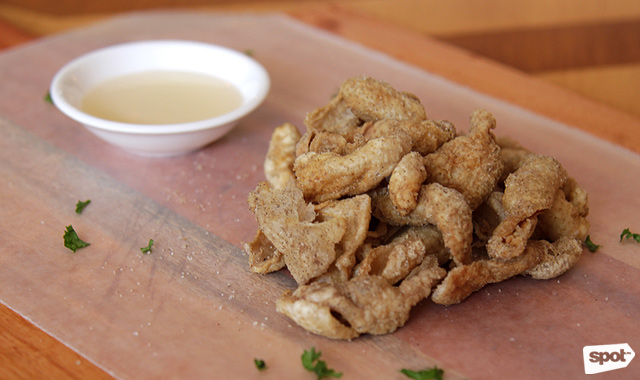 Happy Beans' Skinny Chix
We totally understood Basha when she decided to break up with Popoy in One More Chance; no one gets in the way between us and chicken skin, especially if it's Skinny Chix by Happy Beans. Their fried chicken skin is perfectly crispy, golden, and lipsmakingly good—minus the grease.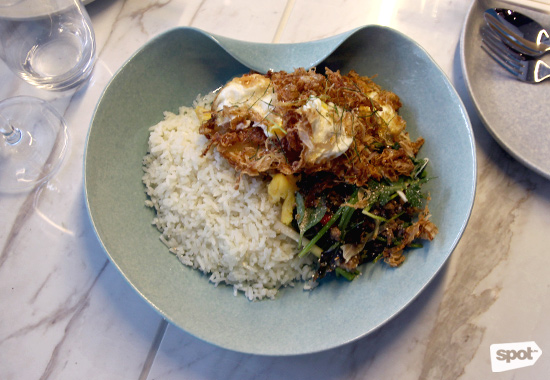 ADVERTISEMENT - CONTINUE READING BELOW
Hey Handsome's Laap Phet
Chef Nicco Santos of Your Local fame works his culinary magic again at Hey Handsome. The Laap Phet is a mouthwatering dish of minced duck, fresh herbs, khao man, and a deep-fried egg with crispy edges. The rice, mildly flavored with coconut, is the perfect foil to the spicy duck and a zest from kaffir lime elevates the entire dish.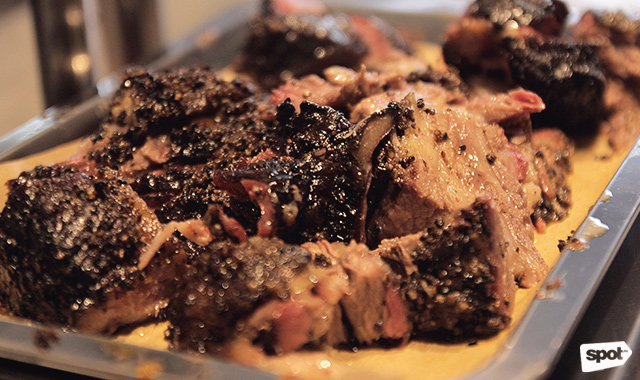 Holy Smokes' Beef Brisket
The Beef Brisket here at Holy Smokes is one that is difficult to forget. The smoked meat is buttery-soft, and melts in your mouth in a burst of juiciness. Their array of sauces only serves to enrich the experience for your palate and complements rather than overpowers the flavor of the beef.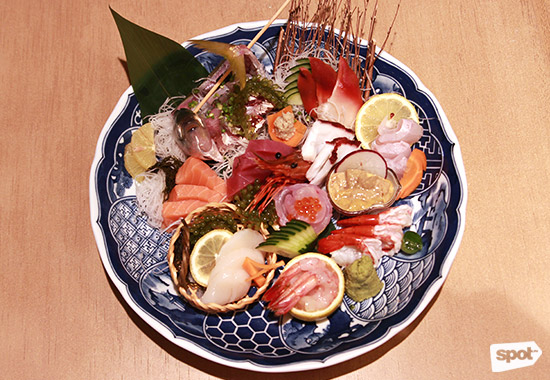 ADVERTISEMENT - CONTINUE READING BELOW
Izakaya Sensu's Sensu Omakase Special
Just one look at your gorgeous plate and you know you're about to have something special. With 11 different sashimi based on what's available, Izakaya Sensu lets you have the classics like salmon, ika, and tuna, but also challenges your palate with more unconventional choices like surf clams, flounder, and horse mackerel. It's like having a piece of the ocean in one plate.
La Maripili's Classic Churros
While this place has since expanded their menu to include salads and sandwiches, the churros continute to be the showpiece at La Maripili. The Classic Churros are crisp on the outside and pillowy soft on the inside, and are perfectly tasty on their own. Every fan of this treat knows that it's best paired with some chocolate, and La Maripili's Hot Chocolate is the perfect partner of their churros—not too thick and not too thin, not too sweet and not too bitter.
ADVERTISEMENT - CONTINUE READING BELOW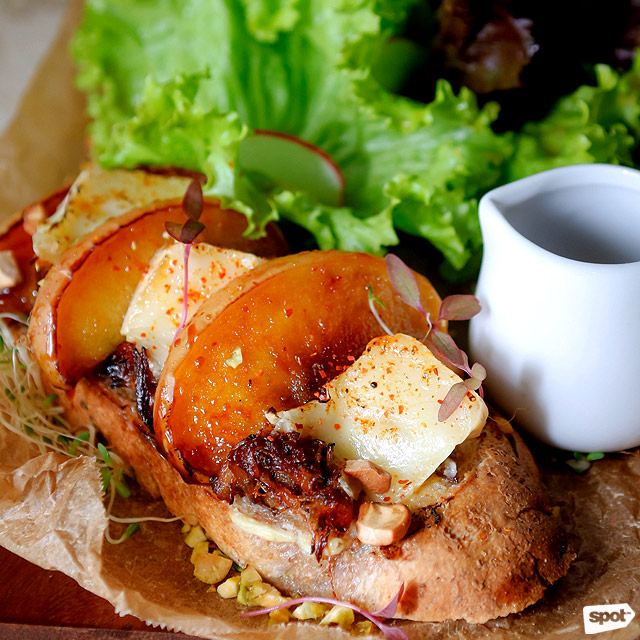 Le Petit Souffle's Chasyu Camembert
French-Japanese isn't a fusion you hear often, but it's one Le Petit Souffle executes extremely well. The Chasyu Camembert is the perfect showcase of this, with French Camembert cheese and Japanese chasyu together with apple slices on top of toast. The sweet glazed pork and apples temper the intensity of the camembert for a beautifully balanced bite.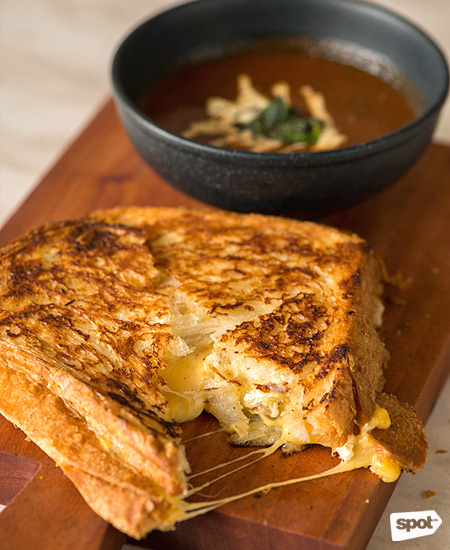 ADVERTISEMENT - CONTINUE READING BELOW
Little Bear Diner's Popper
Grilled cheese fanatics cannot miss Little Bear Diner's Popper. The sandwich is a best-seller and for good reason. In between two slices of crunchy bread is a gooey blend of American cheddar, cream cheese, and mozzarella with pickled jalapeños to cut through the richness. The result is a sandwich that is indulgent with just the right amount of kick to counter the umay factor.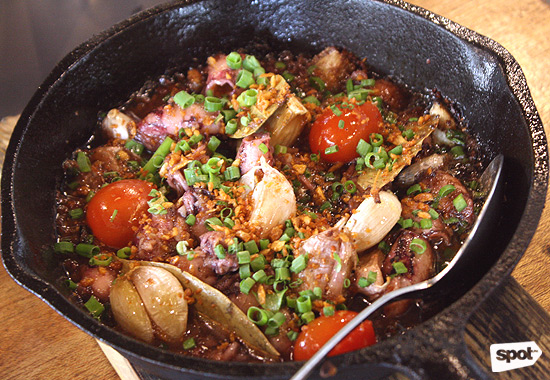 Locavore's Garlic Baby Squid
While the Garlic Baby Squid looks similar to the famous Sizzling Sinigang, this dish packs a different kind of flavor bomb. The sight of squid swimming in an aromantic sauce of garlic, cherry tomatoes, and fresh shallots is already enough to make your mouth water. The squid is soft with enough bite and the sauce is deliciously salty without overwhelming the palate. You'll want to eat this with a bowl of rice or two.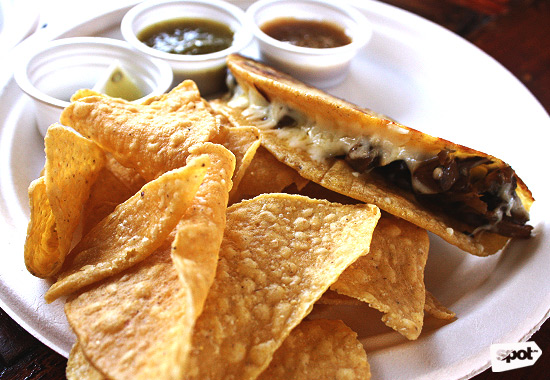 ADVERTISEMENT - CONTINUE READING BELOW
Lo del Alberto's Hongo Quesadilla
In a sea of burritos and tacos, quesadillas are sadly underappreciated, but Lo del Alberto's version will make you give this classic a second look. Chef Balam Nazar fills a glistening palm-sized crescent of tortilla that's been perfectly toasted with a combination of cheese and mushrooms. It's a simple combo but done extremely well—you won't even notice the lack of meat.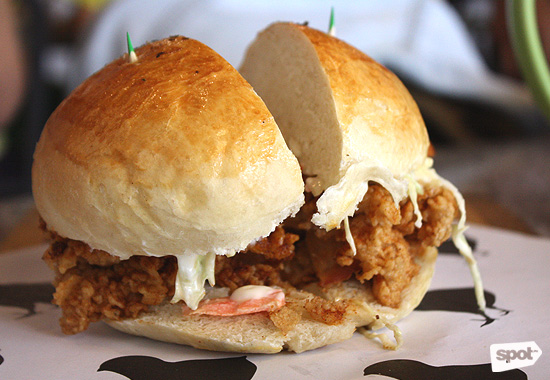 Lucky Chick's Hot Chick
In an already impressive menu of fried chicken done right, Lucky Chick's Hot Chick still manages to steal the spotlight. Spices are added to the brine itself to fully immerse the chicken in its flavor, with chili powder settling in the crisp skin and juicy meat for an extra fieriness with every bite. You can enjoy this comfort food as is or sandwiched between two soft homemade buns.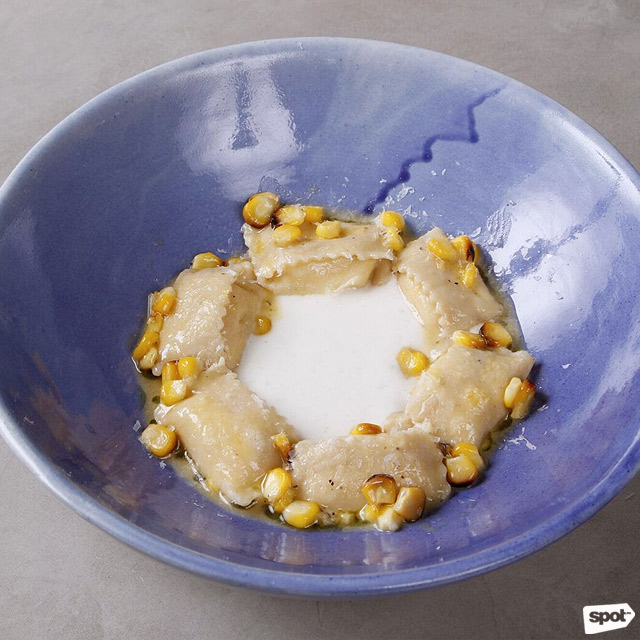 ADVERTISEMENT - CONTINUE READING BELOW
Made Nice Supper Club's Agnolotti
Don't be fooled by the straightforward name and appearance of this dish because it packs quite a punch in terms of texture and flavor. Velvety pillows of pasta are served with sweet corn, truffle oil, and a foamy parmesan emulsion that elevates the entire dish. Get the 10-piece main because you won't be able to get enough of this.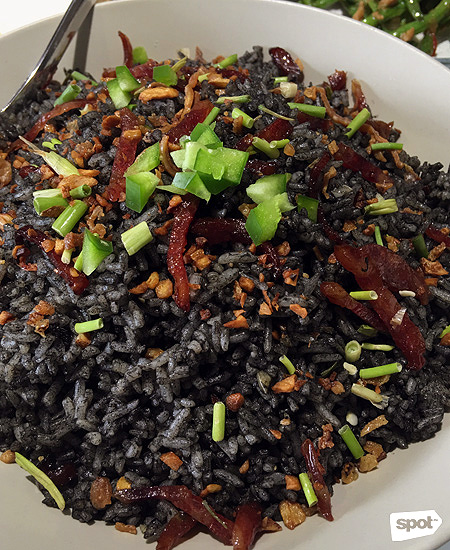 Mama Rosa's Squid Ink Rice
Tick Dula Laurel's Squid Ink Rice is impressively dark and inky, but none of the color sticks to your teeth. Instead, the black sauce coats each grain with briny savory tastiness that is punctuated with sweetness from Chinese chorizo and the freshness of leeks. The fried chunks of garlic add just the perfect bold punch of flavor that makes this a winning squid dish in our books.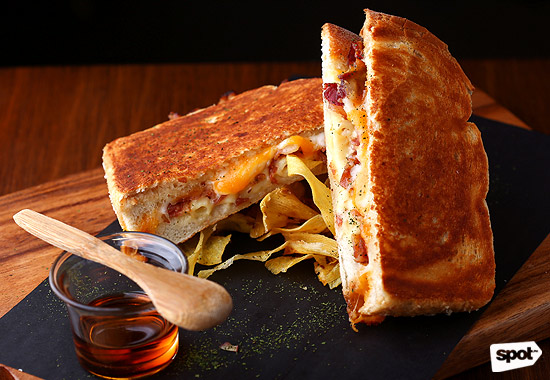 ADVERTISEMENT - CONTINUE READING BELOW
Melt Grilled Cheesery's Big Buff
The Big Buff is what happens when pizza and a grilled cheese sandwich marry and have beautiful babies. This sandwich has all the things you love from grilled cheese and pizza, with Melt's signature blend of cheeses, buttery fried chicken breasts coated in Buffalo Sauce, pepperoni, red bell peppers, caramelized onion, smoked paprika, and aioli. This is the perfect cheat day indulgence.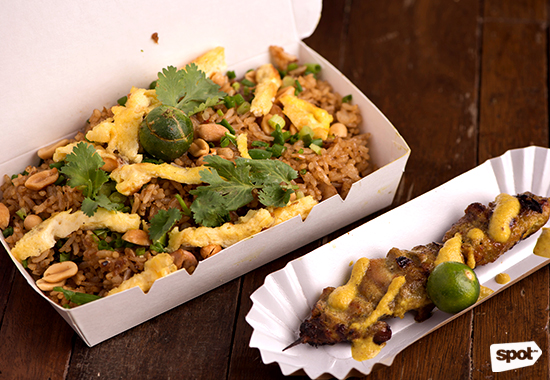 Merkanto's Nasi Goreng
Merkanto's take on the Indonesian fried rice is generously portioned, big enough to feed two to three people. Chefs Niño Laus and BJ Chiong don't skimp on their ingredients too, with each spoonful of well-seasoned rice loaded with chicken, shrimp, eggs, and peanuts. A fried rice so tasty, you can have it as is.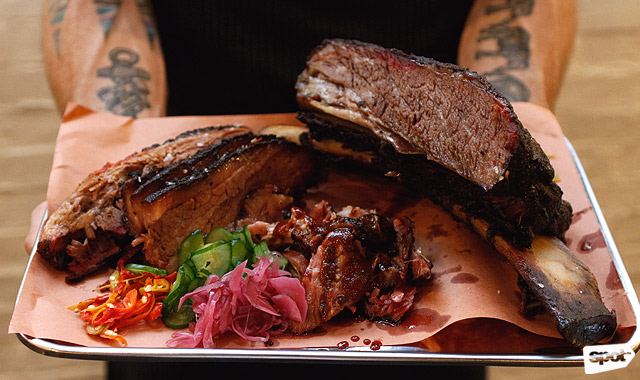 ADVERTISEMENT - CONTINUE READING BELOW
Mighty Quinn's Barbeque's Burnt Ends
Mighty Quinn's was once declared by The New York Times as one of the best barbecue places in New York and for good reason. All of the meat here at Mighty Quinn's is juicy and flavorful, but the Burnt Ends is perfect if you like your barbecue a little charred, resulting in tender portions with crisp smoky ends.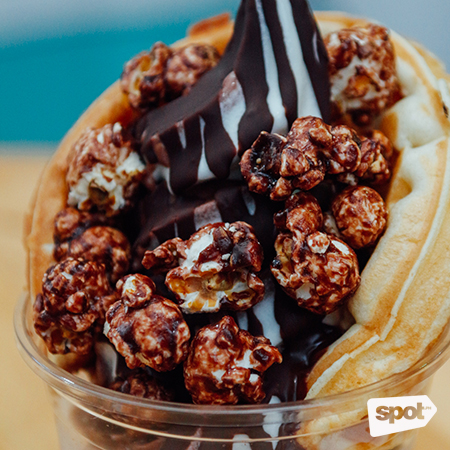 Mr. Diggins' Black Bay
With the folks behind Maginhawa StrEAT favorites The Lost Bread and Endless Summer at the helm of Mr. Diggins, you can be sure that you're getting playfully creative soft-serve treats. The Black Bay is perfect for chocoholics: this photogenic dessert has chocolate soft serve topped with cereals, popcorn, and a generous drizzle of chocolate syrup, with a fluffy waffle on the side to balance out the intense sweetness. But hey, if you're here at Mr. Diggins, might as well indulge in the decadence.
ADVERTISEMENT - CONTINUE READING BELOW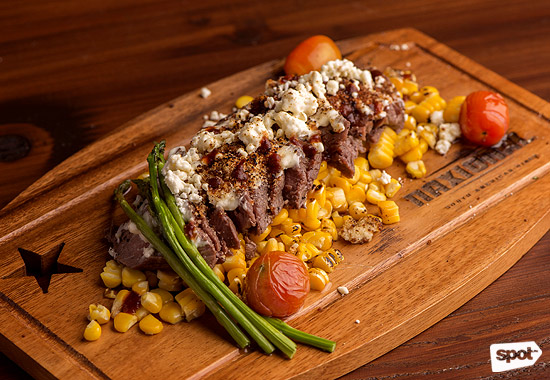 Naxional's Steak Elote
Sometimes, the best things come from the most unexpected places. For Naxional, it came from a customer who ordered steak and elote and combined both in one plate, which he then devoured with gusto. Naxional has since created their own version, with Tajun spice, seared asparagus, and sirloin steak sprinkled with shredded corn. Two good things combined into one can only result in something delicious.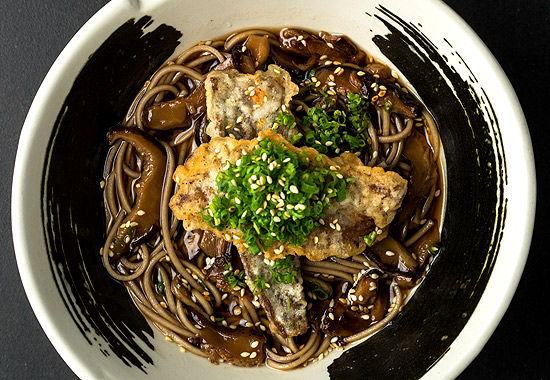 ADVERTISEMENT - CONTINUE READING BELOW
Ooma's Anago Truffle Mushroom Hot Soba 
The Anago Truffle Mushroom Hot Soba is exceptionally light but packs loads of flavor from the blend of truffle mushroom, eel tempura, and a hint of seaweed. Yet this meal remains impressively refreshing, just the way good soba should be.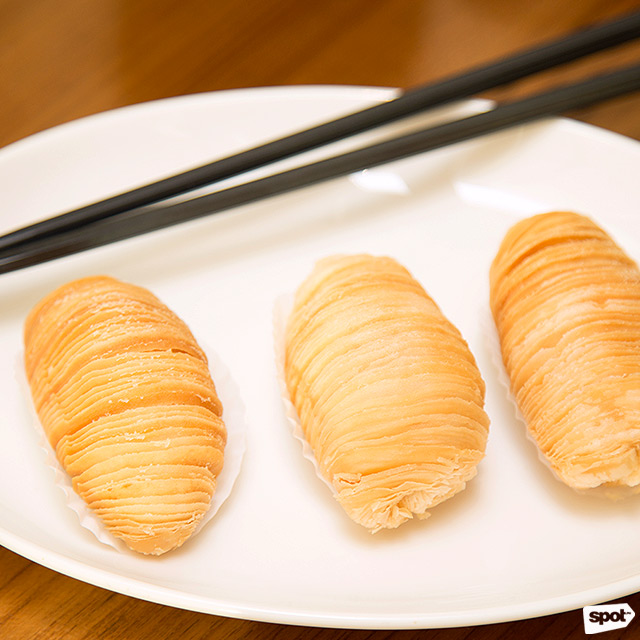 Paradise Dynasty's Radish Pastry
Paradise Dynasty may be famous for their French-macaron-inspired xiao long bao, but this exquisite dim sum is also a must-try. The pastry is almost too pretty to eat, with delicate spirals wrapped around a mildly sweet and creamy radish filling.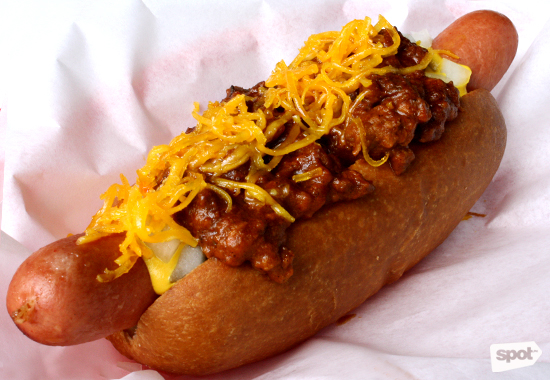 ADVERTISEMENT - CONTINUE READING BELOW
Pink's World Famous Chili Cheese Dog
It took a while for this U.S. franchise to finally arrive in the Philippines but it's definitely worth the wait. The hotdogs here at Pink's snap beautifully, with a saltiness that matches the buttery buns from sister restaurant Wildflour perfectly. The chunky chili and tangy mustard elevates the entire sandwich, creating a symphony of flavors that'll make you reconsider the hot dog sandwich.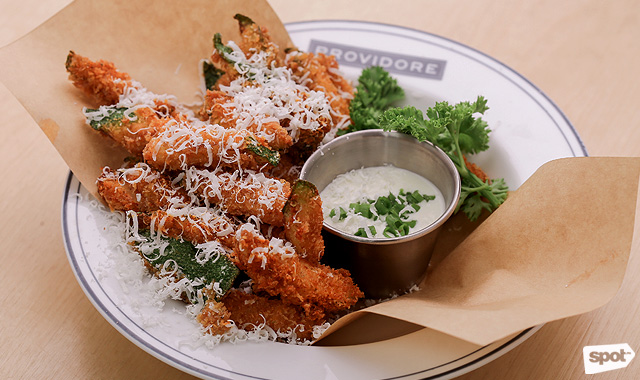 Providore's Zucchini Pecorino Fries
Yes, these fries are made from zucchini but don't write them off just yet. These fries are fried till crisp then seasoned with Malagos pecorino and just the right amount of zest from lemon. The buttermilk ranch dip is the perfect complement to this addicting finger food.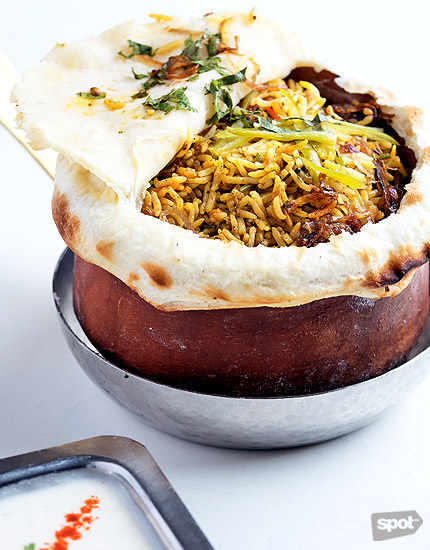 ADVERTISEMENT - CONTINUE READING BELOW
Royal Indian Curry House's Hyderabadi Biryani
Authentic is a word that has been thrown around lightly more than a few times, but what Royal Indian Curry House definitely serves is the real deal when it comes to Indian fare. Take the Hyderabadi Biryani: Yes it's a struggle to pronounce, but skip the pleasantries and just get right on with the food. This meal is a visual delight, with chunks of goat meat, biryani rice, and spices nestled in a bowl made out of naan, which is then placed inside a clay pot. The strongly spiced meal will overload your senses, but the side of yogurt balances out the flavors perfectly.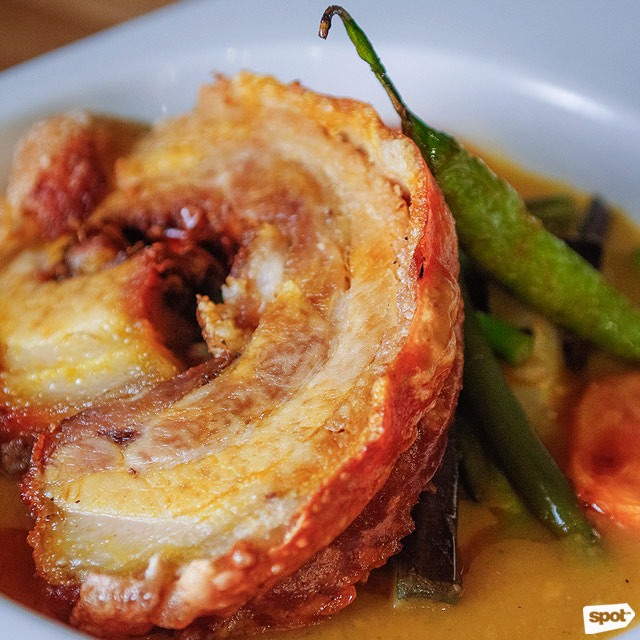 Sangkap's Cebu Lechon Sinigang 
We're always here for new takes on old favorites, and this dish is definitely one. The crispy lechon belly is bathed in a rich tart sauce flavored with tamarind, sweet mango, and green mango. Fresh vegetables add a nice crunch to every spoonful. This is the perfect comfort food, especially when served with steaming hot rice.
ADVERTISEMENT - CONTINUE READING BELOW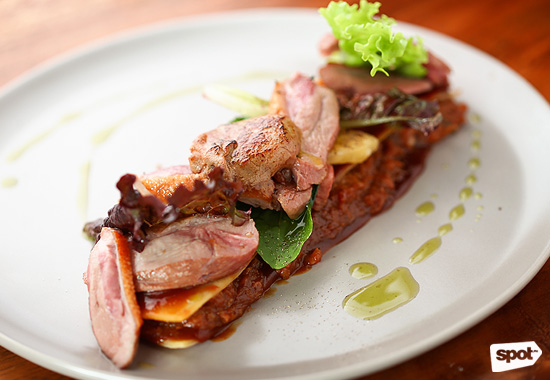 Soil's Pan Seared Duck With Fresh Lasagna
This dish definitely doesn't look like your usual pasta, but don't let appearances intimidate you. This dish is a showcase of Chef Lorenzo Pimentel's prowess when it comes to layering flavors. Make sure to get pinkish duck slices, fresh pasta, and rich foie gras in every forkful to fully appreciate Chef Lorenzo's thought process and the role each ingredient plays.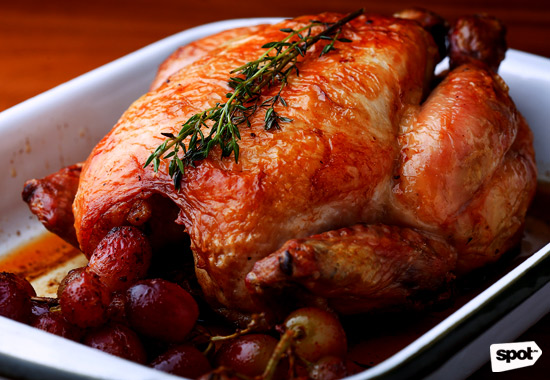 ADVERTISEMENT - CONTINUE READING BELOW
Spoon Eat + Drink's Roast Chicken with Smoked Paprika Grapes
You can never go wrong with roast chicken and the dish is at its finest form here at Spoon Eat + Drink. Chicken is brined for six hours to really get the flavor out before it is roasted. The addition of smoked grapes is inspired, with the fruit giving the chicken a hint of sweetness that is balanced by the smoky paprika.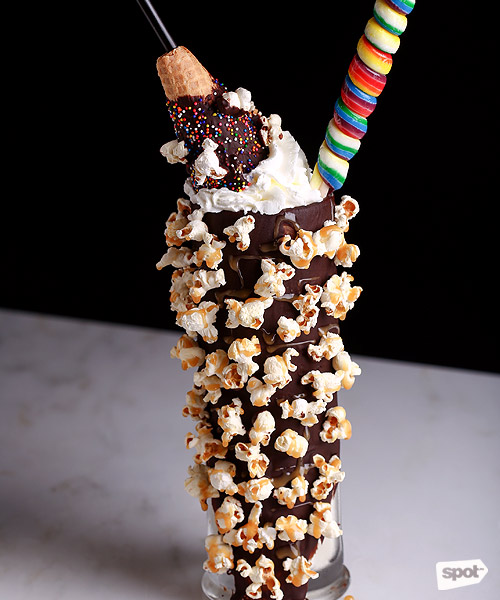 Sugar Factory's Dulce de Leche Milkshake
The Dulce de Leche Milkshake looks like the elegant cousin of the "crazy" milkshakes that became a trend this year. The Instagram-worthy drink is the perfect sweet treat too: Vanilla ice cream and Dulce de Leche syrup is always a winning combination in our books. The unicorn lollipop and chocolate-dipped cone on top makes our inner child jump with joy.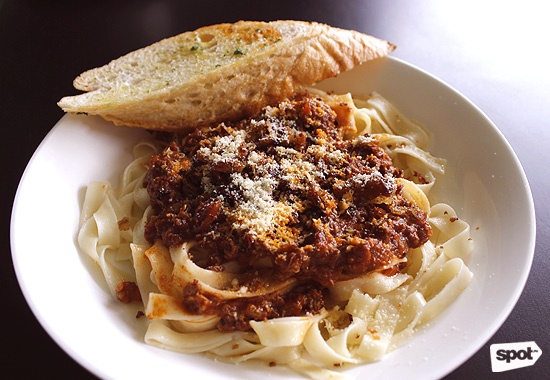 ADVERTISEMENT - CONTINUE READING BELOW
Tilde Handcraft Café's Bacon Bolognese
Tilde prides itself on creating simple dishes prepared with meticulous skill, and the Bacon Bolognese is just one example. With home-smoked bacon and homemade fettucine, this hearty dish elevates comfort with its perfect balance between the familiar and the unexpected.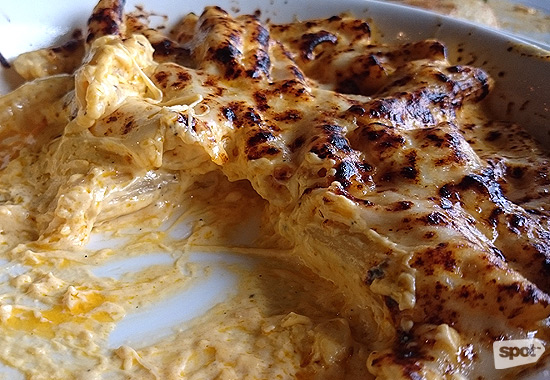 Tipple and Slaw's Burnt Mac and Cheese
Burning your cooking may sound like a disaster, but here at Tipple and Slaw, it's genius. Four kinds of cheeses are lovingly married in a delicious gooey mess over penne, then the top is torched for a smoky flavor that cuts through the richness of the mac and cheese. It's an inspired twist to a classic comfort dish.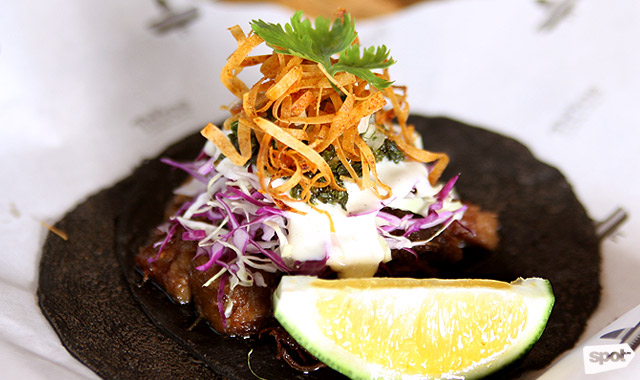 ADVERTISEMENT - CONTINUE READING BELOW
Tittos' Beef Barbacoa Tacos
In a year that saw the rise of Mexican cuisine in the local food scene, Tittos' Beef Barbacoa Tacos are definitely a standout. Beef belly chunks are slow-cooked until soft, tender, and flavorful then served on a custom black tortilla with the usual toppings. But what makes it unique are the bites of toasted, caramelized fat that adds a layer of indulgence and oomph to this dish.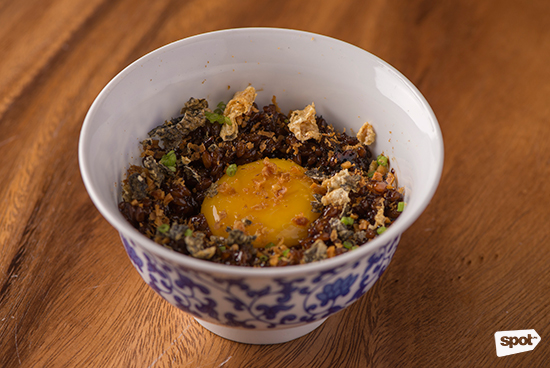 Toyo Eatery's Silog
Toyo Eatery's Silog calls to mind the days of dousing our rice in soy sauce, but this one's more thoughtfully crafted. The explosion of flavors is still there, with an intensity that can get almost dizzying. Break the soft yolk so it coats every grain with richness while also toning down the impact of the soy sauce. This rice bowl can be served with bangus, whose mild seasoning actually serves as a foil to the more flavorful rice—yes the ulam is the kanin here. The Silog is a showcase of what Toyo Eatery is all about: nostalgic flavors done in a more sophisticated manner.
ADVERTISEMENT - CONTINUE READING BELOW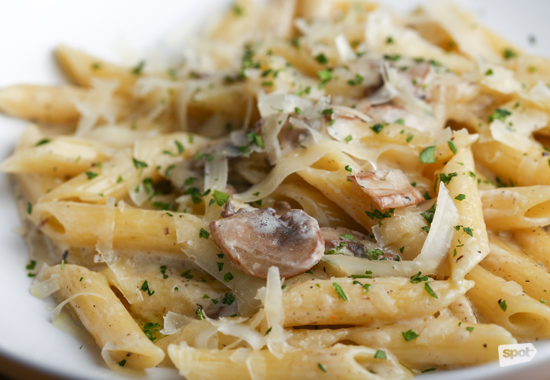 Trufa Pasta Bar's Penne and Setas
If you are obsessed with all things truffle, you must try the Penne and Setas at Trufa Pasta Bar. The rich truffle-infused cream sauce is a standout, and it only needs the mildly-flavored setas (or the mushroom selection) to really make this dish shine.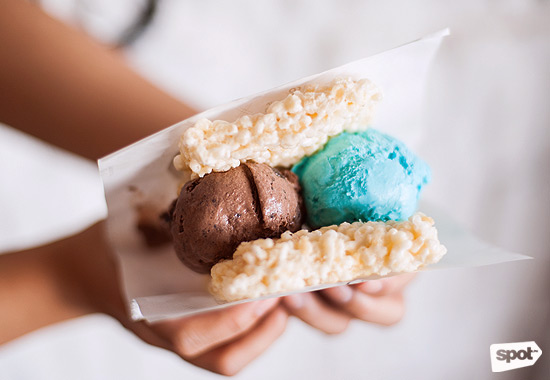 ADVERTISEMENT - CONTINUE READING BELOW
Westwood's Cereal Ice Cream Sandwich
Westwood's specialty ice cream is already amazing on its own, but they take it a step further by sandwiching scoops between cereal discs. The result is the perfect contrast between creamy, velvety ice cream and crunchy cereal that makes for an unforgettable sweet treat.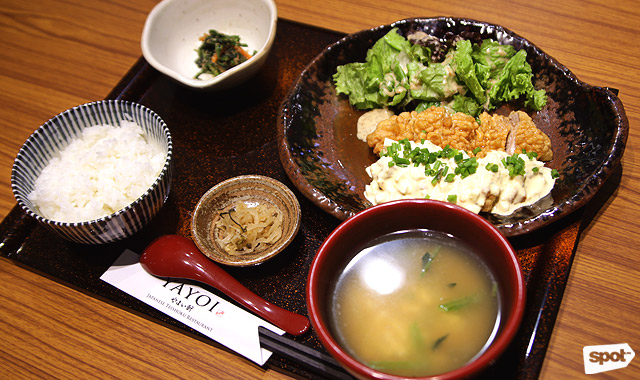 Yayoi's Namban Teishoku
While teishoku is not as familiar as other Japanese favorites like tempura and sushi, it's easy to fall in love with it. After all, who wouldn't love a meal that comes with sides and soup? A great introduction to the teishoku is Yayoi's Namban Teishoku. It's a dish that looks familiar, with fried chicken steak glazed in a delicious sweet-and-sour sauce. The crisp batter doesn't obscure the flavors of the chicken, and the tartar sauce served with it makes the dish even heartier.
---
Help us make Spot.ph better!
Take the short survey
Load More Stories