10 Marikina Restaurants With Great Steaks Under P500
We all deserve a steak-ation.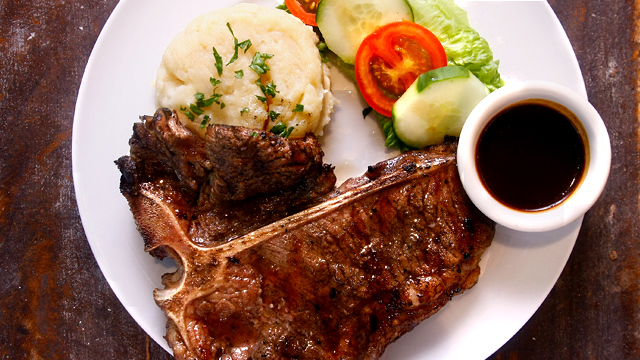 (SPOT.ph) Marikina is home to many hole-in-the-wall restaurants where you can get wallet-friendly choices that could give any big casual dining chain a run for its money. Steaks are often deemed a luxury, but that's definitely not the case in this city brimming with chop houses to whet your appetite. Read on as we give you a glimpse of some of Marikina's most well-loved places with steaks under P500 for those needing a quick fix.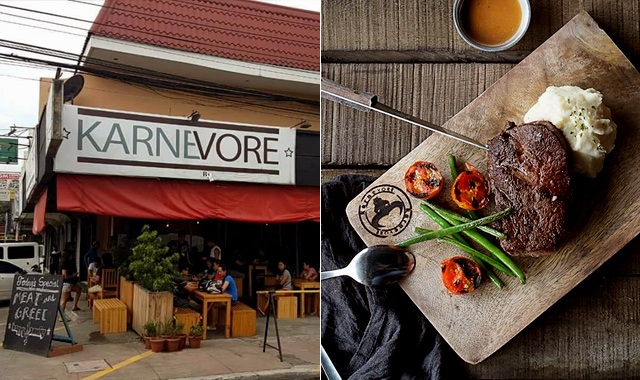 Karnevore
The restaurant's name is a play on "carnivore," which literally translates to "meat eater," and boy, will you love to eat meat here. Their best-selling Karnevore Ribeye Steak (P255/mini, P315/regular) is flawlessly seared over high heat to lock in all the juicy goodness and then finished with a generous scoop of golden bourbon butter.
Also try: Singaporean-Style Chili Pork Ribs (P245)
Karnevore is at Pitpitan Street corner Gunting Street, Marikina City.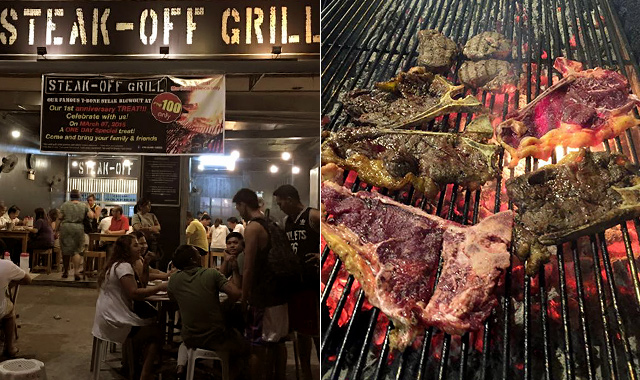 Steak-Off Grill
Steak-Off Grill is perhaps one of the few neighborhood joints that's constantly crowded even on weeknights. If you don't mind smelling like a smoky mess after eating, this no-frills steak place is for you. For less than P200, customers can get a hefty serving of the T-Bone (P149) or Porterhouse (P189) with unlimited rice.
Also try: Tenderloin Steak (P249)
Steak-Off Grill is at 1 Marikina Commercial and Market Center, Katipunan Street, Sto. Niño, Marikina City.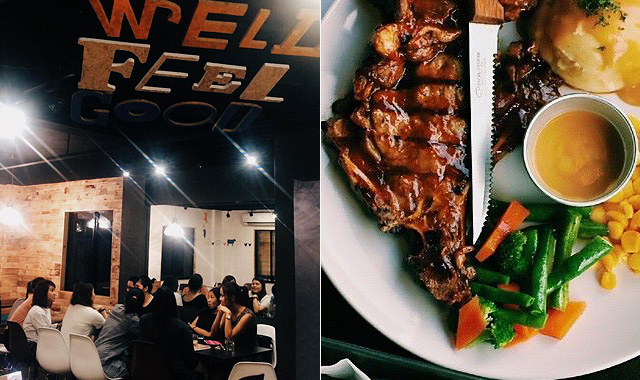 Blake's Wings & Steaks
Before Blake's Wings & Steaks opened in Katipunan and San Juan, its original branch in Marikina was already generating buzz among the city's residents. Situated along the now-foodie street of Gil Fernando, this is your go-to diner if you want to taste and feel the comfort of home. Their steaks come in three flavors: Original, Hickory Barbeque, and Honey Mustard (P250/Porterhouse, P230/T-Bone).
ADVERTISEMENT - CONTINUE READING BELOW
Also try: Blake's Bacon Cheeseburger (P185)
Blake's Wings and Steaks is at 75 Gil Fernando Avenue, Barangay San Roque, Marikina City.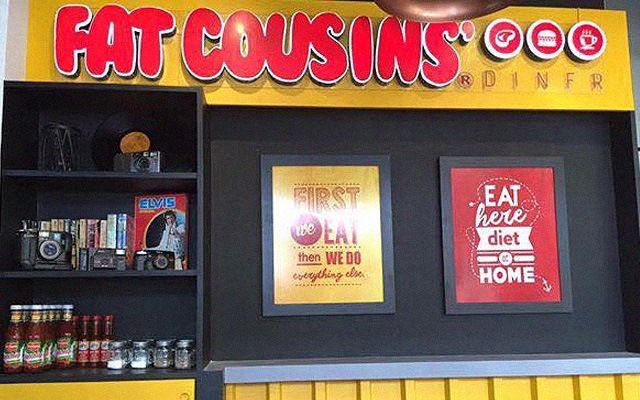 Fat Cousins' 2 Diner
"Eat here, diet at home," says a fiery red mural on one side of the restaurant. At Fat Cousins' Diner, the interiors are well-thought-out and the steaks will sate your ravenous appetite. We recommend the Australian Premium Steak (P199) which has been seasoned and cooked in a secret marinade. The result is a moist and tender classic-cut steak that works well alone or with the home-style gravy served on the side.
Also try: Hungarian Sausage (P129)
Fat Cousins' 2 Diner is at BG Molina corner M. Tuason Street, Parang, Marikina City.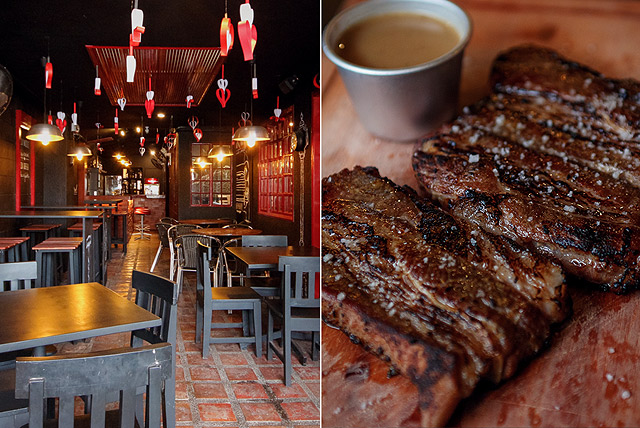 Let's get this straight: We do not condone any form of behavior that promotes gender double standards and slut shaming. Calling someone a "meatslut," though, is a different story. Meatslut is the newest kid on the block. Found near Lilac's household names such as Miguel and Maria and Brad and Pit, the restaurant boasts its 72 Hours Rib Short Plate (P380), a tender and succulent slab of meat that's blowtorched to perfection. All their steaks are served with a choice of rice, umami corn, robuchon mashed potatoes, or brown butter French beans.
Also try: Sous Vide Lengua (P160)
Meatslut is at 94 Lilac Street, SSS Village, Concepcion Dos, Marikina City.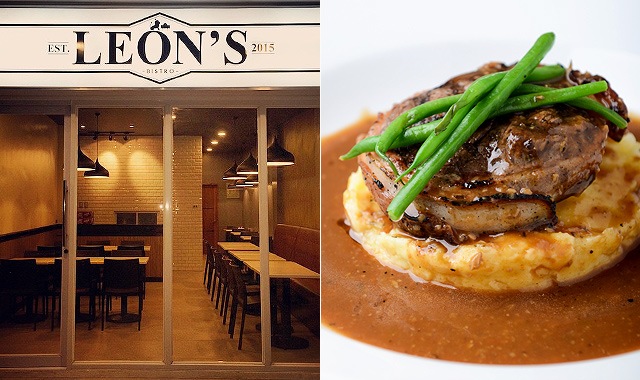 Leon's Bistro
The Tenderloin Medallion (P345) at Leon's Bistro is every bit luxurious—a flame-grilled, thick meat that's enveloped in fatty smoked bacon. The dish may sound intimidating but they also offer a friendlier (and cheaper) option: the T-Bone (P285) which comes with mashed potato. Located along the long stretch of Lilac Street, the restaurant's parking slots are limited but trust us when we say it's worth the wait.
ADVERTISEMENT - CONTINUE READING BELOW
Also try: Roast Beef with Mashed Potato (P270)
Leon's Bistro is at 10 Lilac Building, Lilac Street, Concepcion Dos, Marikina City.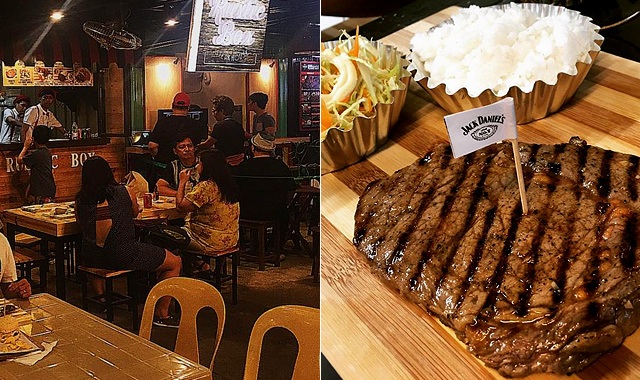 Rustic Box Steakhouse
Being the only food park stall on the list doesn't make Rustic Box Steakhouse any less of a contender. This place only has four items on their menu, all of which are steak, but they mean serious business. At Rustic Box Steakhouse, customers have every right to be fickle as the steaks are customizable—choose among T-Bone (P185), Porterhouse (P265), and Ribeye (P265), and then pick a rub to pair with your glistening slab of meat. The rubs are Original (salt, pepper, garlic, butter), Rustic Box Special, Jack Daniel's Glaze, Peppery Tabasco, Teriyaki, and Texas BBQ.
Also try: Steak Bites Ala Pobre (P250)
Rustic Box Steakhouse is at Carnival Food Park, Mayor Gil Fernando Avenue, San Roque, Marikina City.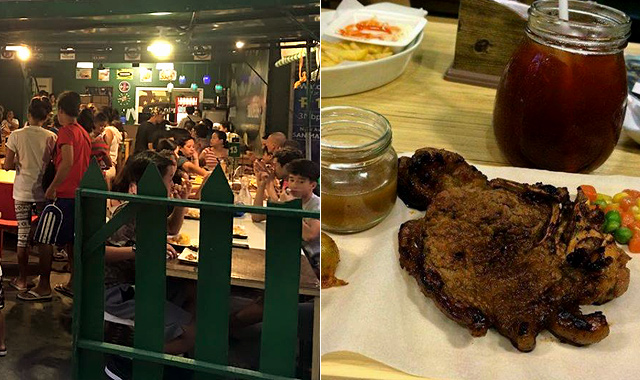 Troopers by Chef Moms
If you're looking for a steak joint that won't break the bank, Troopers by Chef Moms may be your best bet. For only P129, you can enjoy General of the Army, a slice of flame-grilled T-Bone steak that's served with their signature peppery gravy and unlimited java rice. The restaurant's military-themed facade and interiors will put you in the mood for some meat-eating action.
Also try: General of the Generals (crispy pata with special sauce) (P399)
Troopers by Chef Moms is at BG Molina Street, Parang, Marikina City.
ADVERTISEMENT - CONTINUE READING BELOW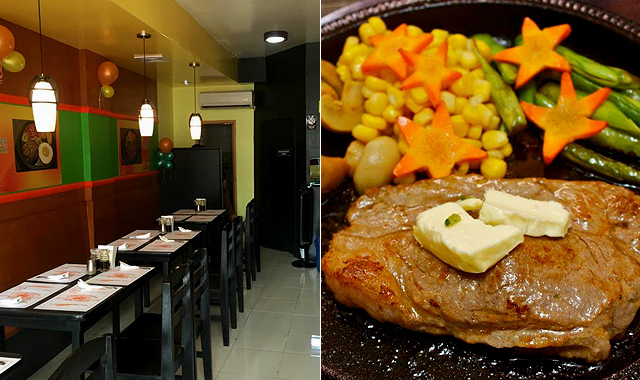 Star Carrots Pepper Steak House
Stop everything: Star Carrots Pepper Steak House is back. For good. Star Carrots is a budget-friendly and feel-good steak diner that was originally located in Robinsons Metro East and then Sta. Lucia East Grand Mall. They serve a variety of hot meals on a sizzling platter (with their characteristic star-shaped carrots) such as the crowd favorite Pepper Yakiniku (P220), alongside sizzling seafood and pasta.
Also try: Burger Steak (P185)
Star Carrots Pepper Steak House is at 2A Paulmarc Centre, Lilac Street corner Rancho Avenue, Marikina City.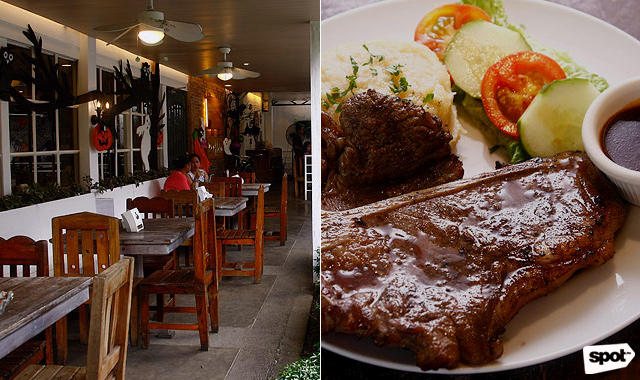 Beeffalo by Hotrocks is the farmhouse-like establishment at the tail end of Gil Fernando Avenue. It's considered a pioneer and one of the most well-known restaurants along the said strip and if you can't find it, just follow the thick smoke that smells of grilled meat past the row of flamboyant food parks. Surrender to your cravings and try their staple Porterhouse (P385/250 grams) for a quick fix. If it's not enough (which we doubt), Beefalo also offers other familiar dishes including pizza, ribs, and wings.
Also try: Beeffalo Wings (P195)
Beeffalo by Hotrocks is at Lot 6 Block 3, Gil Fernando Avenue, Santo Niño, Marikina City.
Load More Stories