Here's the buzz about The Food Hive: Insane cheese nachos, egg waffles, and more
Yes, food parks are still a thing.
The Food Hive
80 Visayas Avenue, Barangay Vasra, Diliman, Quezon City
Contact: 944-6423, 0977-457-4552
Open from 12 p.m. to 12 a.m. (Sunday to Thursday) and from 12 p.m. to 1 a.m. (Friday to Saturday)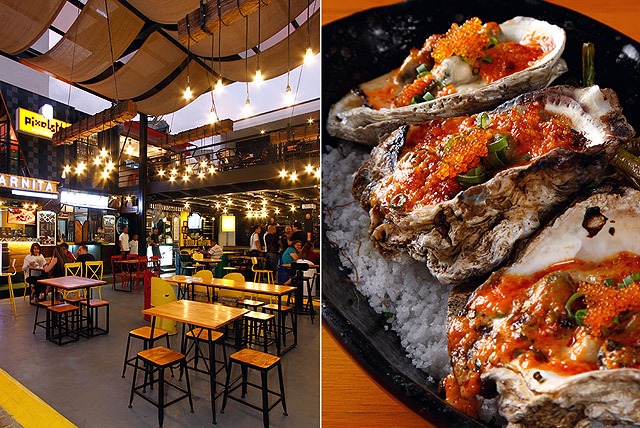 (SPOT.ph) Food parks are now the new must-eat places in the city as they provide an enviable food selection, designed to cater to every foodie whim that you can dream of, all in one space.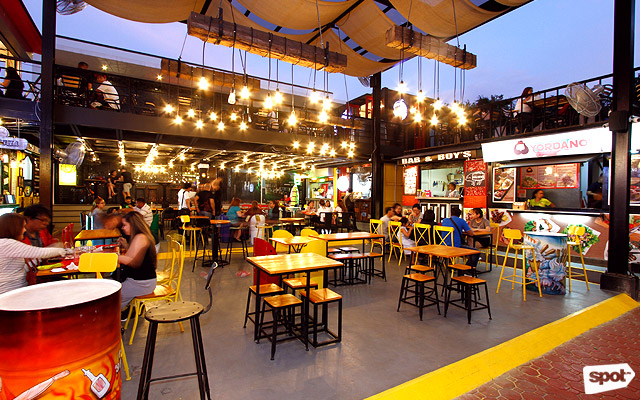 ADVERTISEMENT - CONTINUE READING BELOW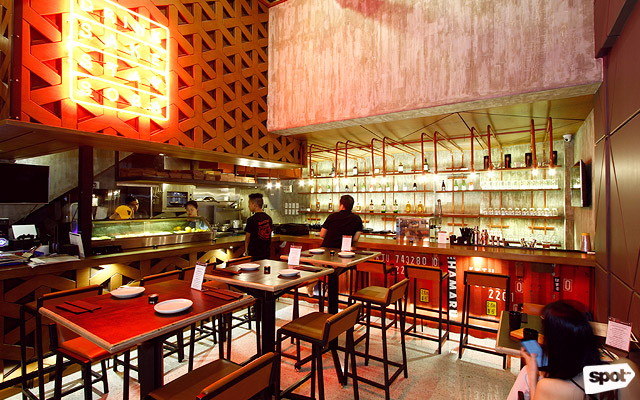 CONTINUE READING BELOW
Recommended Videos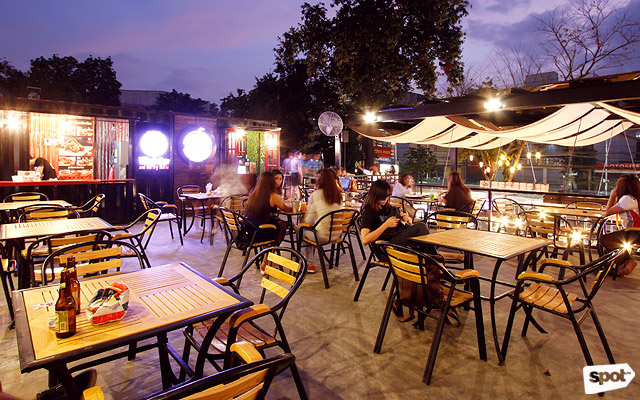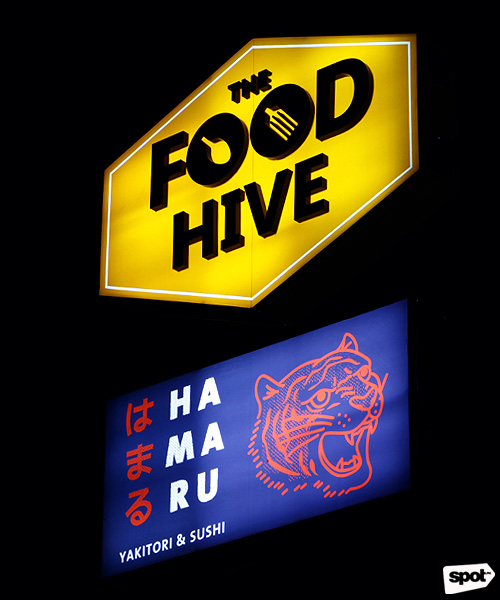 ADVERTISEMENT - CONTINUE READING BELOW
The Food Hive along Visayas Avenue in Quezon City is no exception as it seeks to be the next big thing when it comes to casual dining. They've assembled some well-known chefs and independent food trailblazers to make one-of-a-kind dishes under one roof. So what's the buzz at the Food Hive?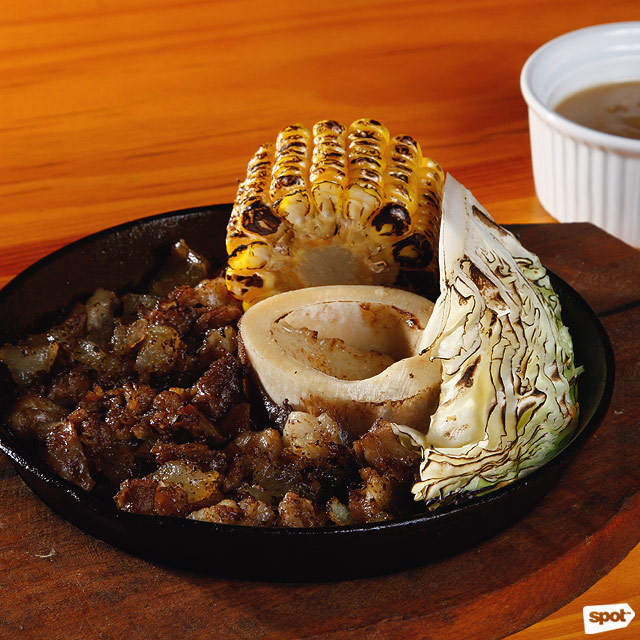 Blaze Flaming Sizzlers
With its bright red and orange flame-colored exteriors, customers know they're in for a blazing good time at Blaze Flaming Sizzlers. Chef Ed Bugia, the man behind Pino Resto Bar, Pipino Vegetarian, BRGR: The Burger Project, Pi Breakfast and Pies, and Backyard Kitchen + Brew wanted the menu to be simple, fun, and not intimidating. Their lineup includes Steak (P220), Seafood Gambas (P220), and Cheesy Chicken n' Corn (P160) served on a sizzling plate and set ablaze upon serving. The Sizzling Bulalo Sisig (P220) should come with its own sign saying "Addicting: Proceed with Caution" as the classic Pinoy favorite of crunchy pork sisig is served with a generous chunk of roasted bone marrow. The perfect savory touch comes when their homemade gravy is poured on the plate and gets the literal blazing flame treatment for a truly sizzling experience.
ADVERTISEMENT - CONTINUE READING BELOW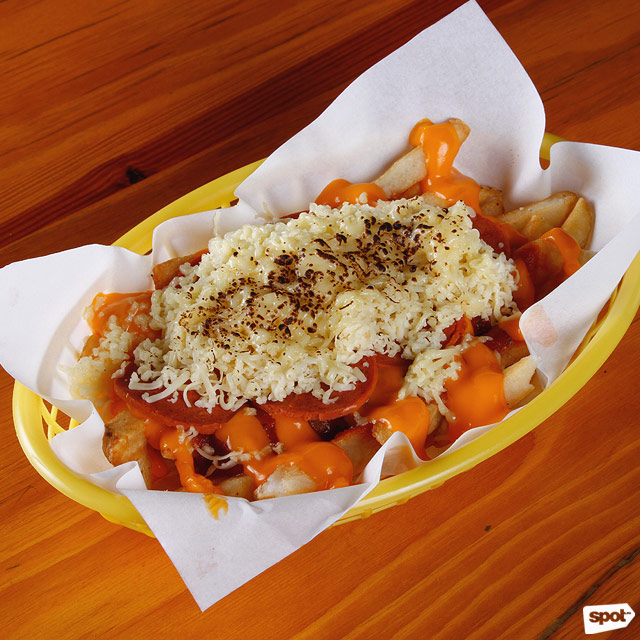 Po Bo
Imagine a plate of creamy mashed potato that's breaded, then deep-fried, before being smothered with the goodness that only savory ground beef, corn kernels, caramelized onions, and a rich homemade cheese sauce can give. This is the Potato Bomb or Po Bo (P120), which is the cornerstone dish where the stall gets its name. Po Bo is the first food stall venture of chefs Rosebud Benitez-Velasco and Jonah Trinidad. Some of their fresh takes on the classic french fries include Pizza Fries (P150), Bulgogi Kimchi Fries (P150), Sisig Fries (P150) and their bestseller, the Po Bae (P160), which is a Potato Bomb topped with crispy bacon and an egg.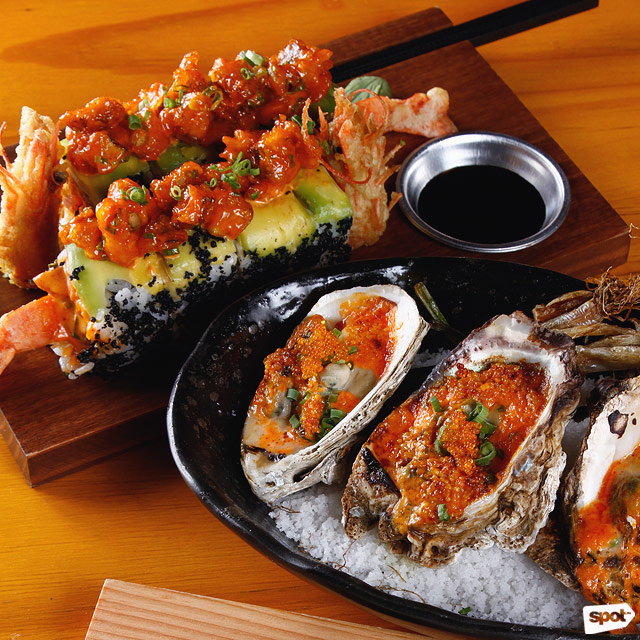 ADVERTISEMENT - CONTINUE READING BELOW
Hamaru Yakitori & Sushi
"Hamaru" literally means "to get addicted or go crazy over," according to owners Therese Larroza and Tadeo Chua. With Hamaru Yakitori & Sushi and the innovative menu by chef Niño Laus, best known for Ninyo Fusion Cuisine and Alamat Filipino Pub & Deli, their addicting crazy dream has become a reality. Hamaru has its own stand-alone space at The Food Hive, which makes it perfect for unwinding with a Japanese whisky, beer, or sake of your choice. Hamaru offers the Haiku (P1,000), which is the 3 Whisky Tasting Flight; and the Tanka (P650) which is the 5 Sake Tasting Flight. Chef Niño created the menu with his usual flair and the result is seen in each dish. The Ryujin Roll (P480) is a hearty order inspired by the dragon god of the sea, with tiger prawn, salmon, tuna, and fresh avocado. Filling but leaving enough space in the tummy are the kushiyaki options, like the U.S. Beef Intestine (P115) with a nice grilled char, garnished with truffle oil and pickled onions. The Oyster Motoyaki (P195) is also a standout with fresh oysters flown in from Aklan, baked and topped with chili, garlic mayo, creamy cauliflower puree, and the smoky-salty crunch of tobiko or flying fish roe, prettily served in oyster shells over a bed of sea salt.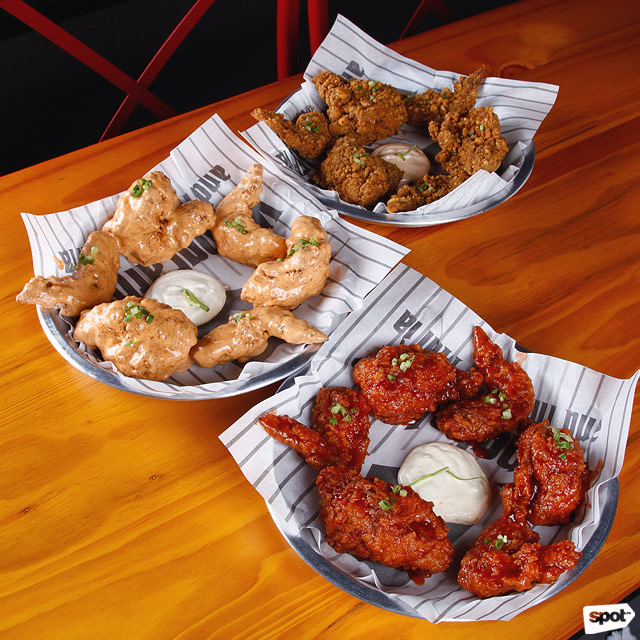 ADVERTISEMENT - CONTINUE READING BELOW
Wingfather and the Fry Mafia
Inspired by the notorious Prohibition era during the 1920s, the Wingfather and the Fry Mafia of chef Luigi Muhlach is very much an homage to this nefarious time. Chicken wings are obviously the specialty of the house and the different flavors are as interesting as the mob characters they represent. You won't be able to resist the ultimate "sakit-batok" decadence of Capone (P230) with aligue coated wings and a kesong puti aioli to temper the rich flavor. The Corleone (P230), on the other hand, showcases chef Luigi's culinary cleverness as he uses a local favorite, the garlic-seasoned snack Boy Bawang as the crunchy crust for chicken wings served with red pepper aioli. The addicting crunch with each bite of the wings are the real bee's knees, as they would say back in the '20s. And as a tribute to Bugsy Siegel and his famous Las Vegas hotel, the Flamingo (P190), is one of Wingfather and the Fry Mafia's bestsellers. The comforting flavor of maple syrup-coated wings is balanced with the heat of the buffalo sauce, again tempered nicely with the homemade kesong puti aioli.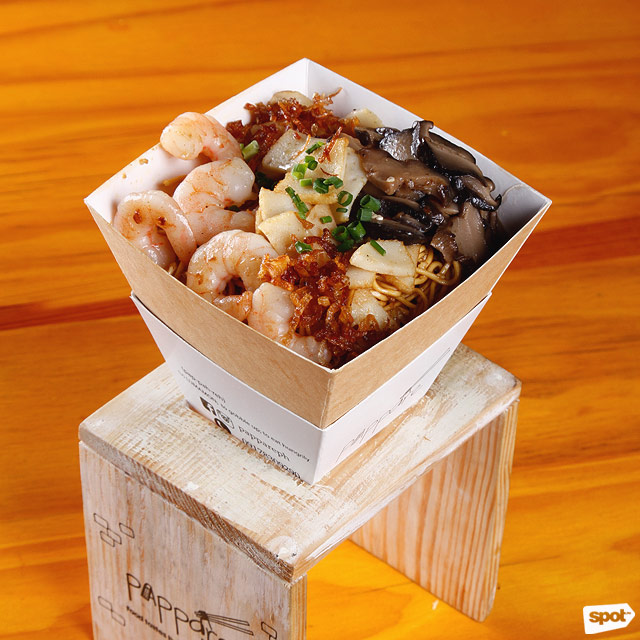 ADVERTISEMENT - CONTINUE READING BELOW
Pappare Ristoranti
Pappare Ristoranti's owner and head chef, Jarina Gem Tee, was trained in Albany, New York under renowned Indonesian chef, Yono Purnomo. This New York City and Indonesian culture immersion comes together through Pappare Ristoranti's bestsellers, like the Mee Gamberi Goreng (P250) made with fresh handmade noodles, shrimp, fishcake, shiitake mushrooms, special sauce, egg, and crispy shallots. The Panini De Porchetta (P235) is made with their homemade brioche bun, signature pesto, arugula, and caramelized balsamic onions, but the star is a thick and crunchy porchetta (Italian boneless pork roast) slice. Upon taking a bite, the flavors come together to highlight the crispy but moist slab of porchetta that transports you to your own special place in the food universe.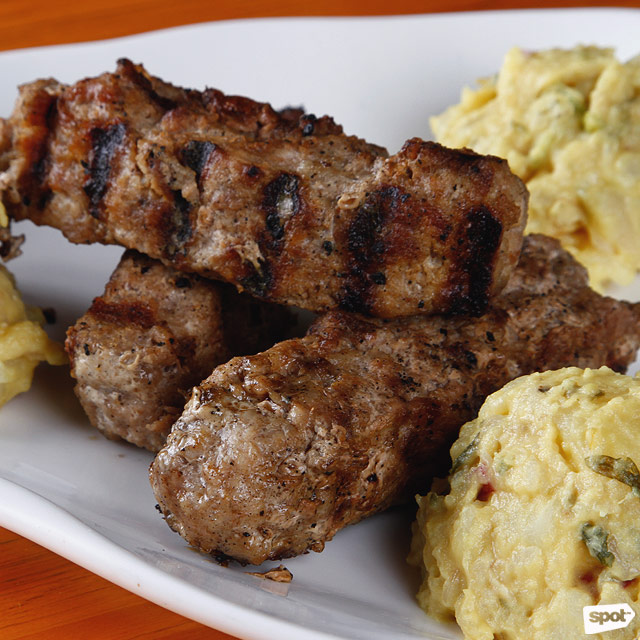 Yordanovi Bulgarian Restaurant
This food stall came about because chef Plamen Yordanov was craving European sausages and the nearest deli that sold them was closed. He decided that he would take matters into his own hands by making his own Bulgarian food in the traditional manner. Chef Plamen wakes up early every morning to go to the market at 6 a.m. and choose his own meat and vegetables to be cooked for the day. Every ingredient comes from local farms except for the summer savory herbs like chubritsa and the lactobacillus bulgaricus which is used for the renowned yogurt that Bulgaria is known for. The Zucchini Salad (P129) has thinly sliced fried zucchini topped with homemade garlic yogurt sauce and is light on the palate. This gears you up for the bestseller, the Kebapche (P169), which is made of minced pork with spices and is similar to meatballs, but shaped like a stick. These three pieces of the tasty grilled meat, similar to kebabs, are charred to perfection and served with three scoops of chef Plamen's homemade special potato salad. 
ADVERTISEMENT - CONTINUE READING BELOW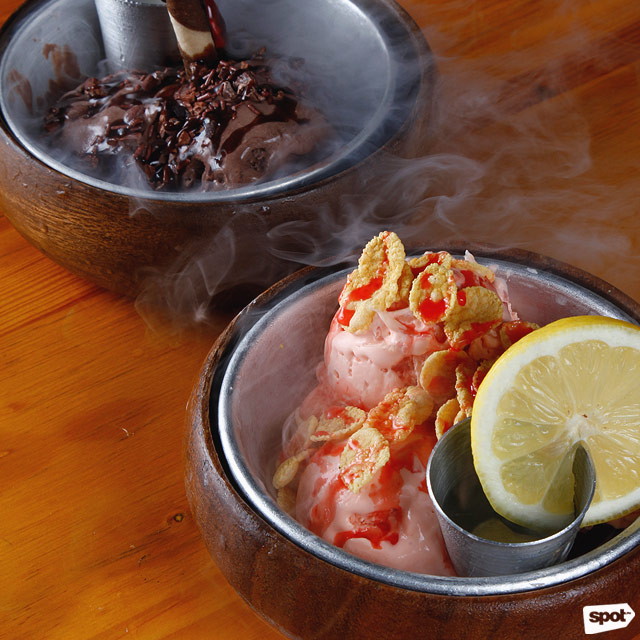 Cool Juans
Cool Juans, the brainchild of chef Wado Siman, serves nitro sorbetes or local ice cream frozen with liquid nitrogen. The process means that the ice crystals are smaller and creamier, especially since each serving is mixed by hand, resulting in a denser frozen delight that is more velvety than traditional ice cream, which doesn't melt as quickly. On Mayon (P180) is made with Davao tablea con sili sorbetes, fresh mint leaves, roasted cacao nibs, spicy tablea ice cream, chocolate drizzle, chocolate sprinkles, a wafer stick, candied siling labuyo, and a milk shot in case the heat is just too much to handle. Kwatro Kantos (P165), on the other hand, is a gin pomelo sorbetes made with pomelo ice cream, one gin shot, a lemon slice, breakfast cornflakes, and strawberry drizzle.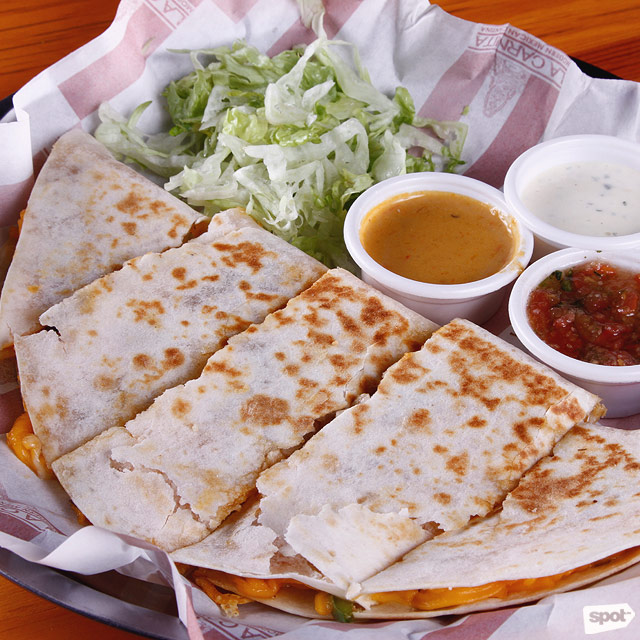 ADVERTISEMENT - CONTINUE READING BELOW
La Carnita Modern Mexican Cantina
If there is a "Most Popular Dish Award" at The Food Hive, it would definitely go to the Grilled Nachos ala Bomba (P195) at La Carnita Modern Mexican Cantina. This concoction combines sharp cheddar, mozzarella strings, La Carnita homemade cheese sauce with Mexican beef, and refried beans until everything is gooey and bubbly, before being lovingly poured over warm nacho chips. Hands down, this is the ultimate cheese heaven for nacho addicts at the food park. The Beef Carnitas Quesadilla (P160) is also a strong contender with a 10-inch flour tortilla filled with cheddar shavings, mozzarella, caramelized onions, and beef carnitas that are slow roasted and then grilled for that smoky flavor. Served with lettuce, special cucumber salsa, creamy cilantro sauce, and chili el bomba sauce for that super spicy hot kick, this dish is meant to keep you happily silent as you munch away.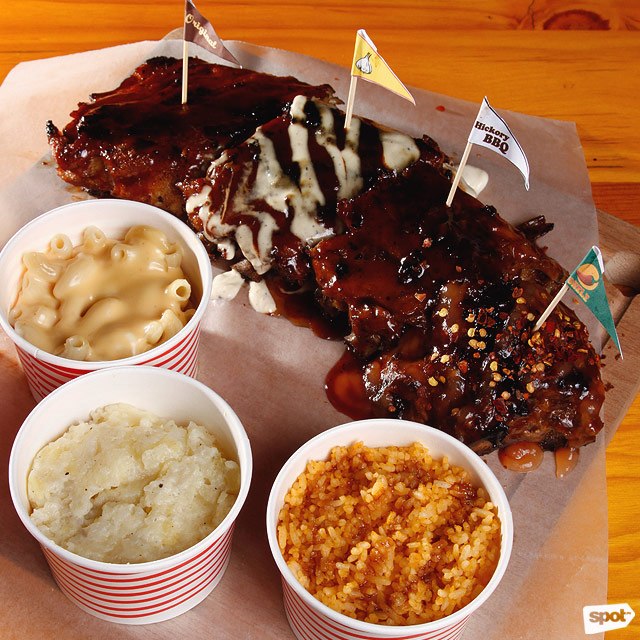 ADVERTISEMENT - CONTINUE READING BELOW
Bab and Boy's Smokeshack
Bab and Boy's Smokeshack is a play on the nicknames of the owners who, as kids, were called "Bab" and "Boy," without knowing the deliciously smoky future in store for them. But there's no joking involved when it comes to the quality of the meat and size of the St. Louis cut style of ribs used here, which are larger and meatier in size than the usual baby back rib fare. The ribs are prepared with 13 secret spices in the rub and a smoking process that guarantees the tenderness of the meat to fall-off-the-bone doneness. The Deli Buster (P720) is a full slab of ribs good for four people that's glazed in their special sauces like Original, Garlic, Chili, and Hickory BBQ with three sides of your choice (mashed potato, java rice, mixed veggies, or macaroni and cheese).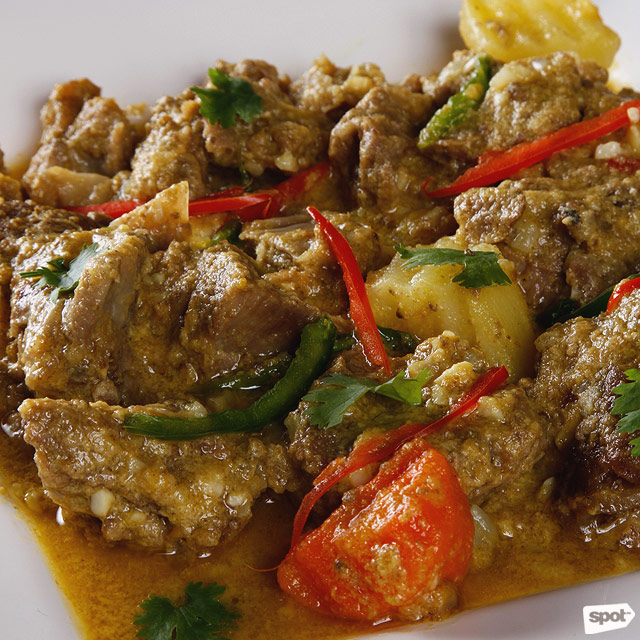 Goatcha
ADVERTISEMENT - CONTINUE READING BELOW
Goatcha serves goat meat in many different ways. The Kilawin (P160/half, P285/full) looks almost too pretty to eat, but the boiled goat meat mixed in with vinegar, cucumber, chopped onions, and spices is too much to resist. The Mutton Curry (P170/half, P295/full) with the goat meat slow-cooked until fork tender, has an addicting spicy tang that would go well with cups of white rice or a few cold beers.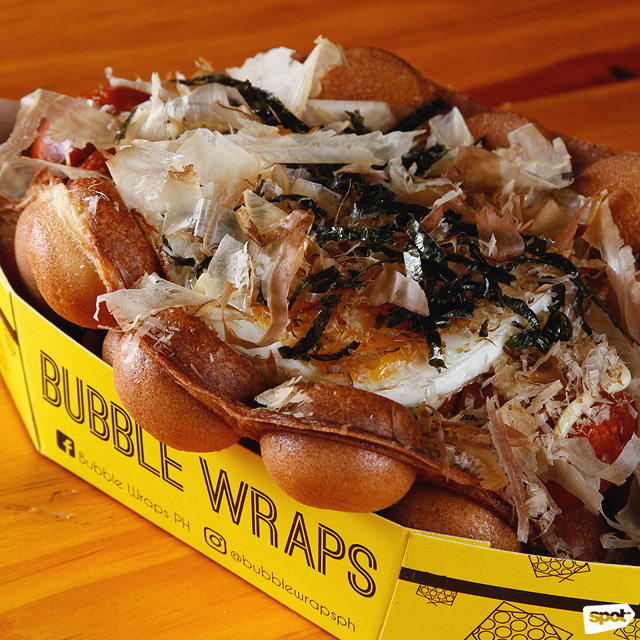 Bubble Wraps
These golden egg waffles are street food staples in Hong Kong, and they're now found in several places around the Metro. Dessert Bubble Wraps (P155) (original, cocoa, or matcha) are perfect meal enders with your choice of waffle, ice cream, sweet toppings, and chocolate or caramel syrup, after a filling run through The Food Hive. Owners Toby Tan and Lynell Lopez share that they added wraps like the Chicken Bubble Wrap (P185) (crispy breaded chicken covered in mozzarella and cheddar cheese) and Sausage Bubble Wrap (P185) (Hungarian or Frankfurter sausage topped with fried egg, nori, and bonito flakes) because they understand the Pinoy longing for savory flavors. 
ADVERTISEMENT - CONTINUE READING BELOW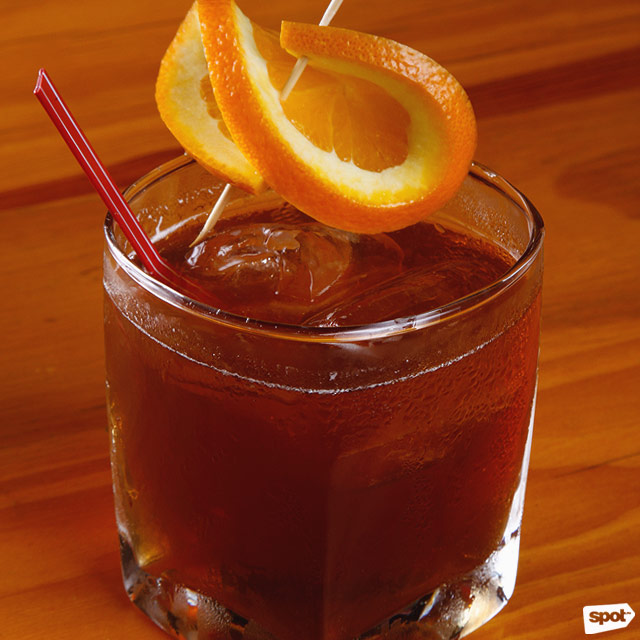 Pixelstop
The second floor of The Food Hive is a video game-themed, full-service bar which features specialty drinks like Donkey Kong (P150), an award-winning combination of rum, muscovado syrup, coconut water, apple cider vinegar, beer, and bitters; as well as Adventure Time (P150), which combines rum, fresh pineapple, coconut juice, coconut cream, milk, and syrup. Both of these Pixelstop specialty drinks make one crave the soothing relaxation of the beach. These drinks are the nearest thing to a refreshing beach experience while in the city, so toast away. For craft beer lovers, Pixelstop also carries the beer brand Bel Ale, locally brewed by a Belgian brew master based in Parañaque. For less than P200 per bottle, enjoy their premium selection of Cherry Beer Gold which is a full-bodied golden ale, and Tripel which is a Trappist-style beer with a whopping 8% ABV.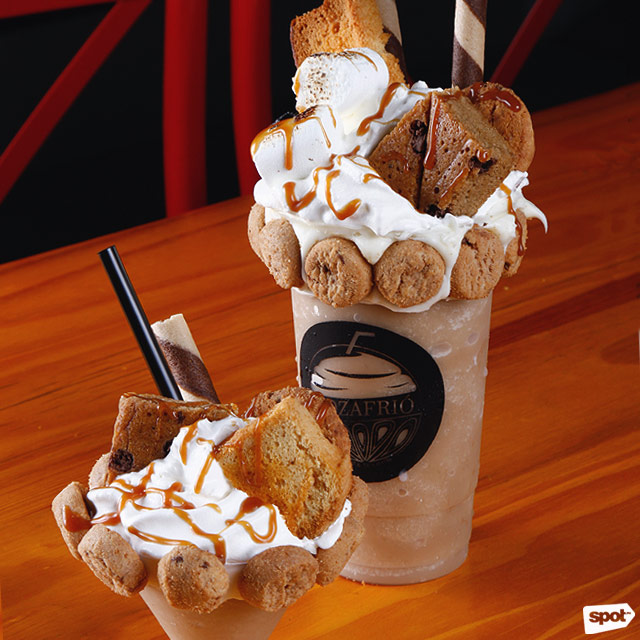 ADVERTISEMENT - CONTINUE READING BELOW
Mozafrio
Mozafrio is a quaint frappe and tea bar on the second floor of The Food Hive. It is a relaxing spot where you can enjoy good conversations while having a Solana (P125), which is a tasty combination of salted caramel with ground coffee topped with whipped cream and caramel drizzle, or the Juanita (P125), a dark chocolate and coffee frappe.
Photos by Vincent Coscolluela
Update: The first version of this article included information from the brand representative that The Food Hive opens at 11 a.m. The brand has decided to change their opening time to 12 p.m. The story has been updated to reflect this.
Share this story with your friends!
---
Help us make Spot.ph better!
Take the short survey
Load More Stories