What the hell is Green Chicken and where can you get it in Manila?
You need to check out Palm Grill.
Palm Grill
175 Tomas Morato Avenue corner Scout Castor Street, Diliman, Quezon City
Contact: 373-1668
Open from 11 a.m. to 11 p.m. (Sunday to Thursday) and from 11 a.m. to 12 a.m. (Friday to Saturday)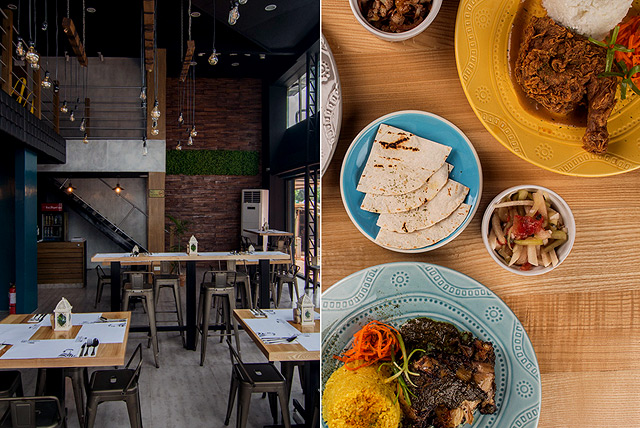 (SPOT.ph) It's difficult not to feel at ease when you step inside Palm Grill—especially when there are cute stuffed toy chickens welcoming you by the counter. Plus, the bright sunlight coming from the floor-to-ceiling glass windows combined with the charming table pieces and wood-based décor make the place feel inviting. It's pretty much the definition of a family restaurant—somewhere you'll bring your folks to enjoy a filling Sunday lunch without raising anyone's eyebrows.
ADVERTISEMENT - CONTINUE READING BELOW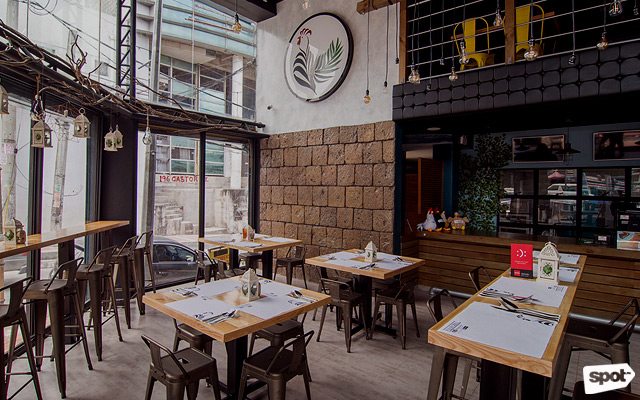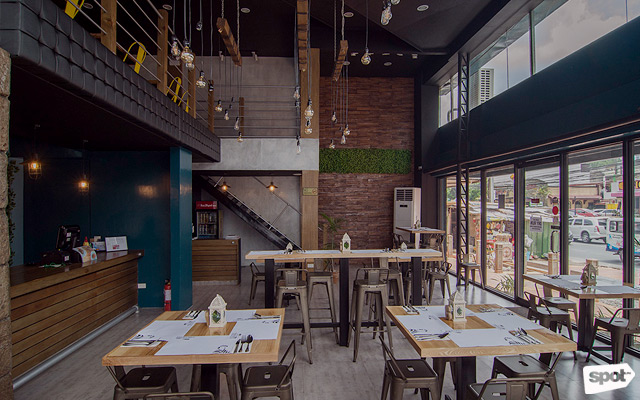 ADVERTISEMENT - CONTINUE READING BELOW
Beyond being "just a chicken restaurant," as co-owner Miguel Moreno puts it, Palm Grill is also a celebration of family. The short menu focuses on four chicken dishes, three of which are recipes from Miguel's clan with its own fascinating story. Save for one, each meal comes in three different serving sizes: Solo (P229/quarter-piece), Duo (P339/half-piece), and League (P649/whole), with rice and a choice of one side.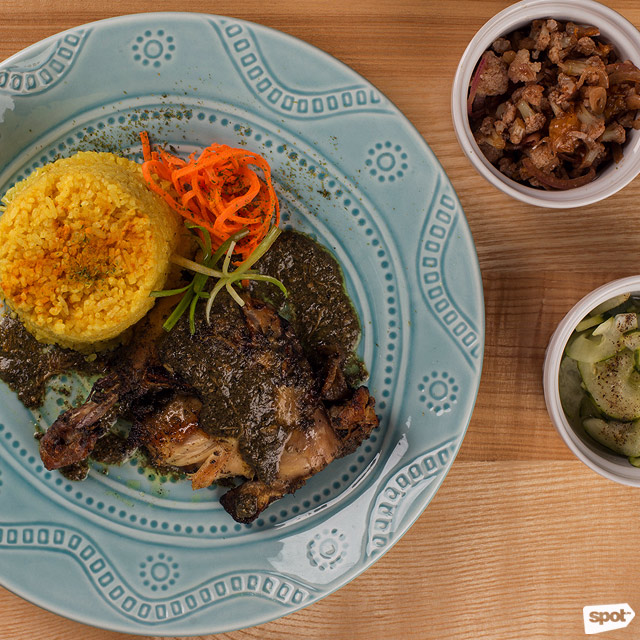 ADVERTISEMENT - CONTINUE READING BELOW
Green Chicken
"My family comes from Jolo, Sulu," shares Miguel as a way of explaining the Malay-inspired flavors of the Green Chicken. Coated in a secret mix of seven spices plus coconut milk, and toasted coconut, this juicy chicken flaunts its Mindanao roots with every bite. Paired with turmeric rice, this dish has the novel yet comforting taste of warm curry.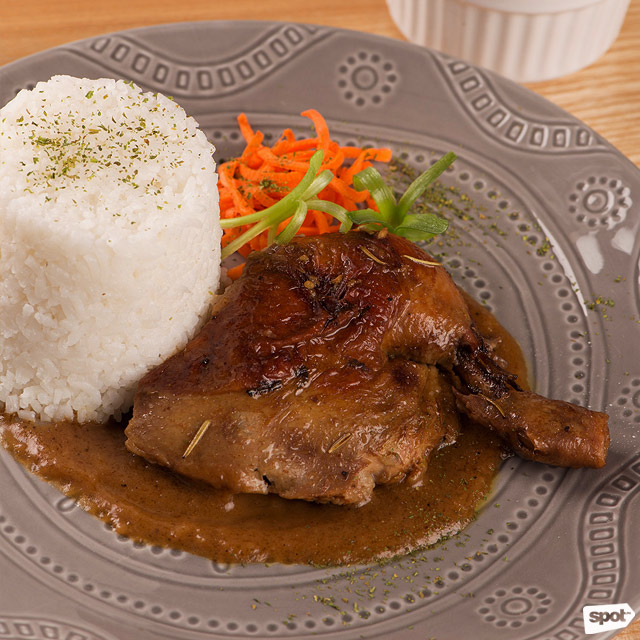 ADVERTISEMENT - CONTINUE READING BELOW
Olympus Roast
While the Olympus Roast has that herbed flavor every excellent roast chicken should possess, the standout here is the peanut sauce that comes with it. Sweet, savory, and with a hint of briny flavor that you can't quite place, this sauce levels up the entire dish. This roast is a recipe from Miguel's grandfather, from his steakhouse in Zamboanga.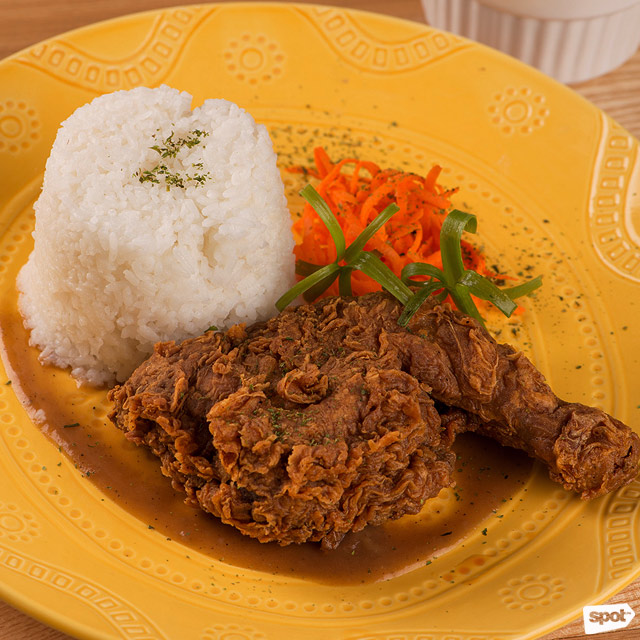 ADVERTISEMENT - CONTINUE READING BELOW
Oswalda's Fried
A bite of the Oswalda's Fried will remind you of Sunday lunches (or of a certain pancake chain's chicken dish). Think a mildly sweet chicken coated in a golden breading that is light yet still with that satisfying crunch. We can imagine having this with lots of rice and gravy. With the comfort this dish brings, we're not surprised to learn it's a recipe from Miguel's grandmother, who used to whip up this dish together with a potato salad that Miguel promises will be served in Palm Grill soon.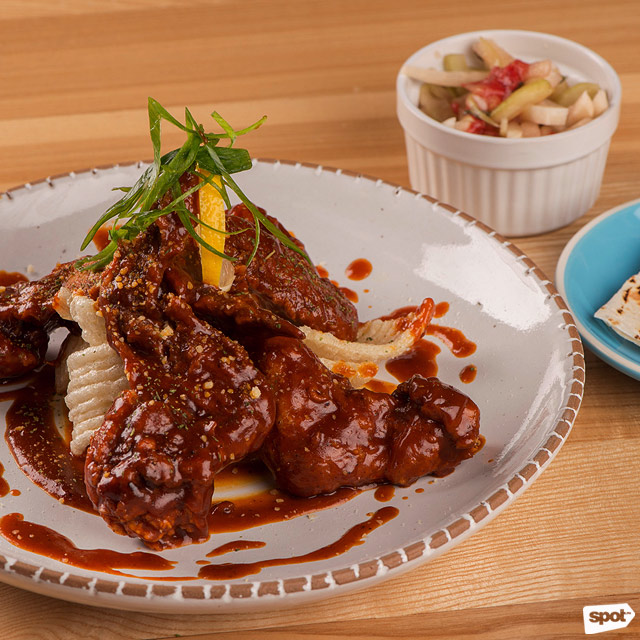 ADVERTISEMENT - CONTINUE READING BELOW
Labuyo Chicken
Rounding up the menu is an original recipe: The fiery Labuyo Chicken (P189 with rice). Its bright red color will clue you in on the fact that you're up for a spicy challenge—Miguel shares that their head chef uses a type of labuyo he calls "demonyo sili". But beyond burning your palate, this fried chicken also possesses a well-seasoned core that shines through the heat. You'll end up finishing off this plate, though we recommend a glass of cold milk to go along with it.
With a menu this packed with flavor, Miguel shares that he wanted the sides (P60) offered here at Palm Grill to taste clean and refreshing, like the zesty Cucumber Salad with fresh cucumber slices and a dash of pepper. You can also opt for the fruitier Sweet and Tangy Melon Slaw with apples, turnips, and a cherry vinaigrette. The Roasted Cauliflower with Orange Slices has a hint of charred flavor that goes well with the citrus, while Momma's Macaroni Salad will make you feel nostalgic for your mom's own salad recipe.
ADVERTISEMENT - CONTINUE READING BELOW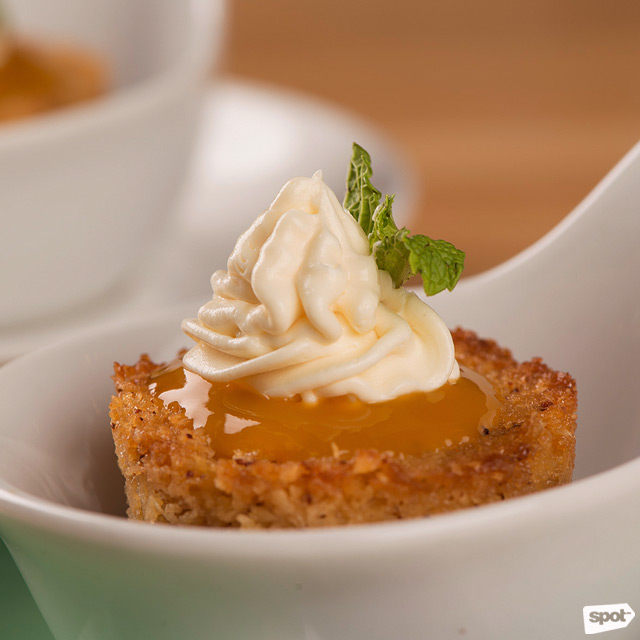 CocoRoons
Finish your meal with the CocoRoons (P60), daintily served on a spoon. The serving size keeps this dessert from getting too cloying with its rich caramel and coconut flavor, and is topped with a zesty whipped cream to balance things out.
"If a customer is unsure whether they want to try our chicken, I offer it for free if they don't like it. If they don't like it, then it's on us," says Miguel, "I've been crossing my fingers every since!" But with a menu packed with excellent flavors, we think they have all the reasons to be confident.
ADVERTISEMENT - CONTINUE READING BELOW
Photos by Hans Fausto
Load More Stories