7 Problems You'll Have At Every Potluck Party
Like running out of utensils!
(SPOT.ph) Potluck parties seem to be popular no matter the occasion, budget, and guest list—probably because they're awesome at bringing people together. Putting together a special dish to bring to a family reunion or a barkada get-together might take some effort, but it's always worth it!

Still, no matter how many potlucks we've gone to and how many we've hosted, some problems always seem to crop up. Like these:

1. Too many people brought the same dish.
The usual culprits: macaroni salad, spaghetti, and lumpia.

2. Some things are completely ignored.
Sometimes it's because no one can eat it with the limited utensils on hand, but most of the time it's because the food is just not appetizing at all.

3. Running out of food.
Blink and you'll miss the pork barbecue, lechon skin, and your cousin's special leche flan!

4. No one remembered to bring the plates and utensils.
Since everyone's so focused on one-upping each other in the food department, dinnerware often slips people's minds until it's time to eat. One easy solution would be to just cram everything you want to eat inside a plastic cup and have at it. Unless of course...

5. No one one brought cups.
Which is definitely a problem when you have liters of soft drinks, alcohol, or juice to share. Or when ice cream or soup are on the menu. 

6.There are no takeaway containers after the party.
More often than not, there's a lot of food left over after the festivities die down. While an improvised paper plate fold-over works in a jiffy, actual plastic, aluminum, or styrofoam containers are infinitely more preferable (and less messy!).

7. Some people will hoard ALL the food.
You can't miss the guests prepared with their own takeaway containers, ready to scoop up a week's worth of free food. Be quick, since they usually don't wait for everyone to finish before pouncing! (We're looking at you, Tita Baby.)

In our humble opinion as self-proclaimed potluck party pros, the perfect potluck will always be an elusive creature. Despite this, you should always aim for the best in the party department! Ace your potluck contribution by ordering one of Italianni's Dine Out Delights and give your fellow guests a taste of authentic Italian pasta, antipasto, insalate, and classic chicken and pork dishes. Every order is good for six to eight people and comes with disposable utensils, so you'll definitely have no problem feasting on these yummy treats.



Now, if you're looking for goodies to complete your holiday celebrations, go pick out something from Italianni's Holiday Takeaway collection! Choose from their rich Tea Ring Bread (P545), their indulgent Quezo de Bola Cheesecake (P1,225), their classic Bread Basket (P380), and select wines to go (starts at P740). Present your Bistro Card to get a great discount!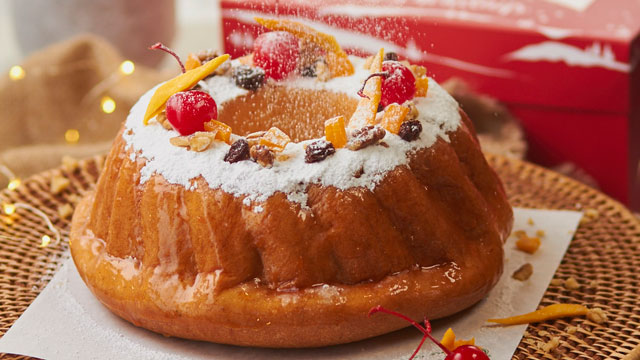 Italianni's Tea Ring Bread
Italianni's Quezo De Bola Cheesecake


A holiday party wouldn't be complete without good food, so share the cheer this holiday season with Italianni's!

Italianni's Dine Out Delights are available in all 16 branches, while the Holiday Takeaway items are available at select branches. Visit the Italianni's website or Facebook page to learn more.