This cool new diner will make you rethink cheeseburgers
Boutique Burger Kitchen promises to make burgers better.
Boutique Burger Kitchen
G/F The Fort Strip, 26th Street, Bonifacio Global City
Contact: 0917-893-4913, 964-2050
Open from 11 a.m. to 12 a.m. (Monday to Thursday) and from 11 a.m. to 2 a.m. (Friday to Saturday)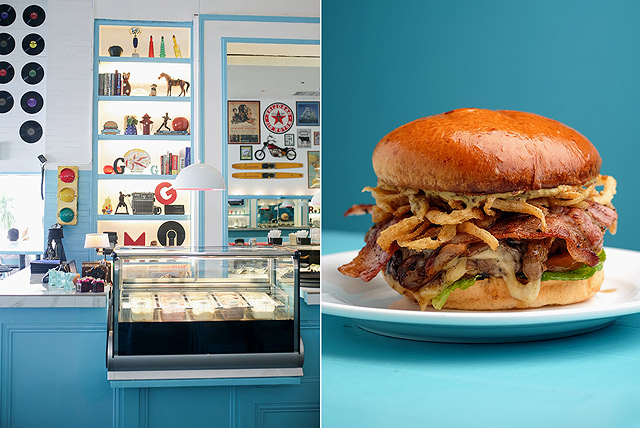 (SPOT.ph) "People say this reminds them of Riverdale," shares Chef Carlo Miguel of The Brewery and Draft Gastropub fame. Riverdale is a darker take on Archie comics and one of the hottest shows of this television season; "this" is Boutique Burger Kitchen, Chef Carlo's newest food venture.
ADVERTISEMENT - CONTINUE READING BELOW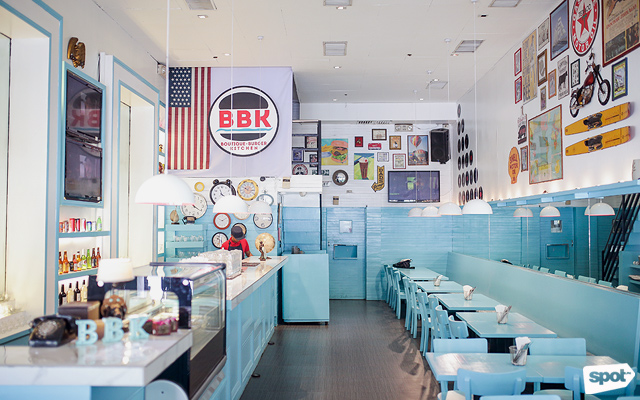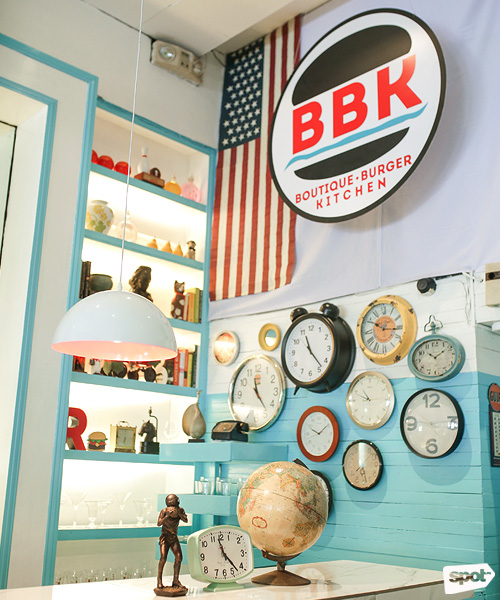 ADVERTISEMENT - CONTINUE READING BELOW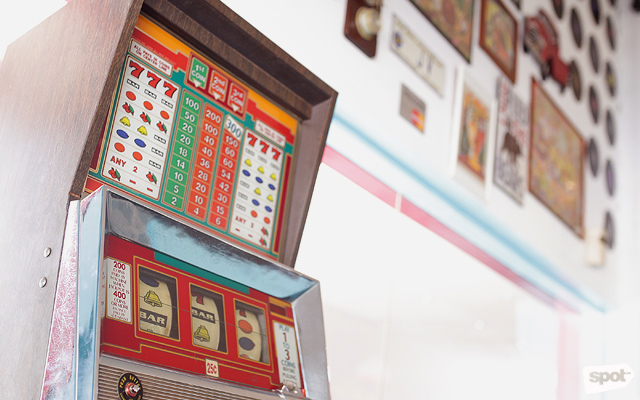 We can see why customers draw the comparison. Much like Pop's Chock'lit Shoppe, Boutique Burger Kitchen is '50s diner-inspired, with booths and a counter where you can get Chef Carlo's homemade ice cream and craft soda. Movie posters, vinyl records, and other knickknacks line the walls and shelves. There's even a slot machine he got all the way from Las Vegas. But unlike the somewhat-dark TV show diner, pastel colors make Boutique Burger Kitchen brighter and more inviting. Perhaps it's more original Archie than Riverdale.
ADVERTISEMENT - CONTINUE READING BELOW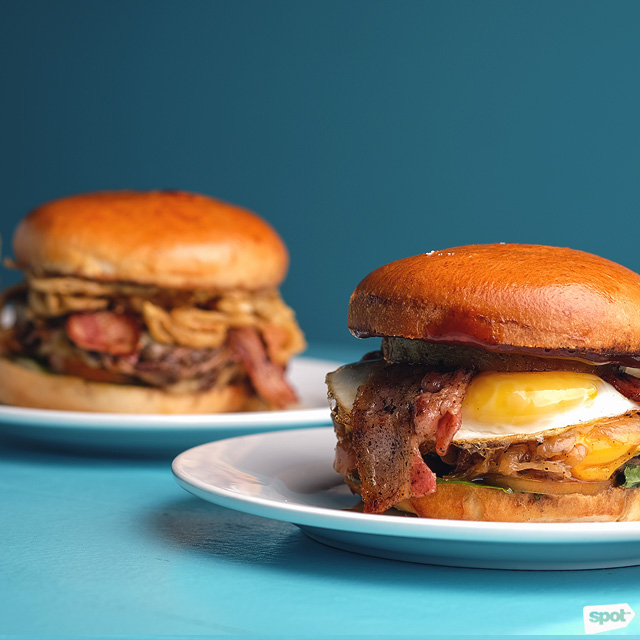 One thing's for sure, though: The burgers here are big enough to challenge even someone with Jughead's appetite for the sandwich, and they're all tasty too. "About three or four years ago I started to think about how a burger could be better than what we were already doing," shares Chef Carlo. "So I started going down that road on my own, and looking at how I can make burgers better, and how I can make a better burger than what was out on the market right now. I did a lot of research, I did a lot of practicing around."
ADVERTISEMENT - CONTINUE READING BELOW
Of course, the star of every burger is the patty—Chef Carlo recommends ordering beef as it's where most of his research went in. "It's about the quality and type of meat that goes into it," he says. "I know where all my cuts are coming from, where my beef is coming from and that makes all the difference to me."
Boutique Burger Kitchen uses a mix of three different kinds of beef: Black Angus from Greater Omaha, Nevada, Wagyu from Idaho, and Kitayama Wagyu from Cagayan de Oro. Chef Carlo shares that each type offers something important to the patty: "You want the flavor from the Angus, and the richness from the Wagyu. We layer things in a certain way too; some of the richer, tougher cuts are ground a lot finer, and the leaner, more tender cuts are ground larger so we can control the bite, the texture in your mouth as well as the richness."
ADVERTISEMENT - CONTINUE READING BELOW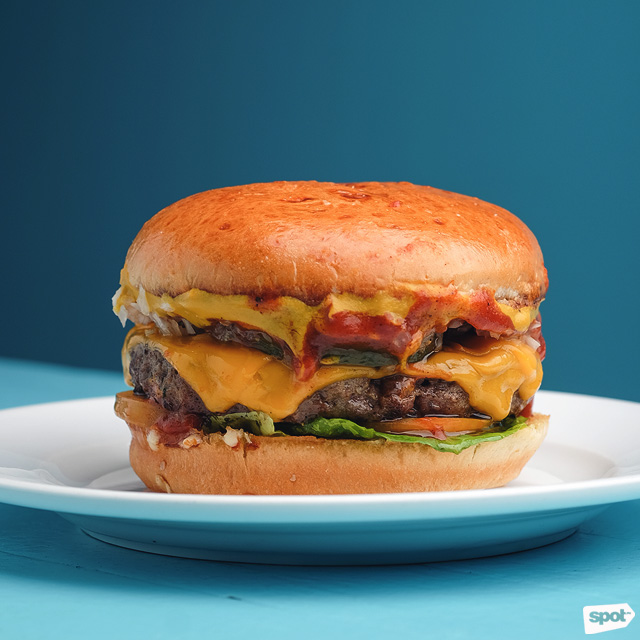 Classic Cheeseburger
Well, the proof is in the pudding—or should we say, the patty. A good place to start is the Classic Cheeseburger (P280), which looks like a heftier version of a certain food chain's cheeseburger. What'll grab your attention from the first bite are the pillow-soft buns: Boutique Burger Kitchen uses Hokkaido milk buns that add a layer of sweetness that's novel in a cheeseburger. Prepare to get messy because the thick beef patty is juicy and bursts with rich flavor. This burger comes with the usual fillings: lettuce, onions, tomatoes, cheese, and Boutique Burger Kitchen's homemade ketchup, which has a barbecue sauce-like smokiness.
ADVERTISEMENT - CONTINUE READING BELOW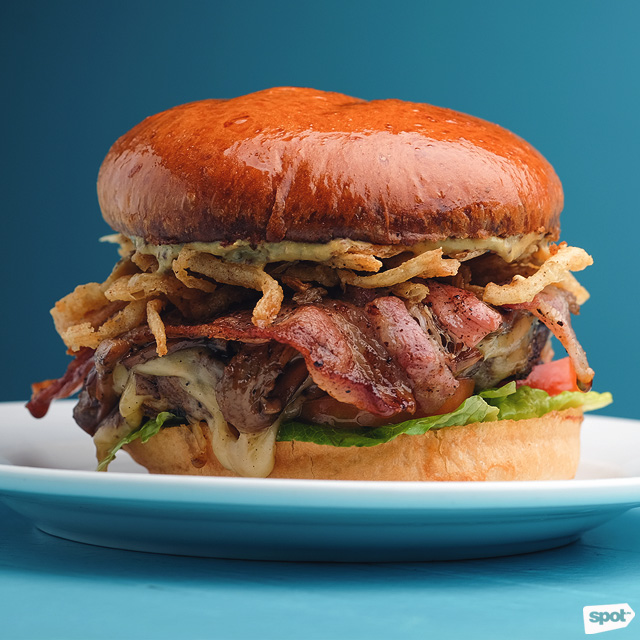 French Flair
A beef patty this flavorful won't be outshined by anything you throw on top of it. It makes any combination you order from the menu work—like French Flair (P390), which you'll enjoy if you love crunch. This burger has gruyere, Dijon mustard, French fried onions, and mushroom plus crispy bacon that adds saltiness and char.
ADVERTISEMENT - CONTINUE READING BELOW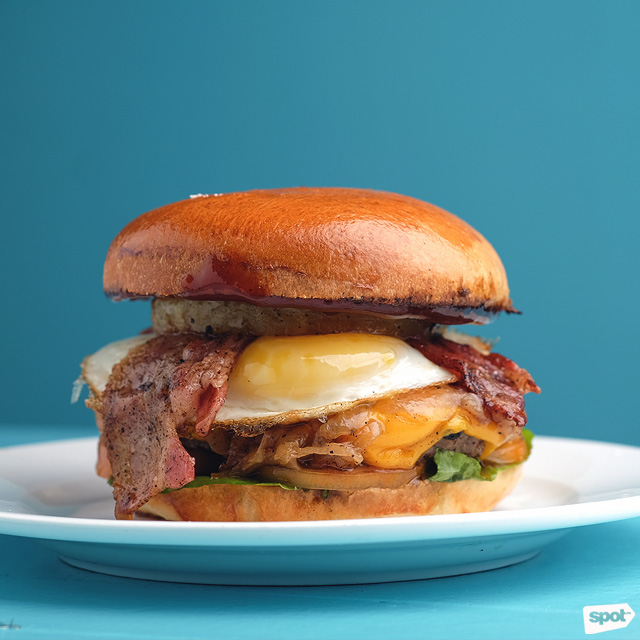 The Aussie Burger
Pineapple and beetroot give The Aussie Burger (P380) a sweet fruitiness that works well with the rest of the saltier stuffing: cheddar cheese, bacon, grilled onions, and a runny fried egg.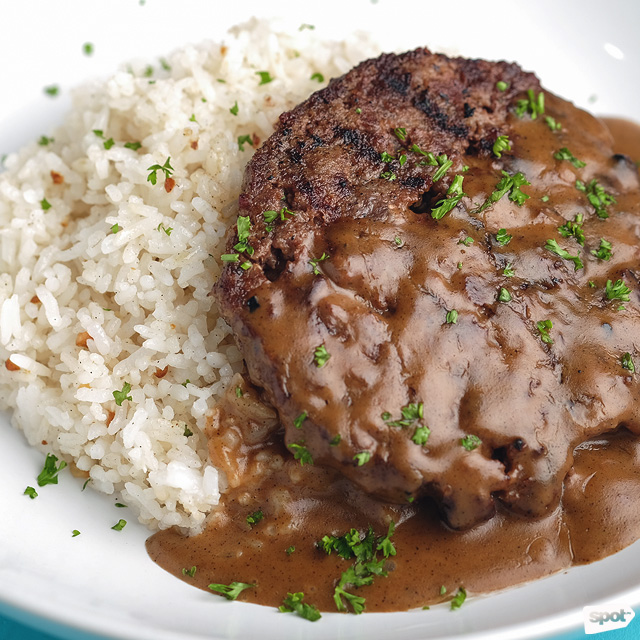 ADVERTISEMENT - CONTINUE READING BELOW
Gourmet Burger Steak
The beef patty also makes an appearance on the lunch menu as the Gourmet Burger Steak (P220). This take on a Pinoy favorite has an Angus-and-Wagyu beef patty on top of garlic rice. And while we'll never stop singing praises about that beef, it's the homemade gravy that deserves your attention here: the right blend of creamy and herby, we can have just this and rice all day.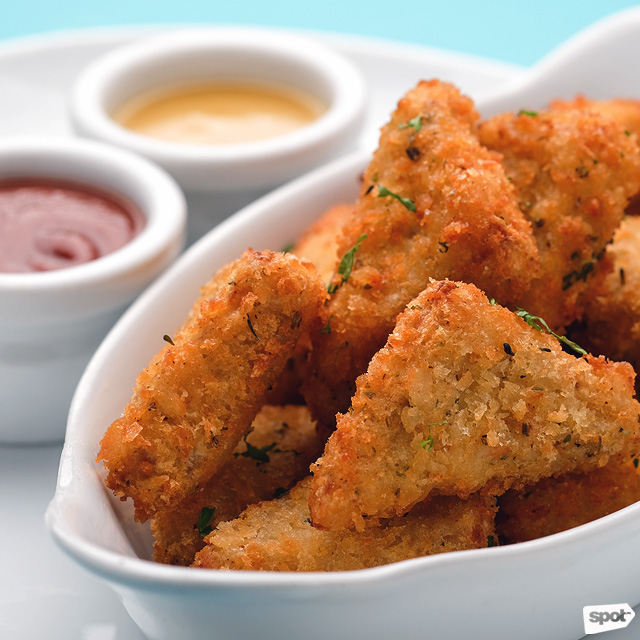 ADVERTISEMENT - CONTINUE READING BELOW
Chicken Nuggets
Onion Rings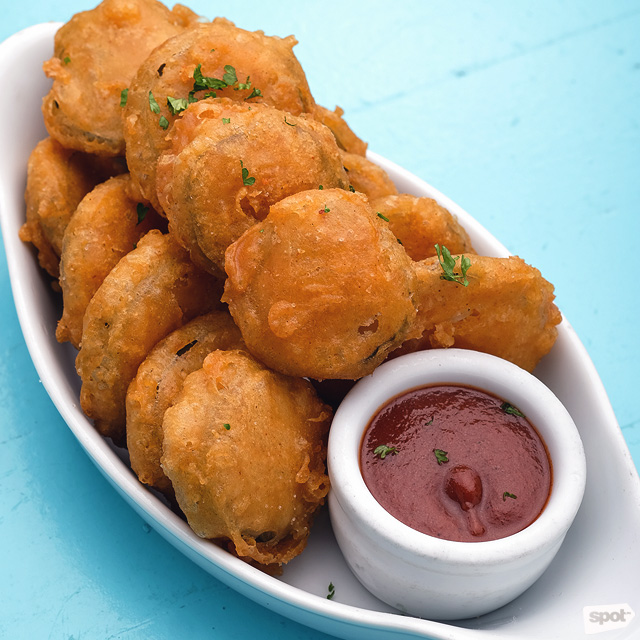 ADVERTISEMENT - CONTINUE READING BELOW
Fried Pickles
There's no question that the burgers are the winners here, but don't take the sides and starters for granted. The Chicken Nuggets (P280) are homemade chunks of herby chicken goodness, while the light beer batter of the Onion Rings (P120) allow the sweetness of the onions to shine through—you'll finish them off in no time. The tart Fried Pickles (P180) would be a nice palate cleanser if you need a break from rich beefy flavors.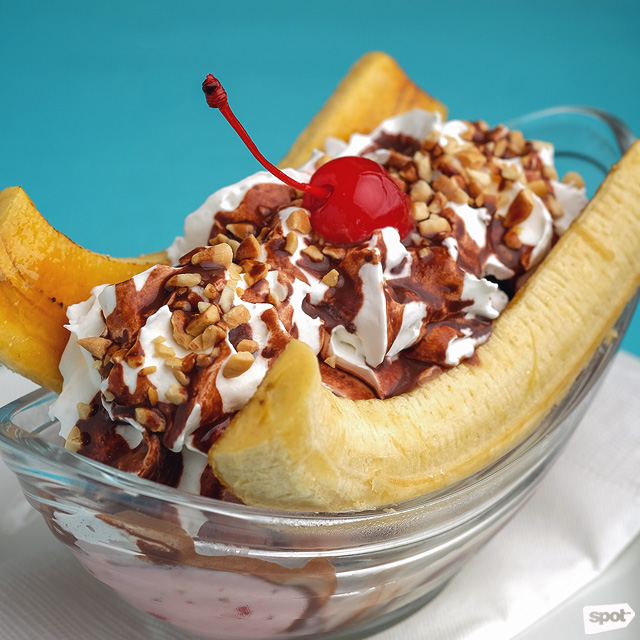 ADVERTISEMENT - CONTINUE READING BELOW
Banana Split
Burgers may be the star of Boutique Burger Kitchen, but the homemade ice cream is Chef Carlo's pride and joy: After all, he has been making ice cream for 25 years. An American diner classic is the Banana Split (P220). Chef Carlo caramelizes the bananas to give it a crunch you can't help but chase after with every spoonful. The bananas are topped with three scoops of homemade ice cream, hot fudge sauce, chopped peanuts, and whipped cream, for a dessert that's big enough to, well, split.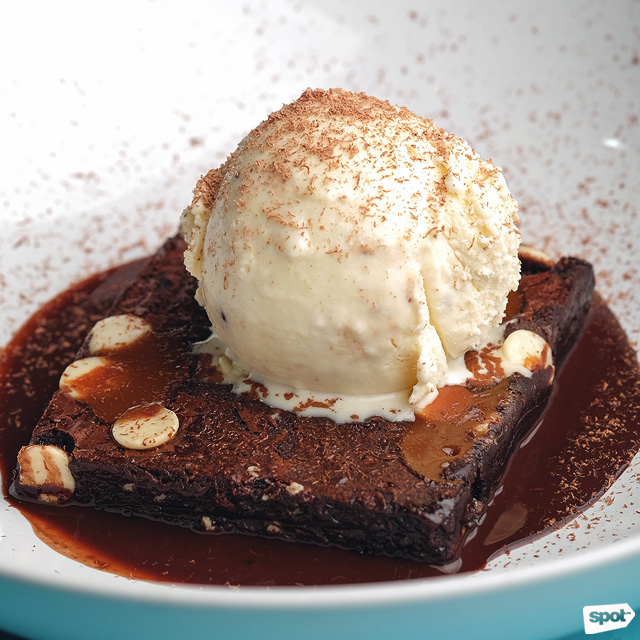 ADVERTISEMENT - CONTINUE READING BELOW
Fudge Brownie
Chocoholics should not miss the Fudge Brownie (P220). We really can't emphasize just how fudgy this is (we guessed that it was half-baked, but Chef Carlo shares it actually isn't—they just used a lot of fudge). Try to hold back the borderline-obscene moan that might ensue as that first bite of chocolate goodness melts on your tongue. This is served à la mode with your choice of ice cream—we recommend the Cookie Dough with real cookie dough chunks.
Chef Carlo's goal is simple: to make better burgers. Just from one bite of their cheeseburger, and we can say he's exceeding himself.
Photos by Majoy Siason
Recommended Videos
Load More Stories