New Restaurant Alert: Kapuwa Bistro + Urban Pub in Quezon City
It's a place where everyone can be themselves.
Kapuwa Bistro + Urban Pub
26 Courtyard Building, Sergeant Esguerra Street, South Triangle, Quezon City
Contact: 0956-785-6031
Open from 6 p.m. to 2 a.m. (Tuesday to Sunday)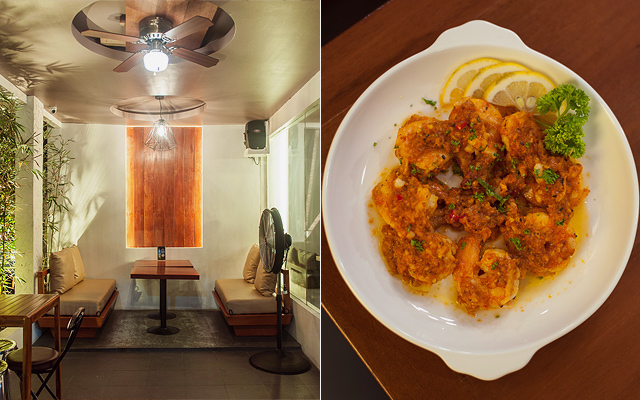 (SPOT.ph) When LGBT safe space Anu'man closed its doors in 2016, its regulars were crushed. It's hard to find a restaurant in Manila where one can be comfortable enough to be themselves without being judged.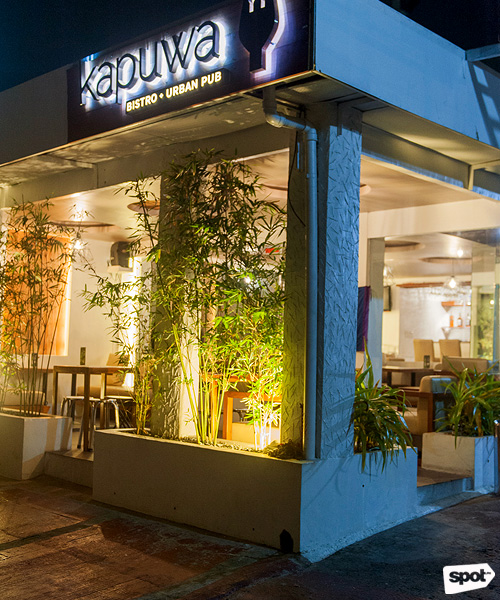 ADVERTISEMENT - CONTINUE READING BELOW
But goodbyes don't have to be permanent. Kapuwa, Anu'man's latest incarnation, recently opened its doors in Quezon City. "Kapuwa translates into fellowmen. It's a more mature version of Anu'man. It's braver. It's bolder," says Creative Director Angel Romero, who runs Kapuwa with her partner (in both senses of the word), COO Wew Erice.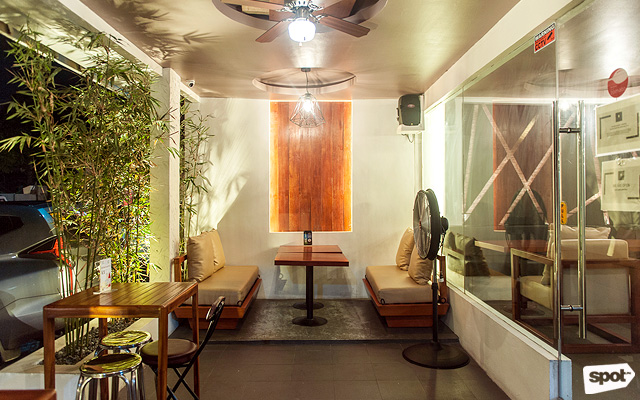 CONTINUE READING BELOW
Recommended Videos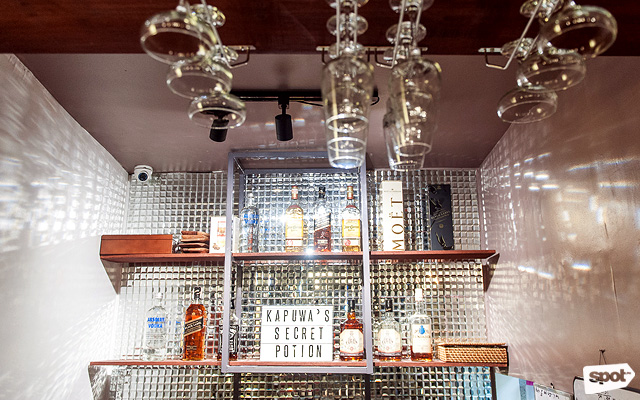 ADVERTISEMENT - CONTINUE READING BELOW
Kapuwa's interiors are modern and cozy, with plate glass windows and a glass door, the pride flag hanging proudly on the outside wall near the entrance. A caveat: There's a pretty high step to get to the outdoor dining area, and another high step to get to the indoor dining area, plus the extremely high steps to get to the outdoor unisex bathroom, so the wheelchair-bound may not exactly get a seamless experience here.
The restaurant is staffed by straight allies, staff from Anu'man who waited until Kapuwa could be built, all of whom went through Social Orientation Gender Identity Expression (SOGIE) training.
Romero says that Anu'man regulars have embraced Kapuwa, some traveling from as far as Cavite and Laguna just to hang out. The restaurant has also attracted new clientele—older, more established LGBT and supporters.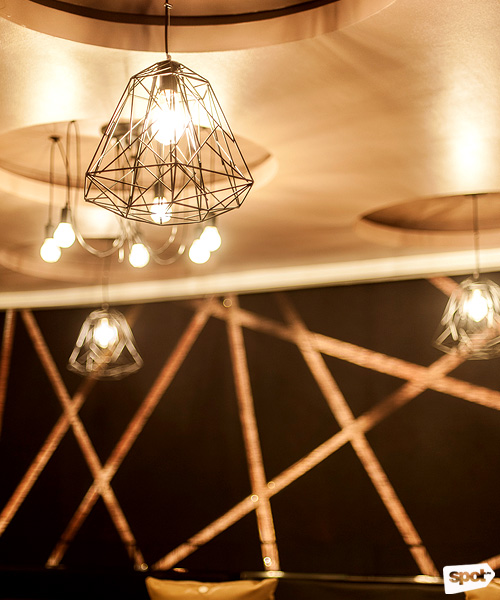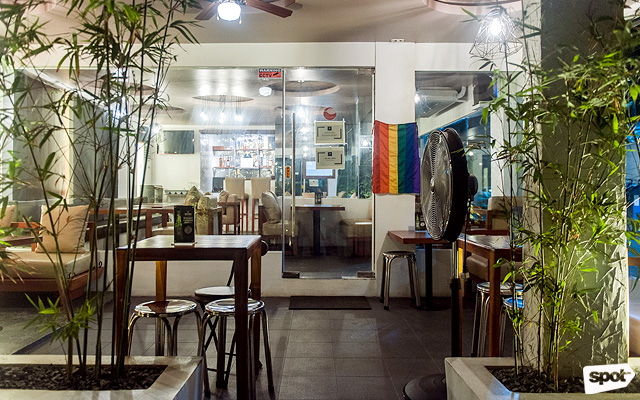 ADVERTISEMENT - CONTINUE READING BELOW
Many people will say, 'Why brand the restaurant specifically as a safe space? Aren't all public spaces safe spaces?' Unfortunately, this is not the case. Romero talks about what specifically catering to the LGBT crowd did for the clients of their first restaurant: "We have a lot of customers who were not comfortable being out, and when they came to Anu'man, they discovered themselves and eventually, they became comfortable with coming out. We also have a lot of customers who became couples because they met there through common friends. It's also nice that our regulars became friends. I think it made the community stronger that they had a place to go to without fear of judgment." It's a trend that she hopes will continue with Kapuwa.
But Kapuwa isn't just about creating a non-discriminatory atmosphere: The food is pretty satisfying home cooking, featuring classic dishes that will make you enjoy your stay even more.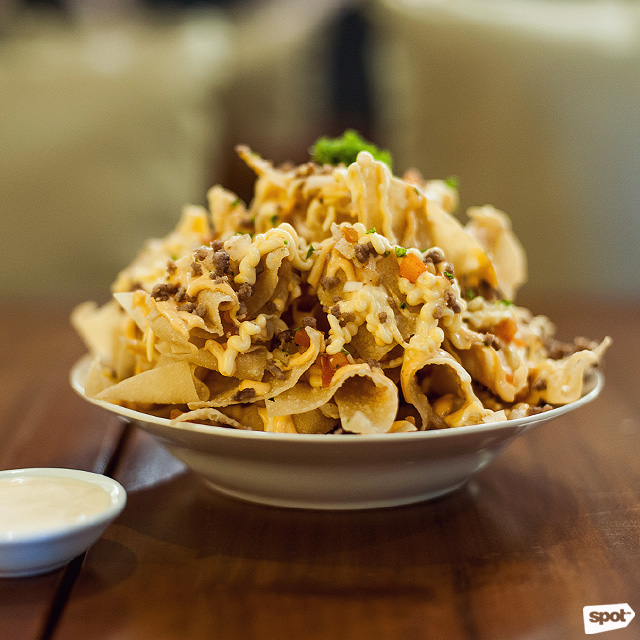 ADVERTISEMENT - CONTINUE READING BELOW
Asian Nachos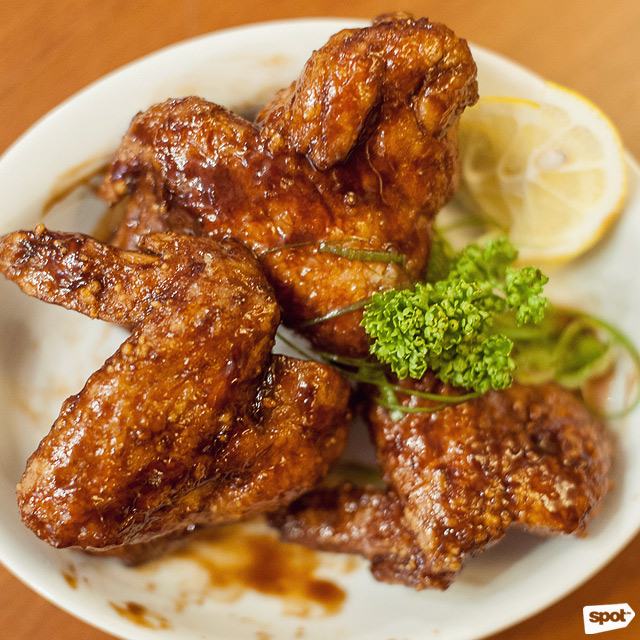 Soy Garlic Chicken
The Asian Nachos (P130) is topped with cheese sauce, mayo, tomatoes, onions, and ground bulgogi beef. It's best eaten hot from the kitchen and paired with beer. Another good beer pairing is the Soy Garlic Chicken (P320), four pieces of sweet and tender soy glazed wings, with skin that's perfectly crisp and sweet.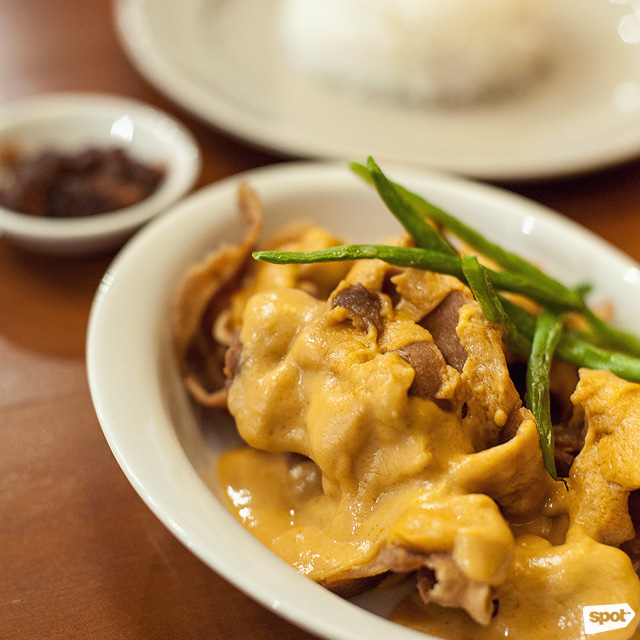 ADVERTISEMENT - CONTINUE READING BELOW
Crispy Liempo with Kare-Kare Sauce
The Crispy Liempo with Kare-Kare Sauce (P299) is one of those dishes that's unique, yet so obvious that it makes you wonder why no one's thought of it before. It's basically bacon smothered with kare-kare sauce and served with white rice. Think of the typical Pinoy bacon and rice combo magnified by a hundred. The sauce is flavorful enough that it doesn't need to be eaten with bagoong. It's kind of genius and slightly irreverent to actual kare-kare at the same time which, considering what the restaurant stands for, is a good thing.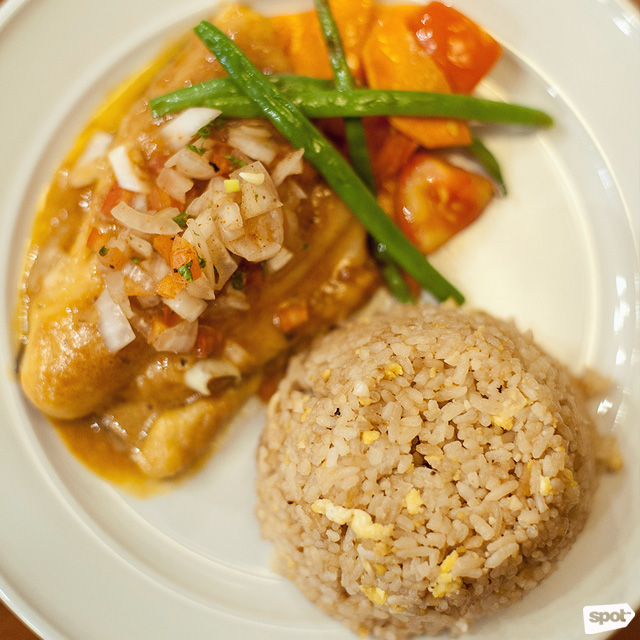 Salted Egg Fish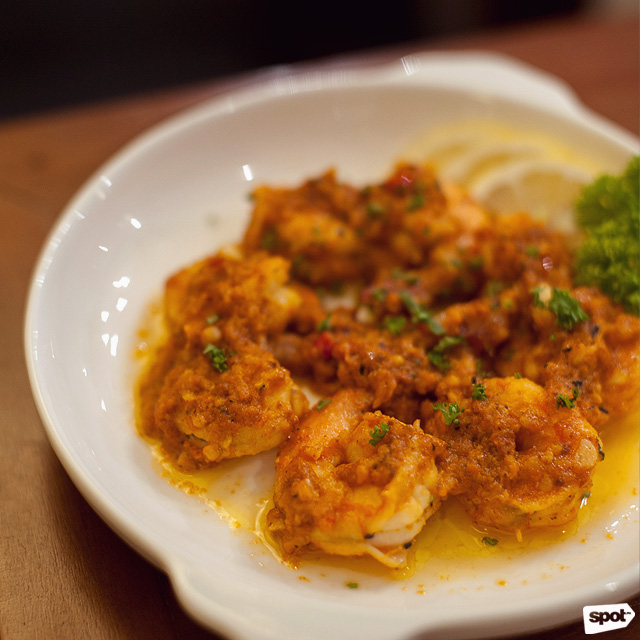 ADVERTISEMENT - CONTINUE READING BELOW
Gambas in Aligue
The Salted Egg Fish (P235) is dory fillet coated in a light salted-egg batter. It's a basic-fish-with-sauce dish, though its flavors intensify when you eat the fish with a bit of the accompanying veg. Made up of plump shrimp covered in rich tomato-based crab fat sauce with a hint of spice is the Gambas in Aligue (P320). It's delicious on its own, as it's meant to be an appetizer, though it's quite fantastic when ordered as a main dish and paired with steaming hot plain rice.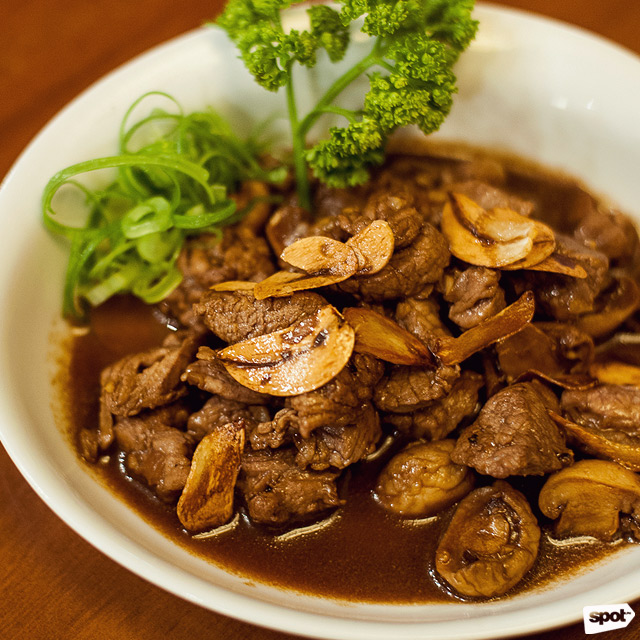 Beef Tenderloin Salpicao
The Beef Tenderloin Salpicao (P275) is a large dish of tender, cubed beef swimming in salty sweet sauce. Button mushrooms add texture and toasted garlic add contrasting flavor and crunch. It works as both appetizer (especially if alcohol is involved) and a main dish.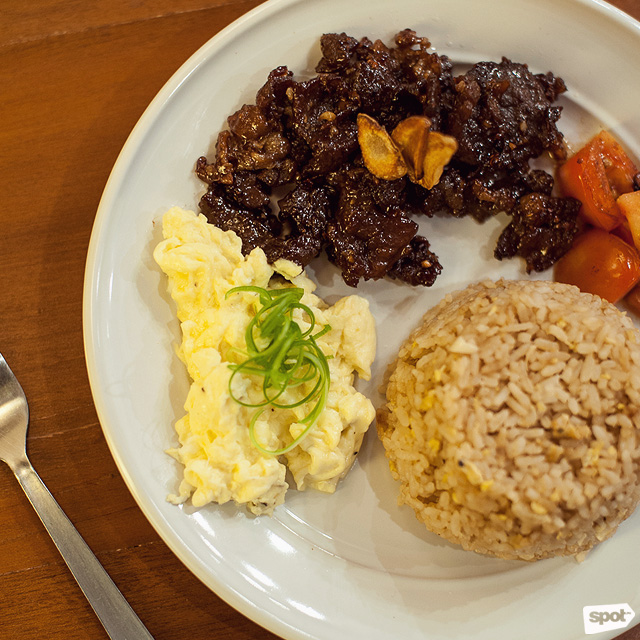 ADVERTISEMENT - CONTINUE READING BELOW
Tapa Sukiyaki
The Tapa Sukiyaki (P245) is haphazardly plated, but is mind-blowingly excellent. The sweet beef strips taste like tapa and tocino's love child. It's served with soy rice that's salty on its own but balances the sweetness of the tapa. The scrambled eggs it comes with are light and fluffy, the tomatoes grilled. You'd wish that Kapuwa was open for breakfast instead of at 6 p.m.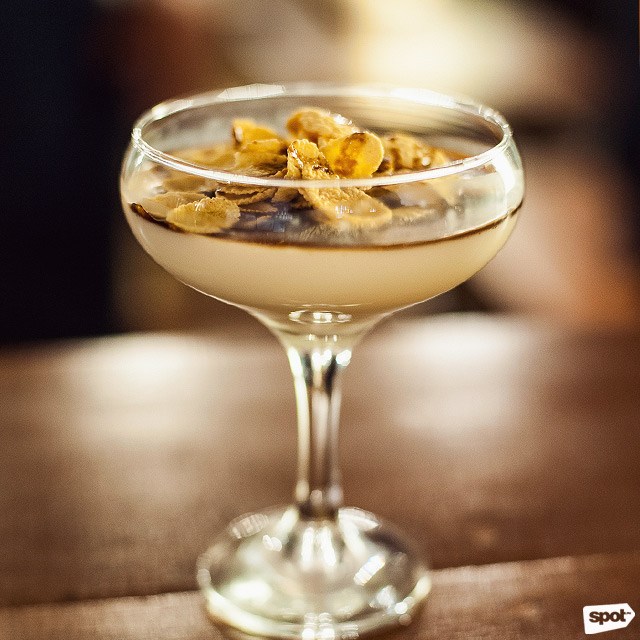 Panna Cotta Afogatto
The 'affogato' in the Panna Cotta Afogatto [sic] (P150) comes from the coffee glaze that tops the cream custard. Cornflakes finish the dessert, though it's delicious enough without the crunchy topping.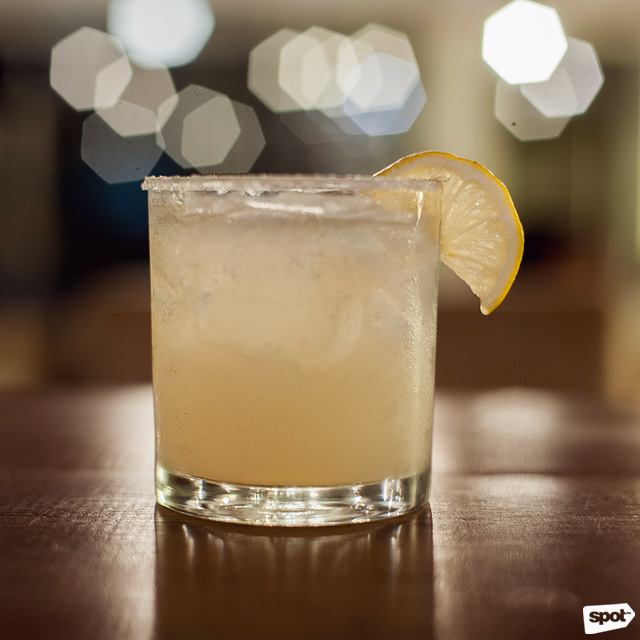 ADVERTISEMENT - CONTINUE READING BELOW
Classic Margarita
No lounge is complete without a drinks list. Kapuwa is especially proud of its Classic Margarita (P150), which is light, refreshing, and goes down smoothly. Like, extremely smoothly.
Kapuwa also hosts events for LGBT groups. Bigger Manila, a bear (big gay men) group, is set to hold its weekly event there. "It's one of the partnerships that we're most proud of because it's a group that caters to different sizes and shapes of men," Romero says.
For Romero and Erice, Kapuwa is a form of activism. "[We believe] that people should enjoy good food in a space for them," Romero says. "[The LGBT community] needs more support...Now that we're back and on track, we want to show people that we haven't given up and hopefully, they'll continue to support. We haven't given up, and we hope that they won't, either. This is how we fight. Others take it to the streets; this is what we do, and what we love doing—providing a space for people."
Photos by Sandra Dans
Share this story with your friends!
---
Help us make Spot.ph better!
Take the short survey
Load More Stories