Top 10 Miso Ramen in Manila
Ready, set, slurp.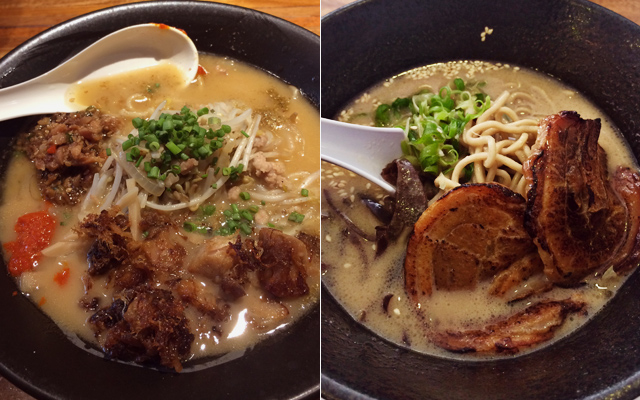 (SPOT.ph) The rainy season is upon us and for most, it just means crazy traffic and getting rain water in our shoes. On the bright side, we have all the reason in the world to slurp on some ramen— with its hot steaming broth tickling your taste buds, the delectable mouthfeel of its noodles, and toppings rounding out the whole experience. 
Miso ramen originated in Northern Hokkaido in the '60s. It features a broth that fuses copious amounts of miso paste alongside a soup base that varies by way of pork, chicken, or seafood. This ramen variant is also acknowledged as the healthier version, since miso is known to be a superfood.
For this list, we're going back to the basics. For one, the broth must be everything at once in terms of flavor: rich, nutty, slightly tangy, slightly sweet, umami-filled, and piquant. This is the tell-tale result of a seamless combination of soup base and seasoning. The noodles should be able to hold their own, too, in firmness and chewiness, while the toppings shouldn't overwhelm nor outdo the savory broth. 
All SPOT.ph Top 10 lists are researched, paid for, tested, and selected by the writers and editors. They are discreetly conducted without any notice made to the restaurant owners.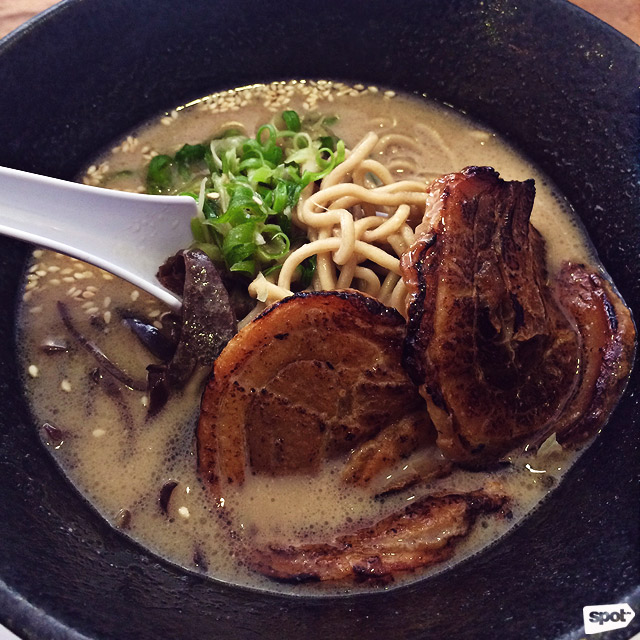 ADVERTISEMENT - CONTINUE READING BELOW
10. Butamaru's Miso Ramen (P360)
It might take a long drive to get to Butamaru if you're from the North, but the trip is worth it. Upon placing your order for their miso-based tonkotsu, the server will ask for your noodle preference—firm or soft (PSA: order firm and thank us later). It's the noodles that ultimately win us over, with its beautiful al dente texture. Delving into it further, we swear we can almost taste a hint of sweetness. The slices of mushroom, a sprinkling of sesame seeds and spring onions, and nicely smoked portions of charsiu provide an additional depth of flavor. We just wish they paid more attention to the broth. The soup feels a bit watered down, and we feel they could cut down on the saltiness to achieve a more natural flavor.
CONTINUE READING BELOW
Recommended Videos
Butamaru is at Westgate Center, Filinvest City, Alabang, Muntinlupa City.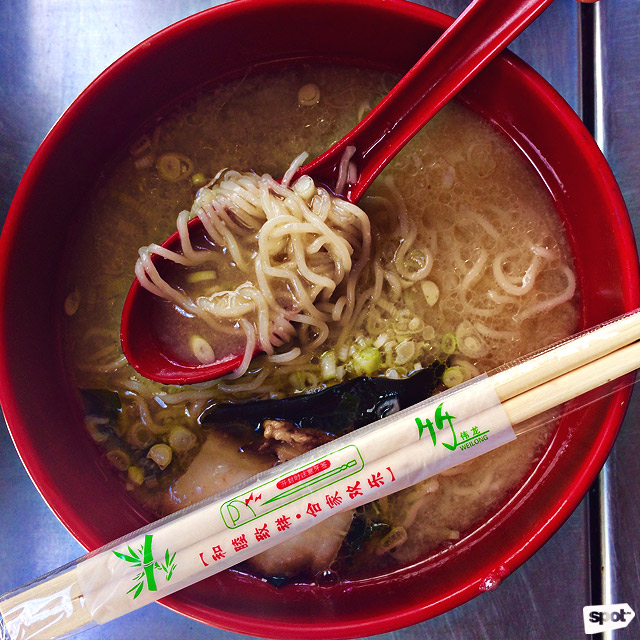 ADVERTISEMENT - CONTINUE READING BELOW
9. Miso Ramen at Erra's Ramen (P90)
This ramen has enjoyed a cult following with their crazy affordable noodles, and it broke many hearts when a fire burned the place down. Thankfully, they renovated the space and even added a second location (a cart) nearby. For a budget-friendly ramen, the price-to-taste ratio is not something you should worry about here. Definitely not a product of instant noodles packets, the broth holds its own. With its paler, less oily exterior, we'd venture to guess that the soup base for their miso bowl is chicken. One slurp and we feel refreshed with its milky delicateness. While the umami makes only little appearance all throughout, the bowl does quench your cravings. The soup is complemented with curly noodles that seem to have absorbed its mellow essence, crowned with a meager set of toppings. It's not your traditional robust miso ramen packed with rich flavors, but Erra's Ramen's unassuming version suffices. Pair it with beer while you're at it!
Erra's Ramen is at 1755 Adriatico Street, Malate, Manila.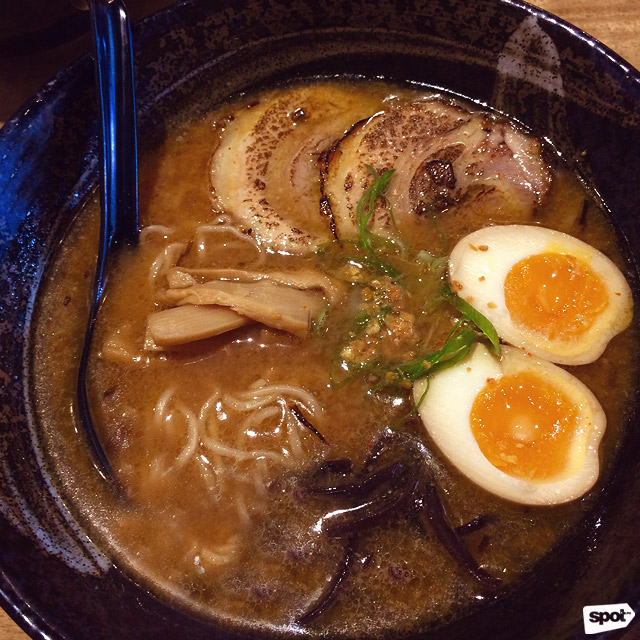 ADVERTISEMENT - CONTINUE READING BELOW
8. Happon Ramen House's Miso Ramen (P198)
Happon Ramen House boasts bang-for-your-buck ramen meals. Coupled with a cozy ambience, a slurp of their lovely miso ramen bowl almost feels like a surreal steal. First, the serving is good enough for two or a hungry party of one. There's a hefty amount of toppings that greet your palate—soft-boiled eggs sitting pretty, round pork slices charred slightly, pungent bamboo shoots, and earthy tones provided by mushroom dollops. The noodles lack character but the broth makes up for it in all its velvety glory. Despite its thick consistency, the broth leans toward an overall lighter tang, which makes you slurp in anticipation all the more. We wish they could add a little more miso, though.
Happon Ramen House has branches at 143 Maginhawa Street, Teachers Village, Quezon City; and 70 Cepeda corner Colonel Divino Street, Concepcion Uno, Marikina City.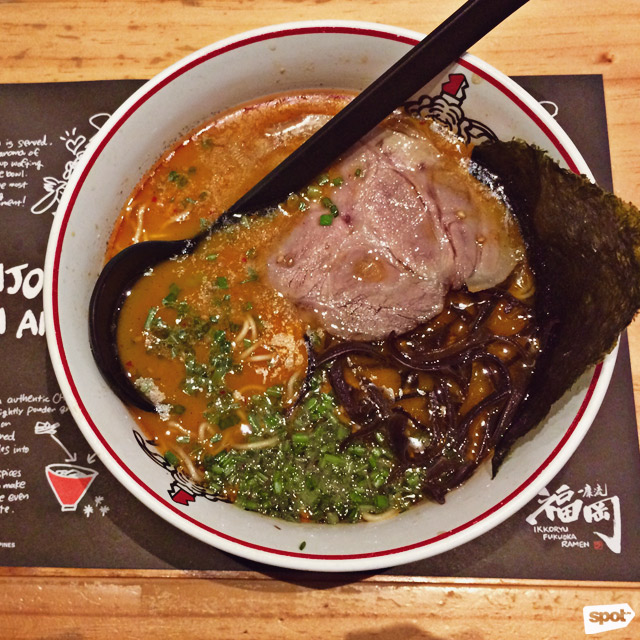 ADVERTISEMENT - CONTINUE READING BELOW
7. Ikkoryu Fukuoka Ramen's Miso Tonkotsu (P380)
What first catches your eye as you see the bowl coming towards you is the generous heap of garnish peeking beneath the luminous soup. Then there's one large slab of tender pork to supplement it further. These additions help break the umay factor as the broth packs a zestier punch and leans more toward the saltier side. Ask for normal firmness for the noodles to revel in its hand-pulled goodness, which is thinner in appearance. The concoction is as slurp-worthy as it gets. We just wish its regular serving size were larger or filled to the brim, and also steaming hot once it gets to the table.
See a list of Ikkoryu Fukuoka Ramen branches.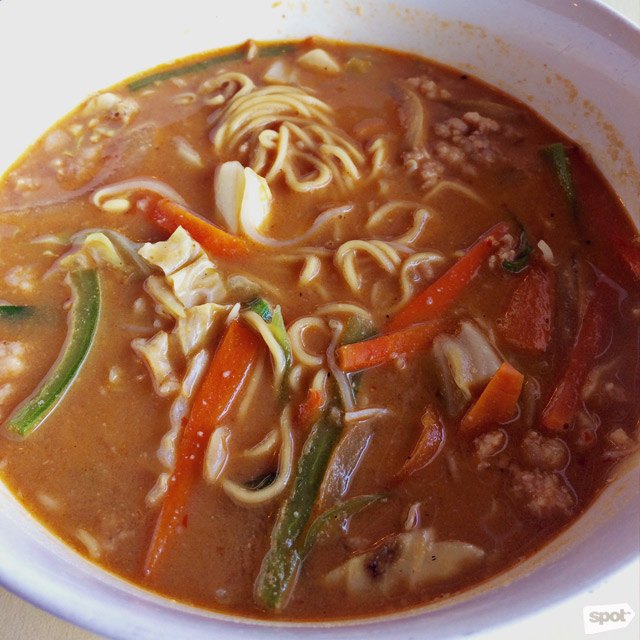 6. Ramen Cool's Miso Ramen (P210)
Looks can be deceiving, but don't be too quick to judge Ramen Cool's take on the miso ramen. Despite its visual resemblance to a well-loved local noodle dish, the lomi, there's something special about this bowl. The broth is its piece de resistance, with well-rounded tastes interplayed beneath each layer. A warm broth comes within your palate's reach, followed by a burst of flavor coming all together. There are sharp notes of tangy and umami flavors punctuated by nutty tones. Savor the soupy essence and allow it to linger in appreciation and reverence. The noodles are medium in thickness and do their work well by holding just the right amount of brittleness and flavor. Theirs could have placed higher on the list if the toppings were given more thought and the veggies an easier chew.
ADVERTISEMENT - CONTINUE READING BELOW
Ramen Cool has branches at SM City Manila; West Avenue, Quezon City; and Kapitolyo, Pasig City.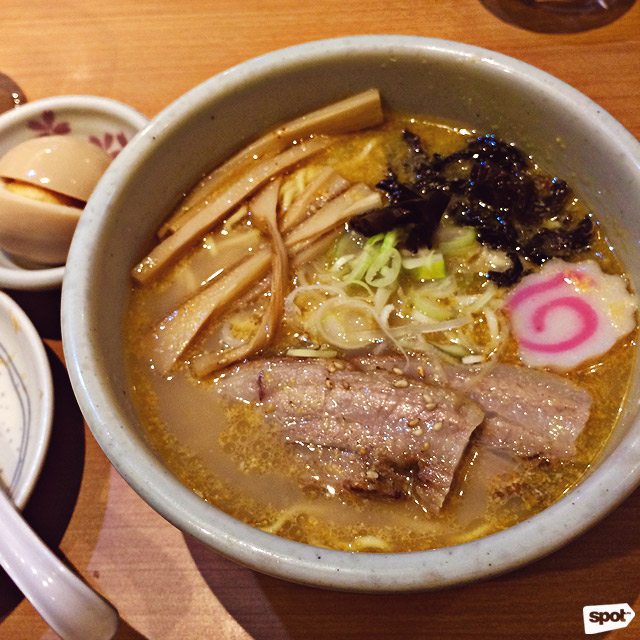 5. Hokkaido Ramen Santouka's Miso Ramen (P385/regular, P445/large)
After making it on our list in 2016 for their Shio Ramen, Hokkaido Ramen Santouka is making quite the comeback this year for their miso variant. Never mind the substantial sheen of oil threatening to ruin your diet. Trust us, their bowl is worth the added bulge. You'll know what we're talking about once you get to the full-bodied broth, the miso seemingly more and more potent with every spoonful. Not to be forgotten are the cumbersome toppings that go with the ramen. You'll find all the miso ramen staples here: kurobuta pork charsiu that manages to be tender with a sublime sear, fresh lengthy bamboo shoot strips and mushrooms, and a dash of spring onion for that zing.
ADVERTISEMENT - CONTINUE READING BELOW
See a list of Hokkaido Ramen Santouka branches.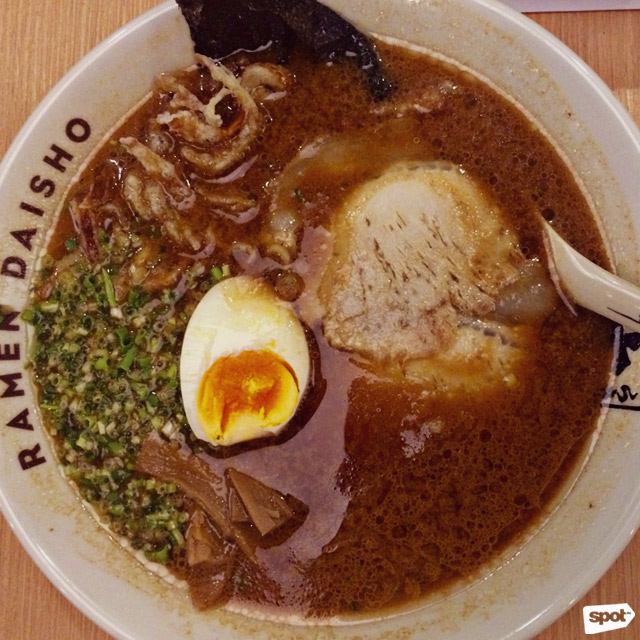 4. Ramen Daisho's Miso Ramen (P300/regular, P560/large)
The bowl is said to be adapted from Japanese Chef Funatso Yasuhiko's masterpiece of making good use of ukkokei chicken as its base broth. The outcome is one that sparks wonder. You'll get sweetness first, followed by the heat. The broth is cloaked in a veil of umami through and through, making for delectable consecutive slurp sessions down to the last drop. We found ourselves looking for more of the soup and the toppings as we made our way through the bowl though, save for the starchy noodles that made up half of the serving.
Ramen Daisho is at Unit 2, Sunshine Square, Liberty Center, 312 Shaw Boulevard, Pleasant Hills, Mandaluyong City.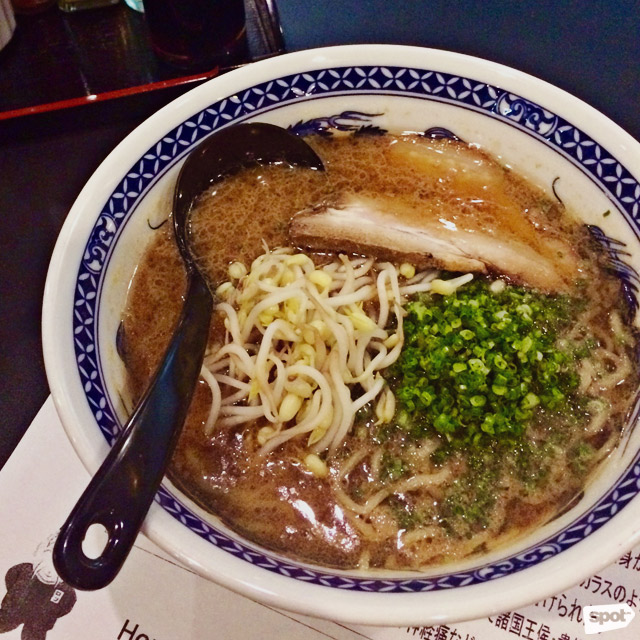 ADVERTISEMENT - CONTINUE READING BELOW
3. Ukkokei Ramen Ron's Ukkokei Miso (P300)
The Ukkokei Miso has a rich hominess. We're thankful for the dollops of chives and bean sprouts that dance around the ukkokei, over and under its folds. While there's a sliver of pork hanging by the thread that could have rendered more tenderness, it's a little detail we're willing to overlook. After all, their take on the miso ramen is highlighted by its best features, which starts with the broth. Prominent flavors make an appearance here, addictive in its umami-laden essence weaved into a subtle whisper of the sweetness. The broth slightly plays hide and seek midway but that's only because chunky springy noodles have found its home in it. The sense of comfort it brings is real.
Ukkokei Ramen Ron has branches at 822 Paseo Tesoro, Arnaiz Avenue, San Lorenzo, Makati City; and Ram Building, 8 Tuscany, Upper McKinley Road, McKinley Hill, Taguig City.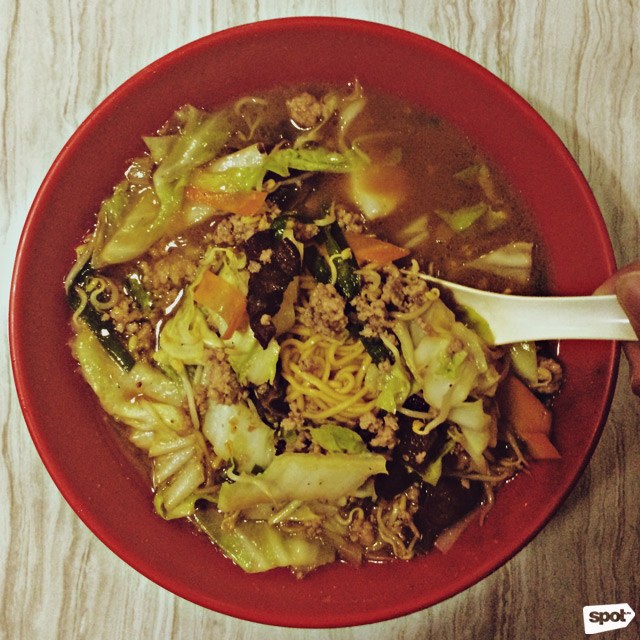 ADVERTISEMENT - CONTINUE READING BELOW
2. Yamazaki Bento's Miso Ramen (P206)
This hidden gem in Makati is worth the detour. While the place and the presentation are no-nonsense, its charm lies in the restaurant's straightforward approach to Japanese cuisine. The soup is love at first slurp—basking on a showcase of flavors that immediately hit our palates with a fuzzy warmth in all the right places. Hearty is the best word for it with a thick rich broth that does not scrimp on flavor. Plus, it's accompanied with noodles, albeit thinner, that strikes the balance between firm and chewy. What we love the most, however, is that each element is equal in proportion. We guarantee that with every spoonful, you won't ever feel cheated.
Yamazaki Bento is at Little Tokyo, 2277 Chino Roces Avenue, Legazpi Village, Makati City.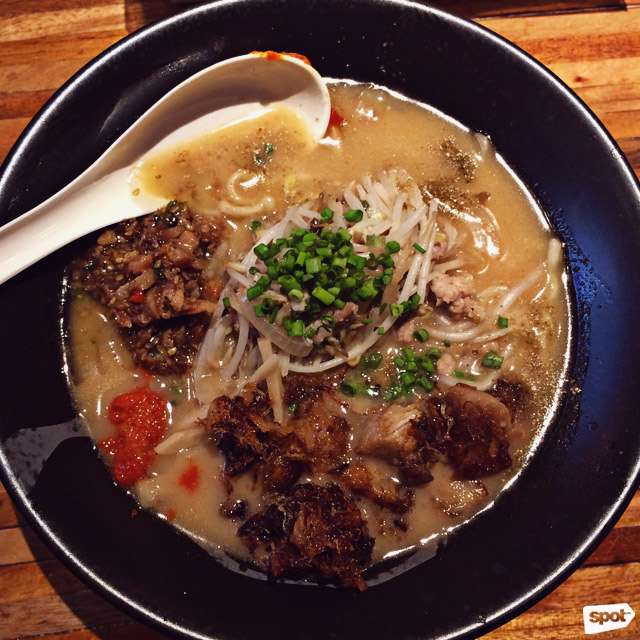 1. Mendokoro Ramenba's Miso Tonkotsu (P460)
This is everything a miso ramen should be, from the toppings to the noodles and broth. Since Mendokoro Ramenba is owned by the same people behind Ramen Yushoken in Alabang, it's fair to expect this version to be the same as the latter's miso tonkotsu. The smoky chunks of pork are a savory affair, bulky but superbly soft on the inside. The texture provides a wonderful contrast to the bamboo shoots, bean sprouts, and spring onions sitting atop. The noodles are a standout on their own, a showcase of perfection in firmness and chewiness. The broth is the product of a seamless interplay—a tonkotsu base boiled for hours for its creaminess, and a blend of the miso to fill in the gaps of the tangy, the umami, and the piquant. Believe us when we say it deserves multiple visits. And frankly, although pricier than other ramen dishes on this list, you wouldn't mind the splurge.
ADVERTISEMENT - CONTINUE READING BELOW
Mendokoro Ramenba is at V. Corporate Center, Soliman Street, Salcedo Village, Makati City.
Photos by Yasmien Rivera
For other Top 10 lists, check out SPOT.ph's Top 10 Everything Food Lists 3rd Edition. Co-presented with C2 Cool and Clean, it's priced at P195, available at major bookstores.
Share this story with your friends!
---
Help us make Spot.ph better!
Take the short survey
Load More Stories