Gelato Works Well With Just About Anything at Gelatofix
Wait, did we wake up in Italy?
Gelatofix
G/F BGC Corporate Center, 11th Avenue corner 30th Avenue, Bonifacio Global City
Contact: 816-3902
Open daily from 7 a.m. to 11 p.m.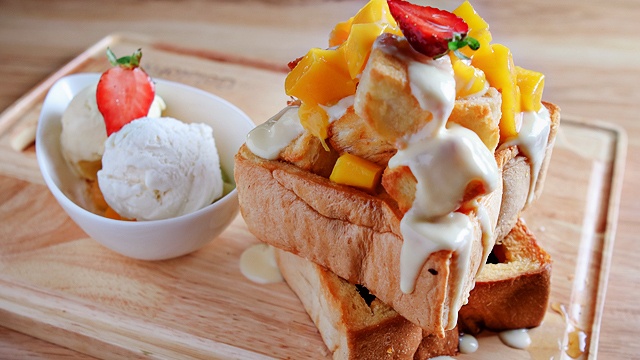 (SPOT.ph) Don't let the name fool you—there's a lot more to Gelatofix than gelato. Although if there weren't, it would still be worth checking out, especially because it's never been in better hands than those of Gelato World Cup Champion Chef Filippo Novelli. His drive to fuse Italian ingredients with Asian aesthetics and flavors has resulted in something you never knew you needed. But you do now.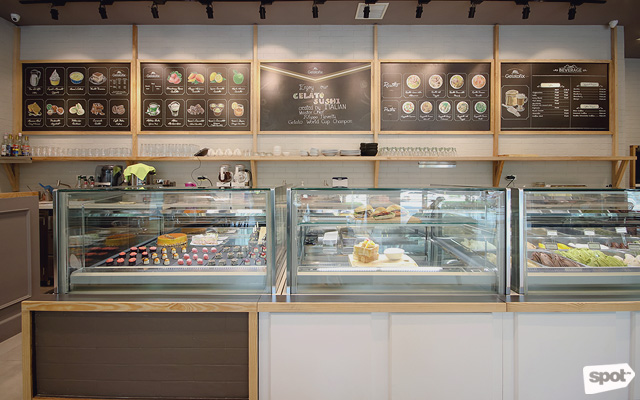 ADVERTISEMENT - CONTINUE READING BELOW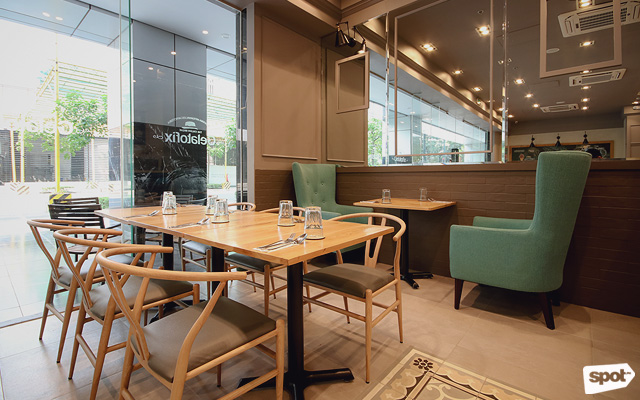 CONTINUE READING BELOW
Recommended Videos
The concept hails from just west of the Philippines—Singapore and Cambodia, to be specific—and, while fairly new, is already making waves in its local nest of Bonifacio Global City. And with good reason.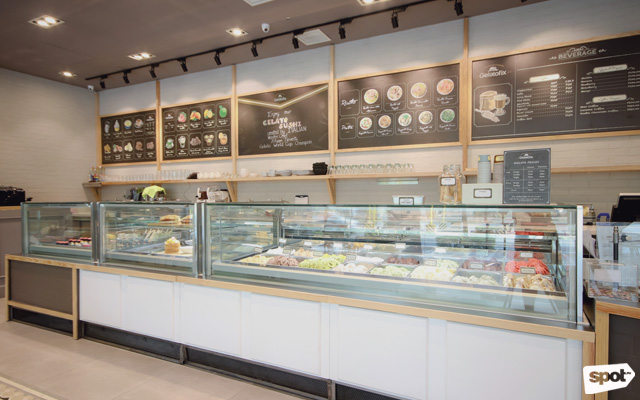 Just picture it: You're welcomed by the sight of swirls of gelato, made all the more tempting by their own little studio lights, offset by the wood of the serving boards...and sushi. Made of gelato. It's got to be seen to be believed, really. And then you're told you get to have gelato as an appetizer.
ADVERTISEMENT - CONTINUE READING BELOW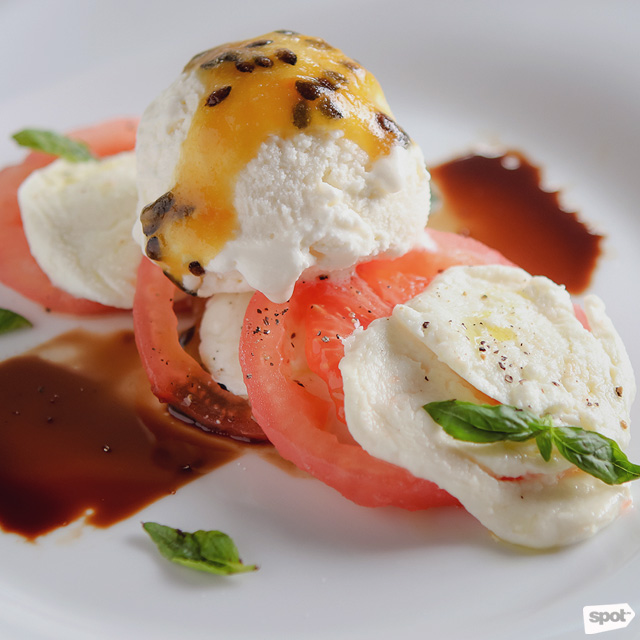 Italian Caprese
The Italian Caprese (P295) isn't for those of us who revel in shoveling food by the heaped spoonful, but when you're feeling fancy and your pinky finger just won't stay down, this is the thing to order. It's a plate of firm but succulent slices of tomato under slabs of fresh mozzarella, sprinkled with basil leaves on a thick stripe of mild balsamic dressing, and topped with—you guessed it—gelato. Do not, we repeat, do not knock it till you try it.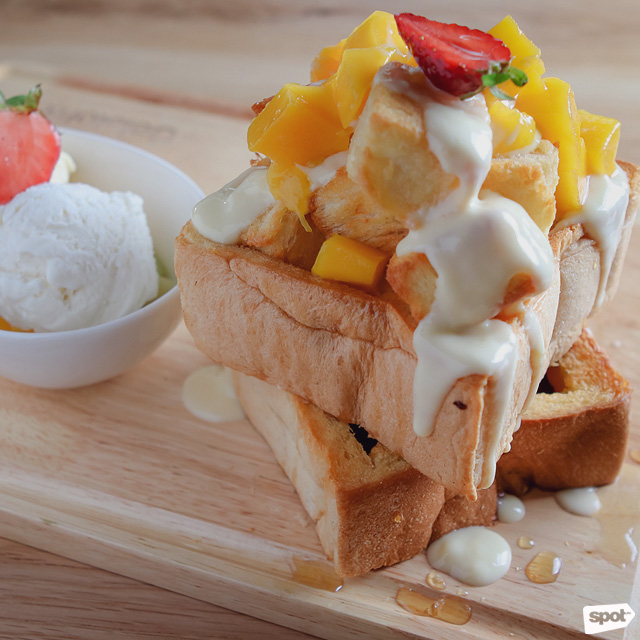 ADVERTISEMENT - CONTINUE READING BELOW
Toast Mango-lato
But that's not even the star of the show; it is Gelatofix, after all, so the mains aren't really the mains, in a manner of speaking. True to its name, the Magic Boxx is pretty...well, magical, in terms of both its structure and just how it makes you feel. The way desserts are supposed to make you feel. Waste no time trying to figure out how they built it; as they say, the proof is in the pudding. We had it in Toast Mango-lato (P450), just one of the six flavors on offer. If anyone can figure out how it's soft and crunchy at the same time, please write in, because we're fairly sure that the genius behind it—Chef David Chang (not the David Chang of Momofuku)—isn't about to tell us. Magicians never reveal their secrets, after all.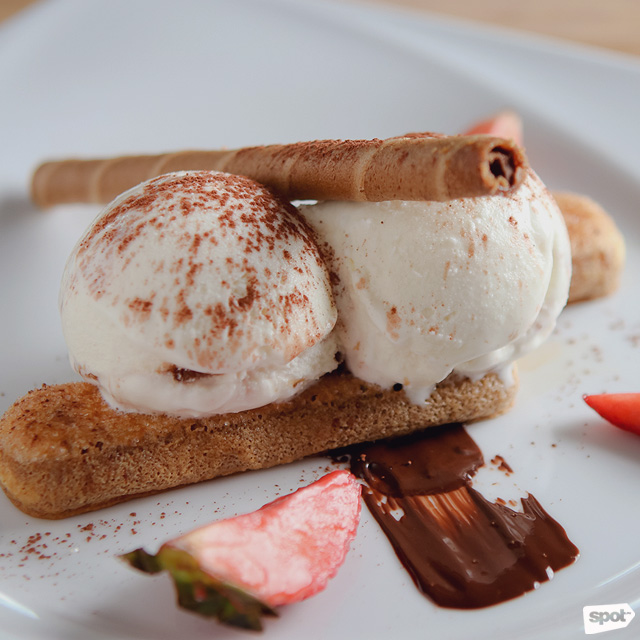 Tiramisu-lato
For all that, though, we're not so sure about it being a universal favorite. The Tiramisu-lato (P260) was impressive in its own right, for all its relative simplicity. Ladyfingers (or broas to us, if we're not mistaken) perfectly dunked in coffee, so it makes for a bit of bitter bite under the smooth sweetness of the gelato on top. It's the kind of thing that could remind you that life doesn't suck so bad, after all.
ADVERTISEMENT - CONTINUE READING BELOW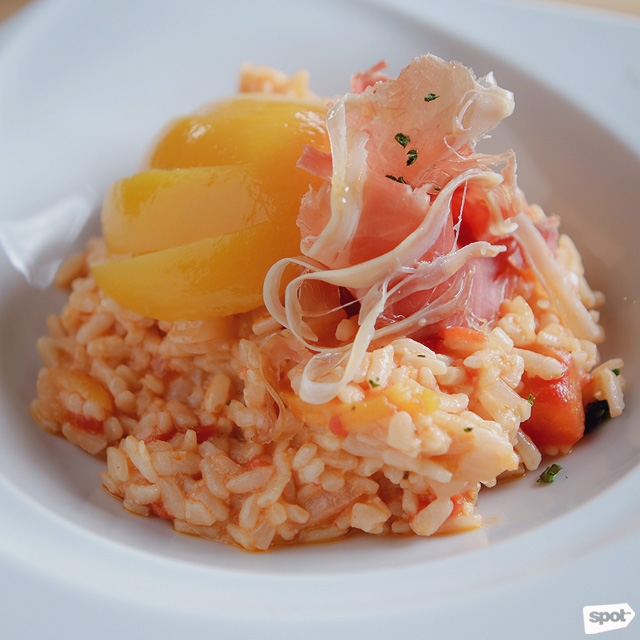 Risotto Prosciutto Peach
The Risotto Prosciutto Peach (P320) has a similar effect. The rice isn't edging dangerously towards lugaw territory, but is cooked just enough to have some bite, in enough of the stock to be able to pile it high in the bowl and on your spoon. This is for the Meal Builders—you know, those friends who seem to love assembling their food as they eat it. All the components of this dish are honestly fine on their own, but when they get together, it all kind of murders your sense of what works and what doesn't.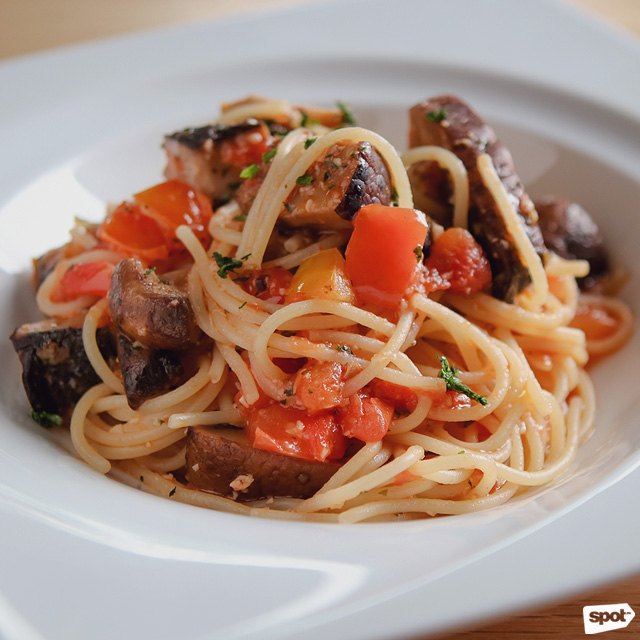 ADVERTISEMENT - CONTINUE READING BELOW
Spaghetti Al Funghi
We will concede to some of the pickier eaters, though. Just because the Spaghetti Al Funghi (P325) is less adventurous doesn't mean it's any less amazing. Teetering on the salty side of umami, the shiitake mushrooms are perfectly cushioned by the peppery spice of the sauce and the mild sweetness of the tomato. It's an easy favorite and a great way of dipping your toes in the water at this restaurant.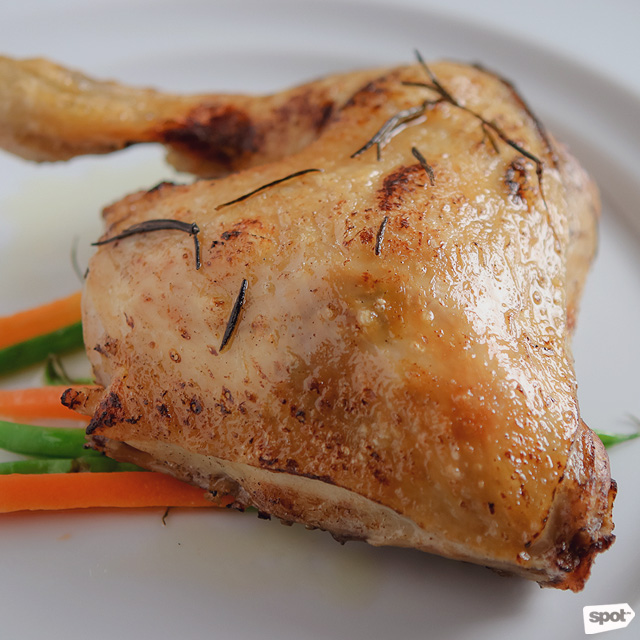 Rosemary Chicken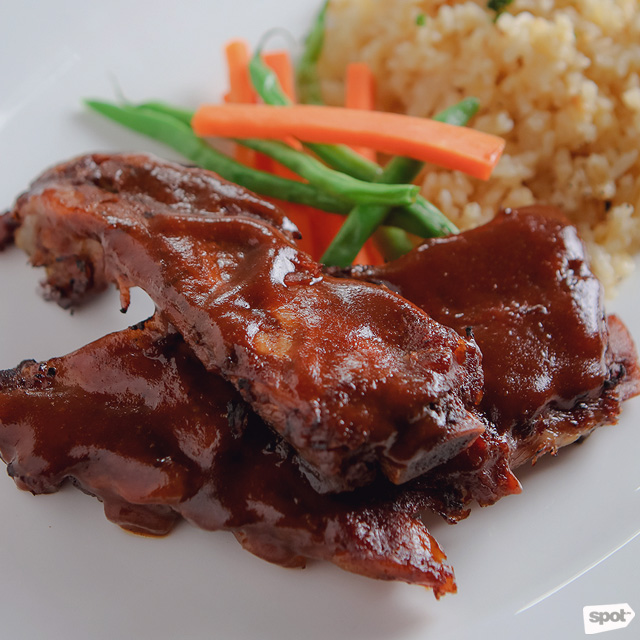 ADVERTISEMENT - CONTINUE READING BELOW
Barbecue Ribs
And just to prove there's something for everybody, there's the deceptively simple-sounding Rosemary Chicken (P295). It's tender without trying too hard, seasoned with just the right amount to lay a great canvas for whatever you'll pair with it. And there's enough rosemary to jump out at you without invading your senses. For something bolder—sweeter and tangier really—the Barbecue Ribs (P360) is your best bet. Again, easy to cut up, minus the Oh My God Look How It Falls Off the Bone thing that everyone seems to be aiming for. And the rice pilaf that comes with it! If we could just insert a GIF of a chef kissing his fingers, we'd do that for this pilaf.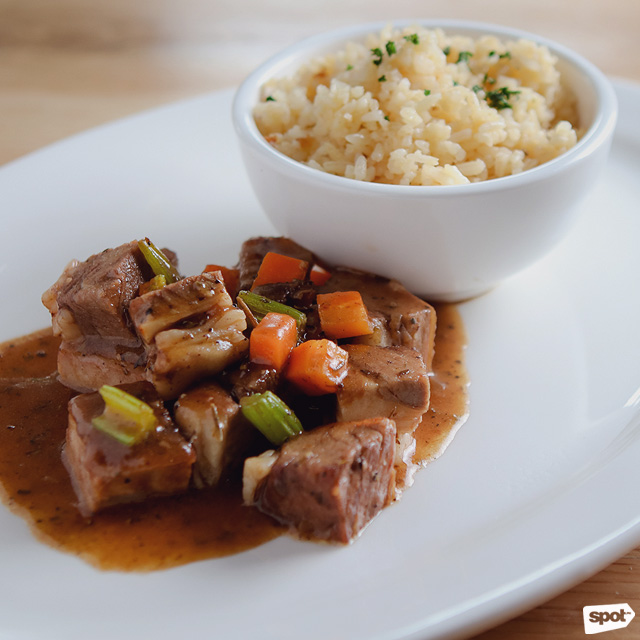 Beef Pot Roast
Speaking of the rice, (that we might be ever so slightly in love with) the Beef Pot Roast (P390) is nothing short of divine—the warm, domestic sort of divine that aims not to impress you, but to calm your wild city soul. It's so soft and savory in that herb gravy, complemented ever so well by carrot and celery, with each bit of meat feeling a little too at home on a bed of that rice. Can you tell we think it's a winner?
ADVERTISEMENT - CONTINUE READING BELOW
Ti alzi, and get your butt over to a little slice of Italy that settled itself—almost too well—in the heart of Asia. Buon appetito!
Photos by Jericho San Miguel
Share this story with your friends!
---
Help us make Spot.ph better!
Take the short survey
Load More Stories