Top 10 Onion Rings in Manila (2017 Edition)
Put a ring on it.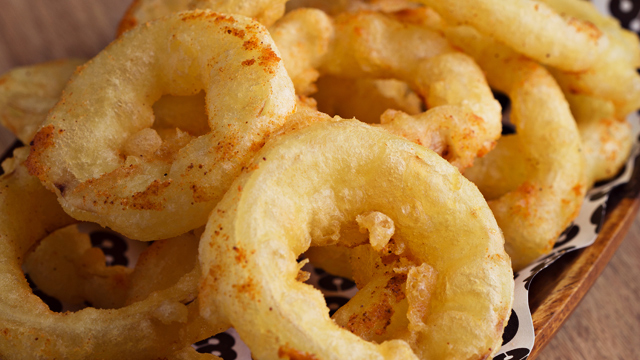 (SPOT.ph) While Beyoncé was singing about a different kind of ring, we thank Lorde for putting the spotlight on onion rings by coming out as a secret onion-rings reviewer. Unlike the latter's now-deleted @onionringsworldwide Instagram account, however, our previous list is still up.
Here, we give you an updated one, with new and unearthed golden treasures, as well as old-time favorites. We scoured the Metro to find the 10 best onion rings that have that perfect crunch, a crisp deep-fried batter that can hold its glistening, sweet onion filling well, and that irresistible punch of flavor with every bite.
All SPOT.ph Top 10 lists are researched, paid for, tested, and selected by the writers and editors. They are discreetly conducted without any notice made to the restaurants or their owners.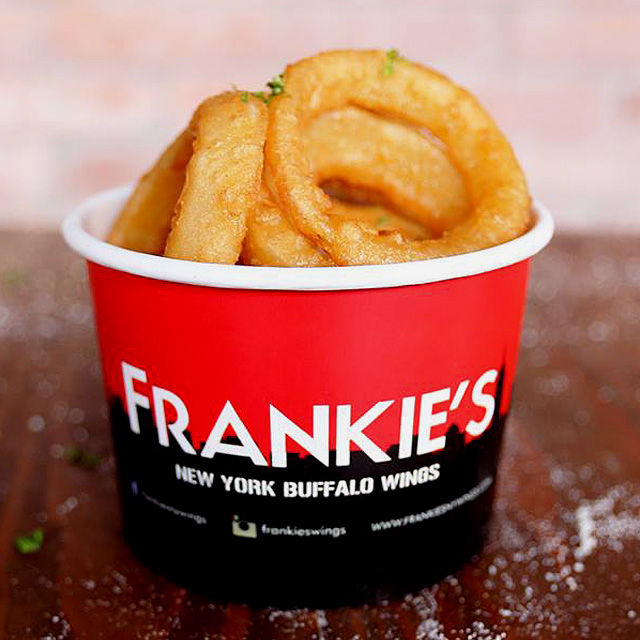 10. Onion Rings at Frankie's New York Buffalo Wings (P100)
The onion rings at Frankie's don't lose their sweetish tang despite the thick, firm batter, which honestly looks overwhelmingly heavy. With each onion ring evenly coated with a golden savory casing, you wouldn't need to worry about crumbs messing up your clothes when it comes to these treats. The crispiness of the onions is proof of their freshness, making every deep-fried loop a pleasure to munch on before, after, or with your wings meal.
ADVERTISEMENT - CONTINUE READING BELOW
See a list of Frankie's New York Buffalo Wings branches.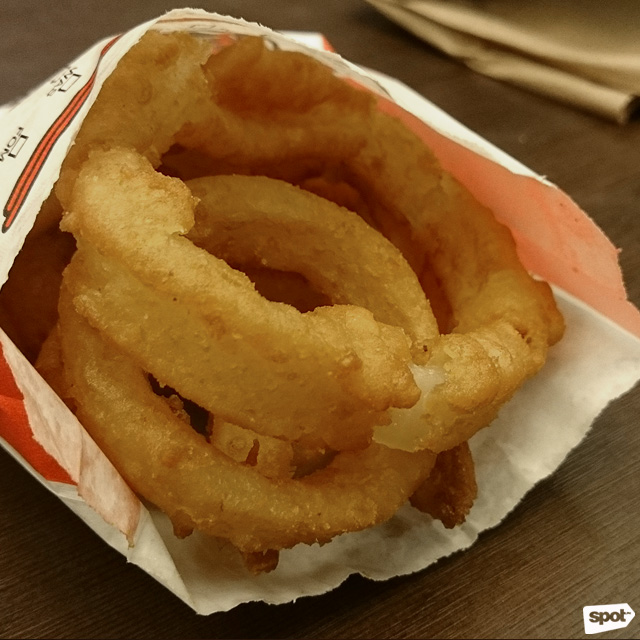 CONTINUE READING BELOW
Recommended Videos
9. Taters' Onion Rings (P90/Minor League, P170/Major League)
Whether eaten as a cinema snack or to address an incessant craving, these onion rings hit the spot. Each loop is bigger than many of those on the list and we're not complaining. The batter is light and the flavor mild, but there's always ketchup and flavored powder to spice things up—why not boost it with a bit of barbecue or sour cream while you're at it? That's right, for an extra P10, you can get onion rings with your favorite popcorn flavor.
See a list of Taters branches.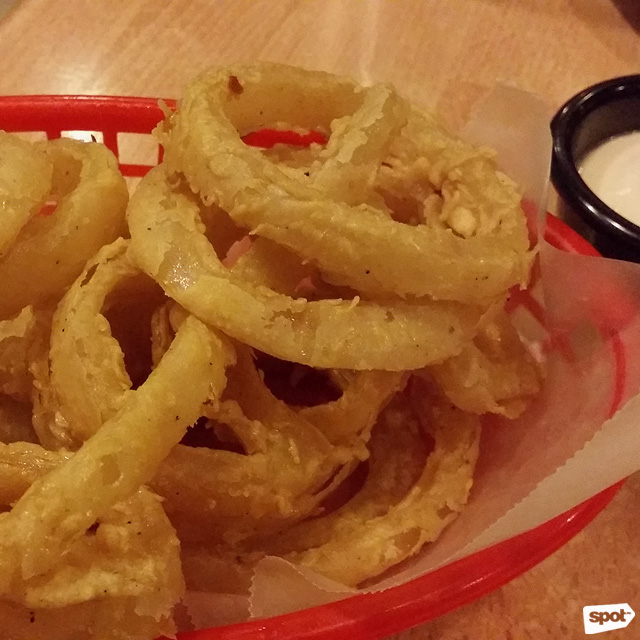 ADVERTISEMENT - CONTINUE READING BELOW
8. RUB Ribs & BBQ's Onion Rings (P160)
While the flaky pale batter makes for a delightfully crunchy texture, it's the aioli dip that makes these rings extraordinary. The sauce's tart and garlicky flavor counters the fried onion's sweetness, coming together in an interesting blend that will have you reaching for more crumbly loops to dip.
See a list of Rub Ribs & BBQ branches.
7. RACKS' Onion Brick (P255)
This crusty cube of lightly breaded onion rings comes with a peppery flavor that nips at the taste buds. Once you've gotten hold of its thin, crisp strips of onion, you just know that you'll keep pulling at it until it's all gone. Between the spicy remoulade and barbecue sauces, you'll find that the smoky tones of the latter complement the stringy rings best.
See a list of RACKS branches.
ADVERTISEMENT - CONTINUE READING BELOW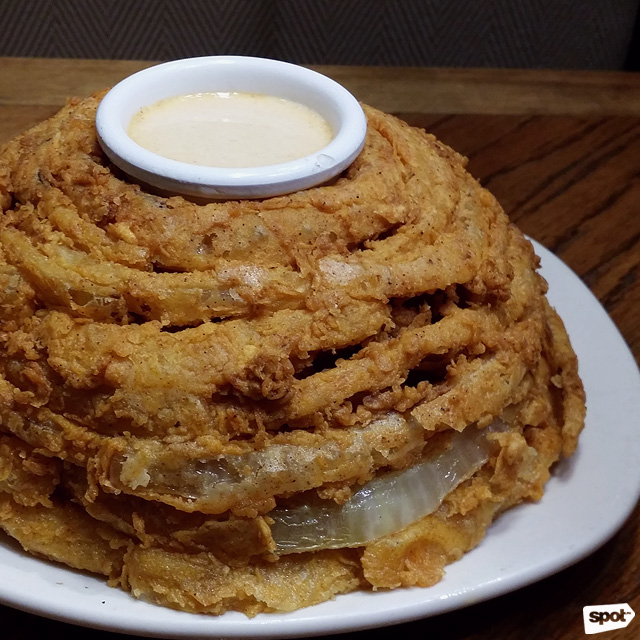 6. Outback Steakhouse's Typhoon Bloom (P399)
This mound of golden onion loops is crowned with the Bloomin' Sauce, a horseradish-based concoction with a tingly kick to it. With its salty and peppery seasonings, you'll realize that the rings' crumbly batter is similar to that of fries. Don't worry about running out of thick strings to pull—the Typhoon Bloom is big enough for at least five hungry people especially craving the sweet zing of onion rings.
See a list of Outback Steakhouse branches.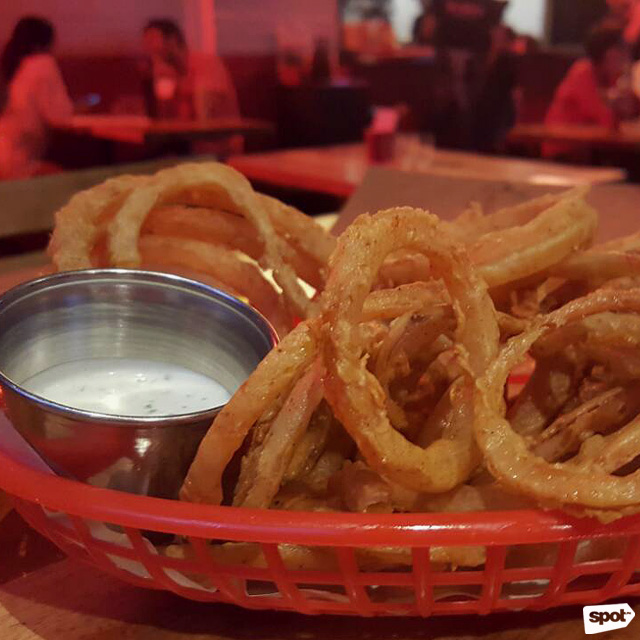 ADVERTISEMENT - CONTINUE READING BELOW
5. Onion Rings at Pink's Hot Dogs (P190)
Not as thin as strings and not as thick as your regular rings, these savory goodies enjoy the perfect symmetry of delicate crunchiness and delectable juiciness. It's a surprise that the dip is merely ranch dressing—its unique, sweet tartness adds a refreshing zest to the crackling, crispy hoops.
Pink's Hot Dogs is at Shangri-La at The Fort, 5th Avenue, Bonifacio Global City.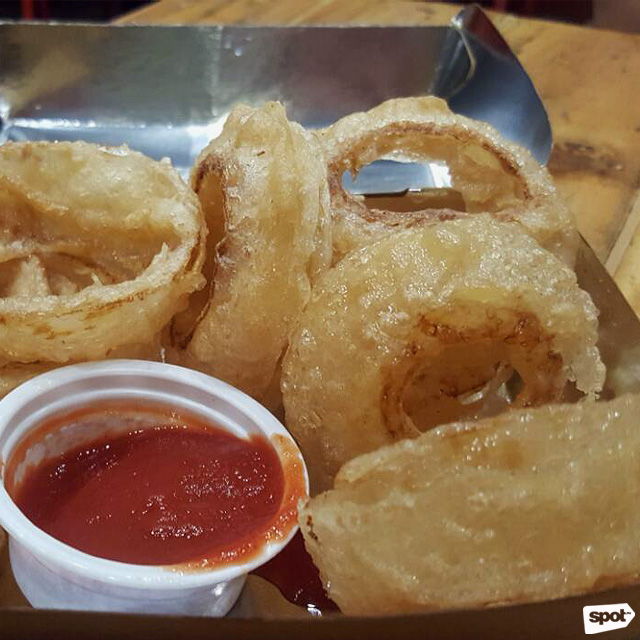 4. Sweet Ecstasy's Onion Rings (P115)
Don't be deceived by its muted hue—all it took for us was a single bite to land these rings a spot on our list. Light and flaky, the first thing that you would encounter is the rings' striking crunchiness, but as the flavors flood into your mouth, the onion's sweetness would be the dominating flavor. Sweet ecstasy, indeed.
See a list of Sweet Ecstasy branches.
ADVERTISEMENT - CONTINUE READING BELOW
3. Pound by Todd English's Onion Cube (P90)
We discreetly looked at the occupied tables when we walked in and noticed that a number of customers had an order of the Onion Cube. Once we had our own crunchy heap, we discovered the secret that elevates this perfectly seasoned onion haystack to storied heights: the Korean barbecue sauce. Sweet and spicy, the unassuming dip rounds out the symphony of flavors that Pound's onion rings bring.
Pound by Todd English is at Eastwood Mall, Quezon City; Robinsons Place Ermita, Manila; Ayala Malls Vertis North, Quezon City; SM Megamall, Mandaluyong City; and Bonifacio High Street, Bonifacio Global City.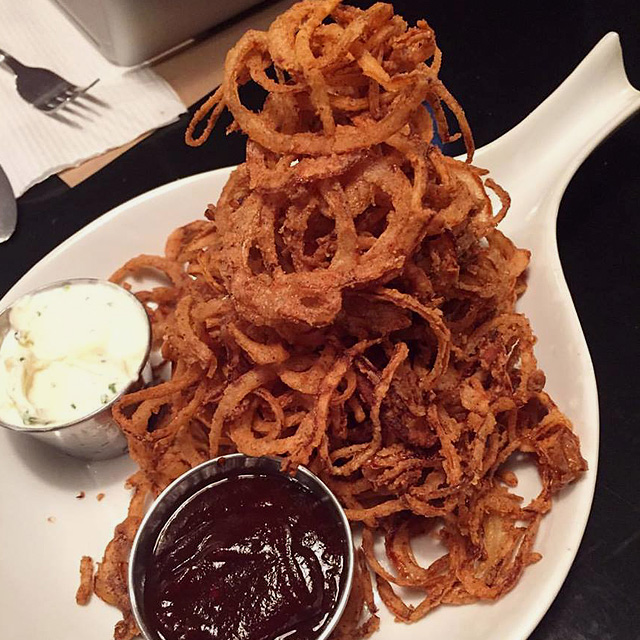 2. Borough's Haystack Onion Rings (P180)
More like strings than rings, Borough's version of fried, battered onions is light and crispy—the type that you just keep shoveling into your mouth. It's a refreshing take on the heavy, greasy dish, and makes a great companion to a couple of cold beers. A barbecue sauce and a sour cream onion dip go with the haystack, but the delightful tanginess of the latter shines with every mouthful. We warn you—once you start, it's going to be an endless loop of eating!
ADVERTISEMENT - CONTINUE READING BELOW
Borough is at The Podium Mall, ADB Avenue, Ortigas Center, Mandaluyong City.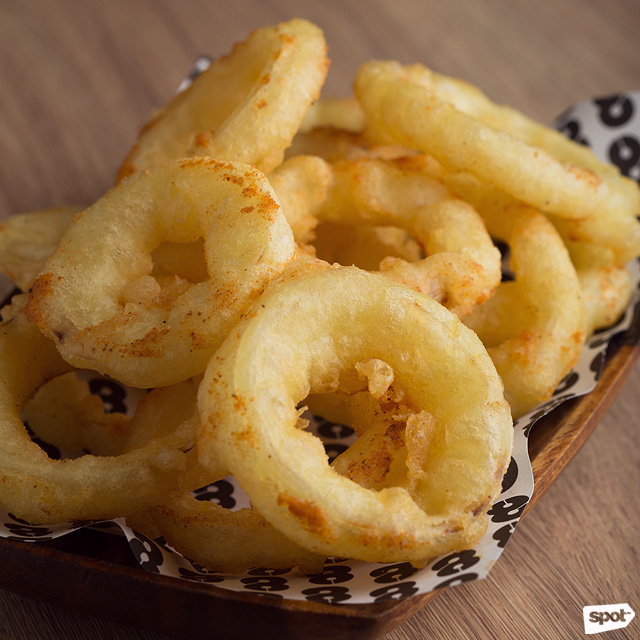 1. 8 Cuts' Oh Rings (P70)
Yes, these rings haven't budged from the top spot, not one bit. The 8 Cuts' Oh Rings come with no fancy presentation, no dip, no fanfare. They are simply amazing as they are, with their light dusting of house seasoning (we suspect it's barbecue) and a light, fluffy batter that holds the sweet onions in one solid piece. And you're perfectly happy with that, aren't you? But then life throws you for a loop: Just when you think the best can't get any better, 8 Cuts proves you wrong. That's right, their legendary Oh Rings sets the bar unbelievably higher with their new flavors: Bacon, cheese, nori, barbecue, and sour cream. Now, which one are you going to order first?
See a list of 8 Cuts branches.
ADVERTISEMENT - CONTINUE READING BELOW
For other Top 10 lists, check out SPOT.ph's Top 10 Everything Food Lists 3rd Edition. Co-presented with C2 Cool and Clean, it's priced at P195, available at major bookstores.
Share this story with your friends!
---
Help us make Spot.ph better!
Take the short survey
Load More Stories