Coffee and Tacos: The Unlikely But Genius Combo at This New Makati Hangout
Taco Vengo is going beyond Mexican.
Vengo
C. Palanca Jr. Street corner Dela Rosa Street, Legazpi Village, Makati City
Vengo: Open from 9 a.m. to 11 p.m. (Monday to Tuesday), 9 a.m. to 1 a.m. (Wednesday to Saturday), and 9 a.m. to 10 p.m. (Sunday)
Vengo Neighborhood Café: Open from 7 a.m. to 3 a.m. (Monday to Saturday) and 7 a.m. to 10 p.m. (Sunday)

(SPOT.ph) Even though they've made a name for themselves with their unique takes on tacos and burritos, Taco Vengo can't be boxed in as just a Mexican restaurant. Their latest iteration, Vengo, pushes their boundaries further, with a store segmented into two: A taqueria (in the loosest sense of the term) and a neighborhood café.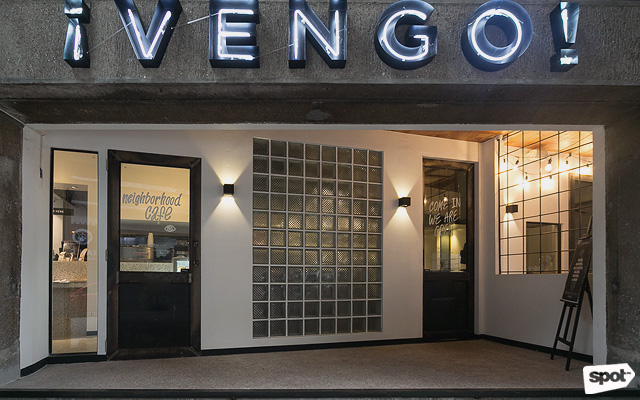 ADVERTISEMENT - CONTINUE READING BELOW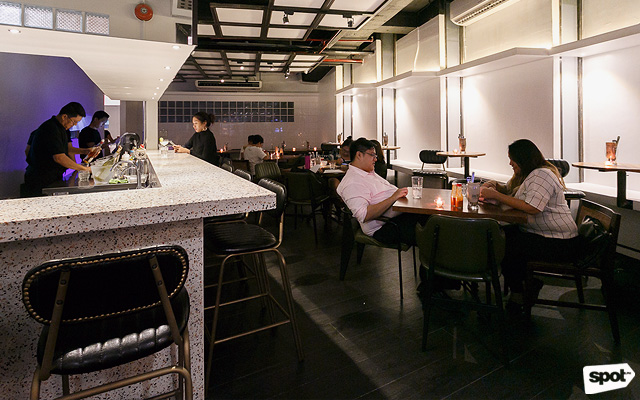 CONTINUE READING BELOW
Recommended Videos
Vengo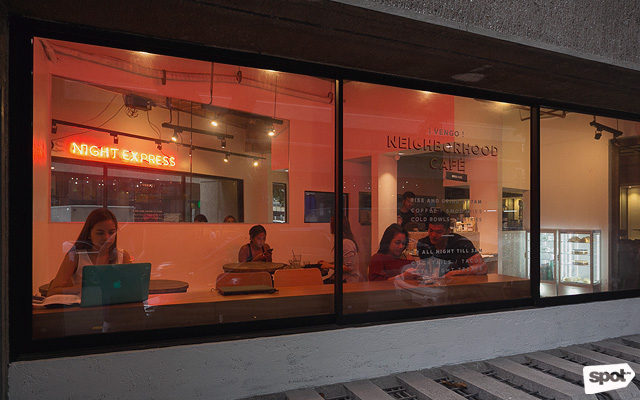 Vengo Neighborhood Café
While the group plans to eventually bring the café concept  to Taco Vengo at Williams Street, there's no better place to introduce it than at Legazpi Village. Designed by Tisha Monfort and Abee Sy, both the restaurant and the café embrace the polished, minimalist look trendy in the area, complete with pretty lettering on the glass doors and a hip neon sign. "We realized that we were talking to a different community," Gerard shares. "So everything, from the seats to the food, was adjusted a bit."
ADVERTISEMENT - CONTINUE READING BELOW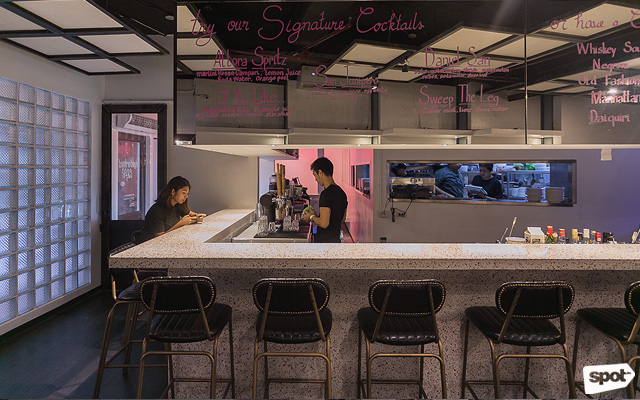 Not to say that Vengo has completely lost its Mexican-loving heart—in fact, the team took the new venture as a way to experiment some more with their menu. "Not that it's a negative," explains Gerard. "But we dropped 'taco' [from our name] here because we found it to be a bit limiting. While we're still Mexican-inspired, we didn't want that to limit our menu."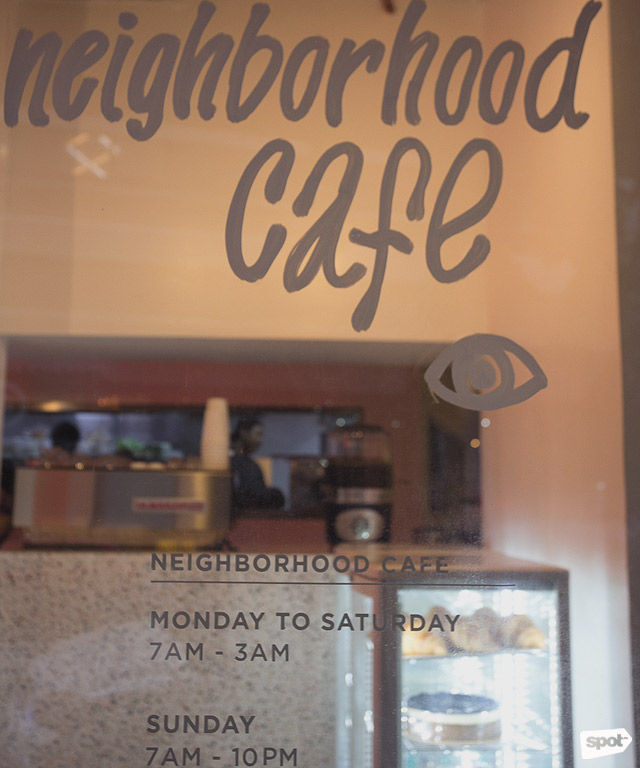 ADVERTISEMENT - CONTINUE READING BELOW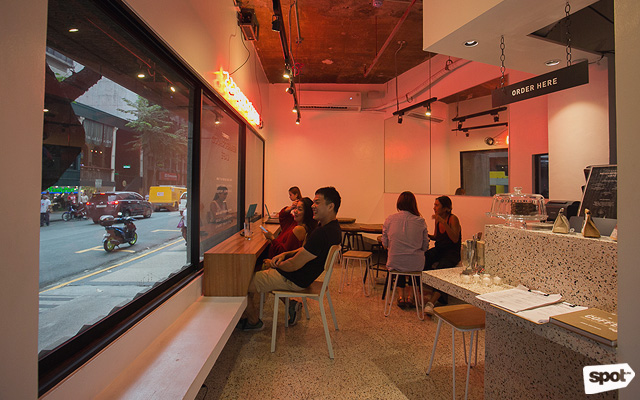 Perhaps what'll be most exciting, especially for the constantly-caffeinated Makati crowd, is Vengo's coffee selection. While the Williams Street branch also has coffee, it doesn't enjoy the kind of spotlight it does now at Vengo Neighborhood Café. "In [our branch] at Williams Street, we've always had a good coffee program, but we've never really been able to maximize its potential," says business partner Gerard Cancio. "Most people don't go to our restaurant for coffee; they'd rather go to a café. Here, we've portioned off a small area that serves as a café. It has its own entrance, its own store hours, and it allows us to expand on that part of our concept."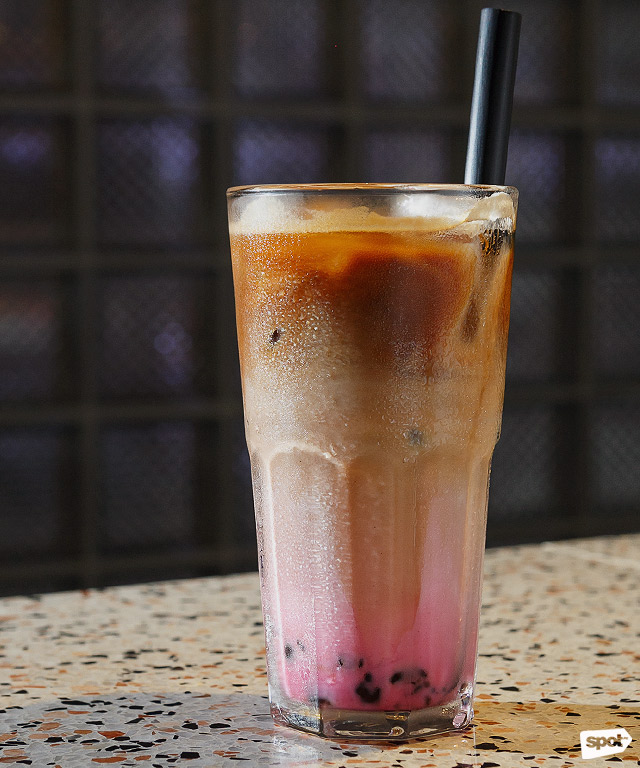 ADVERTISEMENT - CONTINUE READING BELOW
Love, Rosie
You could always have a classic cup of Flat White (P150) or Cappuccino (P150/hot, P160/iced), but why do that when you can have something more unpredictable, like the Love, Rosie (P180)? This drink has a beautiful gradient of creamy brown to pink because of rose syrup—but it isn't just for aesthetic purposes. The syrup adds a mild floral note to your iced espresso and milk, giving it a flavor similar to tea. With chewy boba, it feels like an iced coffee and tea in one.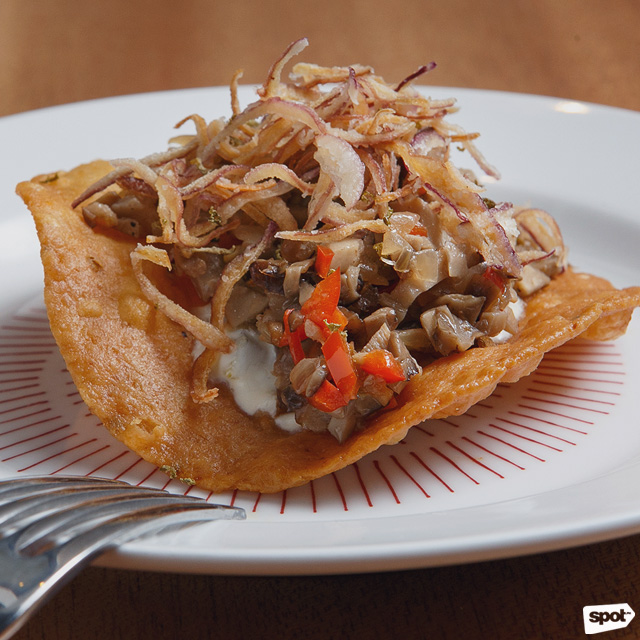 Shiitake Mushroom Tostada
While the Neighborhood Café has its own selection of pastries to go with the coffee, you can, and should, cross-order from the restaurant side of Vengo, because their expanded menu has lots of new tasty things to offer. For one, Vengo now carries Crunchy Tacos. Particularly outstanding is the Shiitake Mushroom Tostada (P168), and not only because it's a vegetarian option. This taco doesn't attempt to trick your brain into thinking you're eating meat, relying instead on a tasty blend of earthy shiitake mushrooms, sweet fried shallots, bell peppers, and the zest of lime to deliver a flavorful meatless punch despite its cute size.
ADVERTISEMENT - CONTINUE READING BELOW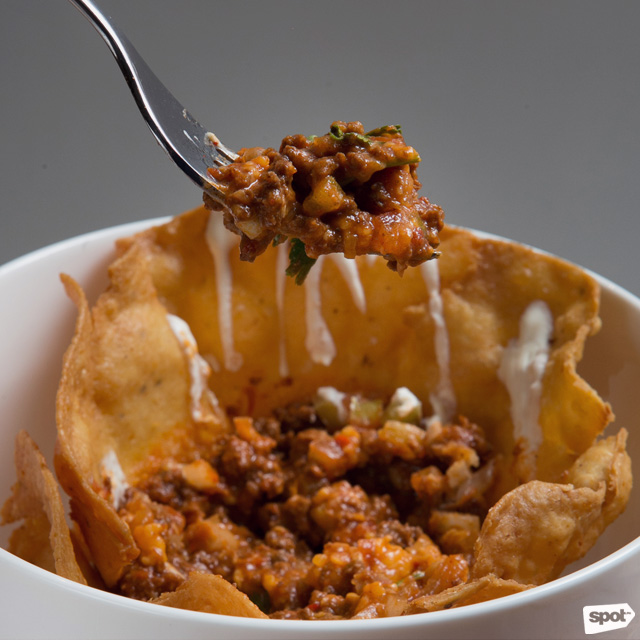 Chili Con Carne Tortilla Bowl
You'll happily get your hands messy for the Chili Con Carne Tortilla Bowl (P228). There's really no other way to eat this bowl but to get in there, break off the crispy tortilla and scoop up as much as you can of the savory spiced ground meat, baked beans, chopped tomatoes, and onions. You'll welcome the tangy sour cream and how it balances off the spicier flavors nicely.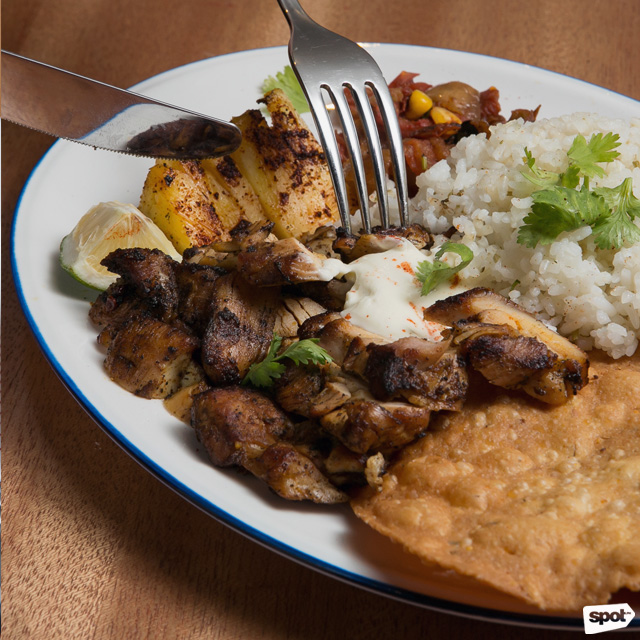 ADVERTISEMENT - CONTINUE READING BELOW
Mexican Spice Chicken
If you're a fan of Taco Vengo's rice bowls, you'll love Vengo's even heftier Rice Platos, like the Mexican Spice Chicken (P348). The rice and the two pieces of crispy tostadas help temper the rest of the plate's intensity from the fiery grilled chicken fillet, to the piquant spiced pineapple, and sour-spicy roasted salsa.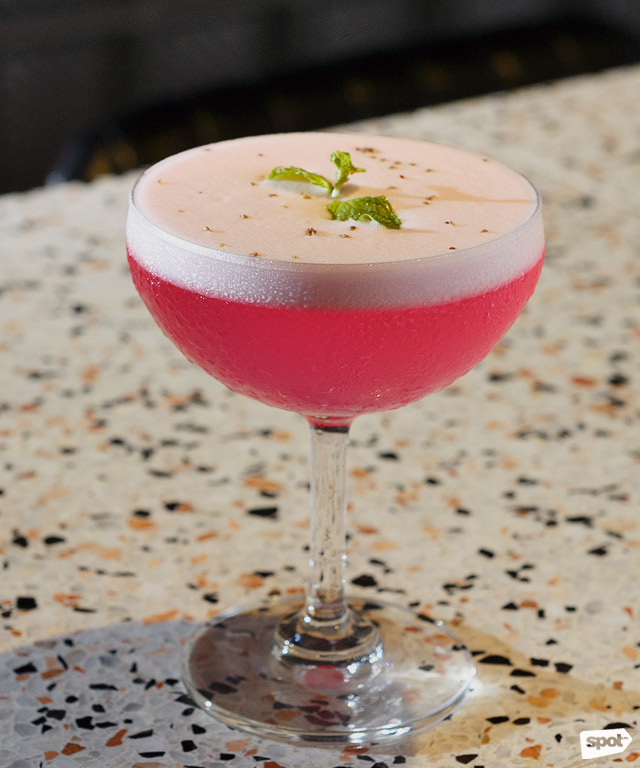 San Junipero
Just like the business-in-the-morning, party-at-night nature of Makati City, Vengo Neighborhood Café also transforms after 11 p.m. from a coffee shop to a cocktail bar, where you can sip on classic drinks as well as signature cocktails like the San Junipero (P350). Rose syrup makes a reappearance in this cocktail, lending its floral sweetness to a heady mix of tequila, lemon juice, and egg white.
In a city that hardly sleeps, Vengo is a perfect addition. Start the day right with a good cup of brew, and end with cocktails, with filling out-of-the-box Mexican fare in between. It's a cycle you'll want to keep repeating.
ADVERTISEMENT - CONTINUE READING BELOW
Photos by Ian Santos
Share this story with your friends!
---
Help us make Spot.ph better!
Take the short survey
Load More Stories