Flatiron 1771
Uptown Mall, Uptown Bonifacio
Contact: 802-5458 or 0917-854-4540
Open daily from 11 a.m. to 10 p.m.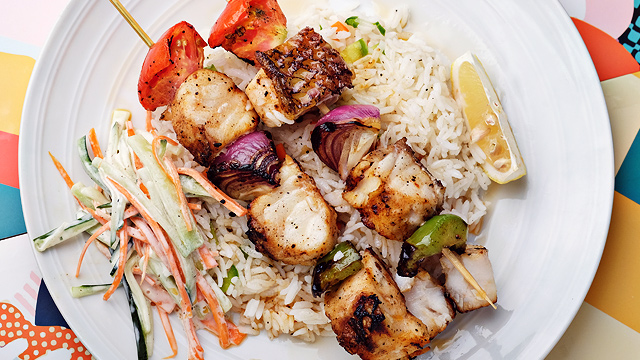 (SPOT.ph) You might remember Flatiron 1771 for their "intense" brownie burger—an indulgent creation made of super creamy coffee ice cream sandwiched between two chunky Swiss chocolate fudge brownies. Besides that—and some other crowd-favorites—this homegrown restaurant unveils a newer look. Veering away from their original New York-inspired aesthetic, they refashioned the interiors to create a cozy diner feel.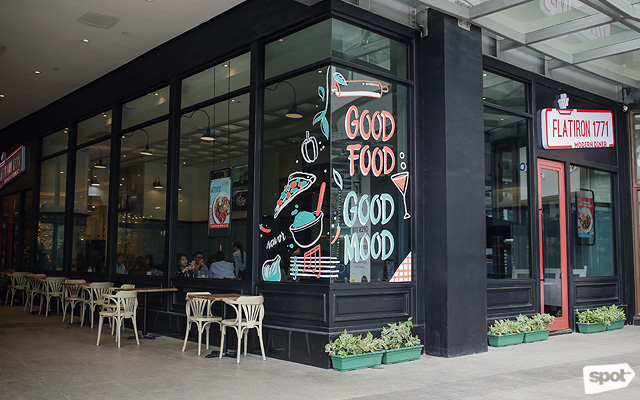 ADVERTISEMENT - CONTINUE READING BELOW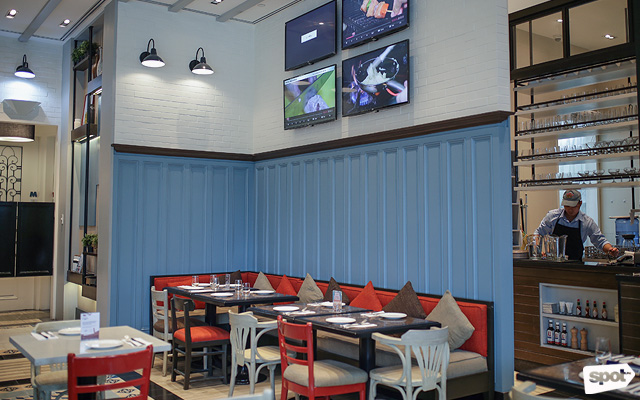 The refurbished restaurant still maintains an elegant aura while being just as inviting and approachable as the first time they opened. Now, you'll see crisp blue walls, colorful artwork on the glass windows reading "Good Food, Good Mood," mismatched chairs, a couch area with red throw pillows, and TV screens perpetually showing mouthwatering videos of their chefs preparing the eatery's food.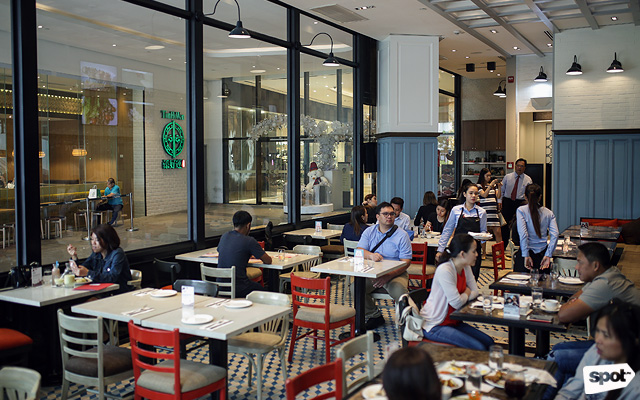 CONTINUE READING BELOW
Recommended Videos
Executive Chef Vicky Pacheco shares that while the previously two-toned interiors of Flatiron 1771 conveyed a "modish" impression, it also came across as intimidating, hence the decision to give it a face-lift. "[I wanted to] get out of that mode and make it more accessible to people, so we added more color—literally and figuratively. We added more color to the look, the vibe, the food, and the whole experience. When a restaurant looks fun and colorful, you're not scared to enter the place." Indeed, the revamped Flatiron 1771 is a more comfortable and relaxed haven that makes guests feel right at home.
It's not just the look of the restaurant that went through some exciting changes. Flatiron 1771 also introduced new dishes to their menu.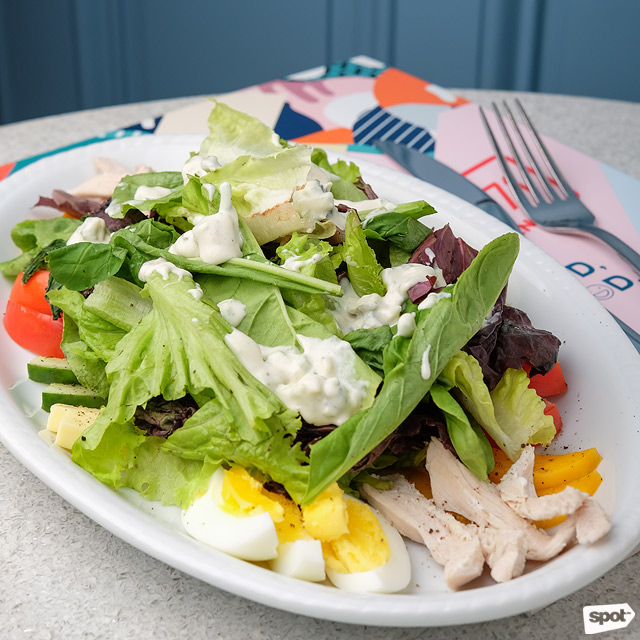 Flatiron Chef's Salad
When Chef Vicky thought of adding the Flatiron Chef's Salad (P350) to the menu, she had one thing in mind: "This one is going to have everything!" True enough, this salad is a pleasing plate of crunchy and garden-fresh mixed greens, slivers of hard-boiled egg, cheddar cheese, avocado, and freshly cooked chicken breast shreds. While most salads are topped with a tangy thousand island dressing, this one uses blue cheese dressing.
ADVERTISEMENT - CONTINUE READING BELOW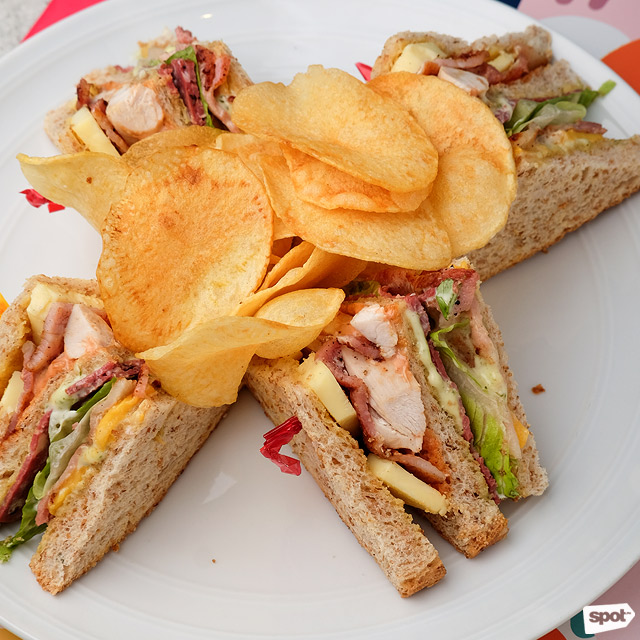 Flatiron Clubhouse
Not one to scrimp on ingredients, Chef Vicky also made sure that the Flatiron Clubhouse Sandwich (P390) is packed with flavor and all the good stuff. Whole wheat bread slices are fully loaded with the meaty goodness of bacon, chicken, and salami, plus crispy lettuce, avocado, and cheese slices. A lot of care and thought was given in the preparation of the bread alone. A delicious blend of mustard butter, as well as a pesto- and tomato-based spread is smeared on the bread slices. Chef Vicky explains, "Sometimes, when you eat a sandwich, some of the ingredients fall off, and you end up eating just the bread. My goal is that when you eat the bread alone, it should still taste good."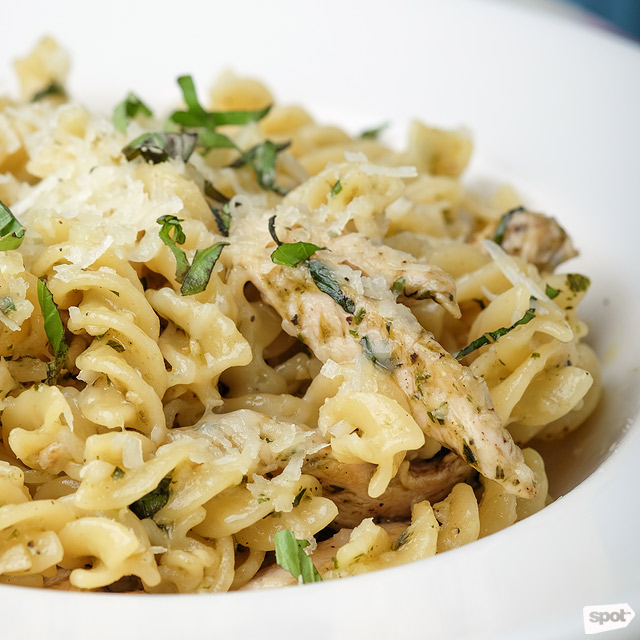 ADVERTISEMENT - CONTINUE READING BELOW
Chicken Fusilli Pesto
The Chicken Fusilli Pesto (P295) is a simple yet hearty and gratifying dish, which was carried over to Flatiron 1771 from Portico, one of the dining joints under the 1771 Group of Restaurants. This uncomplicated pasta is made with chicken breast strips cooked in white wine and fusilli pasta mixed with parmesan cheese and flavor-packed pesto sauce that's made from scratch.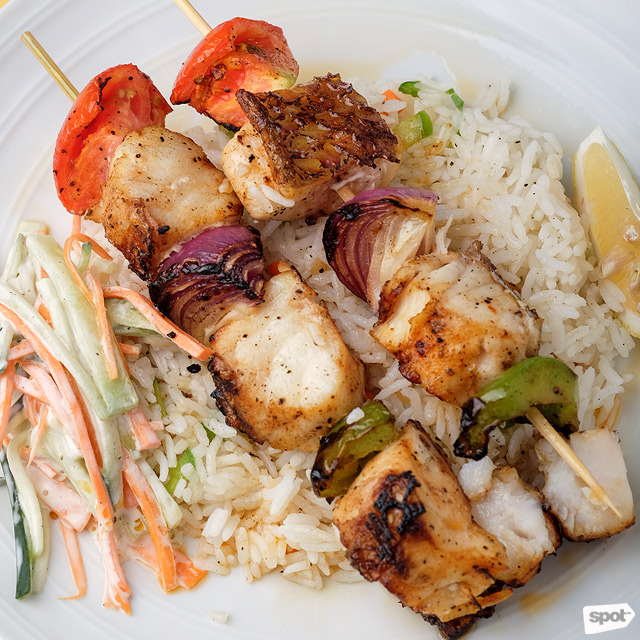 Fish Kebab
Meanwhile, the Fish Kebab (P650) isn't your usual seafood dish. Chinese sea bream chunks are filleted and cooked souvlaki-style. It's skewered with tomatoes, green bell peppers, and red onions, so the juices and flavors of the vegetables seep into the thick hunks of fish. The kebabs are served with buttered vegetable rice. Chef Vicky says that cooking the fish as skewered chunks reduces the guests' waiting time by also lessening the cooking time. She understands that people may be in a hurry, and knows that a whole slab of fish takes longer to cook, so the challenge for her was to speed up the preparation time while still maintaining the freshness of the ingredients.
ADVERTISEMENT - CONTINUE READING BELOW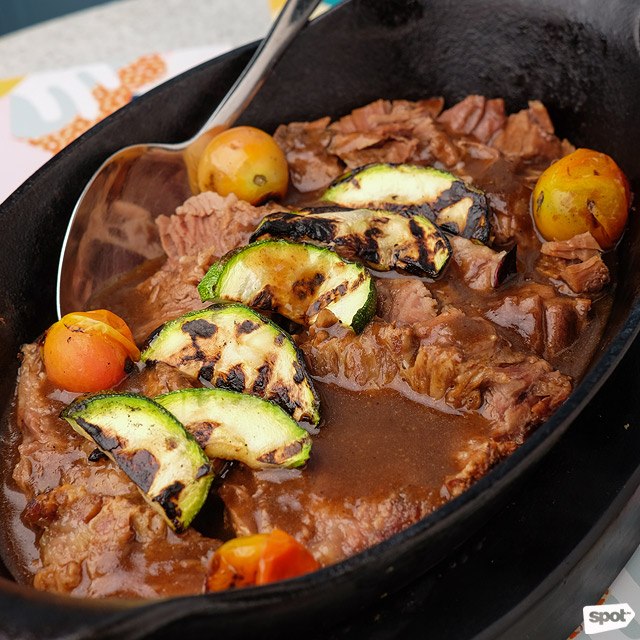 Flatiron Brisket 6
The Flatiron Brisket 6 (P585/solo, P799/sharing) is a Flatiron 1771 signature dish that has gone through some major upgrades in terms of the recipe, procedure, and presentation. The meat, which is slow-cooked for six hours, goes through a longer and more thorough browning process, resulting in a deeper flavor and melt-in-your-mouth texture. With the addition of a balsamic vinegar sauce, the new Flatiron Brisket 6 is also tastier, more aromatic, and more savory. The Brisket 6, which used to be served with red and brown rice, now sits on its own but with larger portions compared to its previous version.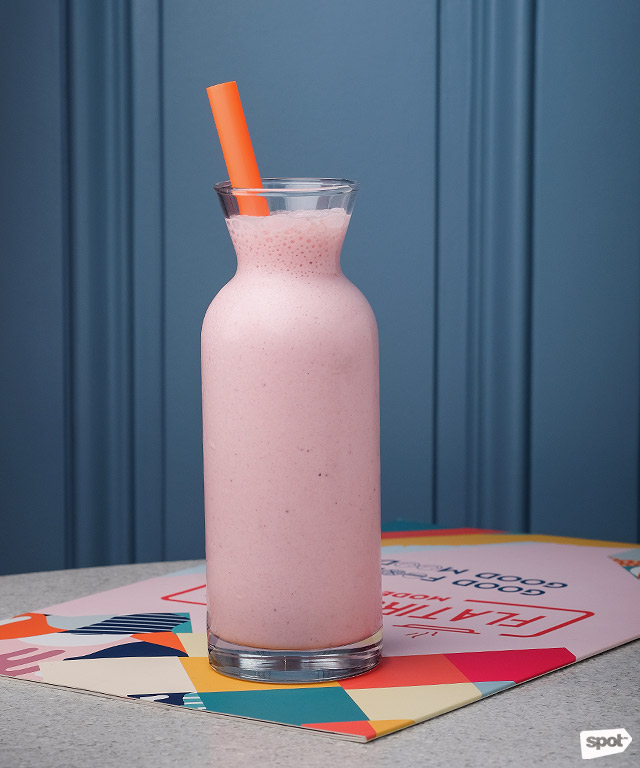 ADVERTISEMENT - CONTINUE READING BELOW
Strawberry
You'll also be glad to know that this diner now offers Milkshakes: Strawberry (P235), Chocolate Malt (P220), Brownies Cookies & Cream (P235), Piñacolada (P230), Chocolate (P199), and Vanilla (P199). The recipe of Flatiron's milkshakes went through a long and laborious series of tests and experiments. "Making milkshakes is easy. The difficult part is finding real ice cream," Chef Vicky says.
"A lot of the milkshakes in the market are not made of real ice cream. So the challenge for me was to find really good real ice cream. Also, the recipe has to be very exact. Too much milk, and it becomes too bland and thin. Too much flavoring, and it becomes too sweet. I also put cream to make it extra thick and creamy. I tested and tested and tested [until I got the desired result.]" This classic American diner staple is silky, rich, and filling, making it either a great partner for your favorite dish or a sweet after-meal treat on its own.
Chef Vicky wanted to make Flatiron 1771 a place where people can be comfortable and relaxed so she made sure to include a lot of homey classics. With their new dishes and welcoming new look, Flatiron 1771 is a great pick-me-up spot, whether you're celebrating milestones, having a meeting, hanging out after work, or just longing for feel-good food.
Photos by Majoy Siason
Share this story with your friends!
---
Help us make Spot.ph better!
Take the short survey
Load More Stories