This Jollibee Branch Has an Extra Spicy Chickenjoy You Won't See Anywhere Else
BRB, booking our flight.
Putting your go-to buffalo wing joint to shame is this particular Jollibee branch that serves—brace yourselves—an even hotter upgrade of the already Spicy Chickenjoy.
The Araneta Bacolod store (corner Lizares Avenue, near Negros Occidental High School) is among the first locations where the fiery variant of the ubiquitous fried chicken has been made available. Now, it's not just the thigh part that the lucky people there will be clamoring for.
It might be little bit farther than you were hoping, but some fellow Chickenjoy lovers on the social-media page SOXIALLY were able to shoot a video about the hot new addition to the menu. 
In an interview with FHM, the administrator of the Facebook page that uploaded the viral clip talked about the intriguingly remote offering and why this 'spicylicious' option should be brought to Manila ASAP. He shares, "We're a social media group serving Bacolod, and Jollibee hired us to do some digital word-of-mouth marketing for them. This is the first time we did a product activation. We usually cover store openings and we're so happy that it really went well."
ADVERTISEMENT - CONTINUE READING BELOW
He says one of the Facebook page's goals is to promote local food and this is what made the people over at Jollibee notice. "Interestingly enough, we got discovered after one of our earlier videos featuring street food trended online. Jollibee loves what we do, and they wanted to be part of the culture here."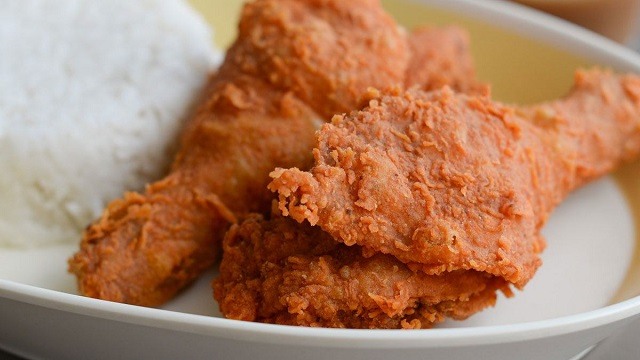 ADVERTISEMENT - CONTINUE READING BELOW
While this might be the first time you're hearing about the spicier Chickenjoy, it actually isn't something new. "The new Spicy Chickenjoy has been around for a while now, they just didn't really market it," he reveals. "[The] thing is, I couldn't find any content or information about the product until I was able to try it out. Apparently, this version of the fast-food favorite is spicier inside and out."
He also describes the experience of trying out the "spicylicious" Chickenjoy for the first time: "Just like what you would expect with anything spicy, but [it's] still tolerable," he explains. "The flavor gradually stimulates the taste buds. The more you bite into it, the more it gets hotter. The heat builds up in your mouth and dissipates after a while." 
The spicier Chickenjoy is just another addition to the thriving food scene in Bacolod and it's been a sure-fire hit. "History tells that our city didn't really have culinary roots, so it's like a melting pot. Most of the dishes that originated here have foreign influences, so people really love to eat out," he says. You can only expect a warm—or rather, hot—welcome when it finally hits stores nationwide. 
ADVERTISEMENT - CONTINUE READING BELOW
This story originally appeared on Fhm.com.ph. Minor edits have been made by the Spot.ph editors.
Recommended Videos
Load More Stories