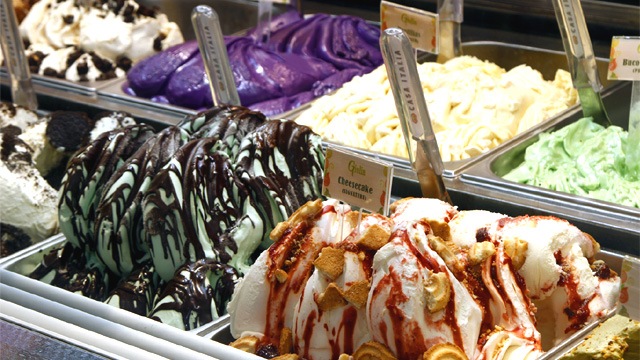 (SPOT.ph) There are two schools of thought when it comes to icy, creamy treats—if you want your cold fix stat, then ice cream is a good option. Readily available in both artisanal and mass-market varieties, this dessert has a higher cream component that uses eggs. Gelato, on the other hand, is a product of Italian genius. It's fashioned out of a custard base and is made largely of milk and egg whites, or sometimes, no eggs at all. The result is a densely textured, rich proliferation of flavor that runs from your run-of-the-mill chocolates, vanillas, and strawberries to more off-beat concoctions that include everything from savory herbs and spices mixed with sweet, fragrant flavor profiles. Although gelato is popular all over the world, there's only a handful of places in the Metro that offer them. For this list, we judged the best ones in Manila according to their icy selection, atmosphere, and overall experience. We've mapped them out so you can make your way from north to south, scoop by scoop.
ADVERTISEMENT - CONTINUE READING BELOW
All SPOT.ph Top 10 lists are researched, paid for, tested, and selected by the writers and editors. They are discreetly conducted without any notice made to the restaurants or their owners. Hotel-run restaurants were not considered for this list.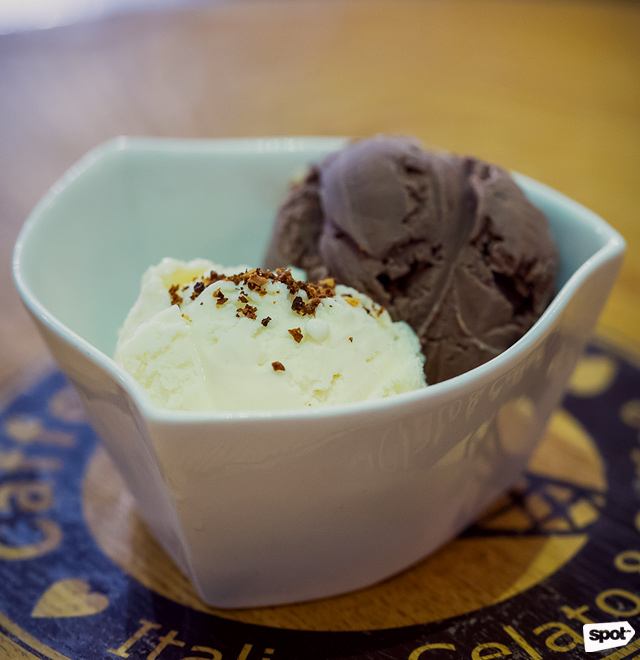 10. Caffe Ti-Amo
Access Italy by way of Korea through Caffe Ti-Amo's eclectic menu. Their gelato picks are great because the coffee shop allows you to mix flavors. That said, not all flavors get it quite right so you'll benefit from a taste sampling before committing fully to your pick. Ambience-wise, Caffe Ti-amo is idyllic—with dim lighting and a tree in the middle of the coffee shop, it's a great place to unwind. Greenbelt's foot traffic can be insane, especially on weekends, turning what could be an easy breezy gelato session into a chaotic noise fest. And while their Four Cheese (P140/scoop) is great in its sweet and salty combination, its icy texture veers far away from the dense, rich creaminess that gelato is known for. On the other hand, the Ferrero (P140/scoop) flavor gets it absolutely right, melding both chocolate and hazelnut tastes in a perfectly smooth gelato.
CONTINUE READING BELOW
Recommended Videos
Caffe Ti-Amo is at G/F Greenbelt 5, Ayala Center, Makati City.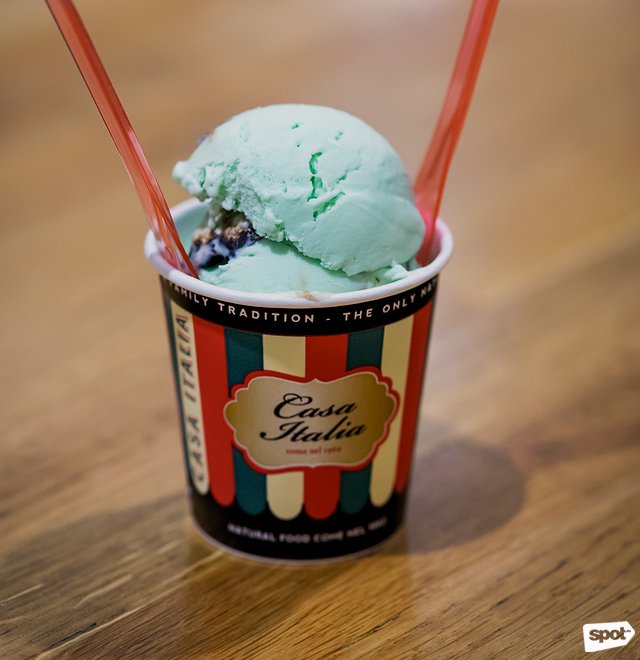 Located at The Block, Giulia by Casa Italia is non-descript in its appearance. One cool thing about their wide and vibrant gelato display (which does draw in a lot of passersby!) is that it comes with some fun signs that explain the difference between gelato and ice cream—pretty useful information for the gelato newbie. For the ultimate cool down, consider taking a hint of mint along with your dessert. After Eight (P130/piccolo scoop) is their gelato version of the popular dark chocolate and mint. Another flavor to consider on your next visit would be their Chocnut variant, which adds a Pinoy touch to a more conventional chocolate offering.
Giulia by Casa Italia is at SM City North The Block, EDSA, Quezon City.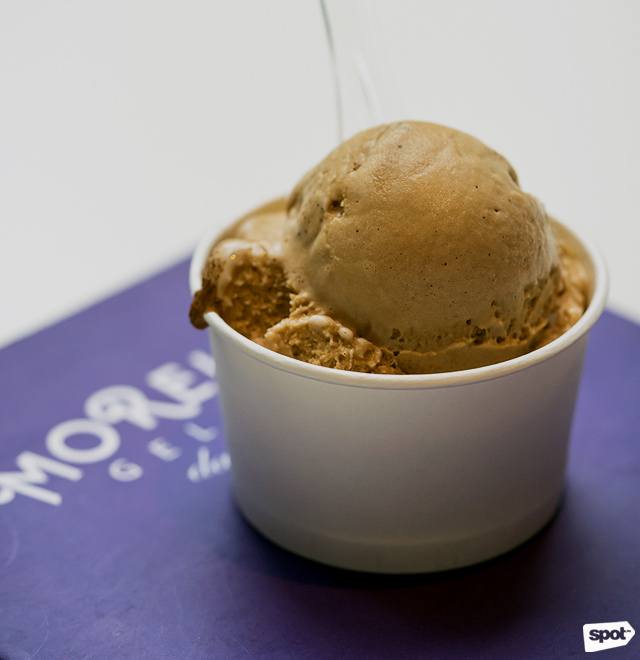 ADVERTISEMENT - CONTINUE READING BELOW
8. Morelli's Gelato
While Morelli's most popular flavor is Pistachio, gelato fans will be lucky to catch it at the bar since it's hardly ever available. While other popular flavors include French Vanilla and Cookies, their Coffee (P130/scoop) is a great option to go for. Super soft and melt-in-your-mouth, this subtly sweet offering tastes authentically of espresso—a good product feature since, gelato is, after all, an Italian concoction. Both the Shangri-La Plaza and Power Plant Mall branches of Morelli's provide comfortable seating despite their open layout. The chain's whimsical branding is a definite plus, especially if you're toting a young niece or nephew along with you.
Morelli's Gelato has branches at Shangri-La Plaza Mall, Mandaluyong City; and Power Plant Mall, Rockwell, Makati City.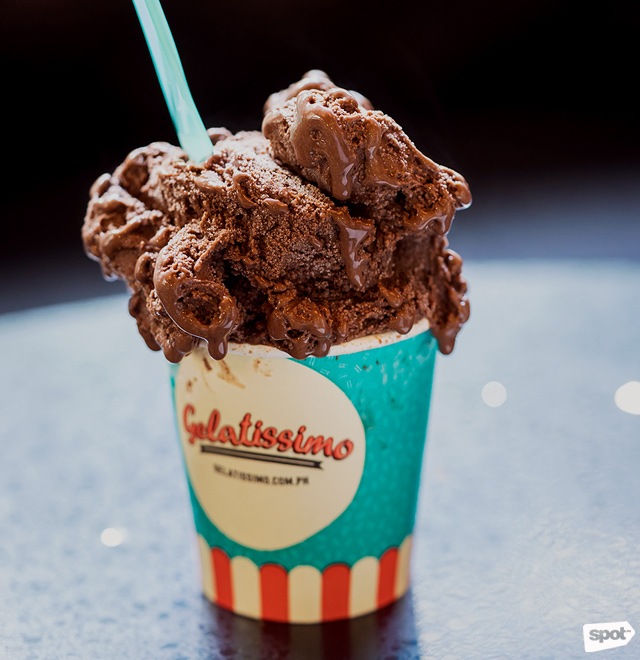 7. Gelatissimo
Once prevalent in the mall scene, Gelatissimo isn't as accessible as it used to be—but if you find yourself in Makati or BGC, this sweet shop is still worth a visit. Their Belgian Chocolate (P130/scoop) gelato is interestingly fragrant in its flavor profile and is best eaten quickly as it melts right away. Gelatissimo has a huge variety of flavors, too—there's sure to be something on the menu that will please everyone in the group. Because of their friendly price range and incredible array of flavors, Gelatissimo has the tendency to attract large crowds. Seating can be tight (especially at their Greenbelt branch), so be prepared to stay for a short span of time—or better yet, take your gelato to go.
ADVERTISEMENT - CONTINUE READING BELOW
See a list of Gelatissimo branches.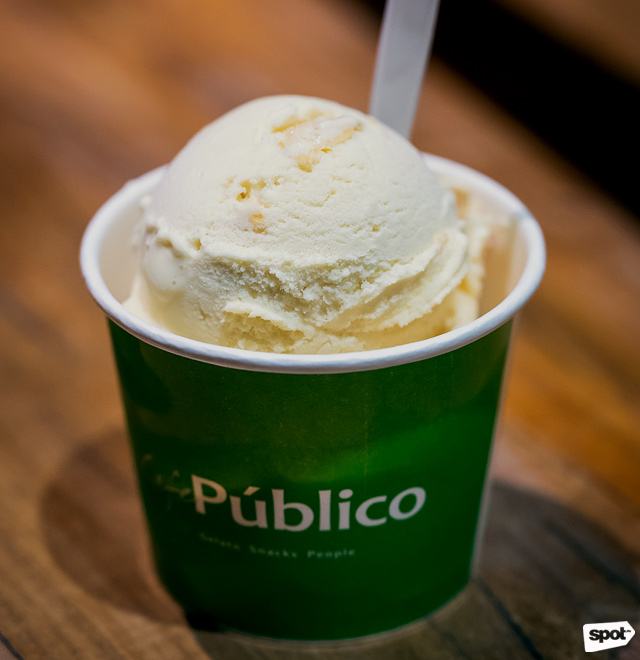 6. Café Publico
Known for their Italian-themed interiors, wide collection of board games, and a giant chess set, Café Publico has been a staple in the local gelato scene for many years. Besides being a place where people would actually want to hang out in, they have a pretty noteworthy gelato selection, too. The Cereal Milk (P176/scoop) is a fun take on the popular ice-cream concoction. Its simple reinterpretation of the typical cornflakes-and-milk breakfast holds up gelato-wise, with a texture that is pleasant and smooth. This offering proves that basic doesn't have to be boring—much like most of their other variants.
Café Publico is at 2/F Greenhills, Ortigas Avenue, San Juan City.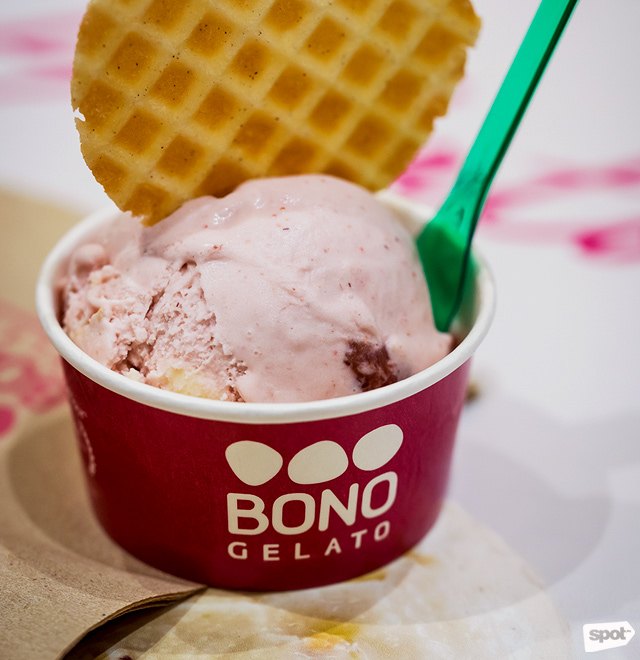 ADVERTISEMENT - CONTINUE READING BELOW
5. Bono Gelato
Bono Gelato is located in two of the Metro's most popular malls, which is a good thing for your insatiable, all-of-a-sudden gelato hankerings. Their welcoming pink, white, and pastel kiosk is the perfect oasis between marathon shopping sprees, while their gelato selection is unique, fun, and sometimes unconventional (where else can you find a taho-flavored gelato?). Reminiscent of summers spent in Baguio, Bono Gelato's Strawberry Cheesecake (P150/scoop) is as fresh as their flavors come. It's perfectly textured custard is coupled with solid cheesecake chunks, which you can sink your teeth into, and a graham crust that offers just a hint of sweetness and grit. If your icy craving veers toward the tangier side, this light-flavored gelato has your name on it.
See a list of Bono Gelato branches.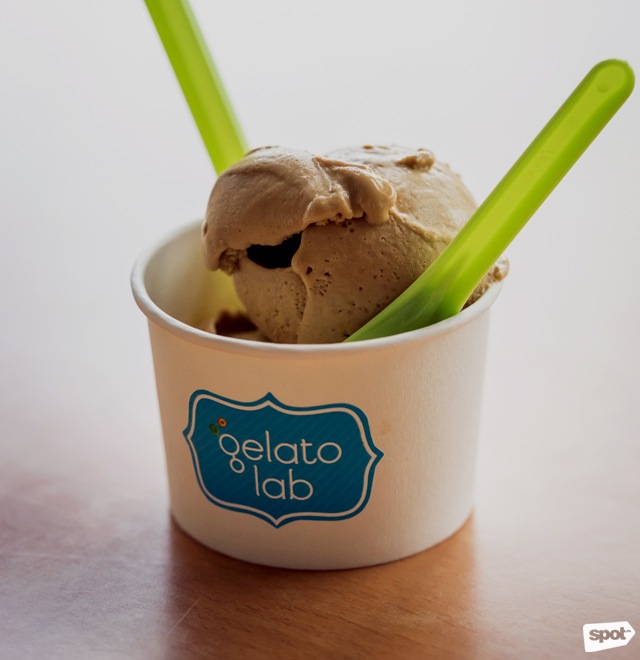 4. Gelato Lab
There are a handful of hole-in-the-wall spots around the Scout area and it can be tough to find your way around the residential streets flanking Tomas Morato, Timog, and Roces avenues. Gelato Lab is worth the extra minute you need to navigate through Waze, however, because this little spot delivers awesome flavor at absolute value-for-money prices. If you're looking to hit two birds with one stone by matching your gelato craving with a caffeine fix, their Vietnamese Latte (P100/scoop) is bittersweet in the best way possible. While their bestseller may be Sea-Salt Caramel (P100/scoop), we suggest skipping the popular choice and grabbing this energy-boosting flavor instead. Located on the second floor of a brand new building (popular Peruvian joint Mantaro is located on the ground floor), it's situated by a Chinese shop, a coffee shop, and other promising stores comprising a new food hall. Another reason to visit Gelato Lab? The building comes with ample parking—always a plus in Quezon City.
ADVERTISEMENT - CONTINUE READING BELOW
Gelato Lab is at 27 Scout Rallos Street, Diliman, Quezon City.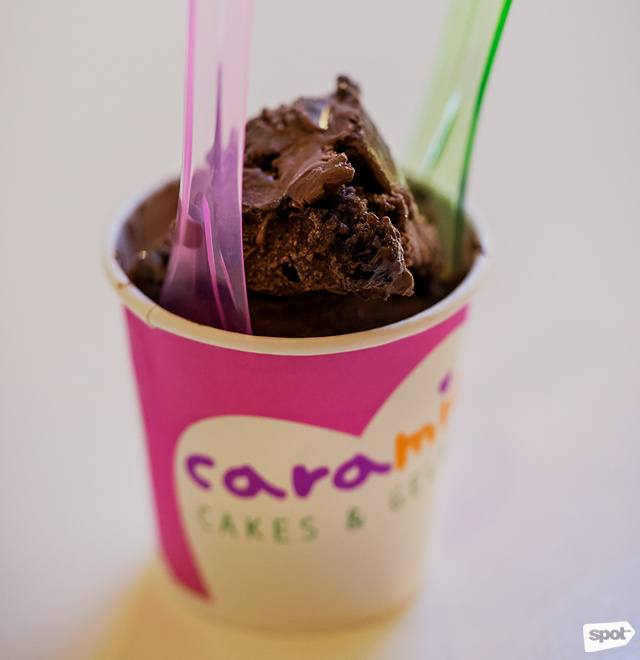 3. Cara Mia
Chocolate is indeed medicine for the taste buds (and soul) and Cara Mia captures this exactly with their rich, dark, and chunky Chocolate Therapy (P55/junior scoop). Its rich texture coupled with brownie chunks makes for the perfect soul soother when the only thing that can calm your nerves or combat the extreme summer heat is a serving of chocolate. Another great thing about Cara Mia, Amici's gelato arm, is that it offers a junior scoop size—if you don't want anything too heavy, this forgiving serving size lets you have your cake and eat it too. Another comforting fact is Cara Mia has several outlets in the city, so you don't need to scour far and wide for that sweet scoop! No matter which side of the Metro you're traveling to, rest assured that this well-known gelateria will be somewhere within reach.
ADVERTISEMENT - CONTINUE READING BELOW
See a list of Cara Mia branches.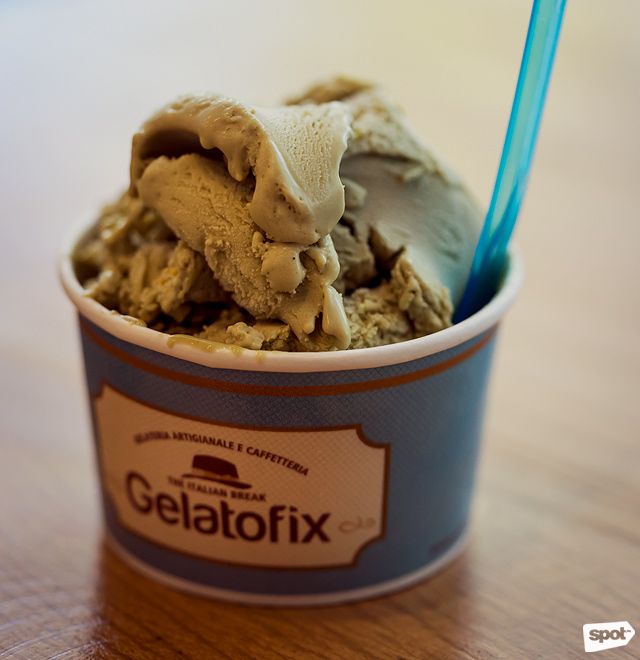 2. Gelatofix
Gelatofix's gelato is a literal winner, being the creation of Gelato World Cup Champion Chef Filippo Novelli. No gelateria is complete without a Pistachio offering and Gelatofix's version does not disappoint. Unparalleled in creaminess, one taste of this will transport you straight to Italy's famed scoop shops. Another boon to Gelatofix is their menu—the café, with their restaurant set-up and cool AC (especially important amidst the streets and sidewalks of BGC!) is incredibly welcome. As a complete full-service restaurant, it also offers some savory fare to help balance out your sweet tooth.
Gelatofix is at G/F BGC Corporate Center, 11th Avenue corner 30th Avenue, Bonifacio Global City.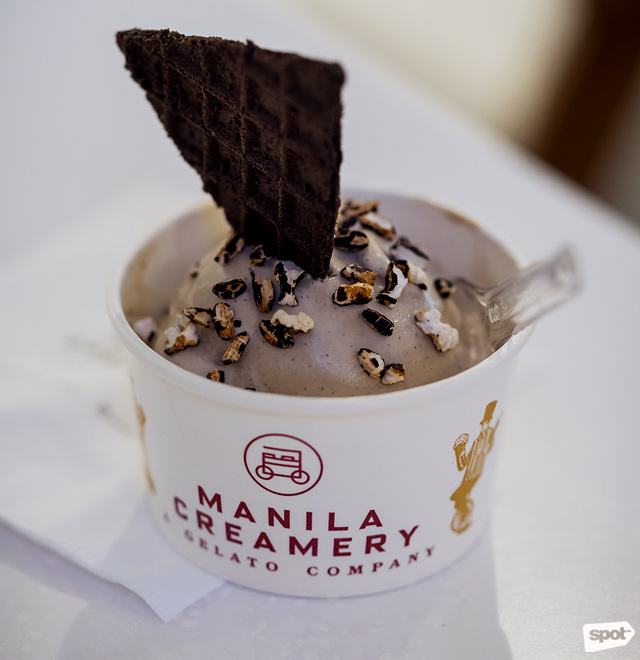 ADVERTISEMENT - CONTINUE READING BELOW
It's hard enough to resist gelato, but when doused in flavors that are purely Pinoy, it's virtually impossible. Manila Creamery does gelato one better by featuring unique, never-before-seen flavors that can rival an Italian menu any day. Their best-selling Tutong na Kanin (P100/single scoop) gelato is subtle, smooth, and will delight people looking for a cool treat minus the extreme shot of sweetness that comes with most icy treats. Reminiscent of toasty pinipig, it is paired (as is all Manila Creamery's gelato) with a crunchy chocolate waffle crisp—the perfect foil to Tutong na Kanin's authentically Filipino flavor. For one, their spot right beside UP Town Center's movie theaters says they're a no-muss, no-fuss shop that holds just a few tables and chairs. Don't be fooled though, their simple set-up across their branches belies the delicious flavors you'll come across inside.
See a list of Manila Creamery branches.
Photos by Toto Labrador and Vincent Coscolluela
Share this story with your friends!
---
Help us make Spot.ph better!
Take the short survey
Load More Stories