These Menu Items Are Proof That KFC Can Be Extremely Creative
They had a love affair with cheese.
(SPOT.ph) Who is even surprised anymore when KFC launches another item that looks like it's been thrown together by someone who raided their fridge after midnight yet still managed to create something genius? Recently, KFC made buzz online for Fried Chicken Mac & Cheese Buckets, which are as good as they sound. Unfortunately, the bowls of macaroni and cheese topped with bite-sized Zinger pieces are only available in KFC Malaysia. While we cross our fingers they bring it to the Philippines soon, let's reminisce on the equally crazy stuff our KFC Philippines has whipped up in the past.
What are the menu items that KFC Philippines has offered in the past?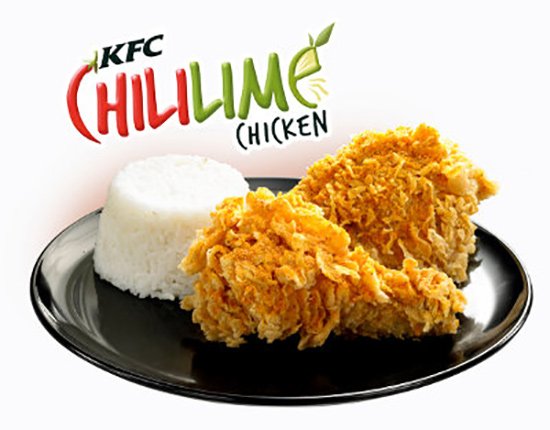 ChiliLime Chicken
Eight years ago, KFC decided to spice things up with a pretty bold fried-chicken flavor. Aside from KFC's signature spice blend, this variant also had additional heat from chili and a bright tang from lime. Compared to everything else on this list, the ChiliLime Chicken isn't that out-of-the-left-field, but you have to admit it's unique.
ADVERTISEMENT - CONTINUE READING BELOW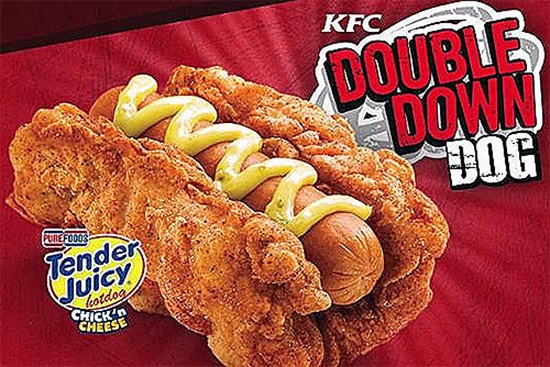 CONTINUE READING BELOW
Recommended Videos
Double Down Dog
KFC is famous for creating the combo to end all fast-food combos: The Double Down, which trades the usual sesame-seed buns on their burger for fried-chicken fillets. But trust KFC Philippines to take things to the next crazy level. The Double Down Dog sandwiches a hot dog between two fried-chicken fillets, something that caught the attention of everyone else around the world. To add to the mayhem, KFC initially only released 50 of these per day and in selected branches only, though they became a mainstay for limited time afterwards.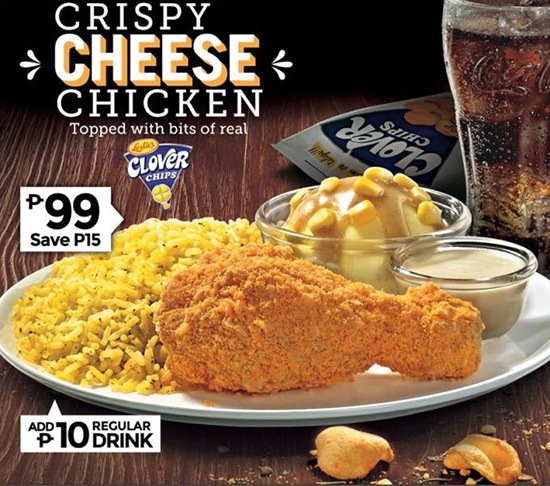 ADVERTISEMENT - CONTINUE READING BELOW
Crispy Cheese Chicken
If we could guess what motto KFC abides to, it's probably "cheese makes everything better." In 2014, KFC breaded their chicken with crushed cheese chips to create the Crispy Cheese Chicken. Not only did this have a delightfully crunchy exterior, but the chips made this cheesier with a hint of heat—perfect with fluffy rice and lots of gravy.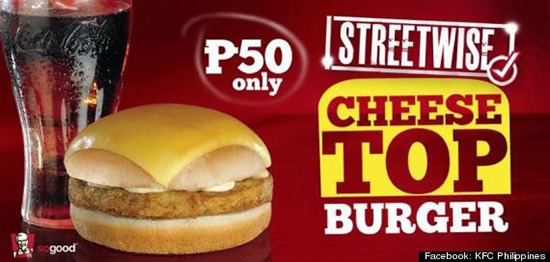 Cheese Top Burger
It sounds great in theory. After all, who doesn't want more cheese in their burger? Though in this case, it's more accurate to say on their burger: The Cheese Top Burger is a regular chicken burger with a piece of American cheese melted on top of the bun. Understandably, the Cheese Top Burger attracted attention globally, though not all of it was good. Neetzan Zimmerman of Gawker.com ranted that "KFC has quite literally topped itself in the dumb sandwich department with the introduction of its latest napkin industry tie-in, the Cheese Top Burger," which KFC Philippines defended themselves against. Admittedly, it does look pretty weird but if you think of it like the cheese on top of puto, it doesn't seem so bad now, does it? 
ADVERTISEMENT - CONTINUE READING BELOW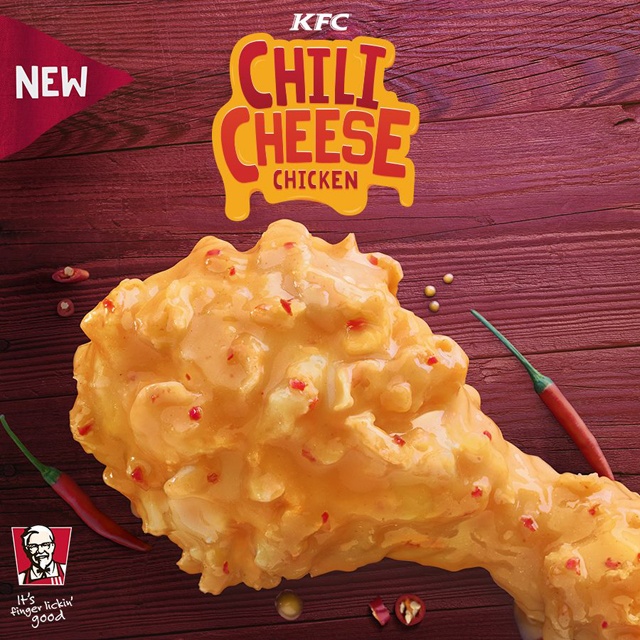 Hot And Cheesy/Chili Cheese Chicken
KFC's love affair with cheese didn't end with the Cheese Top Burger. In 2015, they decided to glaze their spicy fried chicken with melted Romano cheese, creating the Hot And Cheesy. It was messy to eat, but the cheese sauce had a distinct sharp note to it that made eating this an experience—whether it was a good or bad one's up to you. In 2017, they brought this back, calling it the Chili Cheese Chicken, switching the first cheese sauce with a spicier cheese-and-chili blend.
See a list of KFC branches.
Share this story with your friends!
---
Help us make Spot.ph better!
Take the short survey
Load More Stories