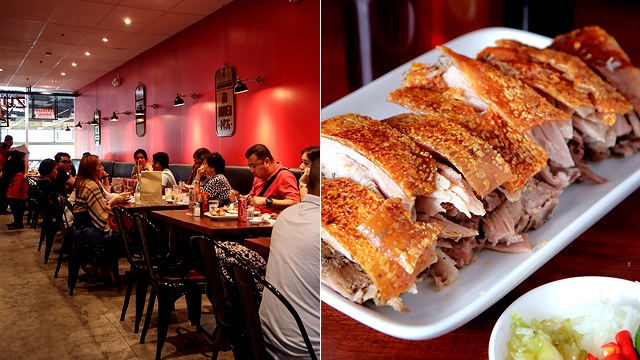 (SPOT.ph) A Filipino party is never complete without lechon, but that doesn't mean you have to wait for a special occasion just to get your hands on some golden roast pig. We round up a list of 10 restaurants in Manila that offer lechon or lechon belly to help satisfy those lechon cravings, whenever they may strike.
ADVERTISEMENT - CONTINUE READING BELOW
Here are ten famous spots in Manila where you can grab delicious lechon: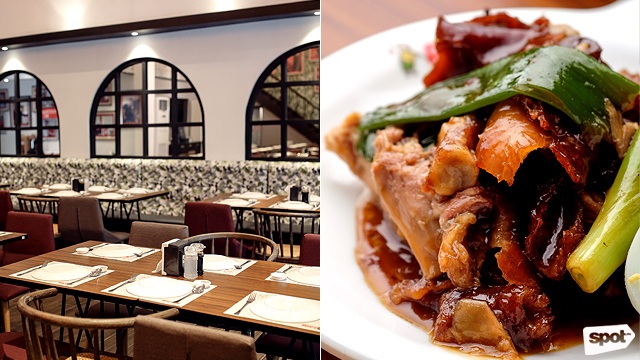 Rico's Lechon
After over 20 years in Cebu, the famed Rico's Lechon has finally made its way to Manila. In order to keep their lechon as close to the original as possible, they flew in staff from Cebu to oversee the roasting. Though the lechon is roasted indoors on site (compared to their outdoor set-up in Cebu), Rico's makes sure to cook it for the same amount of time—over four hours—to help achieve that crisp brown skin and tender melt-in-your-mouth meat. The Original is best for those hoping to try Rico's for the first time, but more adventurous types may want to try out their Spicy variant, which comes with a kick of heat thanks to a spicy garlic stuffing. They also offer some dishes exclusive to Manila like Seafood Kare-Kare and Fried Rice Trio with danggit, daing, and tuyo bits.
ADVERTISEMENT - CONTINUE READING BELOW
Recommended Videos
Rico's Lechon is at 5th Avenue corner 26th Street, Fort Strip, Bonifacio Global City.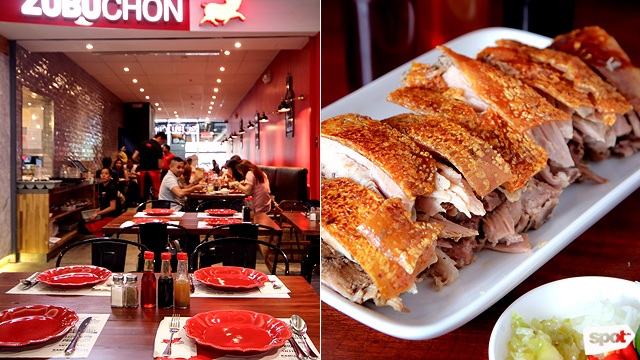 Zubuchon
When you're branded as the "Best pig…ever" by no less than Anthony Bourdain, it's a hard reputation to live up to. Thankfully, Zubuchon's Manila branches don't disappoint. The pigs used for their famed lechon come straight from Cebu and the owner, Joel Binamira, makes sure the recipe doesn't stray from the original. The pig is stuffed with 15 different kinds of spices and herbs roasted over hot charcoals for nearly three and a half hours, to achieve that signature crispy skin. You can adjust the taste of their pork by using Zubuchon's own chili oil, vinegar, and soy sauce but true lechon connoisseurs know that the pork is best eaten without any sauce. You can also opt for the extra crispy Boneless Lechon, and add in other dishes like their cheesy Baked Scallops, too.
ADVERTISEMENT - CONTINUE READING BELOW
See a list of Zubuchon branches.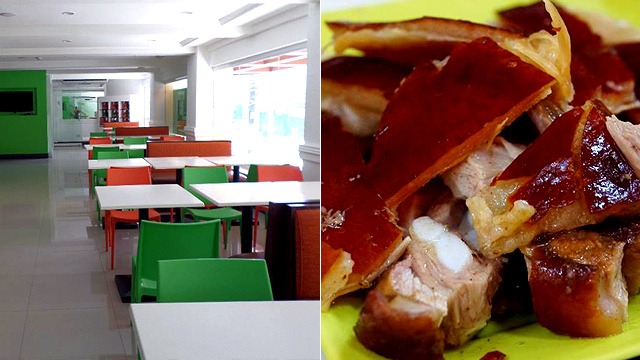 Lydia's Lechon
Before Cebu lechon managed to make its way to Manila, there was Lydia's. The popular lechon restaurant has been around since the 1960s and the old family recipe used for its lechon hasn't changed since. The pork is mildly seasoned, allowing the pig's natural juices to stand out. Pair it with their signature sarsa to help bring out the pork's full flavor. And to make sure none of their roast pigs are wasted, Lydia's also has a mean lechon paksiw, which is stewed for hours until the pork is melt-in-your-mouth tender.
ADVERTISEMENT - CONTINUE READING BELOW
See a list of Lydia's Lechon branches.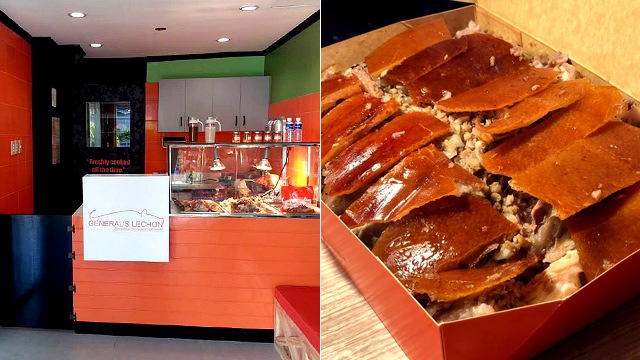 General's Lechon
With its thin crispy skin and flavorful stuffing, it's unsurprising that General's is one of Manila's best-loved lechon. In fact, it even topped the list of top 10 lechon in Manila twice! General's pigs are always perfectly seasoned, with lemongrass, salt, leeks, and other secret ingredients. They also offer four kinds of lechon, from the classic Original, to the spicy Curry, and to the Garlic and Chili-Garlic. The restaurant also prides itself on consistency by making sure each of the pigs is roasted to a precise time and temperature. Aside from lechon, General's also offers classic Filipino-Spanish dishes like Caldereta, Mechado, and Callos.
ADVERTISEMENT - CONTINUE READING BELOW
General's Lechon is at 2/F Petron Station, EDSA corner Arnaiz Avenue, Makati City.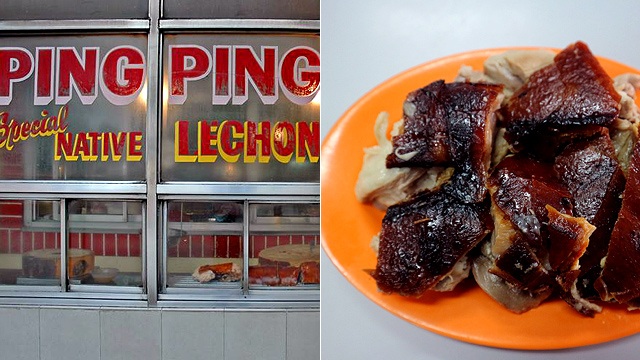 Ping Ping's
This eatery is always busy, even on La Loma street where practically everyone offers lechon, so you know they carry the good stuff. Don't be turned off by the dark brown, almost charred skin of their pig—the extra-crisp skin adds a whole other dimension to the pork, giving it a little smoky flavor. There are also distinct lemongrass notes here, which complements the pork's natural juices nicely. Aside from lechon, Ping Ping's also offers carinderia staples like fried rice, pancit canton, and vegetable dishes if you need something to cut through the umay.
ADVERTISEMENT - CONTINUE READING BELOW
Ping Ping's is at 14A Bonifacio Avenue, La Loma, Quezon City.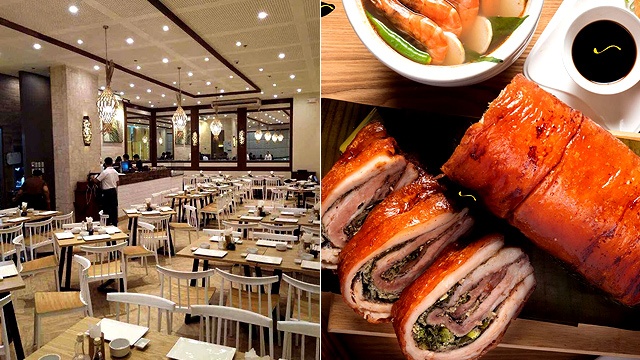 Hukad: Golden Cowrie
For many Cebuanos, Hukad: Golden Cowrie is the go-to for birthdays, graduations, and other special events. And now, Manileños no longer need to book a flight to get a taste of this Cebuano institution. Although their lechon comes in pork belly form, it is still tastes very much like your classic Cebu lechon. The lechon belly is flown in straight from Cebu and is stuffed with traditional herbs and spices. The skin is ultra-crispy and comes with a thin layer of fat, making it indulgent but not heart-attack inducing. Plus, your lechon belly comes with unlimited rice! What's not to love?
ADVERTISEMENT - CONTINUE READING BELOW
See a list of Hukad: Golden Cowrie branches.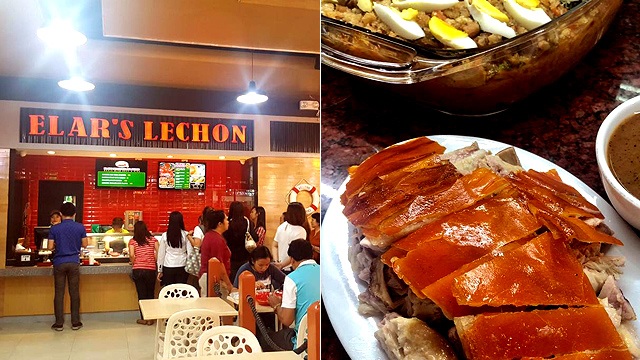 Elar's Lechon
With their unassuming storefront, it may be hard to believe that Elar's Lechon is home to one of the best roast pigs in Quezon City. But with pork that's super soft and tender, one can tell why there always seems to be a line for the restaurant. Their sauce is also a standout, with some customers even drowning their rice in it. Rice meals with generous amounts of lechon will only set you back P150.
ADVERTISEMENT - CONTINUE READING BELOW
See a list of Elar's Lechon branches.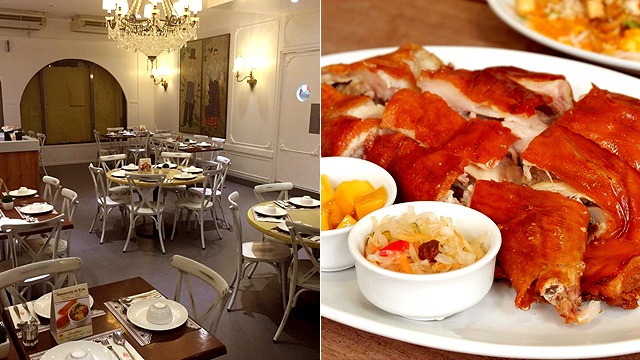 Crisostomo
Crisostomo may not be known as a lechon restaurant but they actually offer an incredible version. The Valencia Lechon is their take on the Spanish cochinillo, a whole suckling pig roasted in an earthenware pot. The result is tender meat and extremely crispy skin. Crisostomo pairs their lechon with sarsa as well as pickled vegetables, which helps round out the roast pig's rich flavor.
ADVERTISEMENT - CONTINUE READING BELOW
See a list of Crisostomo branches.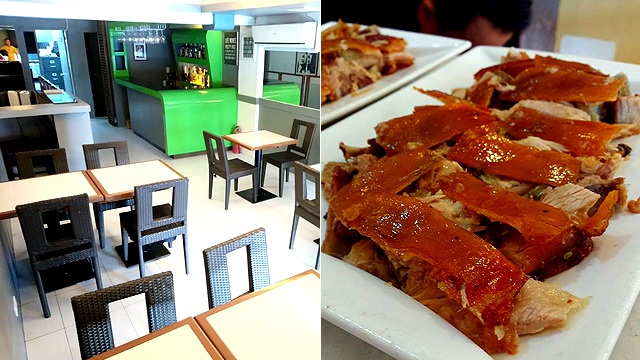 Yobob
Unlike other Cebu lechon shops on this list, Yobob actually originated in Manila. But the recipe is still as authentic as it can get, with the owner hailing from Cebu City. Yobob's lechon is seasoned with herbs and spices like lemongrass, scallions, and garlic for tender, savory pork. Although this is best eaten without sarsa, the menu also offers a sizzling version with gravy for diners who prefer their pork with sauce.
ADVERTISEMENT - CONTINUE READING BELOW
Yobob is at 265B Scout Fernandez, Tomas Morato, Quezon City.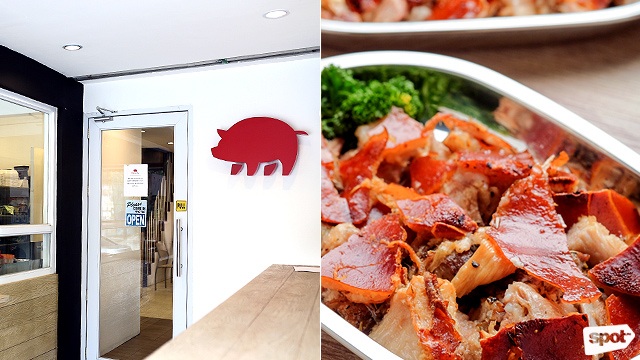 The Lechon Shop
If you think there's only one way to make lechon, The Lechon Shop will prove you wrong. Aside from making the classic roast pig (which actually ranked number two on our list of Top 10 Lechon in Manila), The Lechon Shop experiments by making Carnivore Lechon, which is stuffed not only with traditional seasoning like rosemary, thyme, and garlic, but also with bacon, potatoes, and three kinds of sausages—an extremely hearty roast that will make any meat lover happy. If you're dining solo, the rice meals—especially the Lechon Adobo Flakes with crisp lechon flakes cooked in soy sauce and vinegar—are must-tries.
ADVERTISEMENT - CONTINUE READING BELOW
The Lechon Shop is at 49 Scout Tobias Street, Quezon City.
Share this story with your friends!
---
Help us make Spot.ph better!
Take the short survey
Load More Stories