Top 10 Asado Siopao in Manila
Is your favorite on the list?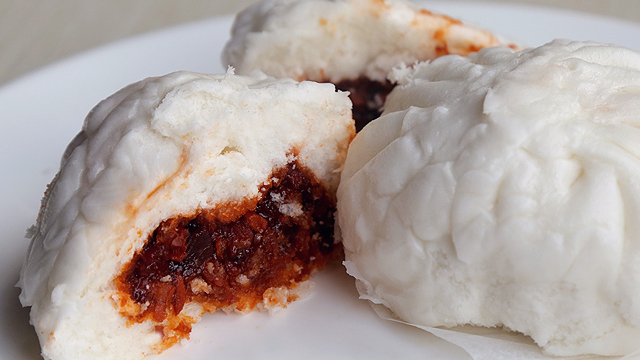 (SPOT.ph) If you're like us, then we know you're as much a fan of merienda as we are. One of the staples of this afternoon tradition is siopao, a pillowy soft, sweet-savory snack that traces its roots to Chinese pork buns or char siu bao. For that occasional dim sum break, you might go for a basket or two of asado siopao, those white steamed buns filled with cubes or flakes of pork, which sometimes comes with a side of thick, brown sauce. 
ADVERTISEMENT - CONTINUE READING BELOW
CONTINUE READING BELOW
Recommended Videos
There are several places around the Metro where you can find this filling treat, but we've found 10 tasty picks that you'll gladly save room for at the dim sum table. While you might already have your favorites, we judged ours based on flavor, filling to dough ratio, presentation, and the sauce (for the ones that came with it). Sorry folks, no bola-bola to see here!
All SPOT.ph Top 10 lists are researched, paid for, tested, and selected by the writers and editors. They are discreetly conducted without any notice made to the establishments or their owners.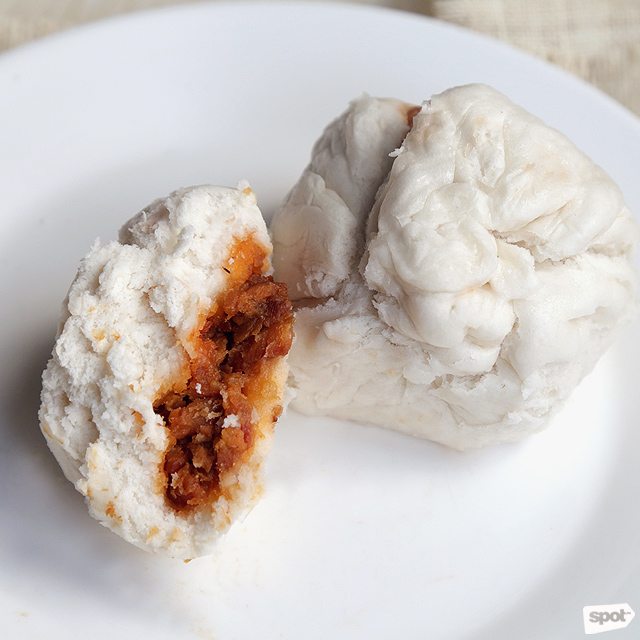 10. Kowloon House (P65/two pieces)
ADVERTISEMENT - CONTINUE READING BELOW
This long-standing institution is a no-brainer for people who just want something quick and flavorful. Their siopao, for one, is a steal, with two pieces under P100. Presentation isn't really this siopao's strongest point, although the soft, standout dough is flavorful enough to eat on its own. The asado filling is a bit dry, even with its visible chunks of fat, and looks more orange in color than the others on the list. The orange and brown sauce that go with the pack don't add much in terms of flavor, but we'd still give this siopao a chance for its unbeatable price point.
Kowloon House has branches all over Metro Manila.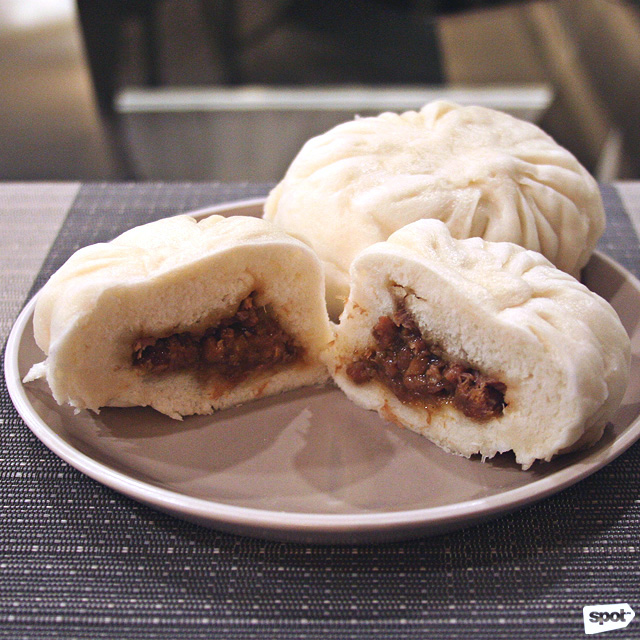 9. Comida China de Manila (P120/two pieces)
ADVERTISEMENT - CONTINUE READING BELOW
While it's a restaurant that's usually packed because of family celebrations, Comida China de Manila is also a good stop if you're craving siopao. If you don't mind the wait (ours took about 20 minutes before arriving at the table), you'll be getting two large pieces that won't disappoint. The smoky taste of the brownish asado filling makes up for the thick dough around it—although we know some people won't mind this unequal proportion. This siopao is best enjoyed with its sweet sauce, so go ahead and pour it generously over those buns.
Comida China de Manila is at FRDC Building, 106 E. Rodriguez Jr. Ave (C5), Barangay Ugong, Pasig City.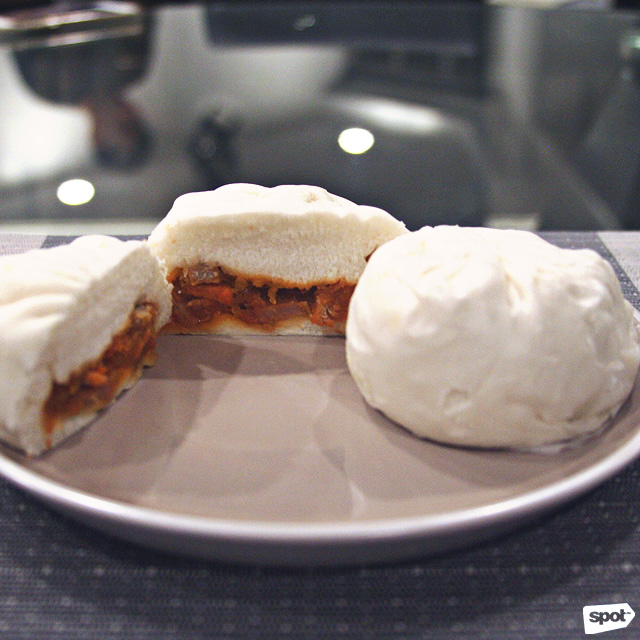 8. King Bee (P110/two pieces)
ADVERTISEMENT - CONTINUE READING BELOW
It could very well be one of your usual haunts for Chinese food, but have you ever paid attention to King Bee's siopao? While it's not on top in terms of its filling-to-dough ratio, it still leaves a memorable mark in terms of flavor. We spotted some extenders in the filling, and the orange-colored asado might be a bit of a surprise, but biting into this large portion of siopao would still go well with your order of soup or other dim sum favorites on their menu.
See a list of King Bee branches.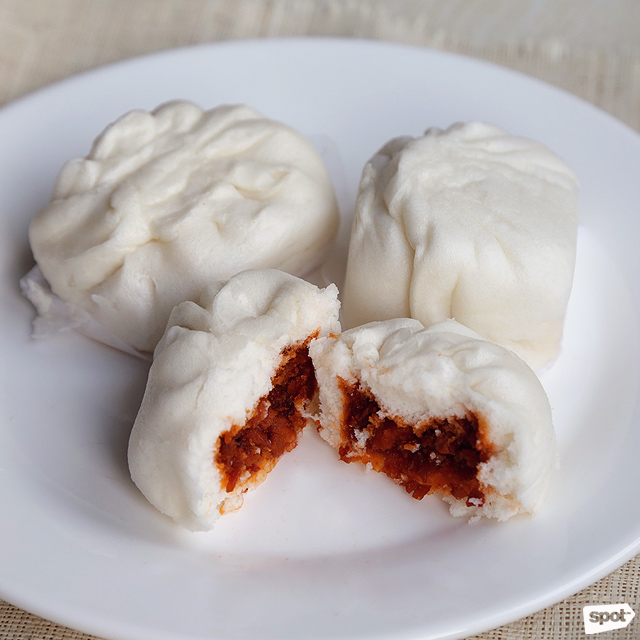 7. King Chef Dimsum (P90/three pieces)
ADVERTISEMENT - CONTINUE READING BELOW
We like that King Chef Dimsum thought of making this siopao look presentable, but in the end it's all about the taste. The red filling comes with its share of minced fat, and a douse of that tasty sauce gives a good kick of flavor once added. The dough is bouncy to the touch and not at all dry, although it's still best appreciated with that asado filling. Each siopao is small enough to finish in a few bites, but at P90 you'll definitely end up with more than just one bamboo basket of this on your table.
See a list of King Chef Dimsum branches.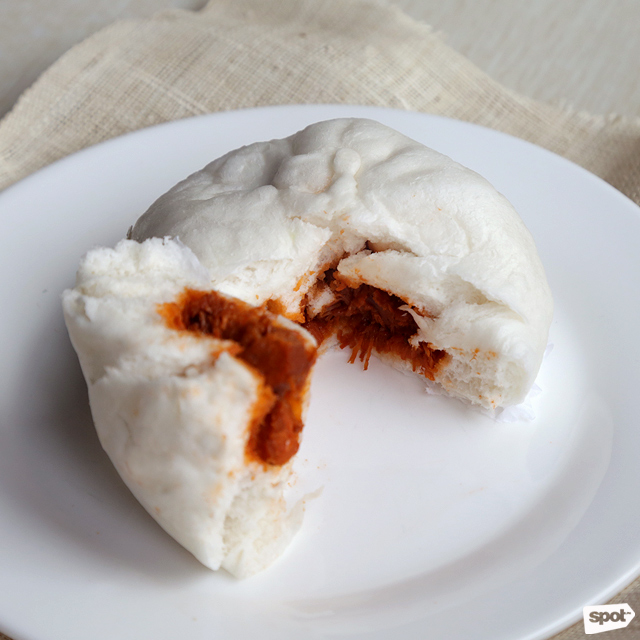 6. Ling Nam (P85)
ADVERTISEMENT - CONTINUE READING BELOW
Your usual Chinese restaurant haunts will most likely include Ling Nam. An order comes with just one large portion of siopao, with its perfectly shaped and smooth dough on the outside, and flaky pork asado inside, which stands out for its bright orange color. The pork filling falls a bit short on flavor, and the slightly sugary thick sauce doesn't add much to taste, but this siopao still gets high marks because you'll get almost equal amounts of dough and filling in every bite.
See a list of Ling Nam branches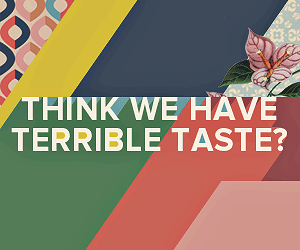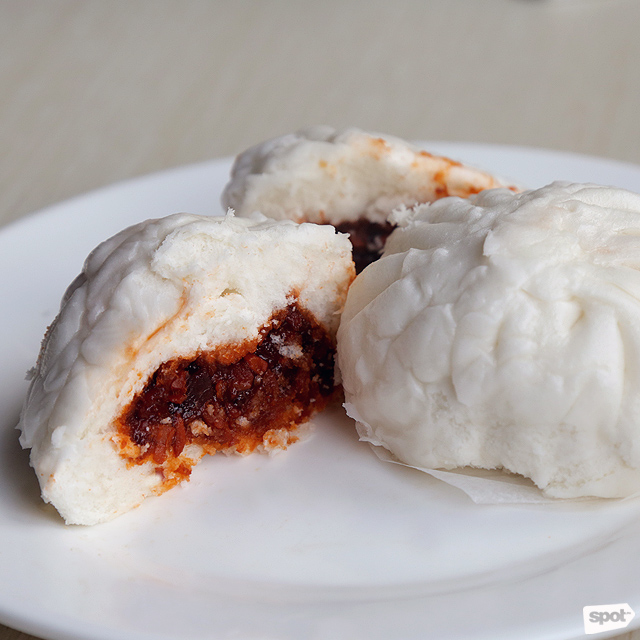 5. Yang Chow Dimsum and Tea House (P95/two pieces)
ADVERTISEMENT - CONTINUE READING BELOW
The next time your siopao takes a while to get to your table, take that as a sign of possibly tasting great things ahead. The siopao from Yang Chow arrives freshly steamed, but even if you decide to take it home and steam or reheat it yourself, you'll find that this dough and filling pair still fits perfectly. The dough is smooth and tender to touch, while the reddish pork-asado filling gives off a slightly sweet flavor that goes well with the side of hoisin sauce that goes with your order.
Yang Chow Dimsum and Tea House is at Eton Centris Walk, EDSA corner Quezon Avenue, Quezon City; and Marcos Highway, Antipolo City.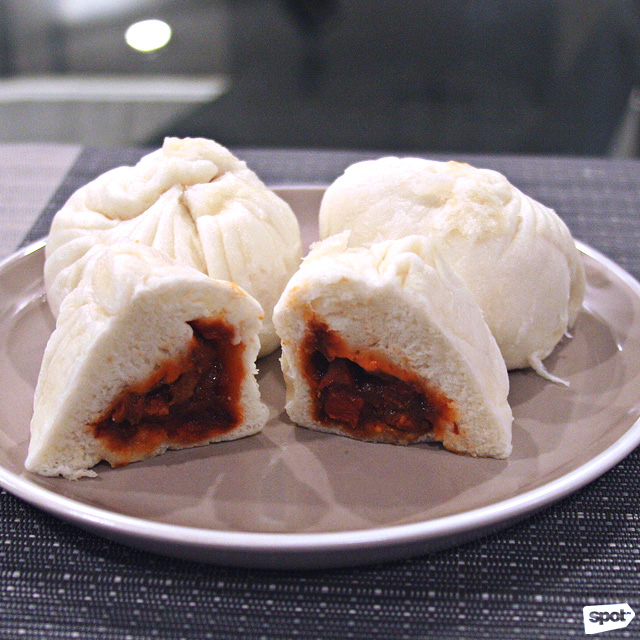 4. Gloria Maris (P120/three pieces)
ADVERTISEMENT - CONTINUE READING BELOW
Our order of siopao from Gloria Maris arrived slightly deformed from its packaging, but this turns out to be a case where you can't judge a book by its cover. The dough is quite heavy and compact, so that it feels like every bite matches up with its interior, which is made up of a generous portion of pork asado. The filling—which has its share of fat bits, is coated with just enough sauce that tends to clump up in some areas, but the overall flavor remains topnotch. You might not even have to reach for that side of hoisin for this siopao, as you'll most likely finish all three without even realizing it.
See a list of Gloria Maris branches.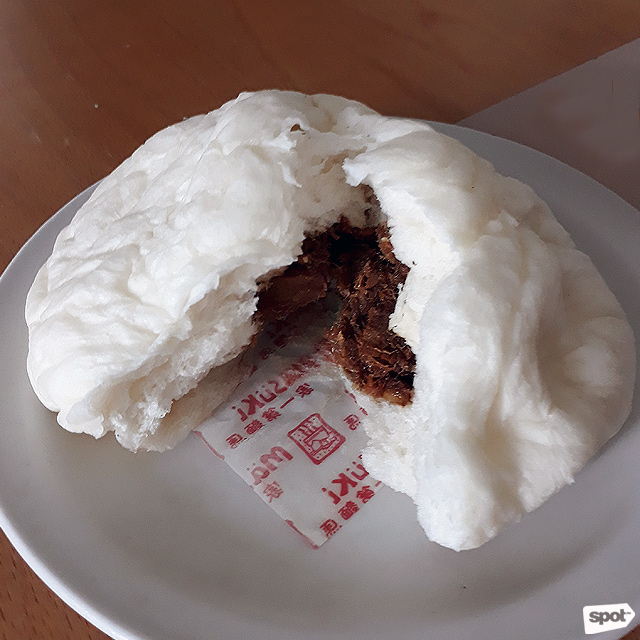 3. Masuki (P60)
ADVERTISEMENT - CONTINUE READING BELOW
When it comes to siopao, many people agree that Masuki has one of the best. Masuki's siopao sports a no-fuss exterior, but once you break it apart and get to that pork filling, those textures will certainly leave a strong impression. While the sauce on the side doesn't add much flavor, the brown filling resembles a tasty pork floss with flaky and chunky portions, which pairs well with the slightly sweet and light dough that envelopes the meat. Removing that outer layer of dough might be an option for some, so that you get to dive right into that soft dough and simply enjoy those standout flavors.
See a list of Masuki branches.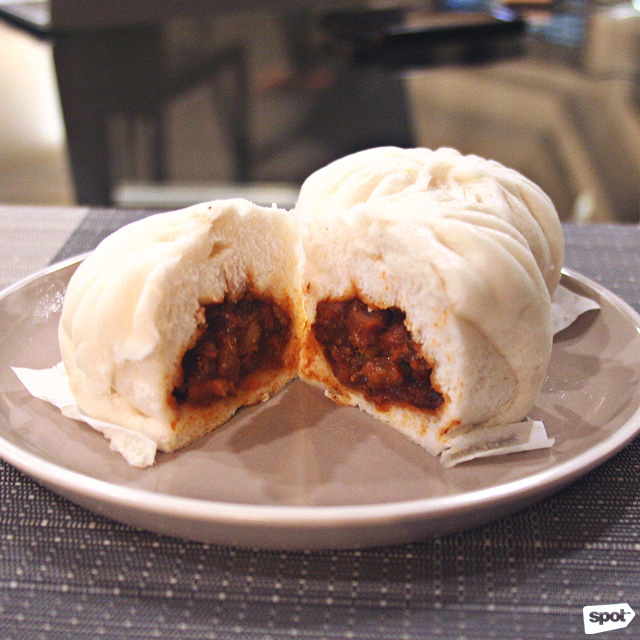 2. Wai Ying (P85/two pieces)
ADVERTISEMENT - CONTINUE READING BELOW
You probably already know that Wai Ying has some of the best-tasting dim sum in town, so go ahead and add their siopao to your list of favorites. The dough is firm and thick but doesn't take over that reddish-orange pork asado filling which exhibits that memorable smoky flavor. You might come across some tendon or fat bits while munching on this siopao, but it still ranks high for presentation and its balanced pork-to-dough ratio. This one doesn't come with any sauce, so take that as a vote of confidence that what you have in your hands is something close to spectacular.
Wai Ying is at 810 Benavidez Street, Binondo, Manila (Fast Food); 832 Benavidez Street, Binondo, Manila; and EGI Taft Tower Condominium, Taft Avenue, Manila.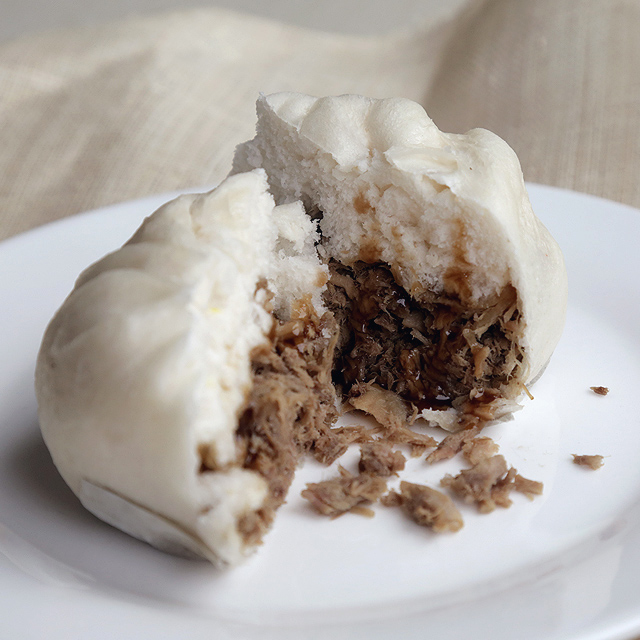 1. Ma Mon Luk (P50)
ADVERTISEMENT - CONTINUE READING BELOW
No one does mami and siopao like Ma Mon Luk, and our recent visit goes to show that they're still at the top of their game. The perfectly knotted exterior of their regular asado siopao hides a flaky brown filling that might look dry at first, but once tasted exudes a slightly salty yet well-balanced flavor that is unlike any other siopao on this list. It's customary for some to remove the hard outer layer of dough, but what shouldn't be ignored is that must-try brown sauce on the side, which adds a layer of sweetness that highlights all the best things about this bun. The crowds still flock to Ma Mon Luk, and after getting a taste of this, it's easy to understand why.
Ma Mon Luk is at 408 Quezon Avenue, Quezon City; and 545 Quiapo Boulevard, Quiapo, Manila.
Photos by Loren Evangelista-Agaloos
Are you sure you want to delete this list?

Load More Stories