Noor
Forbeswood Heights, Forbes Town, Burgos Circle, Taguig City
Contact: 0956-156-3426
Open daily from 11 a.m. to 12 a.m.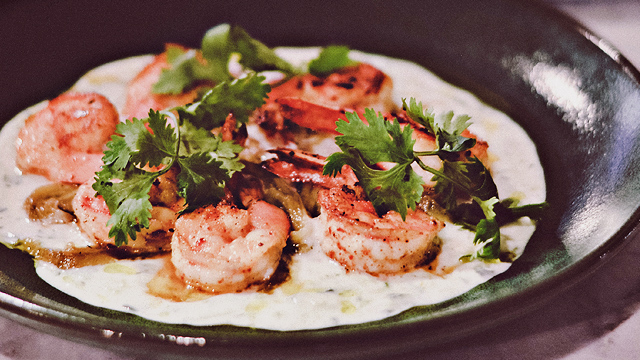 (SPOT.ph) "Noor" is a Hebrew word for "flame" or "light." These two terms capture what Noor wants to do for traditional Mediterranean cuisine—put a fire underneath it so diners could see it in a new light. People usually associate Mediterranean cuisine with Greek or Middle Eastern food, an association that Chef Or Hakmimi wants to veer away from by putting a new spin on the region's classic dishes.
ADVERTISEMENT - CONTINUE READING BELOW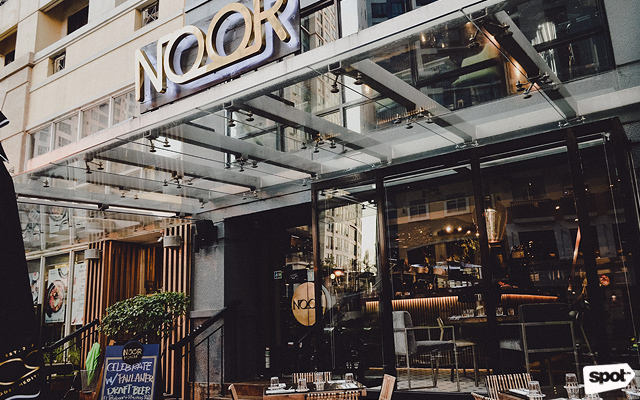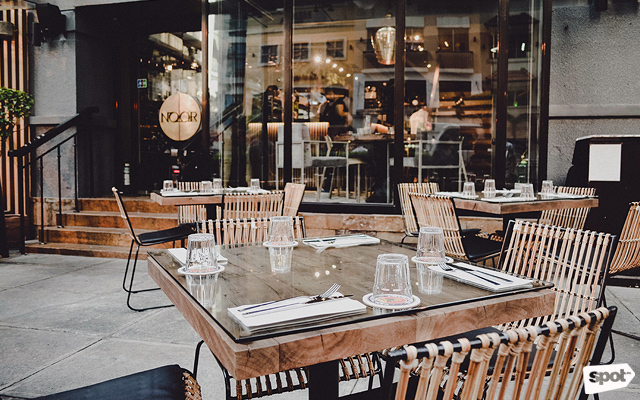 "There are 30 countries [in the Mediterranean region], and what we did was fuse all these influences," he says. Chef Or, together with his wife and restaurant manager Tair, conceptualized a restaurant inspired by Tel Aviv's Levinsky Market, a wellspring for all kinds of spices, which in turn makes it a melting pot of different cultures. The Noor menu mirrors this melding of influences through a variety of fusion dishes, offered as set meals during lunch time and à la carte for the rest of the day.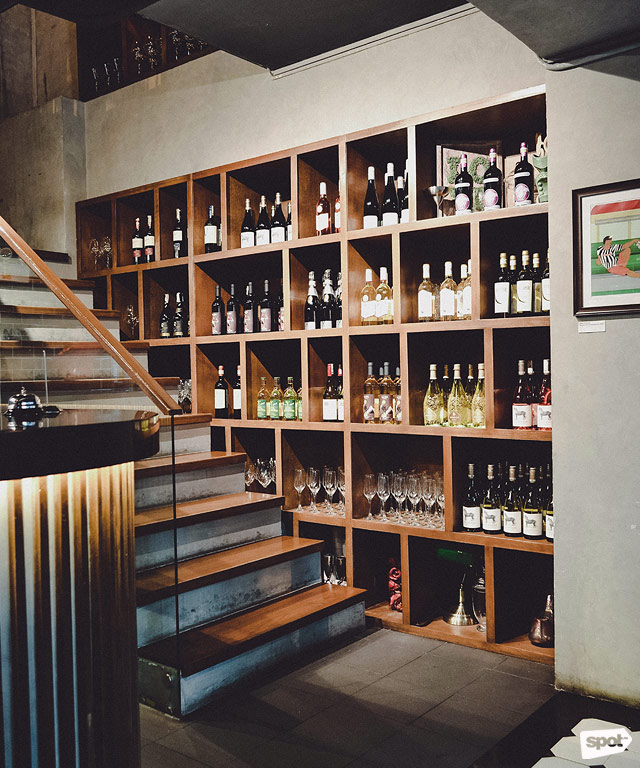 ADVERTISEMENT - CONTINUE READING BELOW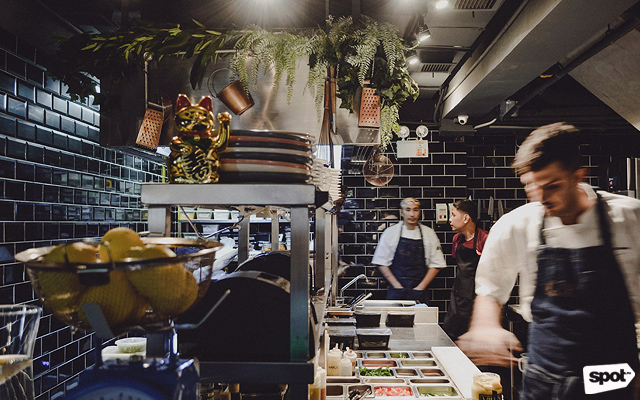 Chef Or's casual yet enthusiastic approach to cooking is reflected in the restaurant's interiors. Mood lighting throws a laid-back vibe over the interiors, inviting diners to sit back, relax, and enjoy the food coming their way, yet there's a vibrant energy that you can feel in every corner. Channeling a pub atmosphere was something Chef Or and managing partner Hezi Cohen were very particular about. "We want a place that's for everyone, where everyone feels comfortable. You don't have to be dressed up to come here," says Cohen.
ADVERTISEMENT - CONTINUE READING BELOW
Since Mediterranean cuisine is known for its fresh ingredients, pursuing a new twist on traditionally accepted recipes seemed like a natural idea for the chef. There is a concerted effort to highlight vegetables, making for a menu that's packed with healthy options. "I like vegetables, they're very healthy. I noticed that salads aren't very common around here—when you order one, there's always chicken or bacon on top," says Chef Or with a laugh.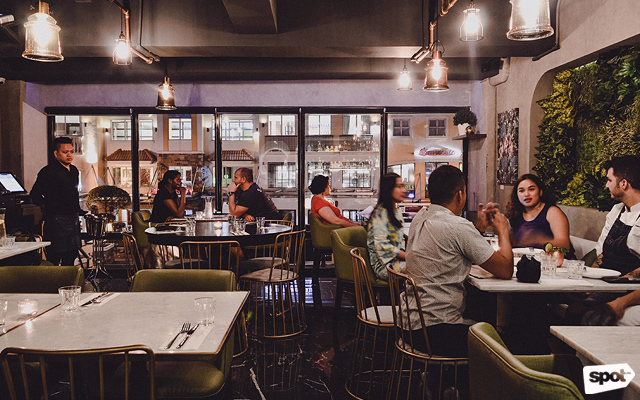 ADVERTISEMENT - CONTINUE READING BELOW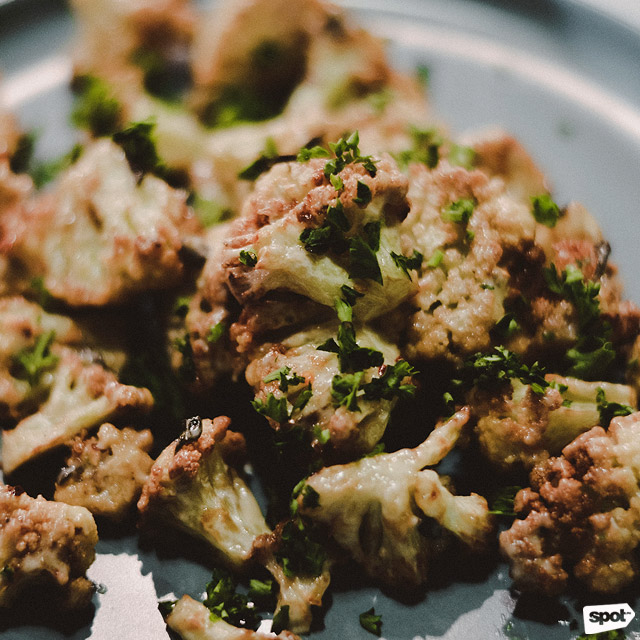 Noor's goal of promoting vegetables successfully stirs interest with healthy offerings. The Deep-Fried Cauliflower (P350) has an unexpectedly addictive quality. The chopped cauliflower is deep-fried and coated with specially made Caesar aioli that gives each piece a sweet-tangy flavor. It's no surprise that this dish is a bestseller—a crowd-pleasing appetizer you can't resist popping into your mouth.
ADVERTISEMENT - CONTINUE READING BELOW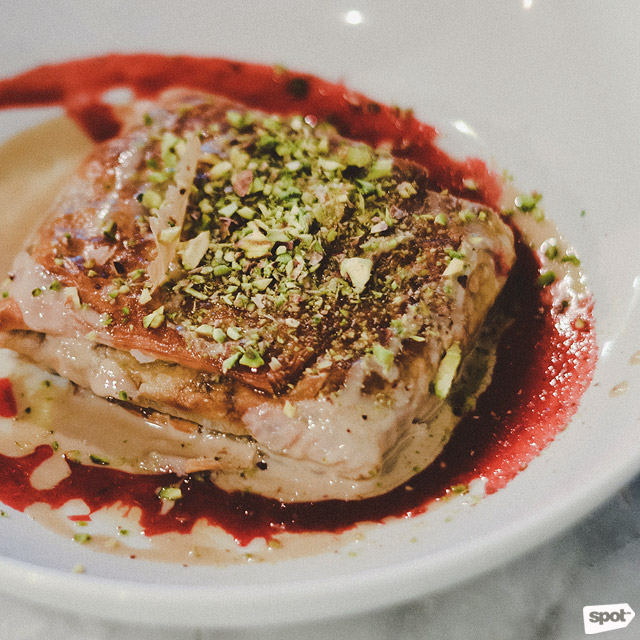 The perfect example of Chef Or's reinvention of a classic Mediterranean dish is the Lamb Baklava (P460). A common Greek dessert, baklava is filo pastry stuffed with shredded pistachio and sweetened with sugar, syrup, and honey, then cooked and cut into small pieces. The chef serves it as an entrée, wrapping lamb, beef, and leeks with the crusty pastry. The tahini dressing drizzled over the baklava is another surprise, and raspberry sauce spikes the dish with additional sweetness. The dish retains the crunchiness one normally expects from a baklava while enhancing it with a robust beefy flavor.
ADVERTISEMENT - CONTINUE READING BELOW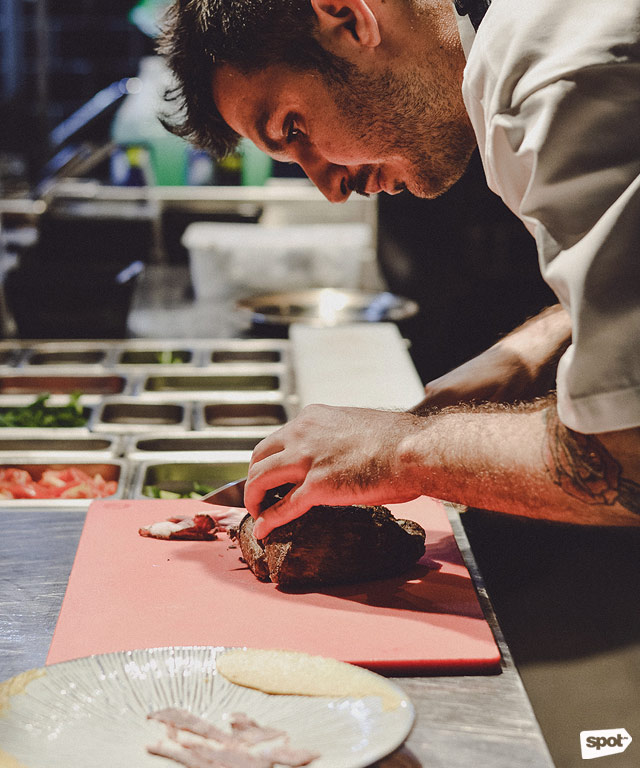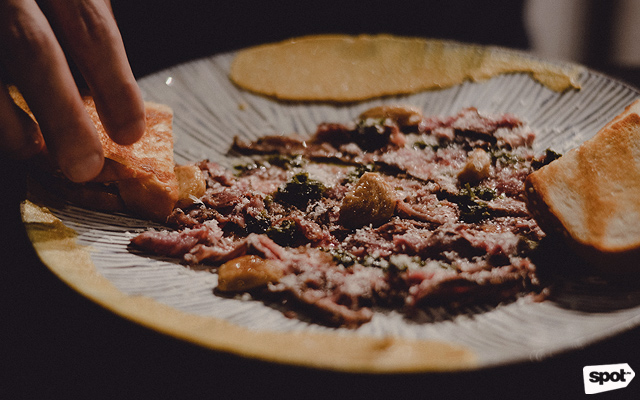 ADVERTISEMENT - CONTINUE READING BELOW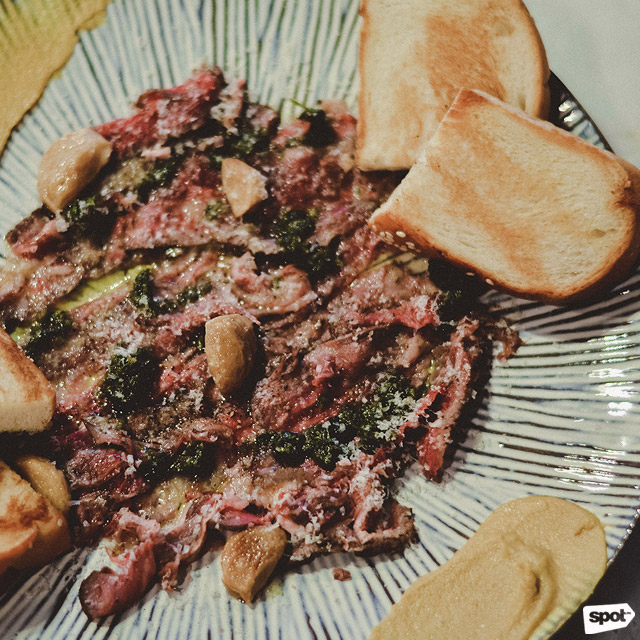 Another worthwhile dish on the menu is the Roast Beef Carpaccio (P500), whose paper-thin strips are suffused with a variety of spices and sprinkled with parmesan cheese. Garlic, chimichurri, and a specialty spice called ras el hanout give the medium-rare strips a succulent sheen, as if the spices have given the beef new life. The beef is meant to be spread over slices of challa bread (Jewish brioche) but before you do, smear mustard on each strip for another layer of flavor!
ADVERTISEMENT - CONTINUE READING BELOW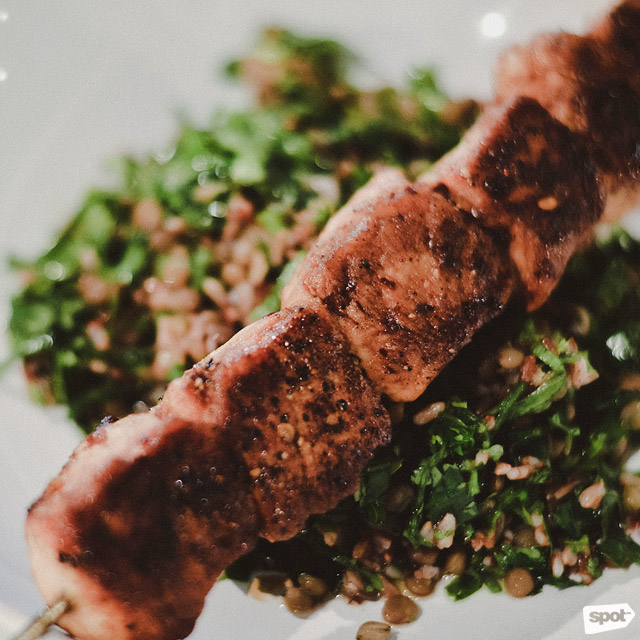 The Salmon Skewer (P680) is one of Noor's lighter options—skewered salmon cubes atop a mound of lentils, red rice, and salad. The salmon cubes are marinated in harissa, a Moroccan chili paste that infuses a slight spiciness in its jolting savoriness. 
ADVERTISEMENT - CONTINUE READING BELOW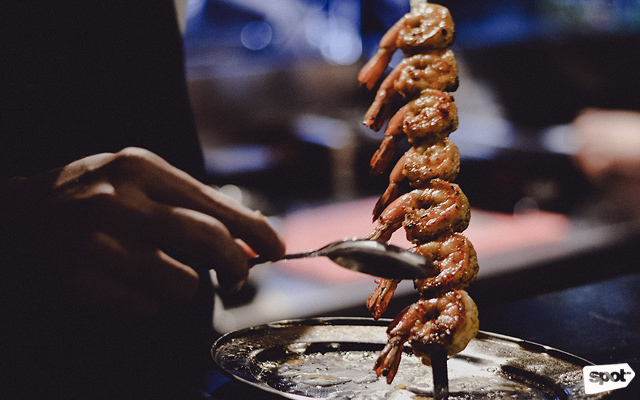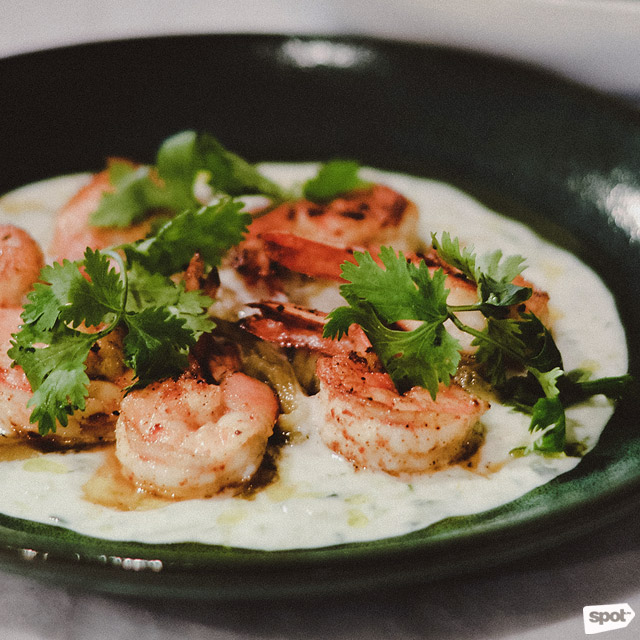 ADVERTISEMENT - CONTINUE READING BELOW
For every dish, Chef Or makes sure you'll get three levels of flavors. The Moroccan Shrimps (P470) is a good test of the chef's philosophy. The shrimps are lathered in tzatziki sauce, or Greek yogurt with shredded cucumber, mint, garlic and Spanish vinegar, and set over a bed of charred eggplants. The refreshing taste of the tzatziki keeps the strong flavors of the other ingredients, so make sure to smother the shrimps with the sauce.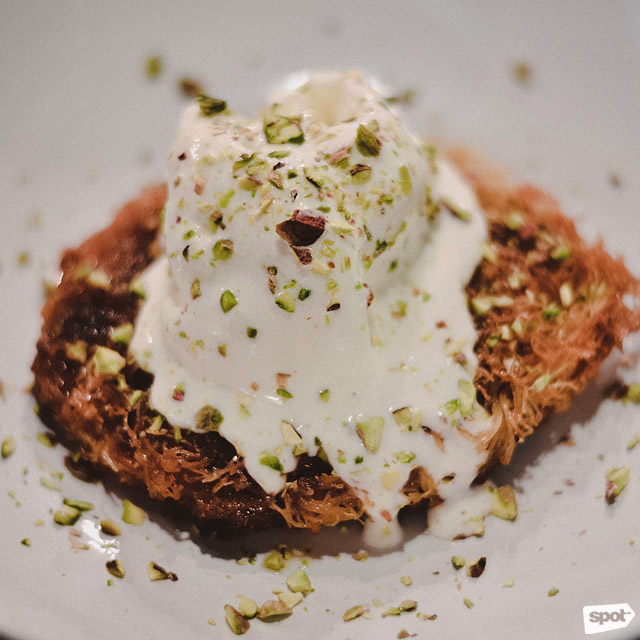 ADVERTISEMENT - CONTINUE READING BELOW
After tasting a whirlwind of spices, indulge in a dessert like the Knafe (P390). The dish is a simple filo pastry filled with ricotta cheese, fried in butter, covered in syrup, then topped with yogurt ice cream. The dessert is as cleansing to the palate as it is sinful, and sublime when eaten warm.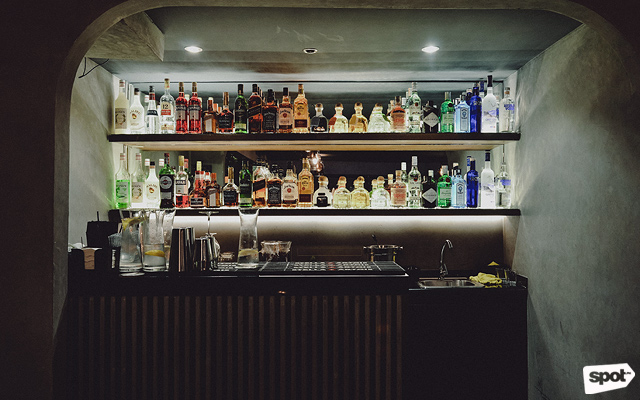 ADVERTISEMENT - CONTINUE READING BELOW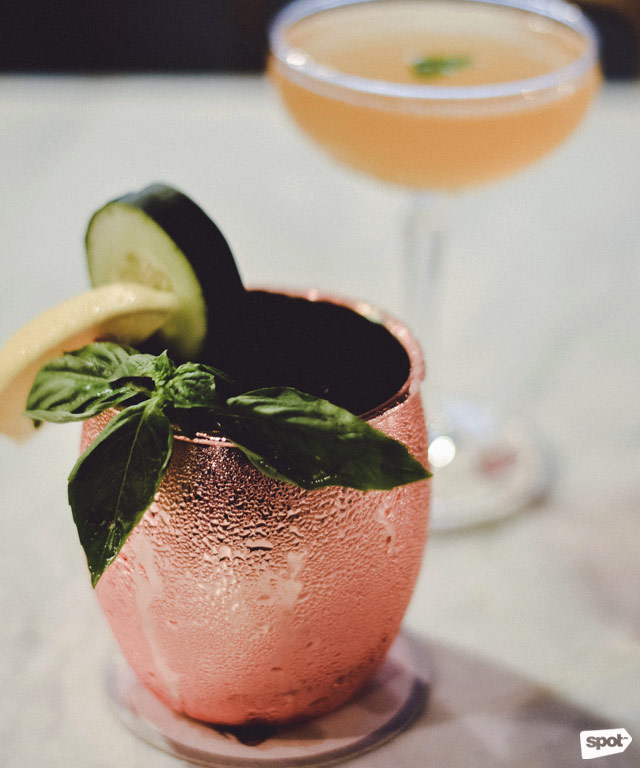 Chef Or claims that all of Noor's dishes are for sharing, consistent with the friendly and relaxed atmosphere they want to promote. "We will never serve food to a single person. We will always place it at the center of the table so customers can eat it from there, and they can share everything," he assures. The chill vibe is supplemented by Noor's selection of wines and cocktails, with the Noor Cocktail's (P380) infusion of gin, cucumber lemon juice, tonic water, and fresh basil sure to relax you while you're enjoying your meal.
ADVERTISEMENT - CONTINUE READING BELOW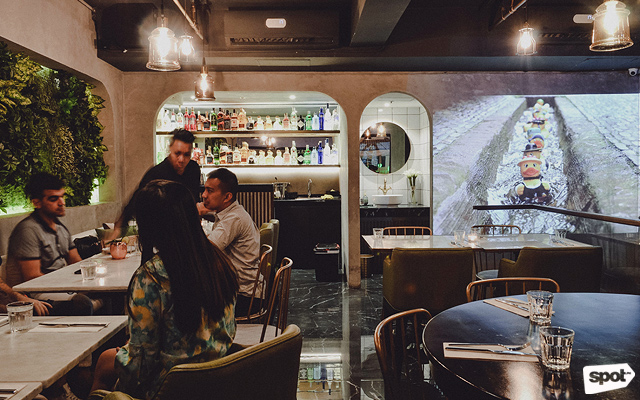 "People feel more comfortable when they share food," says Chef Or. "It doesn't matter who you're dining with, whether it's family, business partners or colleagues...when you eat from the same plate, you immediately become close." It's a sentiment that Filipinos can agree with, given our propensity for dining in groups. It's even better if the food you're sharing is unforgettable and makes you want to come back for more—qualities that define Noor's menu.  
ADVERTISEMENT - CONTINUE READING BELOW
Photos by Marikit Singson
Share this story with your friends!
---
Help us make Spot.ph better!
Take the short survey
More Videos You Can Watch
Load More Stories