Rediscovering Sinigang, Our Unofficial National Dish
A favorite among many, this local savory-sour soup is not as simple as it appears to be.
(SPOT.ph) We've seen it on Filipino television commercials. The scene begins with a pensive housewife thinking about what exciting meal she'll whip up for her family, and it ends at the dinner table—husband and child, wincing and quivering in delight at the mere sip of a seemingly very sour sinigang. 
Most of the time, someone bursts into song. Remember the sinigang-mix ad that launched Sam Concepcion's career? Or that time Michael V did a two-minute song-and-dance number of the catchy asim kilig jingle? If we're talking about pop-culture presence, it might be hard to beat a Filipino dish as famous as sinigang—even Anthony Bourdain shared how their household is no stranger to the dish thanks to their Filipino nanny.
Sinigang is a staple in most Filipino tables. It's a dish so commonly cooked, it doesn't call for any special occasion—and if it does, just substitute your usual pork or fish with beef. Some even use bulalo or beef ribs to really take things up a notch.
ADVERTISEMENT - CONTINUE READING BELOW
CONTINUE READING BELOW
Recommended Videos
The Filipino's penchant for sour flavors is also apparent in our most known dishes. Cookbook author and Purple Yam's Amy Besa says, "Sourness is the main flavor that distinguishes us from other Asian cuisines." There's adobo, which is stewed in vinegar. In most cases, kinilaw—a raw-fish dish similar to ceviche—is bathed in calamansi. But you could say nothing takes sour as seriously as sinigang.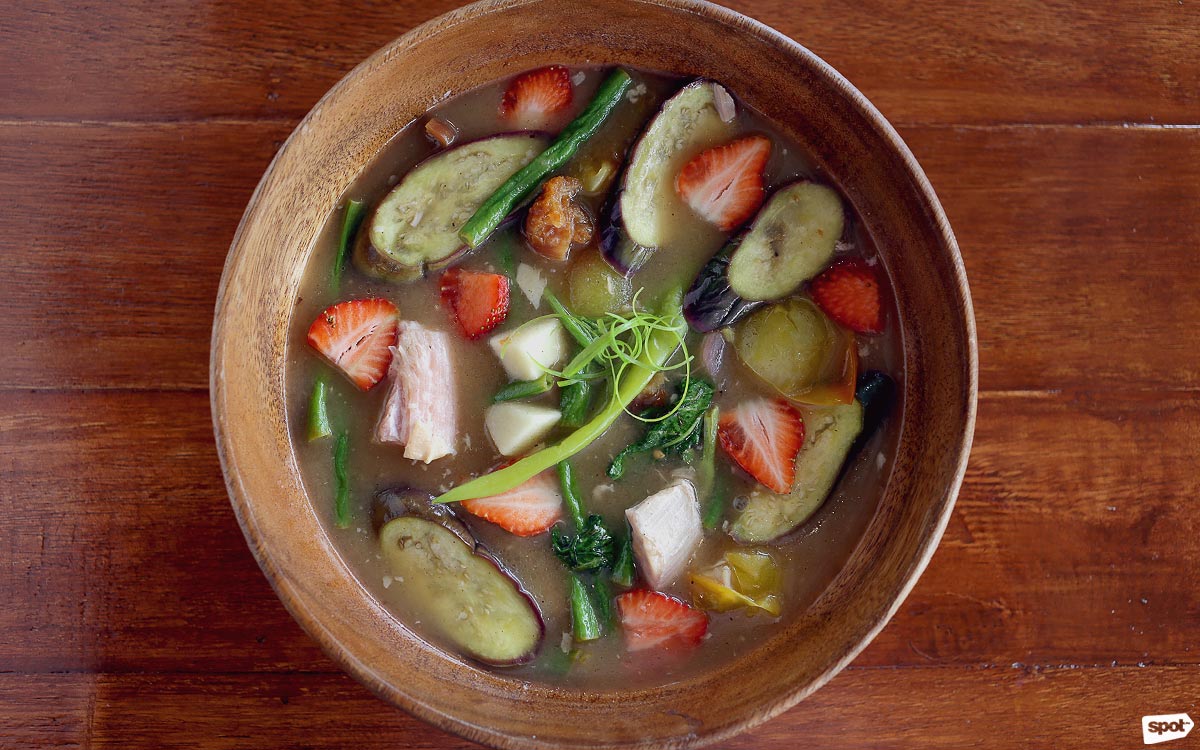 Empacho in Quezon City uses strawberries and lechon in their signature sinigang.
PHOTO:

TJ Tantiangco
There is no national recipe
With thousands of islands big and small making up the archipelago, the diversity in regional cuisine is astounding, and limiting sinigang to a sole recipe is practically impossible. Most cooks don't even have a solid formula since this homegrown dish is dependent on seasonal ingredients—from the souring agent and vegetables, down to the protein. Using batwan to sour up the sinigang, for example, is common in Visayas, while sampaloc and kamias are more often used in Luzon. Other wince-inducing ingredients (although some of them also hint a certain fruity sweetness) include bayabas, guava, and even santol. One popular eatery in Baguio City even uses strawberry to liven things up.
ADVERTISEMENT - CONTINUE READING BELOW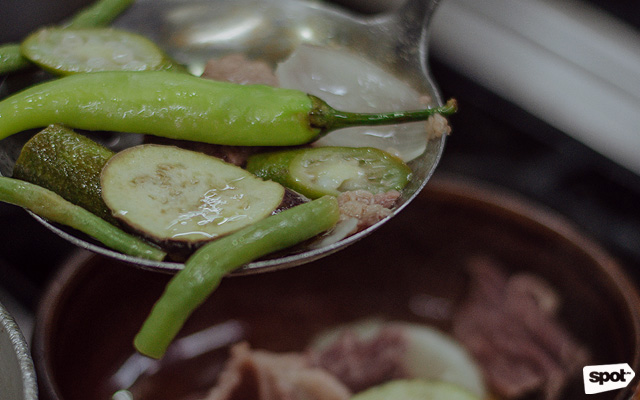 Chef and author Gene Gonzalez tells SPOT.ph, "Sinigang is an important method. In a classical sense, there is no national recipe [for sinigang] just like adobo, which will vary from changing regions and preferred degrees of acidity."
ADVERTISEMENT - CONTINUE READING BELOW
That distinctive flexibility of sinigang—or of any Pinoy dish for that matter—isn't really a culinary weakness. The chef likes to think it actually works to the cook's advantage. "Sinigang and the regional ingredients, especially those that are foraged, are eye-opening for me as a chef because there seems to be a myriad of souring agents which are unique to the region itself. I seem to learn something new since the diversity is large, and because we are divided into 7,000-plus islands."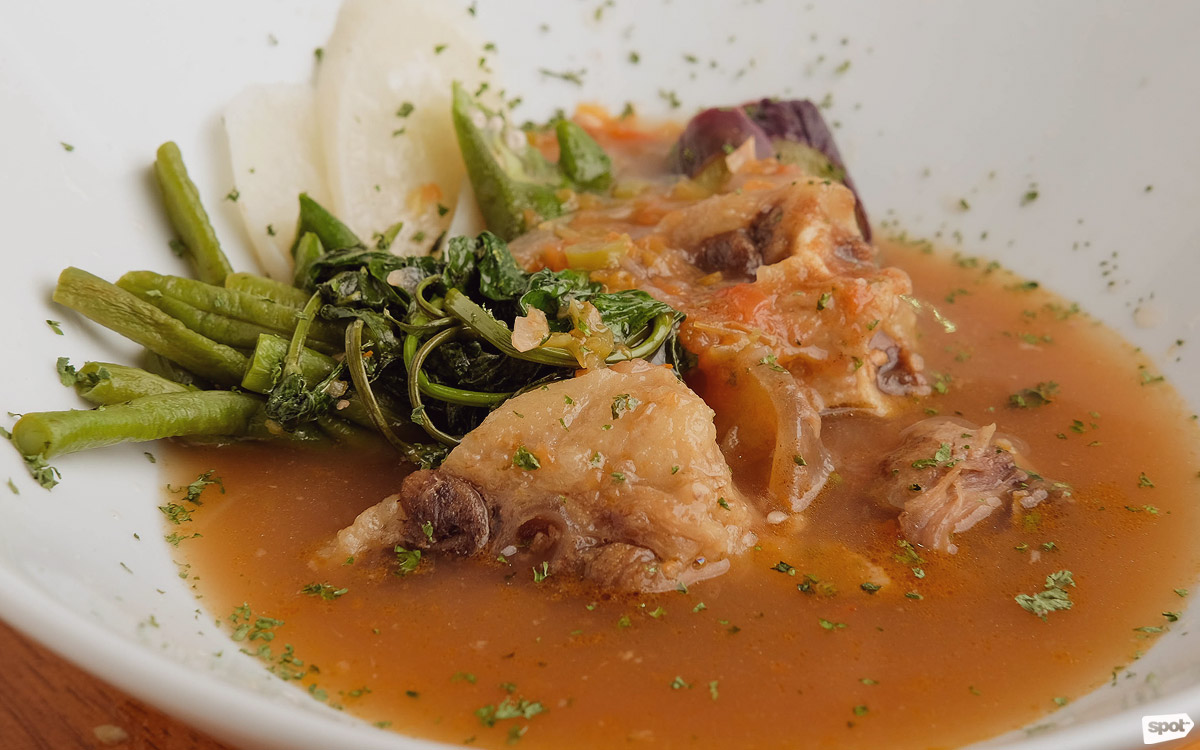 The sinigang at Makati eatery Damiana's uses ox tail instead of the usual pork or beef cut, providing a richer taste.
PHOTO:

Majoy Siason
Where is sinigang now?
Over the years, Filipino cuisine has evolved. It's adapted new techniques and used new flavor combinations to reinvent old methods. Sometimes it's for novelty, sometimes it's in pursuit of creativity and self-expression. Now, chefs are putting their own twists on traditional sinigang recipes.
ADVERTISEMENT - CONTINUE READING BELOW
Perhaps one of the first non-traditional sinigang recipes to become popular (at least in Manila) is Filipino restaurant Sentro 1771's Corned Beef Sinigang. Served in a shiny native clay pot, their sinigang looks just like any sinigang out there, possessing the usual roster of veggies like eggplant, string beans, gabi, kangkong, and okra. But have a closer look at its glistening marbled meat and you'll notice they use thick-cut slices of corned beef—salt-cured beef that's brined and kept in the refrigerator for four days. The restaurant's meticulous method is a stark contrast from the norm, as you only need less than two hours to cook the savory-sour stew.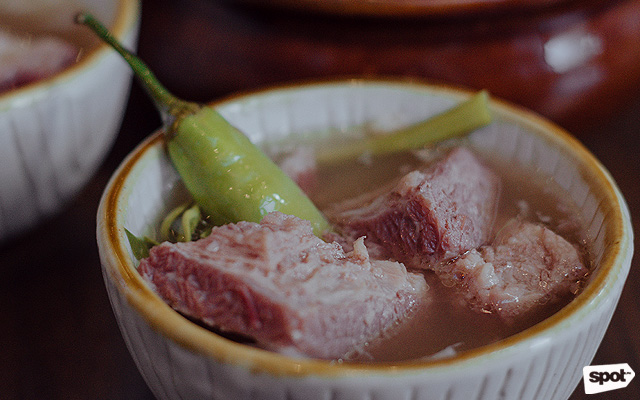 ADVERTISEMENT - CONTINUE READING BELOW
Sentro 1771 Executive Chef Vicky Pacheco likes to think of her original two-decade-old creation as a marriage of Western and Filipino flavors. "People like it because they love the contrast of flavors—it's salty and sour, and it's beefy. I think corned beef is part of the Philippines' culture. It's not Filipino food, but it's part of the Filipino palate."
In an interview, she adds, "It's a fusion of French techniques but it has a Filipino soul...You can tweak [the sinigang] as much as you want but the Pinoy flavor has to be there." With all the old and new variations of sinigang, Chef Vicky thinks this assortment goes beyond geographical differences, and believes it has also something to do with the Filipino identity.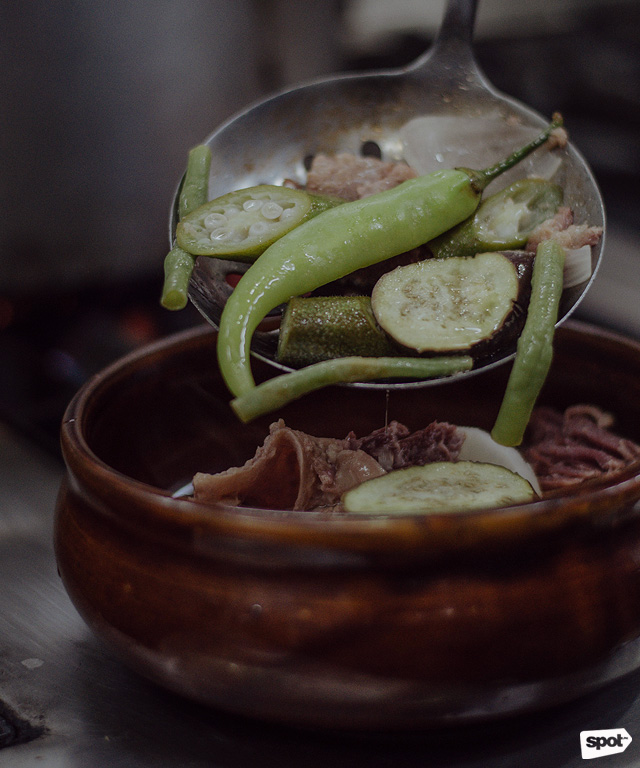 ADVERTISEMENT - CONTINUE READING BELOW
"It's like the person—a Pinoy would always want to try the latest thing, whether it is in fashion or music. They apply it even in cuisine. I think it's this psyche of being colonized—that we're so used to foreign influence that we easily adapt and make it our own."
On the other hand, modern-Filipino eatery Manam offers something fresh to the table through their beefy Watermelon Sinigang, a crowd favorite in any of the restaurant's multiple branches. What's particularly unique about this sinigang is its almost viscous, thick reddish broth, which flaunts a balanced sourness tempered by refreshingly sweet watermelon juice and meat.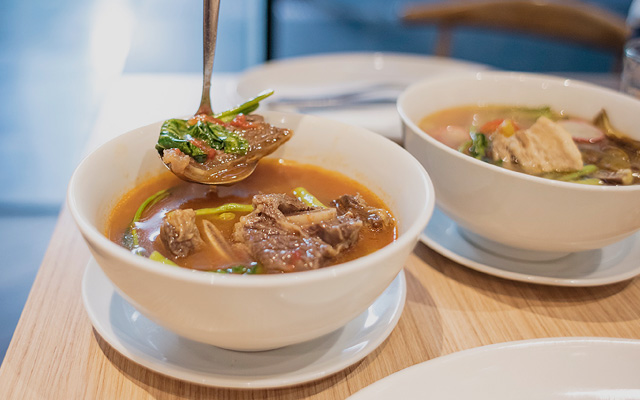 ADVERTISEMENT - CONTINUE READING BELOW
Restaurateur and founding partner of The Moment Group Eli Antonino shares that the famed soup's recipe is "a blend of all the sinigangs" she's loved throughout her life. "[It's] inspiration from my lola who uses real sampaloc, to mom who uses different ingredients in her sinigang—not just watermelon, but even broccoli and French beans," she tells SPOT.ph.
"I personally think it's well-loved because the watermelon might be out of the box as an ingredient, but the taste and flavor of the sinigang remain true to the Filipino flavors. When a generally sour soup is enhanced by the sweetness of the watermelon and coupled with the umami of the broth, it's really what most Pinoy taste buds look for."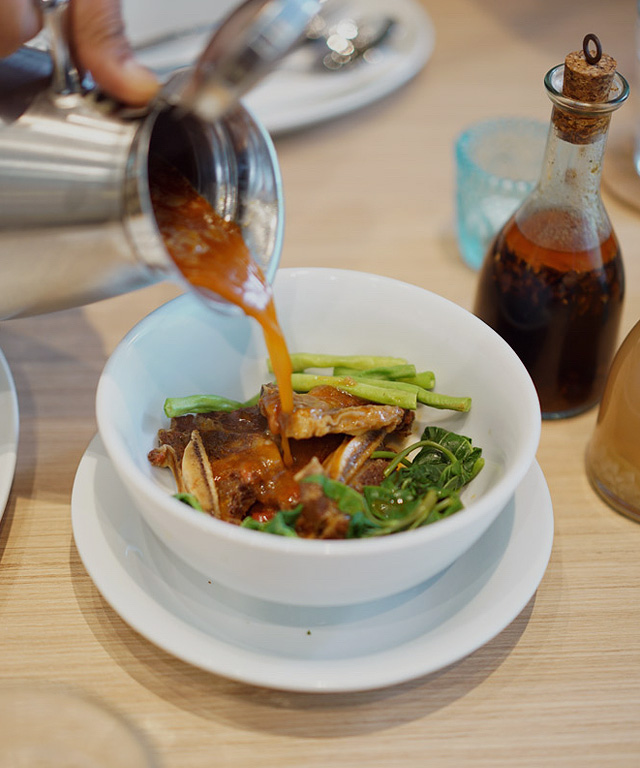 ADVERTISEMENT - CONTINUE READING BELOW
Antonino shares that the beauty of Filipino cuisine lies in its versatility. "Someone once told me that Filipino food was not only influenced by the different cultures that colonized our country but also by the ingredients they did not want to use."
She explains how Filipinos need to adapt and experiment using different ingredients and techniques, and pointed out how kare-kare uses ox tail, while sisig uses pork face—both parts of meat Westerners often see as scrap. "What's important is keeping that malinamnam factor."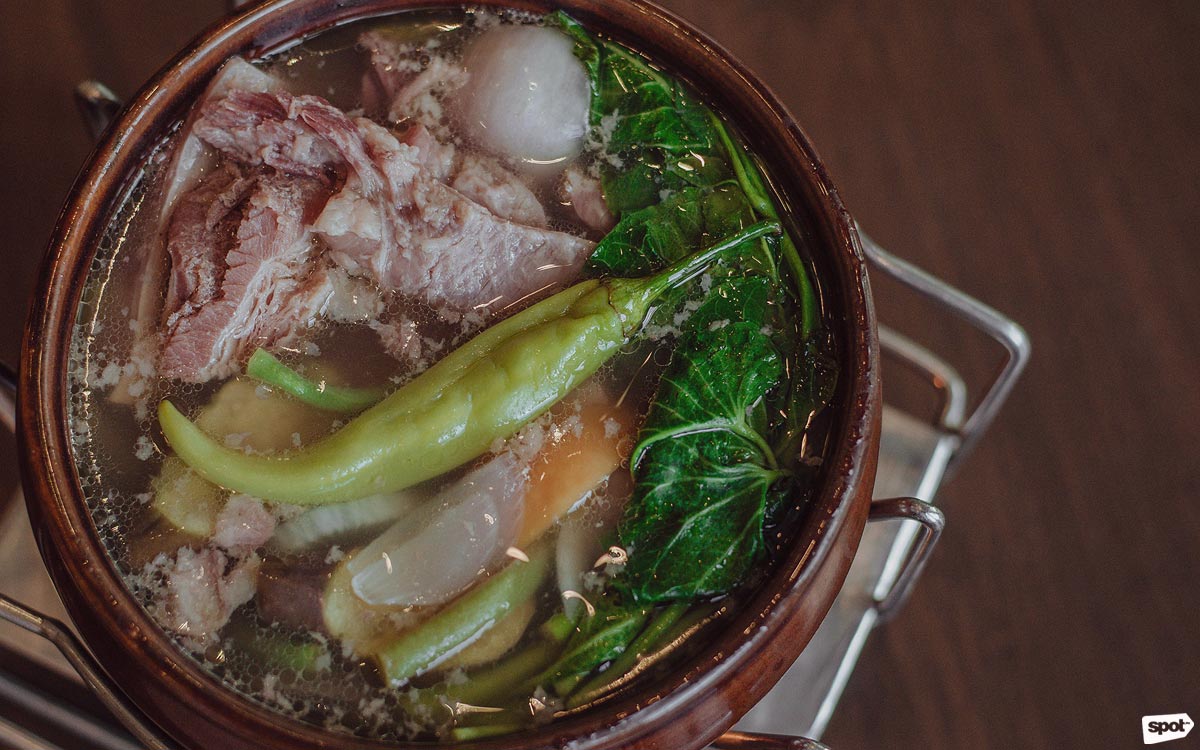 Sentro 1771's Corned Beef Sinigang is beefy and rich.
PHOTO:

Marikit Singson
Adobo or sinigang?
Despite its popularity here and abroad, there's still the argument of whether sinigang is the country's national dish or not. Coming up with a consensus is tough, especially when it's put up against another strong and more well-known contender: Adobo. (A quick Google search will tell you that adobo is the Philippines' national dish).
ADVERTISEMENT - CONTINUE READING BELOW
The perpetual debate over whether the Philippines' national dish is adobo or sinigang is a sensitive subject, one that often sparks heated discussions in online forums. In 1975, food writer Doreen Gamboa Fernandez said that, rather than adobo, the sour soup seems to be the dish most representative of Filipino taste.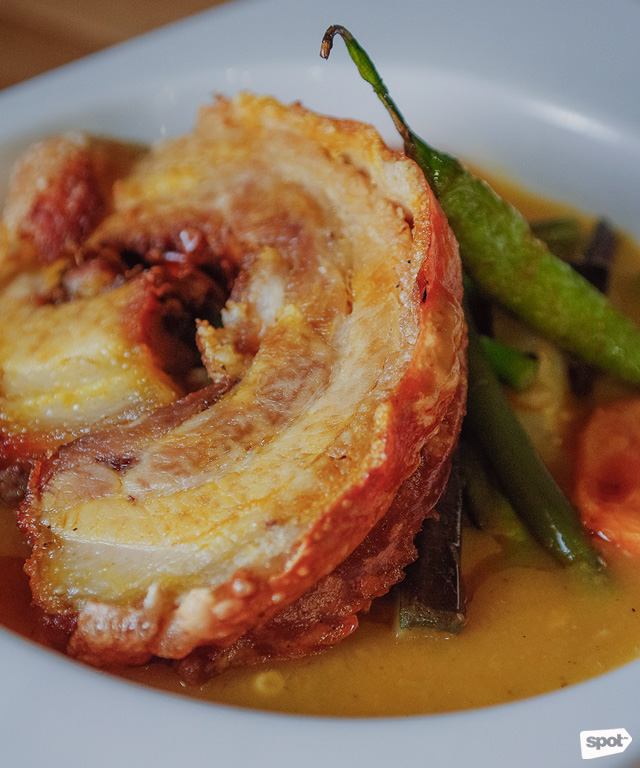 ADVERTISEMENT - CONTINUE READING BELOW
"It is adaptable to all tastes (if you don't like shrimp, then bangus or pork), to all classes and budgets (even ayungin, in humble little piles, find their way into the pot), to seasons and availability (walang talong, mahal ang gabi? Kangkong na lang!)," she writes in her seven-page essay, Why Sinigang?
Both Chef Vicky and Antonino attest that sinigang's more worthy of the national dish title. "In our agriculture, we have [all these] souring ingredients to make sinigang. We have different trees and fruits to make something sour. It comes naturally with the country's produce," says Chef Vicky.
On the other hand, Antonino asserts: "Our country is composed of 7,107 islands [and] there are probably the same number of sinigang variations. From the viand used to the souring agent, each household can tweak it to each person's preference. And yet it's actually the simplest dish to make."
ADVERTISEMENT - CONTINUE READING BELOW
"I had a long discussion with the late Doreen Fernandez regarding sinigang and adobo and her reasons why she feels it is sinigang that should be pushed as our national dish," Chef Gene shares, and adds, "We ended our friendly debate with her knowing that I was more on having adobo as national dish and sinigang as national soup."
Like the thousands of islands that make up the Philippines, people will have just as many opinions, even more. Filipino cuisine will always be characterized by the savory, the sweet, the umami, but sour sets it apart from others—and it's hard to think of a dish that comes close to sinigang. 
Photos by Marikit Singson, Jericho San Miguel, Majoy Siason, TJ Tantiangco, and Manam