(SPOT.ph) Fries are stars in their own right. Sure, they've long been on the sidelines, ever so present in meal combinations as the go-to companion of juicy burgers or taking on the role of the reliable sandwich partner. We've ranked the restaurant versions of these deep-fried sticks, as well as budget-friendly options. This time, we focus on these starchy bites as standalone noms and give them the attention that they deserve. 
For this list, we scoured fast-food spots in the Metro and tried their regular fries. These are the ones that can be ordered over the counter without much fuss (read: no "Which flavor to choose?" dilemma). We judged them based on taste, crispness, and value for money, so you know where to go when the potato cravings hit.
All SPOT.ph Top 10 lists are researched, paid for, tested, and selected by the writers and editors. They are discreetly conducted without any notice made to the restaurants or their owners.
ADVERTISEMENT - CONTINUE READING BELOW
10. Original Crinkle-Cut Fries from Nathan's Famous (P90/regular; P120/large)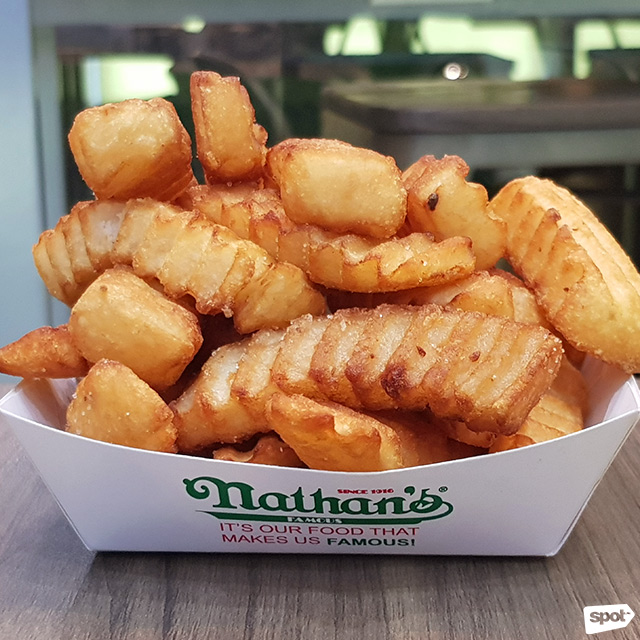 Nathan's Famous is, well, famous for hot dogs, but their fries are also worth a try—and perhaps that's what they actually want you to do, as each order of their crinkle-cut fries comes with a red plastic fork. The golden-brown chunks piled up high on a cardboard tray adds some points presentation-wise. Some pieces sport toasted edges, though don't expect to hear a crunch with every bite. The fry, while not too greasy, reveals a crumbly, mushy texture inside. The thickness of the cut, while welcome, only highlights that their fries lack a little in the salt department. But for its serving size and the price, Nathan's Famous fries is filling in itself—it's quite a struggle to finish a regular tray—just make sure to dip it in ketchup for added flavor. Plus, the fork-and-fry novelty's too fun to pass up!
ADVERTISEMENT - CONTINUE READING BELOW
Recommended Videos
9. Classic Belgian Frites from Frittery (P55/medium, P85/large, P115/grand, P155/epic)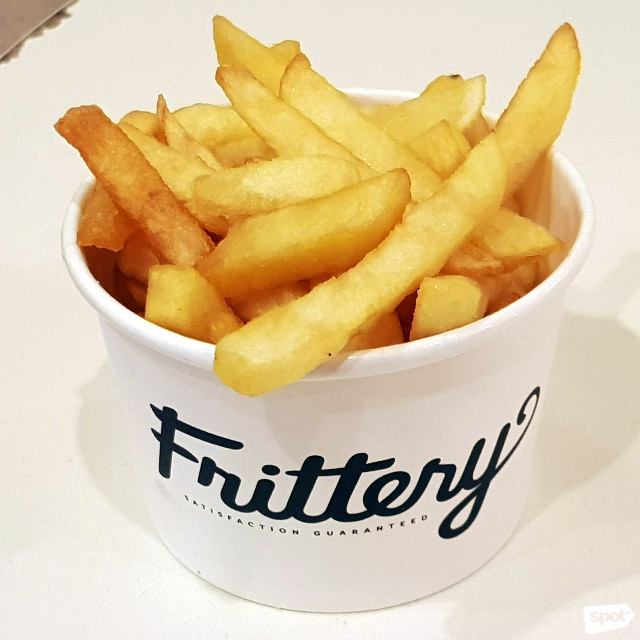 This cinema-snack staple is known for potato snacks offering four kinds of "frites" served in a shallow white cup, making it convenient to snack on just about anywhere. Their Classic Belgian Frites are cooked upon order, so you know you really get French fries that are fresh off the fryer. Each serving is a cup full of small, brighter-than-usual potato pieces that initially taste a bit salty yet become just a bit sweet in the mouth. Consider yourself lucky if you find a couple of crispy ones in the mix, as majority of the fries are soft but not all-out soggy, before you hit the bottom of the cup in minutes. The smallest order comes with one dip, though it's tasty enough on its own, you wouldn't even remember they threw it in the bag.
ADVERTISEMENT - CONTINUE READING BELOW
Nathan's Famous has branches at Ayala Malls Vertis North, SM Mall of Asia, and Bonifacio High Street.
8. Cavendish Fries from Landers (P49)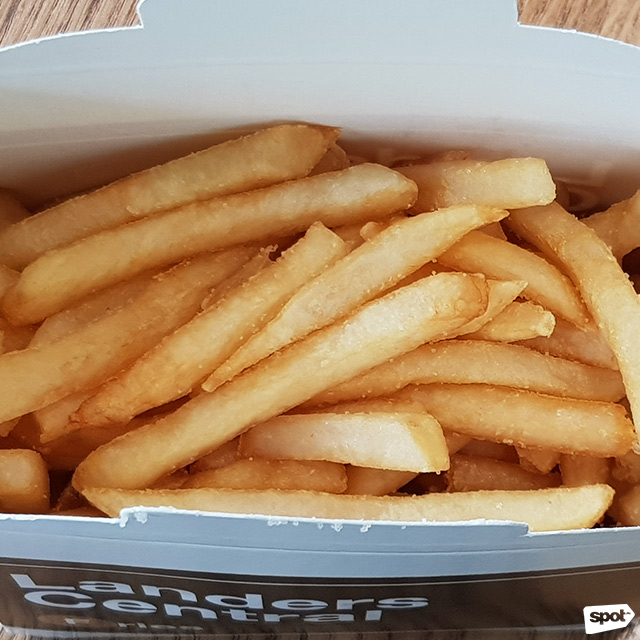 You could say that an order of Cavendish Fries from Landers Central, found in every Landers Superstore in the Metro, is what you'd expect typical French fries to look like. They're thinly sliced, evenly salted, and fried to golden-ish perfection, though the potato flavor is on the mild side. Most of the pieces lean towards soggy, but not to the point of them being inedible. It comes in a rectangular box, so the experience is almost like getting popcorn out of a bucket, which also makes it easy for you to take some home—but then, why would you do that?
ADVERTISEMENT - CONTINUE READING BELOW
See a list of Landers Superstore branches.
7. Jolly Crispy Fries from Jollibee (P39/regular, P60/large, P72/jumbo)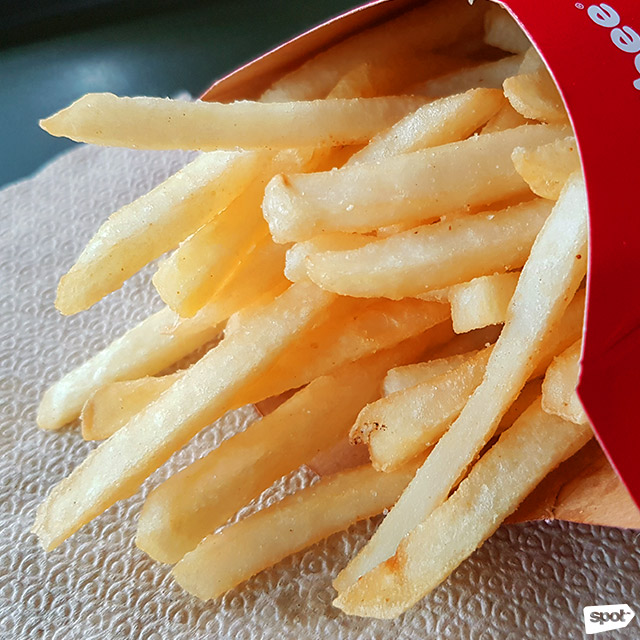 This quick-service chain's fries look pale at first glance, especially since they stick out of a bright red container. But you won't fixate on its color for too long, as your eyes wander to the word "crispy" printed on its packaging. And so you think about what they mean by crispy, which the fries live up to. Munch on a piece too long and it actually borders on mealy up until you finish it, which is oddly satisfying. Their fries have a mild potato taste balanced by some saltiness, though you might detect a bit of sweetness in there, too. Jollibee's take on fries aren't too oily, but they would've ranked higher if they were consistently served freshly cooked. 
ADVERTISEMENT - CONTINUE READING BELOW
See a list of Jollibee branches.
6. K-Fries from Bonchon (P40/regular, P60/large)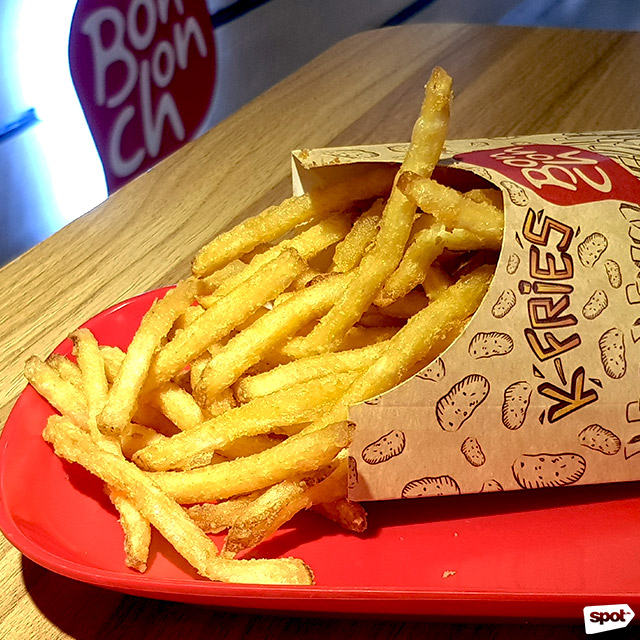 Bonchon is known for their double-fried chicken (hello, crunchy chicken skin!), but they have also added new items to their menu. Their K-Fries is the chain's take on French fries, which glistens under the warm yellow lights of the joint and are as warm as they look once served. We're not sure whether they've been double-fried like their fried chicken, but it doesn't matter because each thinly sliced fry has a crunchy bite, thanks to its light batter coating. The thinness of the fries makes it easy to finish in seconds, though the grease may dissuade you from doing so. The plain version of K-Fries is as subtle as it gets in terms of taste—it's a bit underseasoned—so if you're looking for something a bit different, more tasty, and maybe more Korean, they also offer K-Fries in Kimcheese and Seoul BBQ flavors.
ADVERTISEMENT - CONTINUE READING BELOW
See a list of Bonchon branches.
5. French Fries from S&R Membership Grocery (P54)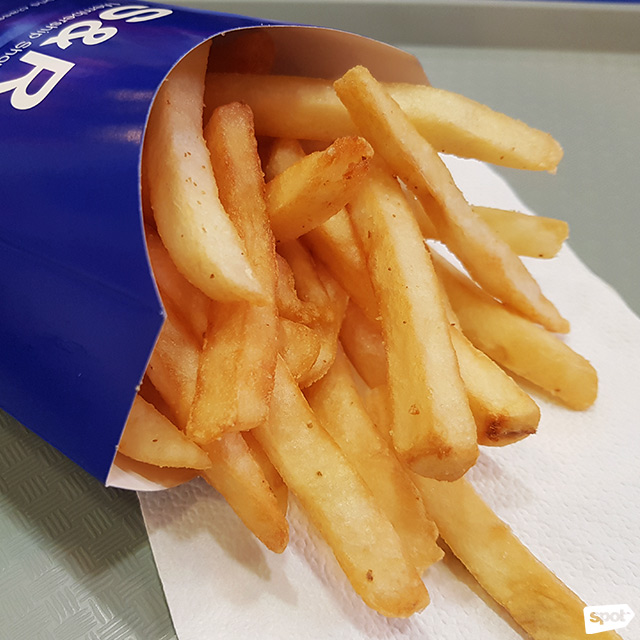 Admit it: appearance matters. S&R's fries made it this high in this list partly for its golden doneness, ideal size and length, with visible specks of potato skin and salt. Their fries are a joy to munch on with the considerably crispy outside giving way to a soft center. It lacks a bit of flavor though, but the assortment of condiments available for dine-in customers can fix this, stat. After all, you have ketchup, mustard, and mayonnaise at your disposal. Bonus: These fries are available at S&R New York Style Pizza branches, too.
ADVERTISEMENT - CONTINUE READING BELOW
See a list of S&R Membership Grocery branches.
4. Fries from McDonald's (P37/regular, P62/medium, P72/large)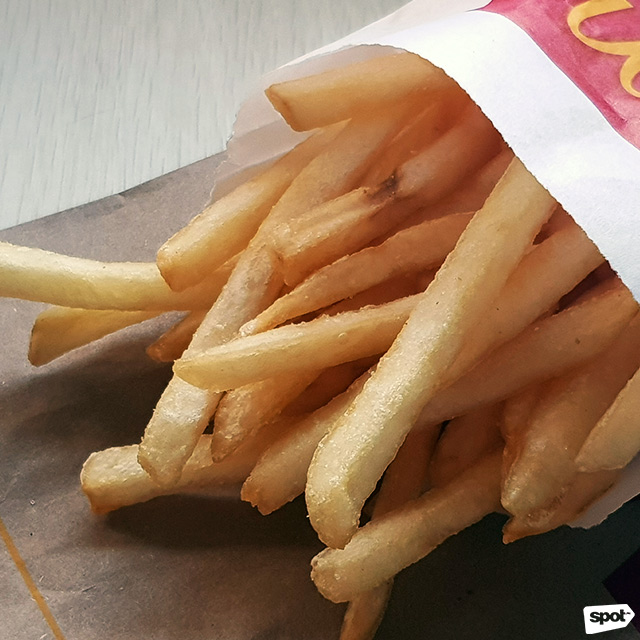 McDonald's is a strong contender for nailing the quintessential French fry most people are familiar with—golden brown, generally crispy, and with a fluffy center. It might be all too familiar, as each bite brings to mind the taste of a popular shoestring potato snack you probably grew up with. Though the fries we got weren't served warm, most pieces were still crispy, save for a couple of soggy ones. Despite that, it's far from being a letdown. In most cases, they're fresh, crispy, and well-seasoned—and are great for sharing with friends, which explains the need for McDonald's to actually come up with crazy huge sizes—just keep your fingers crossed that you get served a freshly cooked batch.
ADVERTISEMENT - CONTINUE READING BELOW
See a list of McDonald's branches.
3. Crispy Fries from KFC (P38/regular, P57/large)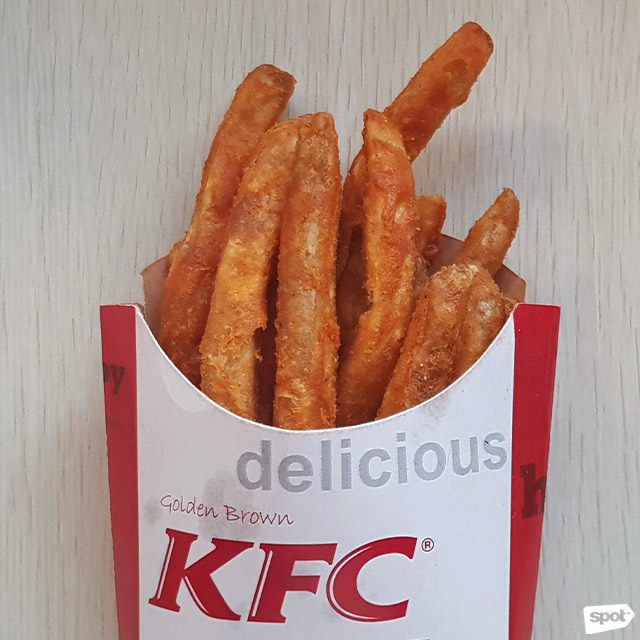 In 2018, the chain changed their popular side without so much of a warning, which die-hard fans of their fries didn't take lightly. Fortunately, KFC listened to the demands of the public, and brought back the original one immediately. Unlike the bland and generic-looking temporary replacement, the OG KFC fries come in evenly cut, thick slices—about one-fourth of an inch—and coated in a light batter that gives its distinctive bright orange color. KFC fries are known for its peppery-meets-smoky flavor that's neither overpowering or approaching flavored-fries-territory. While its flavor profile isn't exactly novel (admit it, one of their competitors' twisted seasonal offerings tastes similar to this), it makes for a good snack when the salty cravings hit. If it's too savory after a couple of bites, their gravy comes in handy to balance the flavors.
ADVERTISEMENT - CONTINUE READING BELOW
See a list of KFC branches.
2. Freedom Fries from Army Navy (P90)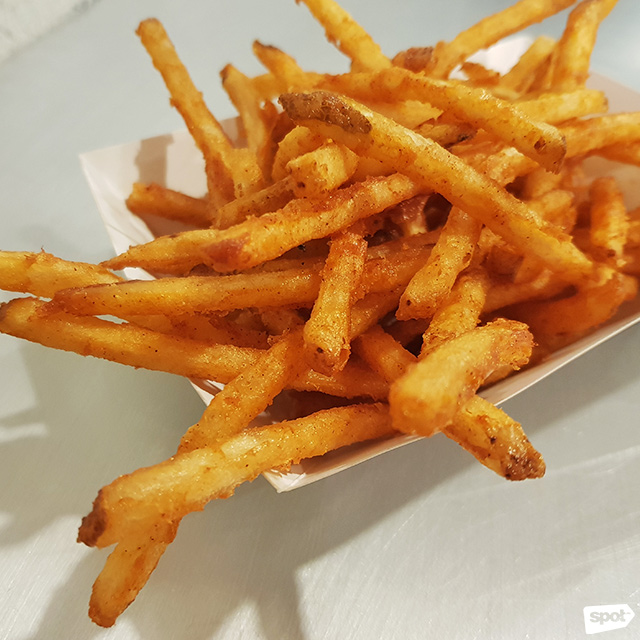 If KFC and BonChon's fries had a love child, this would be it. Army Navy's version takes after KFC fries' color and peppery, albeit spicier flavor, combined with BonChon's thinly sliced and mild-flavored fries. The game Pick-up Sticks comes to mind with the golden-brown, super-thin potato strips randomly strewn on the cardboard container, and you'd be stuffing one piece after the other nonstop in no time. Each savory piece has a satisfying crunch, though some bits seem to be a bit crunchier, perhaps due to the uneven coating. Its thinness makes it all the more addictive. We won't judge if you head to Army Navy just to order this and consume them all by yourself.
ADVERTISEMENT - CONTINUE READING BELOW
See a list of Army Navy branches.
1. Thick-Cut Fries from Burger King (P39/regular, P60/large)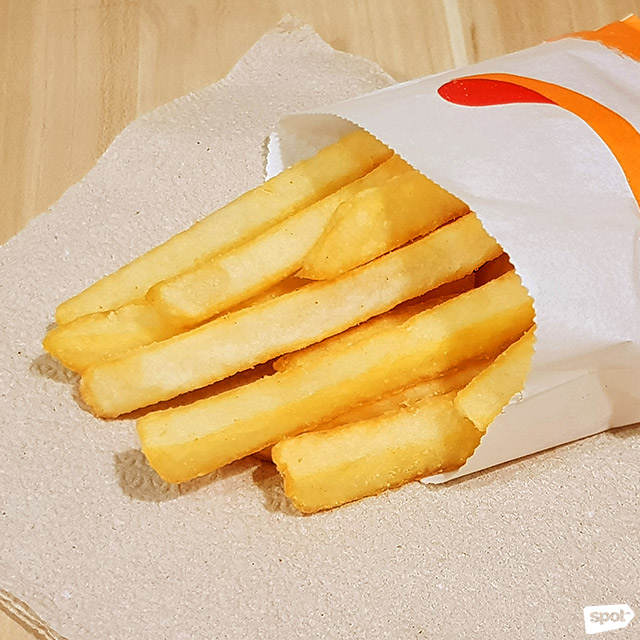 They say that aroma makes for a great first impression, and that's just one of the reasons why Burger King's fries deserve the top spot. It's worth mentioning that their fries are the only entry on this list which had the scent of freshly cooked potatoes wafting in the air. The fries come in generally even lengths and feature smooth ridges, and they appear to have been carefully placed inside the paper pouch one by one. Munching on these fries is almost like biting into potato clouds—each bite is fluffy, delicately crumbling in your mouth. With just the right amount of saltiness and potato-ey goodness, Burger King might consider a name change—apparently, they can also stake a claim on the Best Fast-Food French Fries throne.
ADVERTISEMENT - CONTINUE READING BELOW
See a list of Burger King branches.
Share this story with your friends!
---
Help us make Spot.ph better!
Take the short survey
Load More Stories