La Mère Poulard
G/F SM Aura Premier, Bonifacio Global City
Contact: 838-1238, 0917-580-0137
Open daily from 10 a.m. to 10 p.m.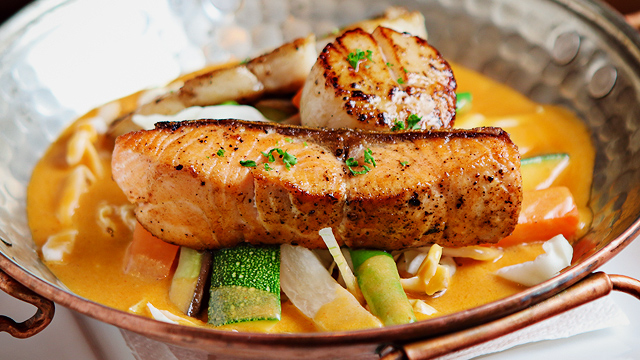 (SPOT.ph) It's easy to associate French cuisine with fine dining since its food, after all, is known around the world for its finesse and flavor. But don't be intimidated by what is commonly considered as haute cuisine—there are restaurants where you can sample French specialties sans the snootiness, like La Mère Poulard at SM Aura.
ADVERTISEMENT - CONTINUE READING BELOW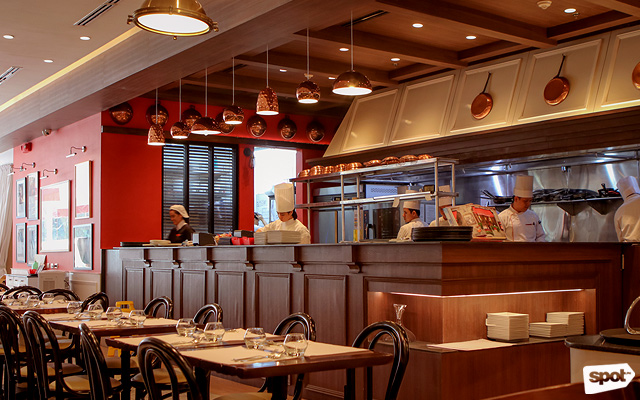 While the brasserie exudes casual elegance, it also has a relaxed, homey vibe to it. The predominantly red-and-white theme is accented by copper—from pans to bowls, and even lights—an ode to what founder Annette Poulard originally used in her kitchen centuries ago. The walls are also peppered with framed photographs of celebrities and other famous personalities who have dined in the restaurant, and this has become a tradition of sorts. "We want [La Mère Poulard to offer] a very casual dining experience for families, for date nights, for coffee meet-ups—an all-around thing," shared Managing Director Deborah Dorene How-Tan.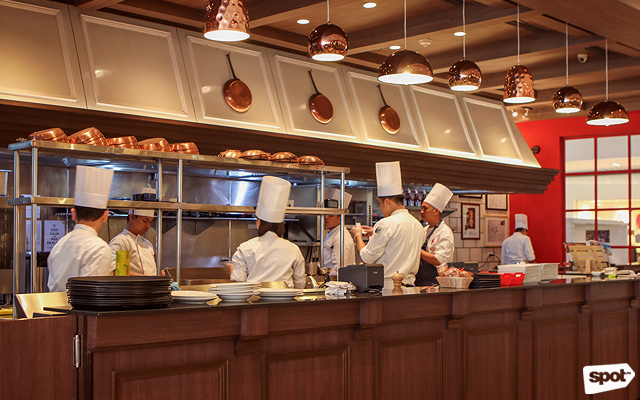 It's been a year since the Manila branch opened in early 2018, and you'll still find the old favorites, as well as new dishes that bring together the best of French and local ingredients. A few of the items are even inspired by Filipino specialties like caldereta and adobo. "We want to balance out the menu for the Filipino palate," says How-Tan, who also mentions that they try to use local produce as much as possible.
ADVERTISEMENT - CONTINUE READING BELOW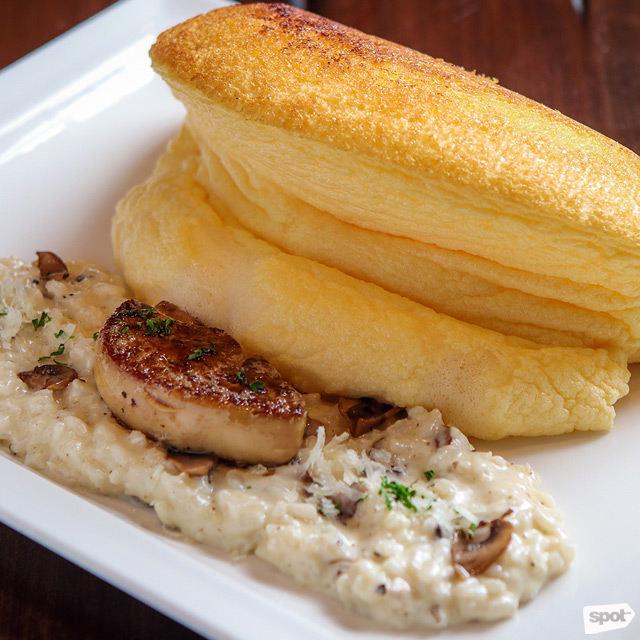 Whether or not you're a first-time visitor, you must not skip the puff omelettes—the recipe and technique were created by Poulard in 1888 and has not changed since then. Far from your homemade scrambled eggs, these omelettes resemble a large, airy soufflé. The dish has three eggs, whisked to become really airy and fluffy so that each mouthful feels like you're biting into clouds. La Mère Poulard has eight variants and one of the most indulgent ones is the Pan Seared Foie Gras and Truffle Risotto (P650). If you're into foie gras and truffle, then you'll feel like you've died and gone to heaven with this dish.
ADVERTISEMENT - CONTINUE READING BELOW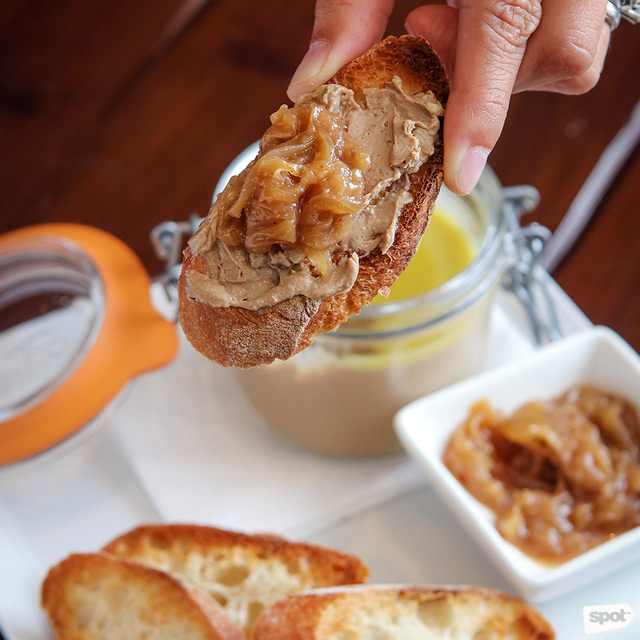 You'll instantly fall in love with the mousse-like consistency of the parfait in the Chicken Liver Parfait with Onion Jam and Toast (P320). There's no grainy texture at all, and it pairs perfectly well with the crunchy toast and the sweet onion jam.
ADVERTISEMENT - CONTINUE READING BELOW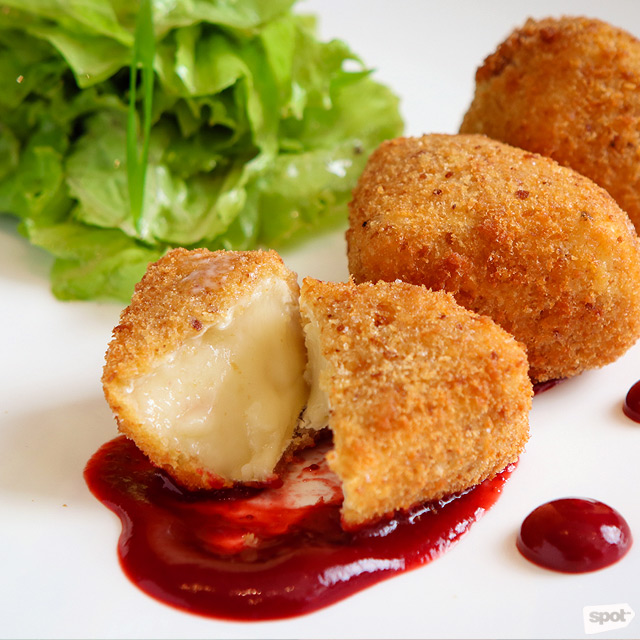 If you're a cheese lover, your best bet would be the Breaded Camembert with Strawberry Coulis and Salad Greens (P480). You just can't go wrong with fried cheese, plus the tartness from the strawberry sauce adds another dimension to it—this is best eaten while it's hot.
ADVERTISEMENT - CONTINUE READING BELOW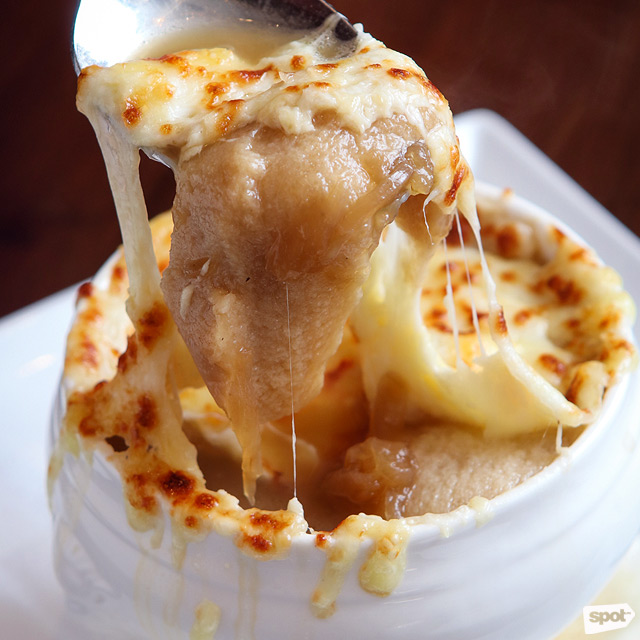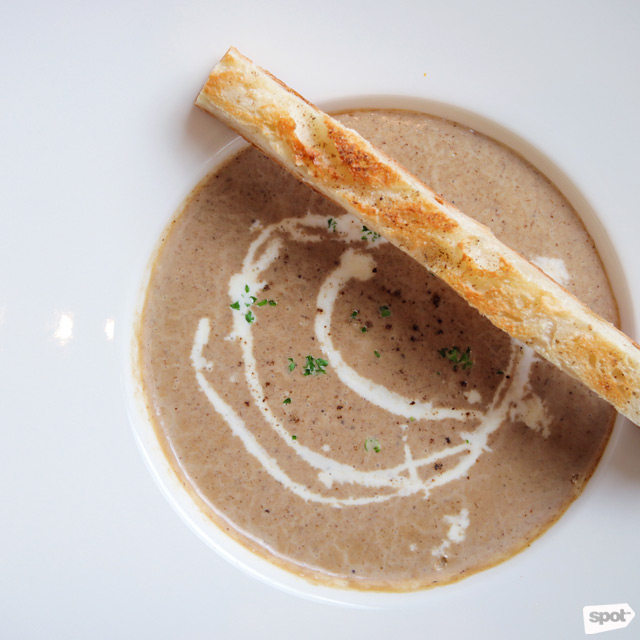 ADVERTISEMENT - CONTINUE READING BELOW
The French Onion Soup (P320) is the real thing, from the caramelized onions to the beef-infused broth, and bubbly melted cheese on top. You'll relish each spoonful of the full-bodied soup, especially when you dig into the top layer and get stringy cheese in every bite. Should you want a cream-based soup, the Cèpes Mushroom Cream Soup (P320) is a delicious option—you can really taste the fresh porcini mushrooms that give the soup a somewhat nutty flavor.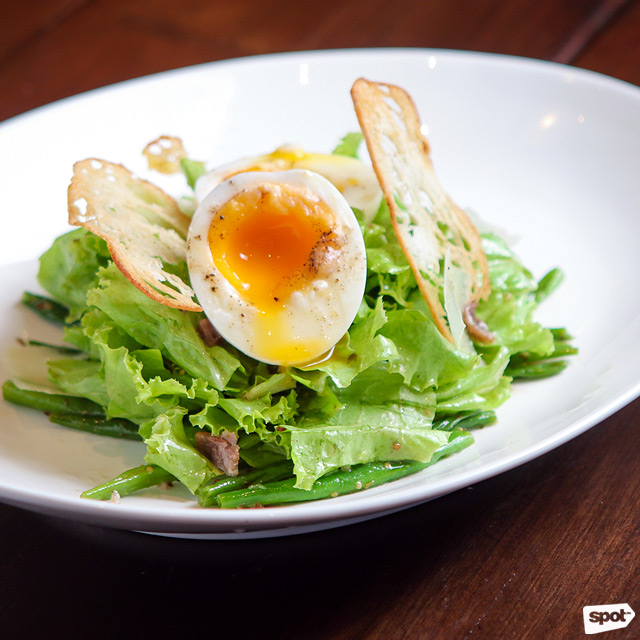 ADVERTISEMENT - CONTINUE READING BELOW
The Bacon and Potato Salad with Quail Eggs (P280) has a creamy dressing that binds together marble potatoes and the bits of bacon, which are then garnished with quail eggs, paper-thin slices of toast, and lettuce leaves. It's a very filling salad, but if you want something lighter, then go for the Green Beans and Anchovy Salad with Egg Mollet (P320), which has green beans, lettuce, and a soft-boiled egg in a tangy vinaigrette dressing. It's so fresh and light that you might just surprise yourself by finishing the whole serving.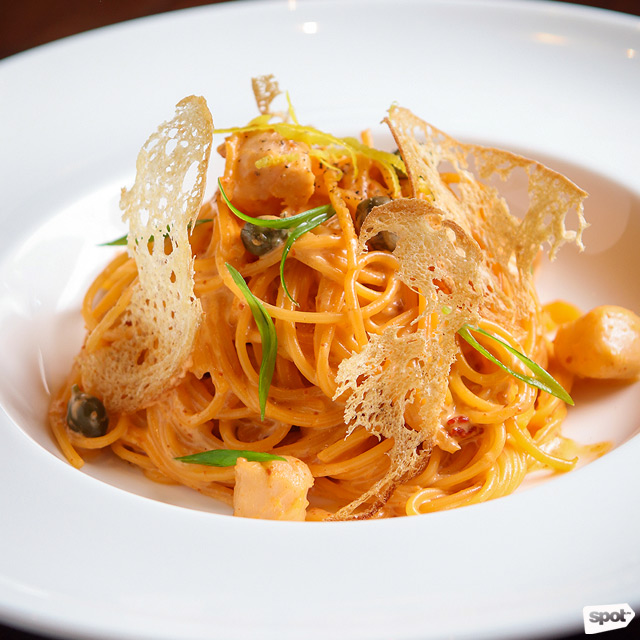 ADVERTISEMENT - CONTINUE READING BELOW
If you're looking for something a bit more familiar, La Mère Poulard has a selection of pasta dishes on their menu, like the Crab Roe Cream Spaghettini with Capers and Lemon (P400). Imagine a mound of thin spaghetti noodles coated with a cream sauce that's flavored with crab roe. You'll love the rich sauce balanced out by the brightness of lemon juice and briny bursts from the capers.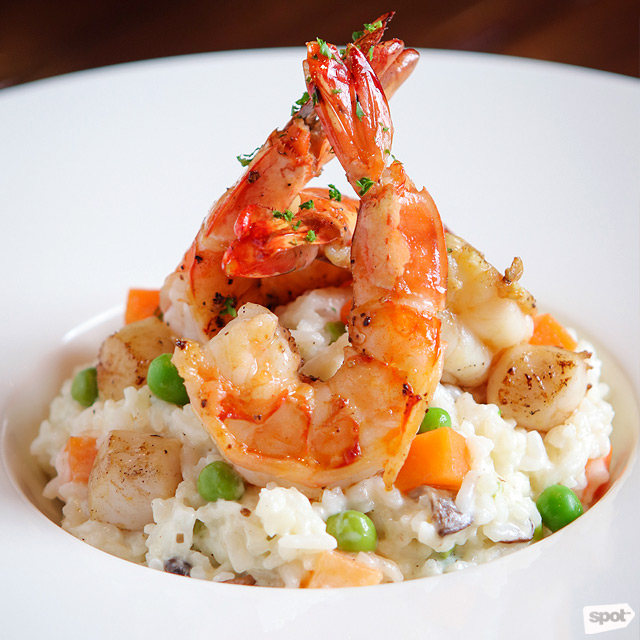 ADVERTISEMENT - CONTINUE READING BELOW
Those who can't live without rice would be happy with the Prawn and Scallop Normandy Rice (P550)—so creamy, it's almost like risotto. This one has a trio of prawns on top of a bed of white rice that's cooked with scallops and veggies.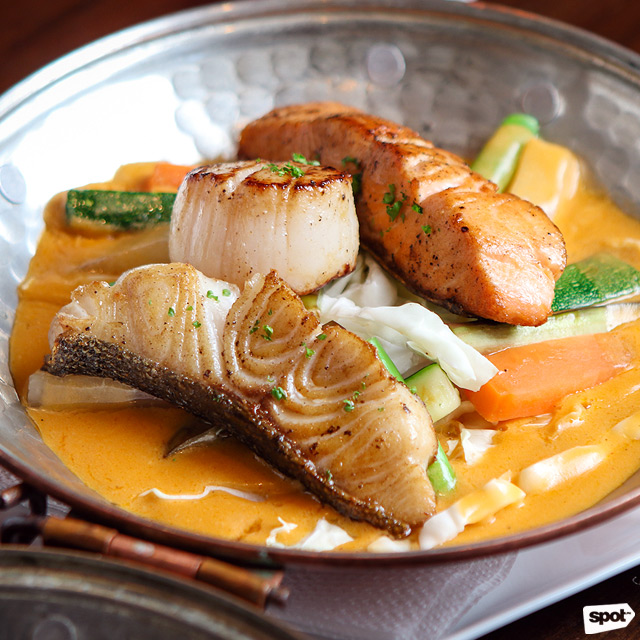 ADVERTISEMENT - CONTINUE READING BELOW
The Seafood Cocotte with Seasonal Vegetables (P880) has a mix of tender scallop, fish and seasonal vegetables that are cooked in a shrimp-bisque base. Make sure to get some sauce with each bite to see how velvety smooth it is.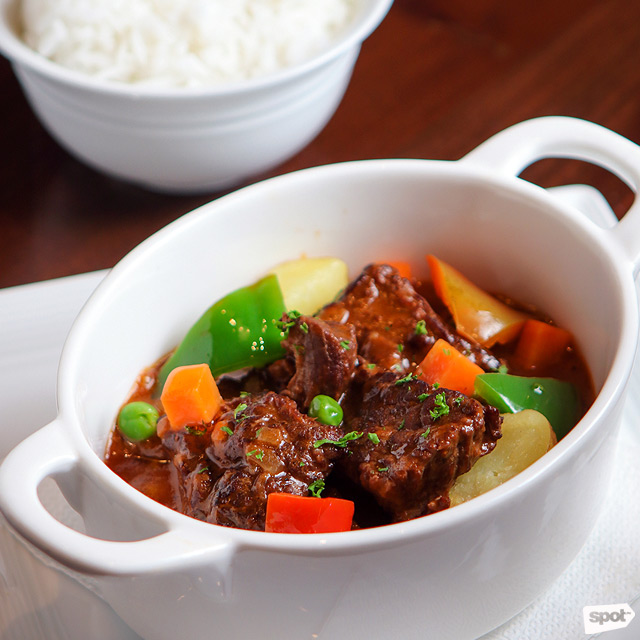 ADVERTISEMENT - CONTINUE READING BELOW
Who would think that French techniques would marry well with Filipino flavors? The Beef Caldereta in Burgundy Style with Steamed Rice (P450) is proof of that. Aside from just tomato sauce to create the beef stew, this one has red wine to add a French flair to the local specialty.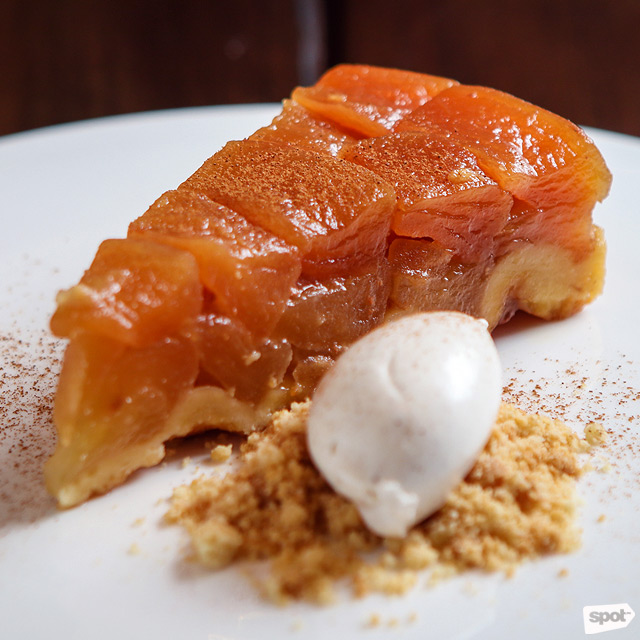 ADVERTISEMENT - CONTINUE READING BELOW
A French dinner is never complete without wine, and you can indulge with their Wine-All-You-Can (P599) deal on selected French and Australian wines every Friday from 6 p.m. to 9 p.m. End the night with a classic dessert, Apple Tart Tatin with Cinnamon Cream (P300), and you might just forget you're miles away from Normandy.
Photos by Jericho San Miguel
Share this story with your friends!
---
Help us make Spot.ph better!
Take the short survey
More Videos You Can Watch
Load More Stories