10 Board Game Cafés to Try Now
Get the dice rolling while you grab some grub at these gaming spots!
(SPOT.ph) Sometimes you just need to sit down with good company, no phones, no distractions, with your full attention geared towards winning a board game. With the endless fun you can have with friends, the hobby is more popular than ever with new board game cafés popping up and even established HQ's spawning multiple branches.
These places provide a safe haven for both grizzled gaming veterans and novice players alike who are looking for entertainment and munchies while waiting out the bumper-to-bumper traffic. It's an opportunity to take a break from the glare of the digital screen and enjoy some good old-fashioned human interaction. Not to mention an interesting way to learn the inner workings of your friends, family, and significant other: Nothing reevaluates a relationship quite like a rousing session of competitive gaming filled with bluffing, deducting, and capitalist scheming. If you can't identify the cutthroat competitor in your friend group, then it's highly likely that you are that pushy player!
Begin your journey into the board-gaming hobby by checking out these cafés:
Tavern at the Crossroads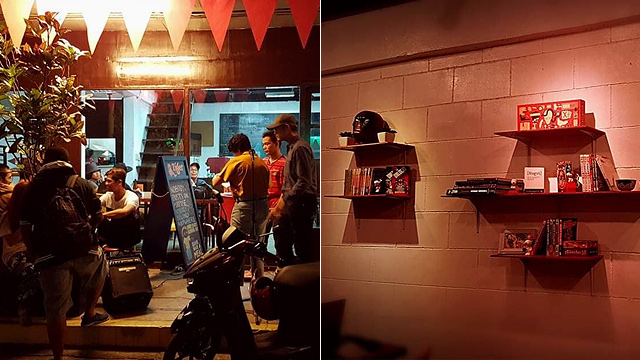 ADVERTISEMENT - CONTINUE READING BELOW
Take off your traveler's cloak and rest your weary soul as you step inside the Tavern. There's a very laid-back atmosphere at this board game pub, formerly known as Appraisery. It's as if you're playing at a friend's makeshift clubhouse or your parent's basement—Stranger Things-style. The Tavern is more like a community hub where people gather to knock back a few drinks and game after work. In line with the indie vibe of its location, this chill establishment is planning to partner up with other Cubao Expo stores for a low-key event happening later in the year. The Tavern also happens to be the sole distributor of Vampire: The Eternal Struggle Card Game in Metro Manila.
CONTINUE READING BELOW
Recommended Videos
Best played with: Buttered Chicken with Rice (P190) and Spiked Hot Chocolate (P150)
Rules of playing: Just order anything from the shop and start gaming.
Tavern at the Crossroads is at Unit 61-62A, Cubao Expo, General Romulo Avenue, Quezon City.
Play Nation Philippines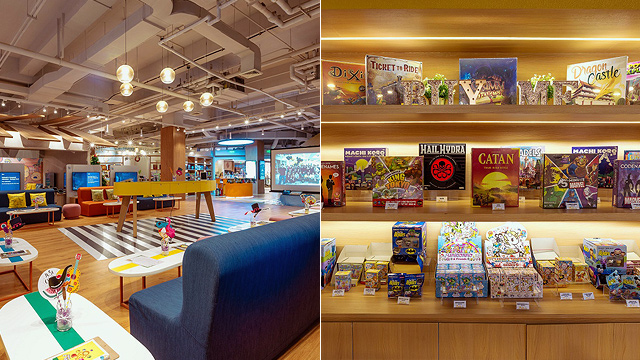 ADVERTISEMENT - CONTINUE READING BELOW
This Singapore-based franchise opened its Manila branch in October 2018 and has since become a recreational spot for students and yuppies in the area. Play Nation has brightly lit and spacious interiors, colorful furniture, and banana-wielding cartoon monkey designs at the forefront. Play Nation offers both digital and analog fun offering separate sections for consoles and board game sets. They even created their own board game called Dream Catchers that launched on Kickstarter, which is also exclusively available for purchase in their store. Play Nation will be collaborating with the Singaporean Embassy on an event at The Podium in September 2019 to celebrate the Singapore and Philippine 50th bilateral relation.
Best played with: Four Cheese Pizza (P370) plus you get free-flowing drinks in the initial gaming package already with additional free-flowing popcorn on the weekends.
Rules of playing: You must purchase consumables worth at least P250 on weekdays and P300 on weekends.
Play Nation Philippines is at UP Town Center, Katipunan Avenue, Diliman, Quezon City.
Laruan Atbp. Café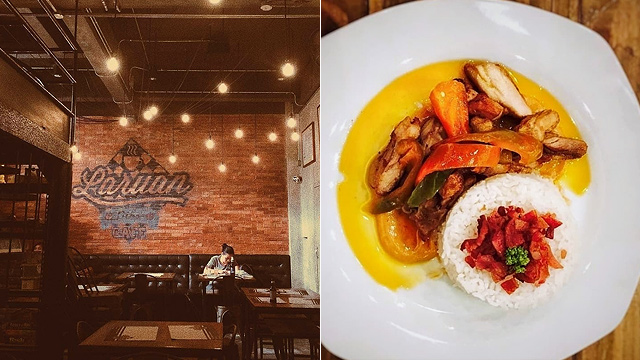 ADVERTISEMENT - CONTINUE READING BELOW
Laruan Atbp. Café has an industrial aesthetic with concrete, metal, exposed electrical wirings, wood, and brick walls. This neighborhood haunt is home to thriving Magic: The Gathering and Transformers: Trading Card Game communities, where matches are held on a regular basis. Laruan recently held a big Magic: The Gathering tournament where they gave away P100,000 worth of prizes, and they're planning more competitions in the future. They have also done a 24-hour gaming marathon with the UP Tabletop organization. You'll find plenty of hardcore hobbyists but Laruan is open to gamers of all kinds with quick-to-learn party games available for the newbies.
Best played with: Cajun Chicken + Bacon Rice Plate (P185), Ice Cream-Blended Drinks in Salted Caramel Pretzel, Creamy Banana Split, or Dark Chocolate Malt Cookie (P215), and their new off-the-menu dish: Kimchi Pares Fried Rice (P135)
Rules of playing: The minimum consumable fee is P150 for walk-in customers. There's no fee for students, neighbors in the surrounding area, and tourney participants.
Laruan Atbp. Café is at G/F Luisa Building 2, 107 Maginhawa Street, Teacher's Village, Quezon City.
Onboard Game+Gastro Pub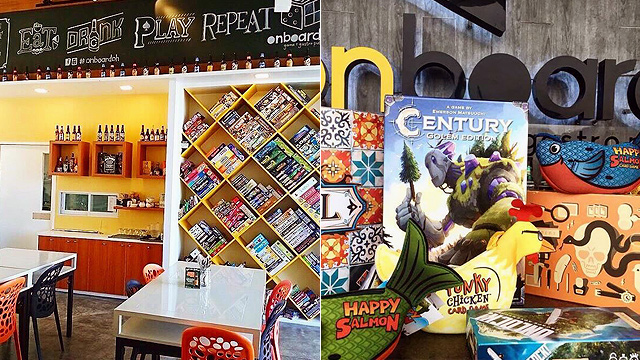 ADVERTISEMENT - CONTINUE READING BELOW
For Makati people raring to sit down and throw dice, look no further than Onboard Game+Gastro Pub. This play place's interiors were designed to cater to the hobbyist's needs with built-in cubbies and bag hooks that keep stuff out of the way but well within reach while you're thwarting an opponent's nefarious plans. Onboard can accommodate up to 90 people at a time and you can also rent Onboard's space for private events. They can even create a full program just for you: trivia night, murder mystery, or a board game tournament.
Best played with: Five Cheese Baked Penne (P285), Beef Tapa (P295), Slow-Roasted Crispy Pork Belly (P365), T-Milkshakes in Rock Salt With Cheese or Brown Sugar With Pearl (P195 each), and Buzzed Milkshakes (P199-P210).
Rules of playing: You can get your game on just as long as you order at least one item from the menu.
Onboard Game+Gastro Pub is at 1/F, Circuit Makati, A.P. Reyes Street, Olympia, Makati City.
Secret Base Gaming Lounge and Board Game Café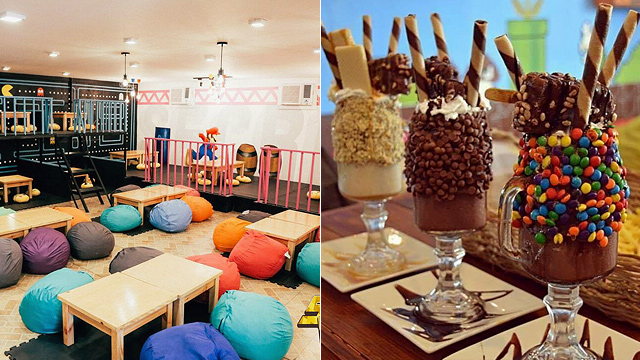 ADVERTISEMENT - CONTINUE READING BELOW
The Secret Base Gaming Lounge is the epitome of squad goals as their spacious setup, group meals, board games, and video games encourage bonding. The walls feature an astonishing amount of colorful fandom artwork that range from books to video games. Every corner serves as a backdrop to your next IG-worthy groupfie! You can even borrow costumes and props, which might help you get into character during your board-game session. There are currently two branches in the Metro and they plan to open a third one in the Novaliches area.
Best played with: Milk Tea Tower (P500) that comes with a side of nachos and platefuls of sinkers and the Tri-Wizard Meal (P730), which includes one food basket of nachos, pizza, fries, and mojos plus, three milkshakes.
Rules of playing: At least order something and then you can start playing to your heart's content!
See a list of Secret Base Gaming Lounge and Board Game Café branches.
Chemistea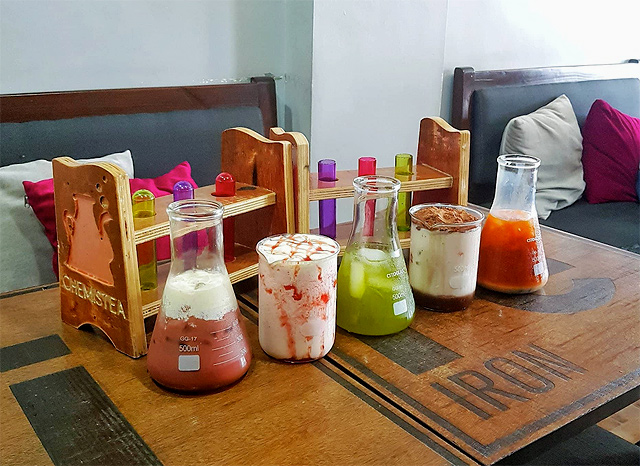 ADVERTISEMENT - CONTINUE READING BELOW
Chemistea serves a fusion of nerdy and geeky pursuits inside a cozy and quirky café. Sip on coffee and milk tea served in Erlenmeyer flasks and beakers as you browse through a selection of newbie-friendly party games. South folks, fret not—if it's a little too far, Chemistea plans to open another branch in BF Aguirre by September. The Parañaque branch will feature a more playful geeky ambience compared to the first branch's more minimalist look. The science-inspired café will stay true to its name by adding new drinks and eats that utilize liquid nitrogen later in the year.
Best played with: Grilled Cheese (P129), Spicy Chicken Pesto (P149), Nai Cha (P100/450 ml, P115/600 ml) and Cha Yen (P100/450 ml, P115/600 ml), Milo Dinosaur (P130/P145), and Caphe Sua Da (P145/P165)
Rules of playing: Everyone dining at the café should order at least one consumable item or perhaps one generous individual could be kind enough to treat the whole table to a feast (the real MVP).
Chemistea is at 2/F Legacy Building, 44 Shorthorn Street, Bahay Toro, Project 8, Quezon City.
Grid X Griddle Gastrolounge & Gaming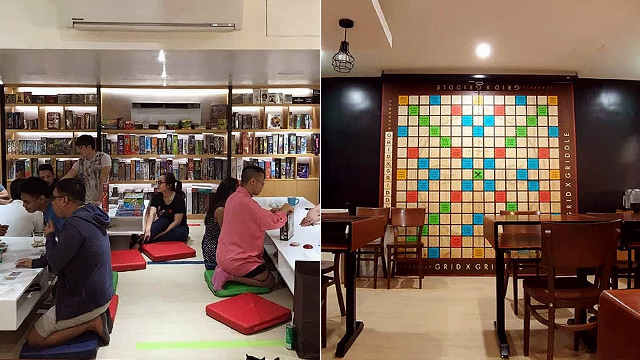 ADVERTISEMENT - CONTINUE READING BELOW
Grid X Griddle's design creates a look that's contemporary and chic while also being fun and playful. There's a dining area with carefully arranged sleek wooden furniture while a giant scrabble board is proudly displayed on the wall. There's also an adjoining gaming room that's stark white with multicolor accents. You can kick off your shoes, settle in comfy cushions, and play analog titles ranging from the classic Jenga to the visually arresting Sagrada.
Best played with: Truffle Pasta (P290), Calamari (P275), and Four Meat Pizza (P320)
Rules of playing: The house rules state that the customer must order one food item excluding soup, beverages, and desserts per head or spend on P250 worth of consumables.
Grid X Griddle Gastrolounge & Gaming is at 107 Mayflower Street, Greenfield District, Mandaluyong.
Snacks & Ladders/Shakes & Ladders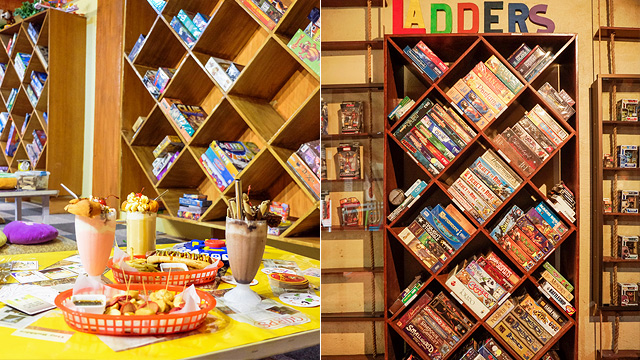 The Maginhawa branch (Snacks) covers two floors and is probably one of the largest board game-themed cafés in the Metro. Aside from the numerous board game titles in stock, you can further test your friendships by challenging them to a match of giant chess or Connect 4. The BF Homes branch (Shakes) features a snookball area, which is like a giant billiards table that makes use of the sports mechanics of soccer. Snacks & Ladders/Shakes & Ladders now offer services such as board-game home rentals, game-based tutorial sessions for students, and gaming events outside of the restaurant.
ADVERTISEMENT - CONTINUE READING BELOW
Best played with: For the Maginhawa branch, a large serving of Nachos (P285) that's good for sharing and Milo Dinosaur Shake (P195). For the BF Homes branch, a smaller serving of Nachos (P220) and Butterbeer Shake (P170).
Rules of playing: For the Maginhawa branch, you pay P50 to play all day. For the BF Homes branch, it's P100 to play all day and includes access to the snookball area.
Snacks & Ladders is at 188 Maginhawa Street, Sikatuna Village, Quezon City. Shakes & Ladders is at 388 El Grande Avenue, BF Homes, Parañaque City.
Game Over Respawn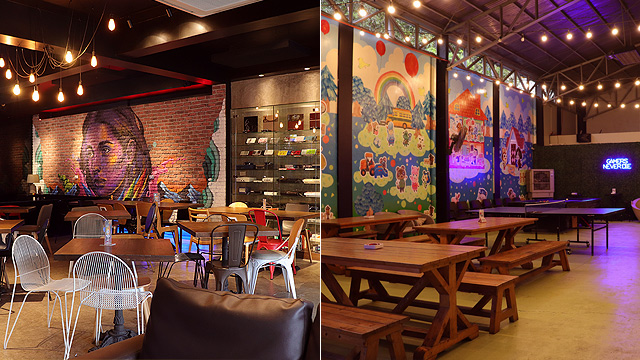 Game Over PH recently changed its name to reflect the full revamp of their menu and amenities. Although this establishment is more known as a video-game hub, they also have a wide selection of board games, from the luck-based to the skill-based type. If it gets too rowdy inside the premises (and let's face it, gamers have no indoor voice, especially during a virtual fighting match), you can duck out with your play set and dine al fresco under a string of twinkling lights. Game Over serves both the family-friendly crowd from the afternoon to early evening and the stressed out after-work crew, who usually come sauntering in around 10 p.m. onwards. They've got one of the most extensive beverage selections, having drinks ranging from no frills booze to hardcore mixes, which can make for a very interesting gaming experience after several shots.
ADVERTISEMENT - CONTINUE READING BELOW
Best played with: Spam Fries (P199), X.O. Pasta (P149), Crispy Kare-Kare (P239), Grilled Salmon Rice (P230), Choco Craze (P230), and a hard alcoholic drink called, Walang-Wala (P250).
Rules of playing: You can break out the board games as soon as you order P200 worth of food and drinks.
Game Over Respawn is at 31 Xavierville Avenue, Loyola Heights, Quezon City.
Ludo BoardGame Bar & Café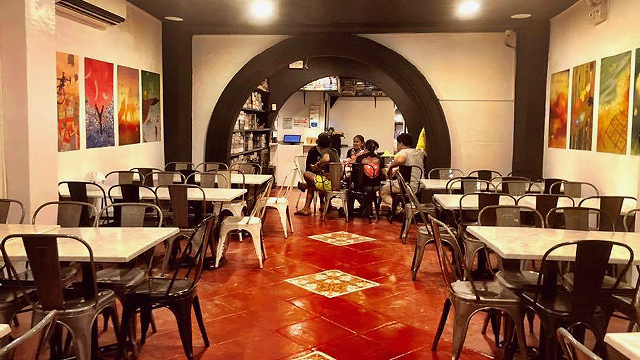 Ludo has an impressive collection of board games with enough variety to accommodate all skill sets. There are entry-level games to get you acquainted with the hobby and the type of slow-burn, high-complexity titles that take so long to finish that you'll end up leaving a sweaty butt imprint on your seat. (Ludo has hosted several 24-hour gaming events in the past so you it can actually happen.) If a particular title's rulebook leaves you questioning your sanity and incites dissent among your group, there are experts hovering about to help sort things out. After five years, one of the OG board game cafés is still going strong!
ADVERTISEMENT - CONTINUE READING BELOW
Best played with: California Maki (P200), Southern-Style Fried Chicken (P280), and their best-selling drink, The BiFrost (P180).
Rules of playing: Just order at least one food item and/or a specialty drink so you can start wrecking your opponents in tabletop gaming.
Ludo BoardGame Bar & Café is at 26 Scout Torillo Street corner Scout Fuentebella Street, Diliman, Quezon City.
Share this story with your friends!
---
Help us make Spot.ph better!
Take the short survey
Load More Stories