Your Next Chocolate Bar Could Be From Bicolano Cacao Beans
When tragedy struck, Chef Louise Mabulo planted a cacao tree.
When super typhoon Nina hit Bicol in 2016—worsening on Christmas day itself—almost everything was wiped out. In fact, it "destroyed 80% of all agricultural land," in Chef Louise Mabulo's town alone. It displaced thousands of families. Desperate and hungry farmers wound up selling their land for a quick buck, or worse, cutting down trees. All in all, it claimed 13 lives and caused P6.2 billion in damages. "It felt really hopeless looking at it, but it was also an opportunity to start fresh," the twenty-year-old shares.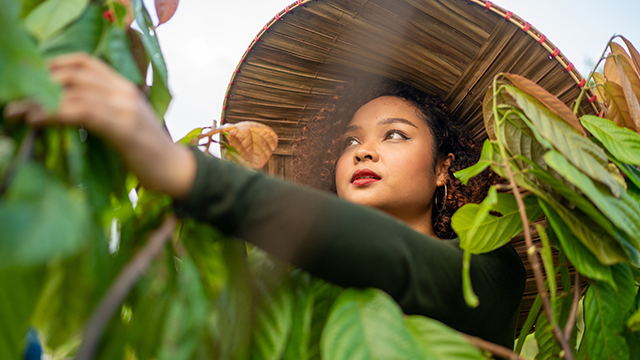 CONTINUE READING BELOW
Recommended Videos
ADVERTISEMENT - CONTINUE READING BELOW
Tall, proud coconut trees—the pillar of Bicolano cuisine—were all bent down and ruined. There, amid the ruins, though, stood a humble beacon of hope as cacao trees were the only ones that weren't tumbled over.
After some research, cacao trees fit the bill as the best solution to Bicol's landscape and climate. These disaster-proof trees could survive floods, winds, and typhoons—and are expected to grow even worse with climate change. "It became a matter of not just rebuilding what we had before, but creating livelihood [initiatives] that are more sustainable and disaster-resilient." Processed cacao, it turns out, is a product that can give farmers decent wages.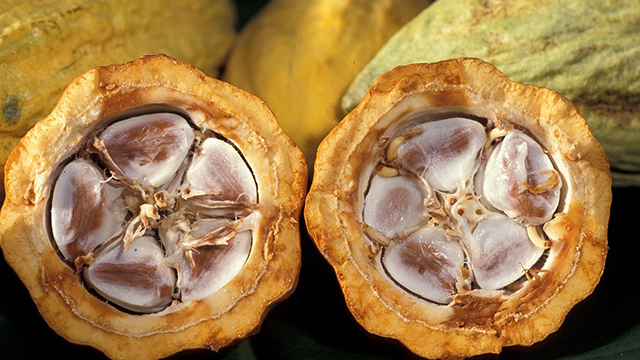 ADVERTISEMENT - CONTINUE READING BELOW
"It's one of the most well-loved foods around the world, and yet, in the next 40 years, we can run out of chocolate because of the current unsustainable farming practices and because of the global deficit of a hundred thousand tons," Chef Louise says at the Global Landscapes Forum for the Plenary, Agriculture and Forests: Supplying Success in Landscapes at the United Nations.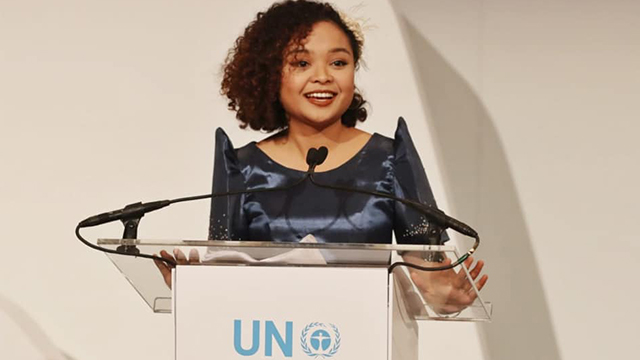 ADVERTISEMENT - CONTINUE READING BELOW
She believes that chocolate bars can not only be sustainable, but can also "save a community from a cycle of poverty, from food insecurity, and to use it to protect the environment and establish disaster resiliency."
With this information, Chef Louise held training programs reaching up to 200 Bicolano farmers and called it The Cacao Project. She showed them how to grow and process cacao, then gave away the seedlings. Along with the cacao trees, farmers also plant compatible crops like bok choy, okra, pumpkins, chilies, and eggplants.
Today, 70,000 cacao trees have been planted over 70 hectares of land, intercropped with current ecosystems, and rooted in barren and deforested land. It's improved land fertility, moisture retention, the forest canopy, and even helped revived two streams. More importantly, the training that The Cacao Project has been able to provide has helped "educate the farmers about the value of their work, and their value to the community, and the worth of their harvests."
ADVERTISEMENT - CONTINUE READING BELOW
"In the Philippines, there's a stigma against farming. [It's] often associated to poverty, vulnerability, and unsustainability," Chef Louise says. That's where people like her and other young people come in to help break that cycle. By entering the agricultural industry, their new ideas will bring a breath of fresh air to agriculture.
The Cacao Project has landed Chef Louise one of the most prestigious awards for young environmentalists: the Young Champions of the Earth Prize by The United Nations Environment Programme. "My biggest passion in life would be to help my community," she says. The attention and prize of the award will help The Cacao Project in helping their farmers achieve their long-term goal to churn out chocolate products such as chocolate bars, cacao liquor, and cacao vinegar.
With cacao ingredients soon to become more accessible, we're expecting some changes in the culinary tapestry. According to Chef Louise, "Bicolanos have been making their own tablea for some time now. Some of my fondest memories of my own Bicolana grandmother is when she harvests some of the pods of cocoa and dry them out in the sun. Then, I know I can expect a warm cup of hot chocolate in a few days' time since she makes tablea from scratch herself."
ADVERTISEMENT - CONTINUE READING BELOW
With a brilliant chef like Chef Louise in the ranks of Bicolanos, we know that cacao will soon be weaved even further into their contemporary cuisine. "Currently, cacao is underutilized in Bicolano cuisine, but pairs very well with the dominant flavors of coconut and chilies."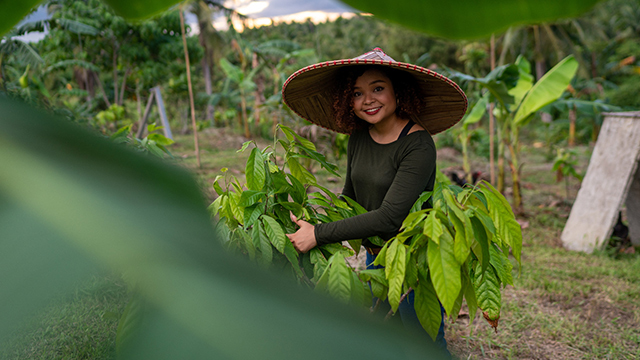 ADVERTISEMENT - CONTINUE READING BELOW
Chef Louise was only 12 when she landed in fifth place in Junior Master Chef Philippines. She then went on to win the Disciples des Escoffier Young Talent Trophy Asia for Best Dessert Award, and also became the youngest person to receive a National Certificate in Cookery from the Technical Education and Skills Development Authority. It's that passion for cooking that's also inspired her appreciation for growing her own food.
"In order for resilience to develop against typhoons, we need to help secure our farmers' livelihoods and ensuring food security. "It's time we integrate sustainability into our lifestyles, into the way we produce and purchase food, and it's time to be better stewards to Creation."
This story originally appeared on Yummy.ph. Minor edits have been made by the editors.
Are you sure you want to delete this list?

Load More Stories