(SPOT.ph) It's always interesting to see which restaurants locals frequent beyond the sheen of social media, especially with the abundance of Instagrammable places and trending posts every now and then. If you're curious on where to go for really good eats in Cebu City, then you've come to the right place. Here are restaurants and eateries that have stood the test of time and have come to define the palate of the Queen City of the South:
Here are must-try restaurants in Cebu City frequented by locals:
CnT Lechon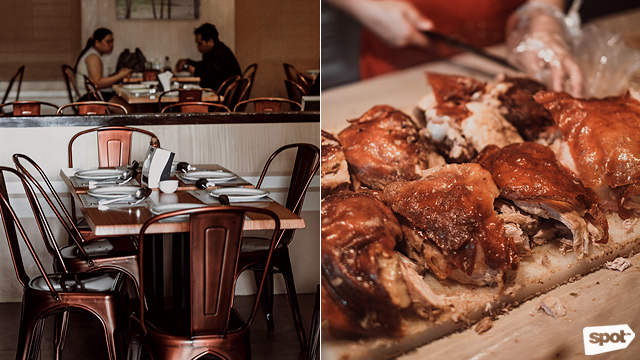 ADVERTISEMENT - CONTINUE READING BELOW
Every household has its own preferred lechon brand, but many will agree that CnT is the real deal. It's a family-run business that's been around for 32 years and has even opened a branch in the United States. In Cebu however, it only sources its pigs locally to ensure the best quality. Every Cebuano knows that the prime part of the Lechon (P600/kilogram) is the ribs, where the meat is creamy and salty from all the fat and spring onion stuffing, which you can also ask for. Dip it in the signature soy sauce-vinegar mixture and be sure to have it with puso, or rice cooked in woven palm leaves (P8) to balance out the flavor. A lesser-known fact is that, at parties, whole lechon is synonymous with dugo-dugo or dinuguan (P35). Lucky for you, CnT serves it daily—that way, every day of your trip is a party. You can even indulge in ginabot or Chicharon Bulaklak (P165) as a starter. It's best to go for lunch—some families even make a Sunday tradition out of it. Pro tip: Price varies across branches; the lechon may go for higher prices in malls, albeit more convenient.
See a list of CnT Lechon branches.
Carlos Special Ngohiong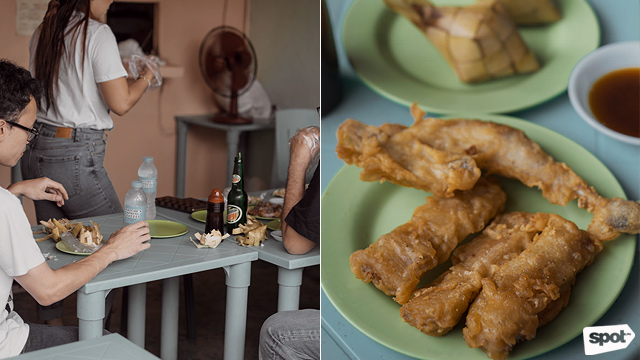 Ngohiong (pronounced ngo-yong) is a kind of lumpia that's unique to Cebu. It's made with ground pork, bamboo shoots, green onions, with five-spice powder, dipped in a mixture of soy sauce and a brown chili sauce, which every restaurant makes in-house.
ADVERTISEMENT - CONTINUE READING BELOW
Despite not being a pioneer, Carlos' star has been steadily on the rise. They consistently use young bamboo shoots for their Ngohiong (P9) so it doesn't prick your mouth as you eat it. Carlos also serves Fried Native Chicken (P78) and a liver-and-gizzard combo (P20) that are coated in the same crunchy-but-starchy ngohiong batter. Order at least one of everything, and be sure to get there maybe an hour before lunch—their dishes get sold out really quick.
Carlos Special Ngohiong has branches at C. Borces Street, Cebu City and Andres Abellana Street corner L. Bacayo Street, Cebu City.
Dimsum Break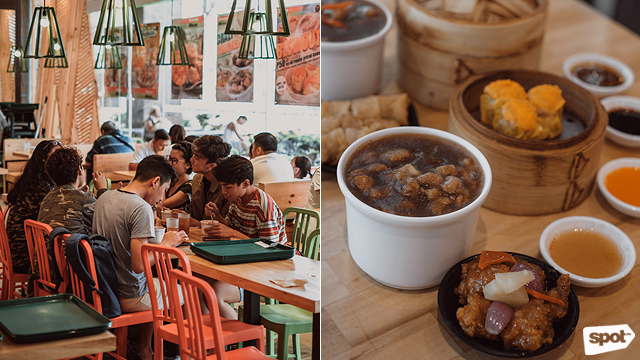 ADVERTISEMENT - CONTINUE READING BELOW
When talking about food in Cebu, dim sum always comes up. And you better believe we mean a particular chain of restaurants. Our essential order: steamed rice. Properly known as steamed fried rice (P79). It's fried rice that's ladled with a thick brown sauce with pork and shrimp bits—similar to Fookien fried rice but more homey. Have it with the classics: choose from Sweet and Sour Pork (P73), Fried Spring Rolls (P74), or Siomai (P75) for the complete experience. The IT Park and Banilad Town Center branches are both open 24 hours, so they're perfect spots to hit up after a night out. But any local who's been gone for a while knows that it's such a welcome treat to grab takeout at Harbour City in Marina Mall straight from the airport and eat it while you're stuck in traffic. Pro tip: Dimsum Break is managed by the Harbour City Group along with Ding How, Ding Qua Qua, and Harbour City, so they all share similar menus.
ADVERTISEMENT - CONTINUE READING BELOW
See a list of Dimsum Break branches.
Kusina Uno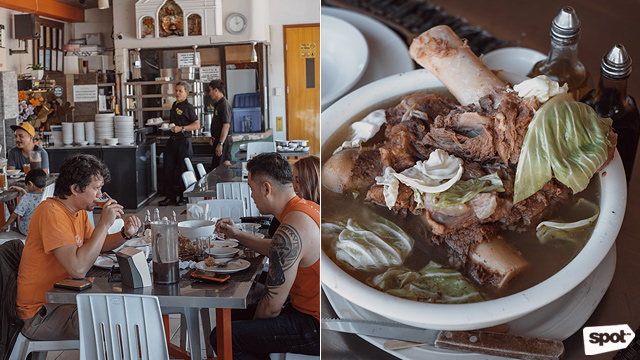 If you're hungover and looking for soup, or simply want something soothing on a rainy day, look no further than pochero. Unlike pochero in Manila, Cebu's version doesn't have bananas in it—instead, it comes with corn and bamboo shoots and will remind you of bulalo. While it's best to have this beef shank soup at a friend's home—like adobo, every family will have its own take—Kusina Uno is a worthy option and is the most well-known name in the game. Their take on Pochero (P565) is peppery and comes topped with cabbage. They even give you a popsicle stick to help you scoop out the rich marrow. The Buttered Chicken (P210) and Fried Intestine or ginabot (P200) are also popular among their late-night diners.  
ADVERTISEMENT - CONTINUE READING BELOW
Kusina Uno is at GND Complex, F. Cabahug Street, Mabolo, Cebu City, Cebu.
Matias BBQ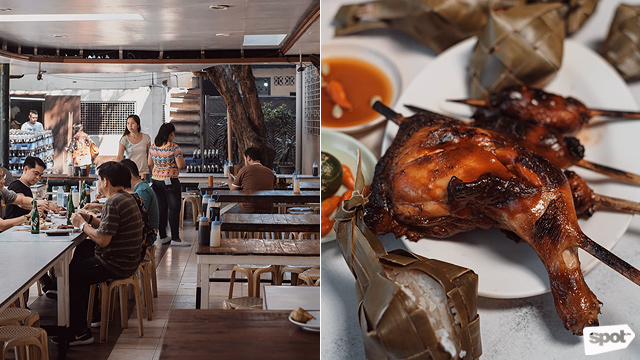 Around the mid-2000s, barbecue was a huge fad in Cebu. Who would have thought that a staple would become such a hot-ticket item? But Matias predated all of that by an entire decade. Its best known for its chicken barbecue (P55/leg, P65/breast) because it is always, always juicy. You can get pork barbecue (P13), sweet and garlicky Cebu chorizo (P13), and other grilled meats in all its ketchup-y goodness. Everything is brushed in banana ketchup and oil and some secret spices.
ADVERTISEMENT - CONTINUE READING BELOW
How to order: First line up by the grill and select the items you want, then secure a table and repeat your order to a waiter. He'll then take your orders for drinks and come back with too much puso (you only pay for the ones you consume, of course). Once the food is ready, someone will bring it to your table.
Matias BBQ is along A. S. Fortuna Street, Mandaue City, Cebu.
Café Georg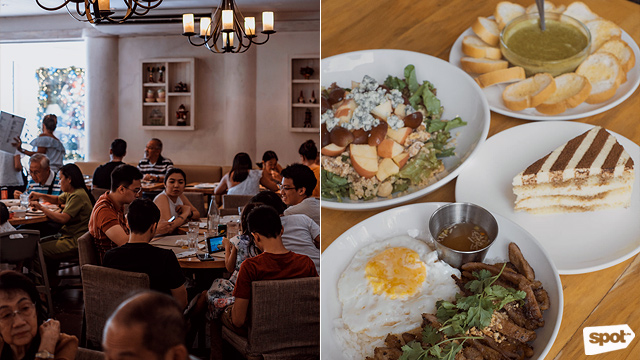 ADVERTISEMENT - CONTINUE READING BELOW
Café Georg is like an all-inclusive country club where you're sure to see a familiar face or two—the kind of place where locals merely pretend to look at the menu, because they've decided what to have even before sitting down. You can start with the creamy and comforting Spinach and Cheese Dip (P195) or the Quinoa Blue Cheese Harvest (P325), where the sweetness of the fruits and candied walnuts are nicely contrasted by the grain's texture. For a filling meal, go for the Vietnamese Lemongrass Pork (P275), with grilled pork that tastes familiar yet unexpected thanks to the spicy fish-sauce dip. End your meal with a slice of Tiramisu (P95), a light dessert that's packed with espresso, liqueur, and mascarpone flavors. But don't limit yourself to these—everything is good here and reasonably priced. You can also find its sister restaurant Oh Georg! at Ayala Center Cebu but with a more limited menu.
ADVERTISEMENT - CONTINUE READING BELOW
Café Georg is at MLD Building, Gov. M. Cuenco Avenue, Cebu City, Cebu.
Sunburst Fried Chicken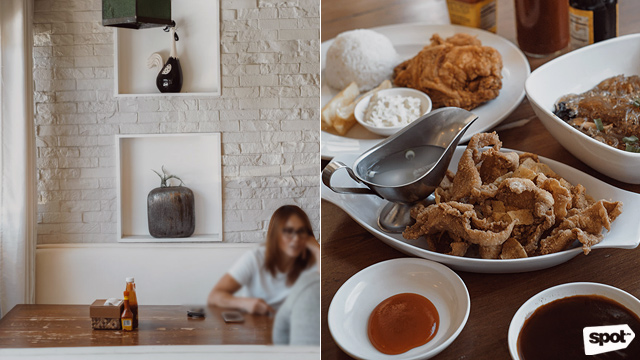 Sunburst's tagline is "The taste that sticks" and for many a Cebuano, it's true! But not a lot of people know that the beloved fried-chicken chain isn't homegrown—it's from Iligan City in Lanao del Norte. But that doesn't make it any less of a local favorite. The breading is thin and crisp and has a distinctive taste—we can only pick out the pepper because of the visible black flecks. The two-piece meal is called Sunduo (P188) and you get to pick which part you want. It comes with a tiny side of coleslaw and exactly three fat fries. If you can't get enough of the skin, you can order the Chick'n Crackers (P178/small, P278, regular) as an appetizer that comes with vinegar dipping sauce, but the ketchup-and-Worcestershire-sauce mix goes best with it. Other well-loved dishes are Liver and Gizzard (P128/small, P188/regular), Sotanghon Guisado (P168/small, P228/regular), and Beef with Ampalaya (P188).
ADVERTISEMENT - CONTINUE READING BELOW
Sunburst Fried Chicken is at G/F One Mango, General Maxilom Avenue, Cebu City, Cebu.
Maco Manok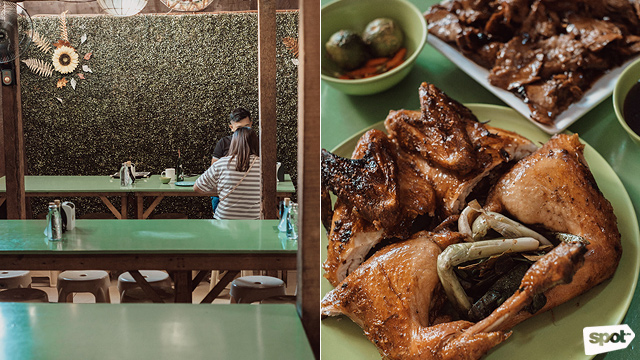 Maco Manok is a secret weapon at a potluck party, not because of their litson manok bisaya (roast native chicken), but because of their Roast Beef (P1,200/one kilogram). This isn't to say their chicken dish isn't good, but their roast beef is the real star. It's the quintessential lechon baka—sweet, savory, flavorful—perhaps the closest thing we can compare it to outside of its category is Cow Label dried beef, but the tenderness of the meat makes all the difference.
ADVERTISEMENT - CONTINUE READING BELOW
Maco's Chicken (P260)—served with the usual spring onion stuffing—is fragrant and noticeably meatier compared to others of its kind on the market. Considering how skinny native chicken usually is, that's saying something. Aside from chicken, Maco also offers a variety of affordable dishes, such as Baked Scallops (P110), Chorizo (P25), Pork Barbecue (P15), and Pork Sisig with Rice (P90).
Maco Manok is at A.S. Fortuna Street, Cebu City, Cebu.
Tagala Chicken Butterfly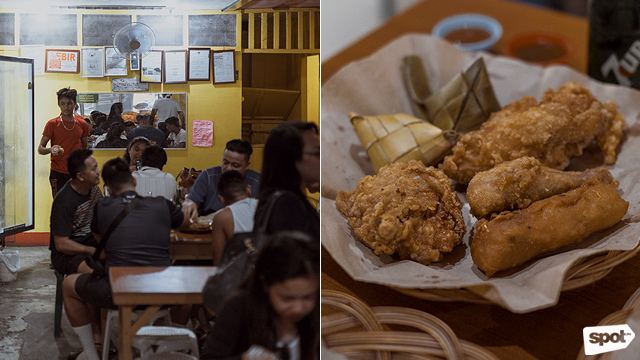 ADVERTISEMENT - CONTINUE READING BELOW
Particularly nostalgic for the alumni of Talamban, Tagala offers no-frills dining. You simply line up outside, then pay as you order. You seat yourself and make friends with whoever has the bottles of sauces. The fried chicken is affordable (P32 to 57, depending on the part) and is usually served hot. You can choose from sweet or spicy dips: The former will remind you of banana ketchup mixed with sweet and sour sauce, while the darker, spicy sauce just has a hint of smokiness to it.
Tagala Chicken Butterfly is at Don Jose Avila Street, Cebu City, Cebu.
Orange Brutus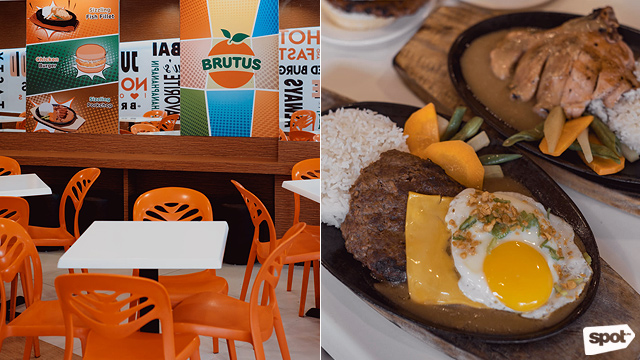 ADVERTISEMENT - CONTINUE READING BELOW
Now on its 39th year, Orange Brutus is one of the OG fast-food joints in Cebu. Everything from the batter of their famous Chocolate Monster (P60/slice) down to the burger patties is handmade. You cannot go wrong with their sizzling dishes, especially the Burger Steak with Egg (P127) and Sizzling Chicken (P115); with the gravy isn't overpowering or greasy. Relatively new to the lineup is the Chori Burger (P55), but it's a definite crowd pleaser. The sweet patty has a little bit of spiciness, and you can even add egg and cheese (P26) to make it a very satisfying snack. Pro tip: Some branches are open 24 hours.
See a list of Orange Brutus branches.
Update October 20, 2019: A previous version of this article stated that Café Georg's sister restaurant is Café Georg! The restaurant's name is Oh Georg. This has since been corrected.
Share this story with your friends!
---
Help us make Spot.ph better!
Take the short survey
More Videos You Can Watch
Load More Stories