The Serious List: Your Comprehensive Guide to Korean Barbecue and Where to Get It in Manila
Never be confused by a KBBQ's menu again!
(SPOT.ph) Filipinos have always been obsessed with all things Korean, from K-Pop to K-Drama, and even K-Beauty. And when talk turns to Korea, how can we forget Korean barbecue? Our obsession with KBBQ is nothing new—in fact, back in 2014, we came out with a list of the 10 best Korean barbecue restaurants in Metro Manila.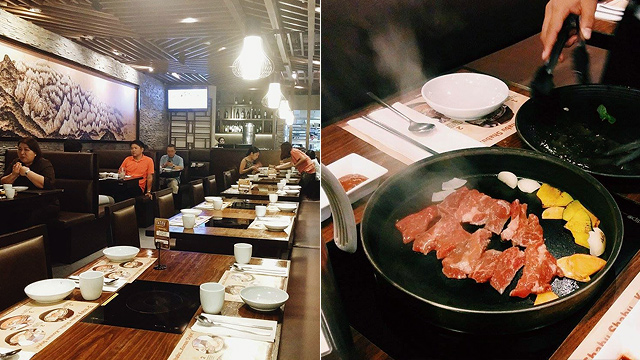 CONTINUE READING BELOW
Recommended Videos
ADVERTISEMENT - CONTINUE READING BELOW
One of the first Korean-barbecue restaurants to open locally was Bulgogi Brothers back in 2011. The KBBQ chain from South Korea is still around, with four branches that look a bit more upscale than your usual KBBQ joint. While they have the 6-Flavors Samgyupsal (P1,450), with curry, ginseng, soybean, salt-and-pepper, garlic, and bulgogi marinades that's perfect for groups, they also offer more premium cuts like marinated Rib-Eye Steak (P1,895/10-oz). 
Another place that offered KBBQ at the start of the craze is Sariwon, which opened in 2012. Also a chain from South Korea, the Manila branch is still going strong, offering traditional Korean dishes like Dolsot-Bibimbap (P380), served in a stone pot, and Japchae (P350) or stir-fried rice noodles, as well as Korean barbecue cooked on a dome griddle. Sariwon offers cuts like Sariwon Bulgogi (P545), marinated in a sweet sauce. Today, the Happyfoods Corporation, which brought Sariwon to the Philippines, also owns other Korean-barbecue chains: Soban K-Town Grill and Sibyullee.
ADVERTISEMENT - CONTINUE READING BELOW
What Goes Into Korean Barbecue: Cuts, Banchan, and More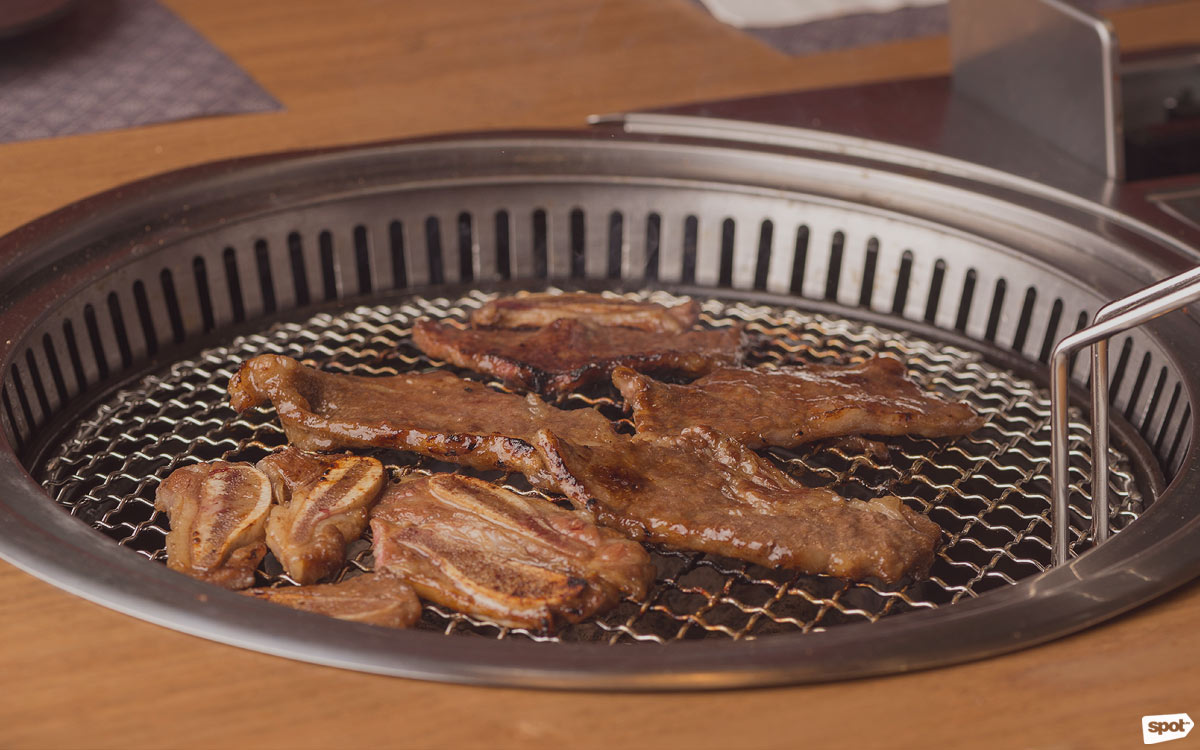 But before you start your Korean-barbecue feast, it's important to know what you're getting. If you've been to plenty of KBBQ joints, you're probably already familiar with some terms (samgyupsal and galbi, for example), but here's a cheat sheet for everything you need to know before ordering, from meat cuts to the different kinds of banchan.
Kinds of Korean Barbecue Cuts
Different Korean-barbecue places offer different cuts of pork, beef, and chicken for their barbecue. Some even offer fish, seafood, and even offal. If you're a KBBQ addict, you've most likely seen these cuts on the menu regularly, and because they are usually listed by their Korean name, it's easy to be confused. Here's a handy guide to the Korean-barbecue cuts you're most likely to see at your favorite joint. 
ADVERTISEMENT - CONTINUE READING BELOW
Samgyupsal: Pork belly. This is the most common cut you'll find in Korean-barbecue chains and is most likely the first cut that pops in your mind when you think Korean barbecue. This is thinly cut wide strips with three alternating layers of pork and fat. Fun fact: samgyupsal's literal translation is "three layers of flesh." Often, KBBQ joints will offer fresh and marinated samgyupsal. 
Woo Sam Gyup: Sometimes labeled as woo samgyupsal, this is beef belly strips or the beef counterpart of samgyupsal. This can also be served fresh or marinated.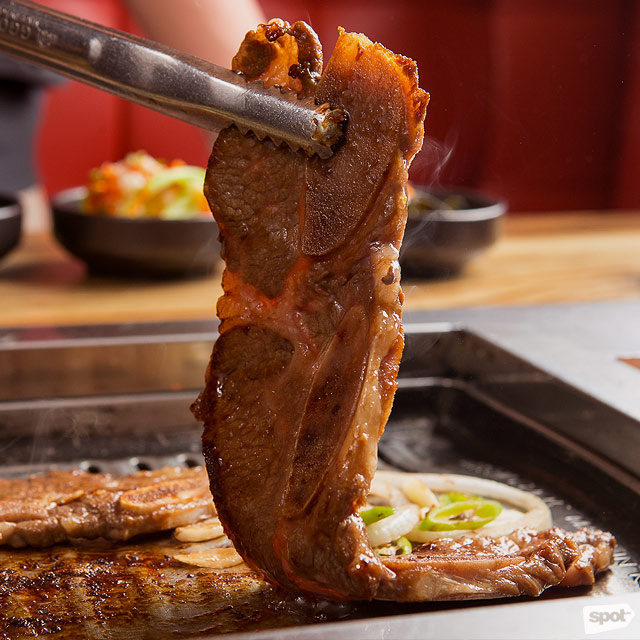 ADVERTISEMENT - CONTINUE READING BELOW
Galbi: Beef short rib. You will often see two kinds of galbi on the menu: the regular, Korean-style galbi, which is cut in segments around each rib so you get thicker chunks, and the LA Galbi, where the rib bone is cut through, resulting in a longer, thinner cut with three exposed rib bones. The cut is the only difference between the two, and both are marinated and grilled the same way. Rarely is this cut served without a marinade.
Bulgogi: Thin slices of marinated, grilled beef (usually brisket) or pork. Bulgogi is usually marinated in a sweet-savory sauce of soy sauce, sugar, garlic, sesame oil, black pepper, and, on some occasions, scallions and onions. Some Korean eateries will also offer pre-grilled beef bulgogi served with rice and sides as a complete meal.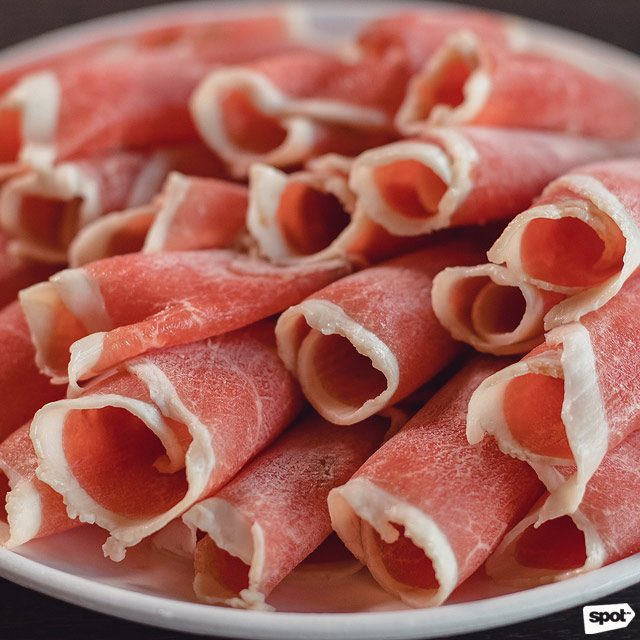 ADVERTISEMENT - CONTINUE READING BELOW
Deungsim: Ribeye steak. A more premium cut that's significantly heftier than usual strips of barbecue and has lots of marbling for extra tastiness. If you see this on the menu and have the cash to spare, it's always worth ordering.
Chadolbaegi: Thinly cut beef brisket with layers of fat that crisp up upon hitting the grill. This is commonly served fresh then dipped in sesame oil seasoned with salt and pepper right after grilling. Some restaurants go the extra mile and serve chadolbaegi rolled and plated like a flower because of how thin the slices are.
Dak Galbi: Boneless chicken, often marinated in a spicy sauce. Sometimes, dak galbi also refers to stir-fried boneless chicken in a gochujang-based sauce with rice cakes, bell peppers, onions, and potatoes.
Banchan or Side Dishes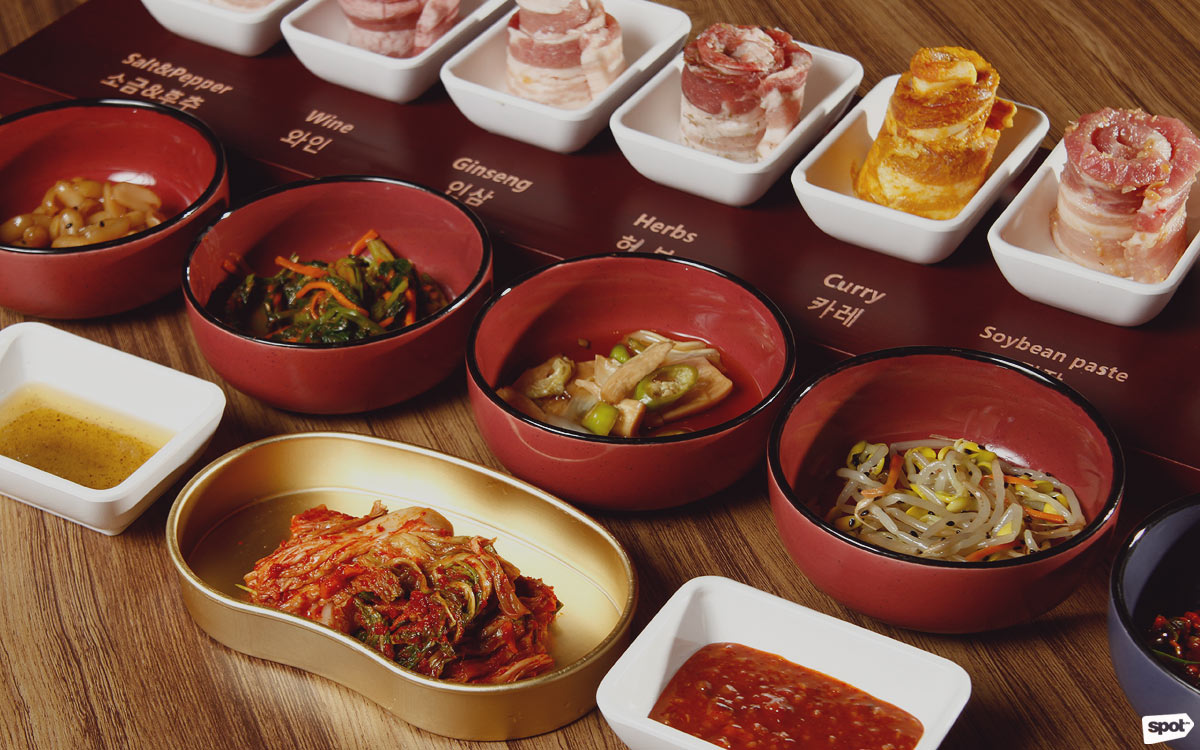 PHOTO:

Vincent Coscolluela
One element that sets Korean barbecue apart from other types of barbecue is the banchan or side dishes that are served ahead of your protein. The common flavor profile for banchan is tangy, spicy or sweet-salty, to provide a contrast with the often fatty, succulent barbecue. Don't be afraid of filling up on banchan, especially if they are refillable, as they serve as palate cleansers. Aside from kimchi, here are some of the banchan you will often get at a KBBQ joint (for a complete guide, check this out).
ADVERTISEMENT - CONTINUE READING BELOW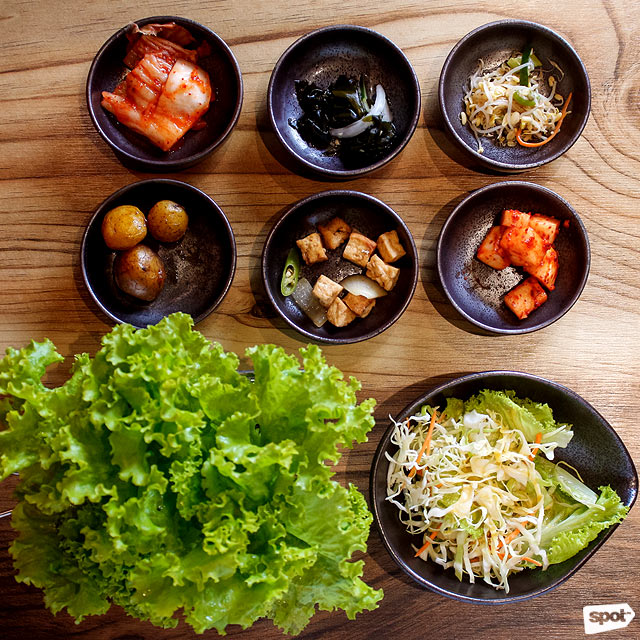 Algamja-jorim: Baby potatoes that are braised in soy sauce and rice syrup for its distinctive, sticky-sweet flavor. Perfectly cooked algamja-jorim has a crisp bite on the outside (the potatoes are cooked and served skin on) and a fluffy interior.
ADVERTISEMENT - CONTINUE READING BELOW
Eomuk-bokkeum: Spicy, stir-fried fish cakes. The fish cakes are thinly sliced to better absorb the sauce they're blanketed with.
Gyeran-jjim: Korean steamed egg. This is served steamed and in a traditional Korean pot, with a fluffy, souffle-like dome and a sprinkling of green onions. Just mildly salty and with a clean flavor, a spoonful of gyeran-jjim is a great palate cleanser in between bites of barbecue.
Aside from banchan, Korean barbecue is also served with a plate of lettuce and/or perilla leaves for wrapping plus ssamjang (usually a mix of gochujang or Korean chili paste and doenjang or soybean paste) and sesame oil seasoned with salt (and sometimes pepper, too). A lot of Korean-barbecue chains now also offer cheese sauce to go with your barbecue. 
How to Eat Korean Barbecue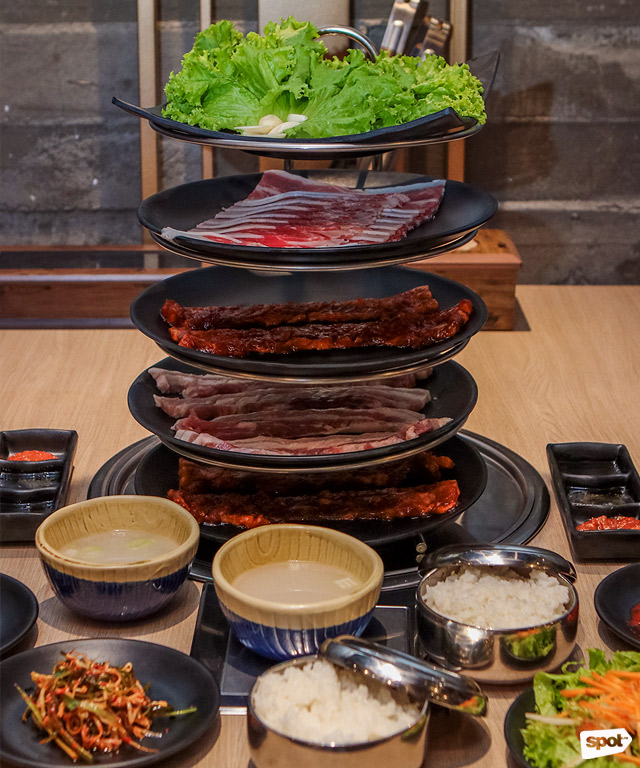 ADVERTISEMENT - CONTINUE READING BELOW
While there's no right or wrong way to eat Korean barbecue, if you want to eat like a local, you have to build a Korean-barbecue wrap that you can eat in one bite. To do this, first pick up a piece of lettuce, which you can then tear in half to make it more manageable. Then, place a slice of meat on your leaf. Dab on some ssamjang on your barbecue then add in a garlic clove (if available) or some kimchi (or both!). Then, wrap it up and pop everything in your mouth in one bite. 
There's also a certain order of eating the different kinds of Korean barbecue cuts you might have on the table. It's recommended to grill fresh cuts first before moving on to marinated cuts. Not only does this method keep your grill clean and nonstick until the end, but going from fresh to stronger flavors means you don't overwhelm your palate.
ADVERTISEMENT - CONTINUE READING BELOW
Also, if you're dining at a joint that lets you grill your own barbecue, make sure to not overcrowd your grill and not to overlap pieces of meat. This ensures that all your protein cooks properly and evenly.
Another tip? Try grilling your kimchi to give the tangy, pickled veg a nice, subtle smokiness.
Where to Get Korean Barbecue in Manila
Five years after our first KBBQ list, and the Korean-barbecue craze is as wild as ever. Our previous list has changed significantly as new players entered the field. Budget-friendly chain Samgyupsalamat has been around since 2012, but they grew in popularity even more in 2017. It's not surprising to see a long queue outside their branches—it can take hours just to get inside!
Another chain that exploded in popularity seemingly overnight is Romantic Baboy. Ever since they opened their first branch in January 2018 in Tomas Morato, their adorable suited-up pig mascot and gooey cheese dip have conquered Metro Manila and beyond. 
ADVERTISEMENT - CONTINUE READING BELOW
The best thing about these casual chains is that they offer unlimited servings of Korean barbecue at affordable prices. Yes, you can fill up on all the barbecue you want even on a budget—check out this guide for unlimited Korean barbecue for less than P500. In Quezon City alone, you can find also find plenty of all-you-can-eat places with affordable rates. Here are spots in the Metro you can go to when the KBBQ cravings hit: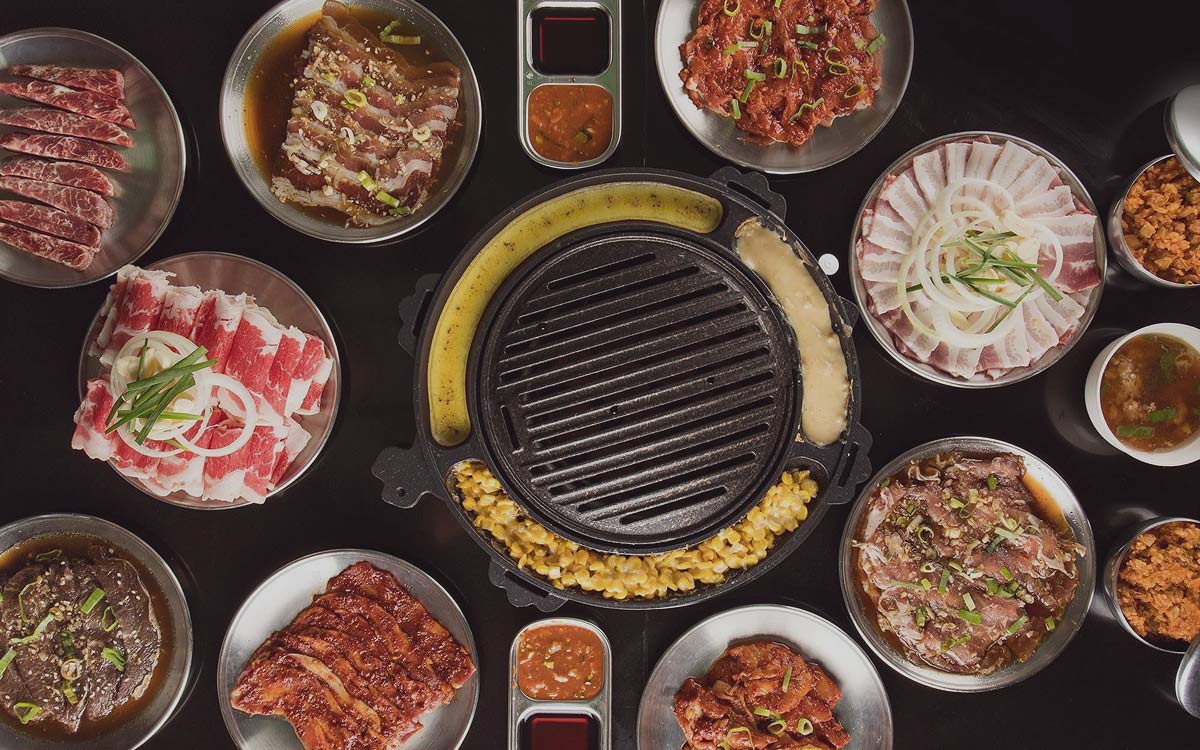 Leann's Tea House offers some of the most affordable unlimited Korean barbecue deals in the Metro
PHOTO:

Leann's Tea House Facebook page
Leann's Tea House
For as low as P399, you can feast on unlimited pork barbecue at this Quezon City joint. Leann's Tea House Beef and Pork set also fits the budget: For P499, you can get unlimited servings of pork, woo samgyup (beef belly), spicy woo samgyup, and bulgogi with cheese, corn, and egg. If you're not in the mood for all-you-can-eat, you can also go for their à la carte menu: You can splurge on LA Galbi (P520) or beef short ribs or go for Cheese Bulduk (P340) or spicy chicken blanketed in gooey cheese.
ADVERTISEMENT - CONTINUE READING BELOW
Leann's Tea House is at 105-R Mother Ignacia Avenue corner Scout Madrinan Street, South Triangle, Quezon City.
Matgalne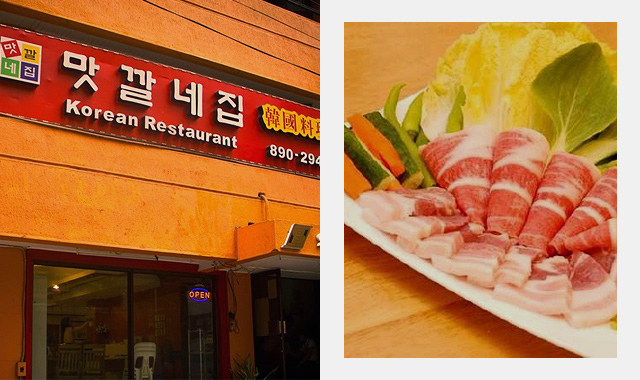 Pasig folks know that you can count on Matgalne for affordable unlimited Korean barbecue in the area. If you drop by lunchtime on a weekday, you can get enjoy all-you-can-eat barbecue for only P449. The price goes a little higher on dinnertime and weekends; on those times, you can get unlimited KBBQ for P599, which is still pretty affordable. The unlimited menu includes samgyupsal and spicy samgyupsal, plus chadol (thinly sliced beef brisket), spicy chicken, squid, and shrimp.
ADVERTISEMENT - CONTINUE READING BELOW
See a list of Matgalne branches.
Sodam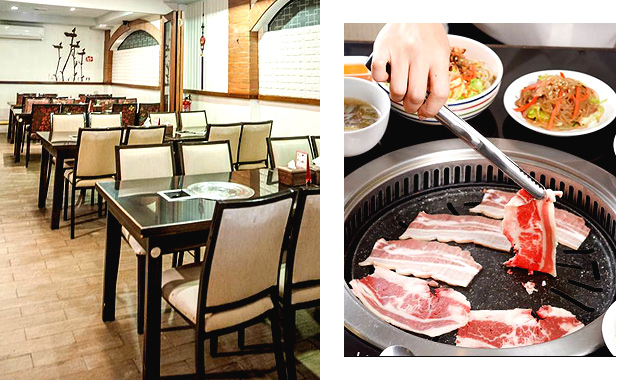 For affordable unlimited Korean barbecue in San Juan, check out this hidden gem. Get all-you-can-eat pork barbecue for P349 on weekday lunch, and P399 for all-you-can-eat pork and beef barbecue on weekday lunch and dinner. The price includes your choice from doenjang-jjigae or soybean stew, Volcano Kimchi Stew, or ramyun. On weekends, the rate goes up but is still pretty budget-friendly: P399 for all-pork barbecue, P499 for pork and beef barbecue, and P549 for all-beef barbecue.
ADVERTISEMENT - CONTINUE READING BELOW
Sodam is at 17 J. Abad Santos Drive, Little Baguio, San Juan City.
Makati City
A huge chunk of Metro Manila's Korean restaurants is in Makati City, especially in Poblacion. We have a list of the best Korean-barbecue joints in the city, but if you're in the area, it's better to head to the ones you can only find in Makati. A lot of them are run by Koreans so you know you're getting a taste of the cuisine that is as close to authentic as it can get. Here are three you should check out first:
Korean Garden Restaurant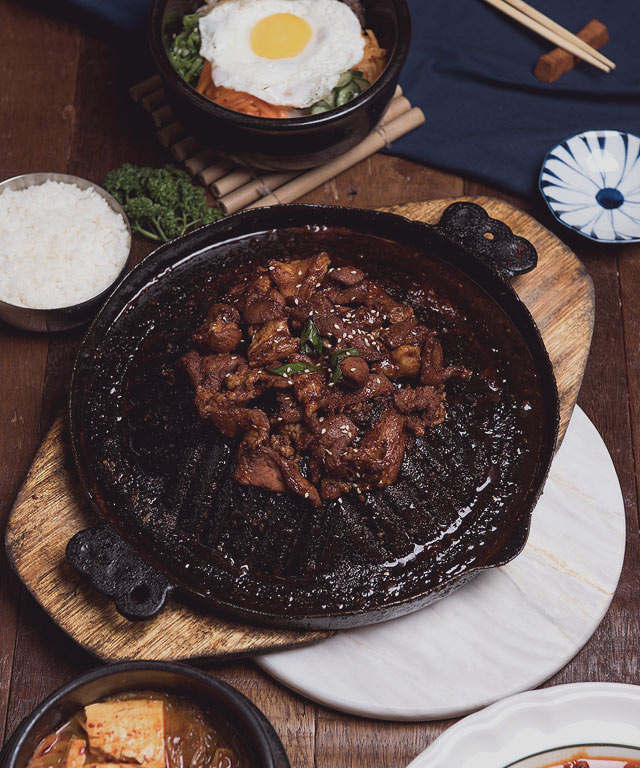 ADVERTISEMENT - CONTINUE READING BELOW
This Korean restaurant in Makati is practically an institution—established in the early '90s, Korean Garden Restaurant is probably one of the first Korean restaurants to open in the Metro. There are no tabletop grills at Korean Garden Restaurant, but they do offer bulgogi like So Bulgogi (P350) or beef, Dueji Bulgogi (P340) or pork, and even Saewoo Bulgogi (P430) or shrimp barbecue. Pair your KBBQ with Korean dishes like Pajon (P330) or spring-onion cake, and Samgyetang (P790) or hearty ginseng chicken soup.
Korean Garden Restaurant is at 128 Jupiter Street, Bel-Air, Makati City.
Joe Snack Grill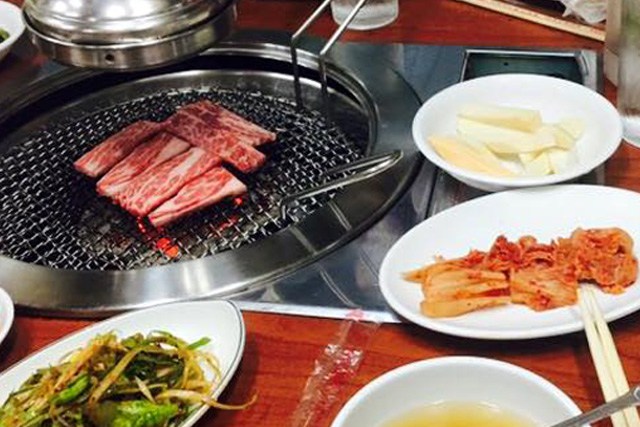 ADVERTISEMENT - CONTINUE READING BELOW
This Korean eatery may only offer eight items but they're a favorite in Poblacion for good reason. For one, they're open until the wee hours of the morning (4 a.m., to be exact), so you know where to head for post-drinking munchies. They also use charcoal for their grills to give their meat a distinctive, char-grilled smokiness. We recommend going for the Kotdungsim (P550) or beef sirloin and Makchang (P690) or beef tripe, but if you're on a budget, the Samkyupsal (P320) or pork belly more than satisfies. Every order comes with free soup, rice, and banchan, but you could always add in Naengmyun (P250) or cold spicy noodles for a complete Korean feast.
Joe Snack Grill is at 6244 Don Pedro corner Cayco Street, Poblacion, Makati City.
Min Sok
ADVERTISEMENT - CONTINUE READING BELOW
Min Sok is a great Korean-barbecue joint but a lot of regulars would admit that they go back for the unfortunately non-refillable banchan. Their kimchi is noteworthy but also go for their Gamja-Jeon (P320) or potato pancakes and Godeungeo Gui (P350) or grilled mackerel. For Korean barbecue, you can choose from classics like Kkotdeungsim (P980) or beef short rib and Samgyupsal (P320) to more out-there options like Useol Gui (P450) or ox tongue and Jokbal (P980) or glazed pig trotters. Min Sok also has an extensive menu of other Korean staples from stews to noodle dishes—some of which you might be hard-pressed to find anywhere else.
Min Sok is at 5655 Don Pedro Street, Poblacion, Makati City.
Pasig City
Another city that is a haven for Korean eats is Pasig City—you just have to roam around Ortigas to see this. While there is no shortage of good Korean places in the city, we've gone ahead and rounded up the 10 best places for Korean barbecue in Pasig—and if you really can't decide where to go, here are the three places you should check out first:
ADVERTISEMENT - CONTINUE READING BELOW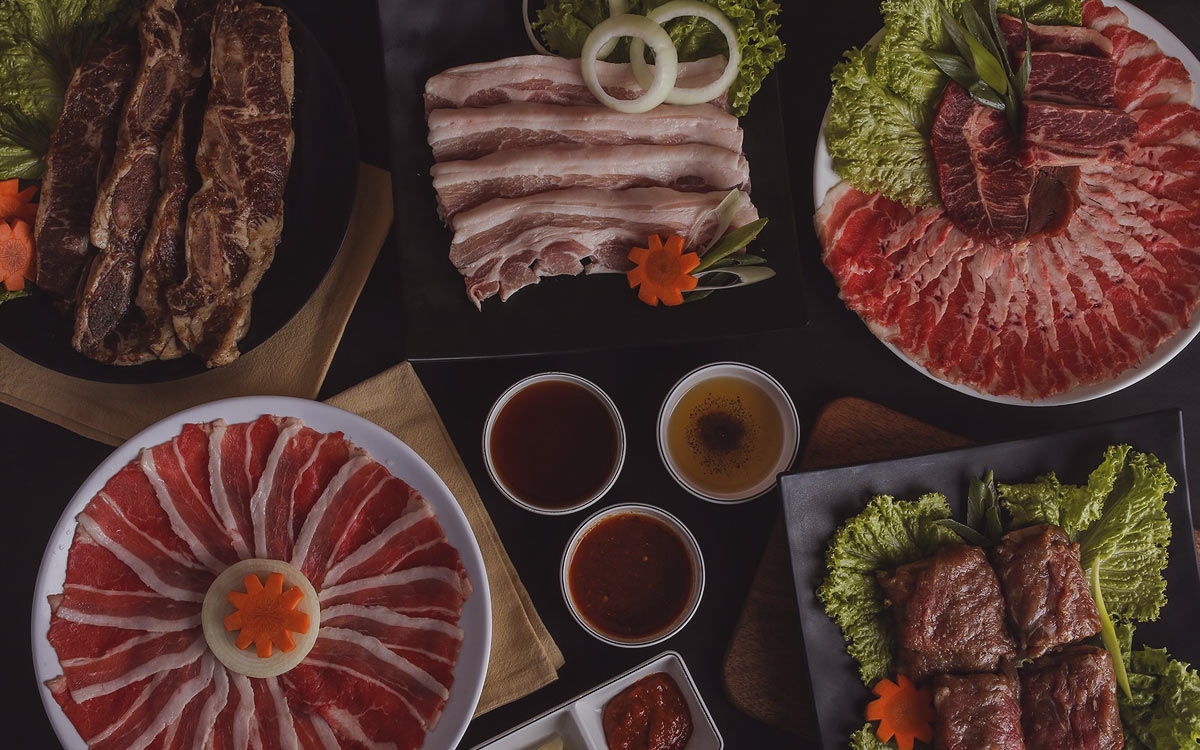 Ye Dang is practically a Pasig institution
PHOTO:

Ye Dang Facebook page
Ye Dang
Ye Dang is practically a Pasig institution by now—anyone who regularly passes by Meralco Avenue knows that the Korean restaurant seems to have been around since forever. Go for the Saeng Samgyupsal (P380/180 grams) or thick-cut pork belly, Bulgogi (P330/250 grams) or marinated beef strips, and Galbisal (P500/180 grams) or US beef rib fingers. Each meat platter comes with banchan and lettuce, and Ye Dang also offers a menu of Korean stews and staples like Tteokbokki (P380) and Kimchi Chigae (P300).
Ye Dang is at Gold Park Complex, Meralco Avenue, Pasig City.
Masil
ADVERTISEMENT - CONTINUE READING BELOW
When talk goes the best places for Korean barbecue, Masil should be part of the conversation. While they don't offer unlimited KBBQ (yet—fingers crossed!), you'll be completely satisfied with their Premium Sets that already include a variety of meat and side dishes. The Premium Set A (P4,200) has deung shim (beef ribeye steak), galbi kkotsal (boneless beef short ribs), buchaesal (beef top blade steak), galbi jjim (braised beef short ribs) plus stew, rice, and banchan. If you don't feel like spending too much, you can also choose from their ala carte menu of pork and beef cuts for barbecue. They have a pretty excellent Dolsot Bibimbap (P350), too.
Masil is at Tiendesitas, Pasig City.
Jang Ga Nae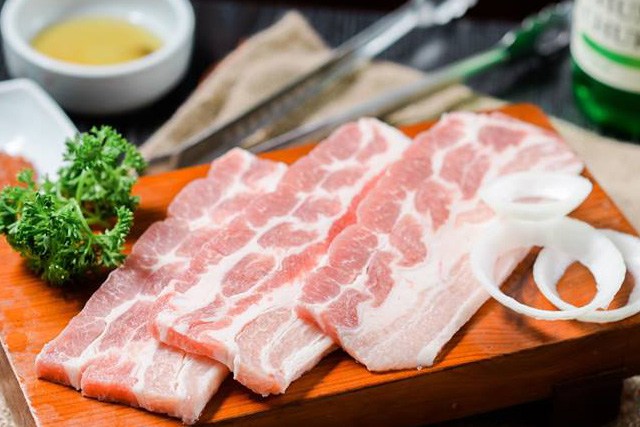 ADVERTISEMENT - CONTINUE READING BELOW
Jang Ga Nae stands out for using charcoal grills, which gives their meat a smoky, char-grilled flavor. They now offer unlimited Korean barbecue for only P499—this will get you six different cuts of pork and beef plus chicken galbi (stir-fried chicken), ramen, mozzarella cheese, steamed egg, and refillable banchan and lettuce. End your meal with bingsu (P195/regular, P295/large) of which Jang Ga Nae offers four flavors: Mango, Chocolate, Strawberry, and Matcha. 
Jang Ga Nae is at 8137 Plaza Ortigas, Jose Escriva Drive, Ortigas, Pasig City.
Alabang and Parañaque City
The South of the Metro is also not lacking in Korean-barbecue joints. There are good Korean barbecue joints and then there are great ones—we list ten of those in this roundup but we recommend visiting these three places first.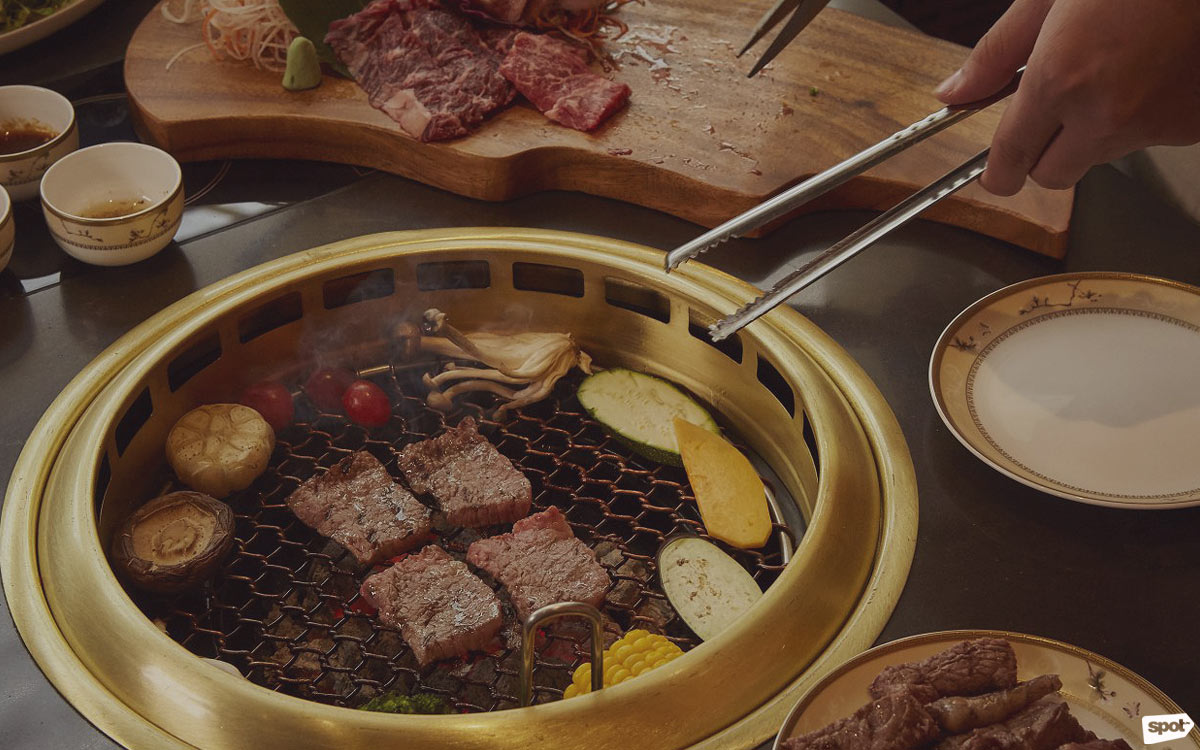 Goryeo uses smokeless grills for a hassle-free Korean-barbecue experience
PHOTO:

Dairy Darilag
ADVERTISEMENT - CONTINUE READING BELOW
Goryeo Korean Dining
For a Korean-barbecue experience that is a bit more upscale than usual, head to Goryeo at Okada. You will feel like Korean royalty with their elegant, warm-red interiors and gold-accented decor—Goryeo, after all, takes inspiration from one of the most prominent royal dynasties in Korea's history—plus their cool, smokeless grills. Feast on the Sogogi Modeum Gui (P2,,900) or assorted beef set, which also comes with different kinds of greens like peppery arugula or crisp romaine plus trumpet mushrooms, whole cloves of garlic, cherry tomatoes, sliced eggplants, and a fresh salad of shredded lettuce and red cabbage.
Goryeo Korean Dining is at Restaurant Promenade, UG/F Okada, New Seaside Drive, Entertainment City, Parañaque City.
Sing Sing Restaurant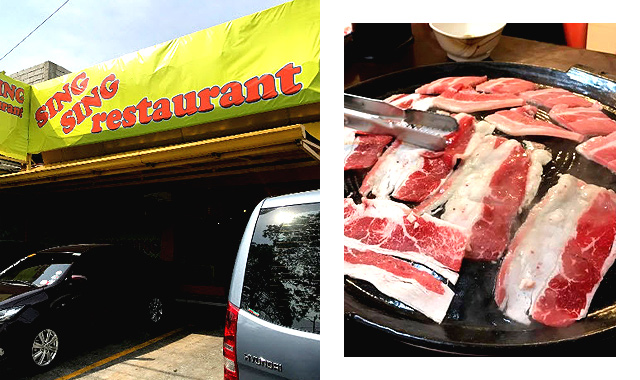 ADVERTISEMENT - CONTINUE READING BELOW
Sing Sing also doubles as a meat shop, so you can be assured that you're getting only the freshest cuts for your Korean barbecue here. You can go for their unlimited sets, which all come with refillable rice and banchan: the Unlimited Samgyupsal and Unli Rice set goes for P350 while the Unlimited Short Plate and Unli Rice is also pretty affordable at P480. Pair your barbecue with Soju (P200) and Jab Chae (P300) or stir-fried glass noodles and you've got yourself a Korean feast.
Sing Sing Restaurant is at 268-A Aguirre Avenue, BF Homes, Parañaque City.
A-WON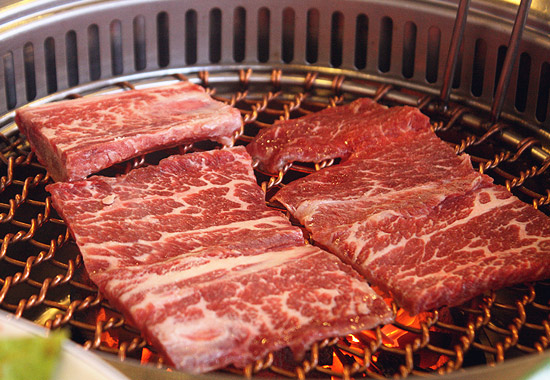 ADVERTISEMENT - CONTINUE READING BELOW
With their commitment to getting even the smallest details right—they use real copper grills and coconut husks from Davao to get a specific char-grilled flavor—A-WON is easily one of the best Korean-barbecue places in Alabang. Go for their Yangnyeom-galbi (P800) or beef ribs marinated in a special, signature A-WON sauce or the Jumulleok (P800), rib fingers served with salt, pepper, and sesame oil. Note that refills for the banchan are limited, but you should leave space for their excellent Haemul-pajeon (P450) or seafood and spring onion pancake, anyway. A-WON also offers an extensive menu of Korean stews and mains.
A-WON is at 2/F Commercenter, 1780 Commerce Corner Filinvest Avenue, Filinvest City, Muntinlupa City.