The Test Kitchen
G/F One Rockwell, Rockwell Drive, Rockwell Center, Makati City
Open from 11 a.m. to 3 p.m. and 6 p.m. to 10 p.m. (Tuesday to Sunday)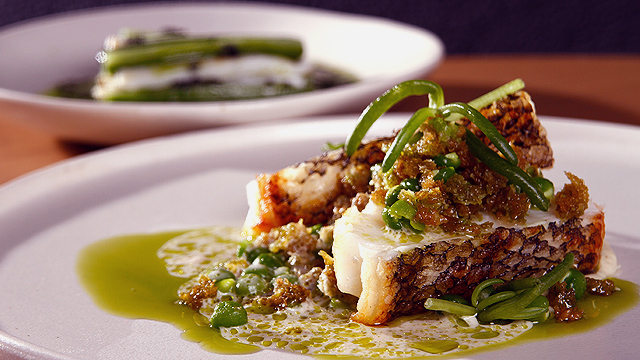 (SPOT.ph) It's been a long and winding road for The Test Kitchen, whose original outpost in San Antonio began "a state of hybernation" in March 2018. But believe us when we say it was worth the wait. Their new location along Rockwell Drive gives the restaurant height, allowing them to experiment with a darker palette, more focused lighting, and two different levels of kitchen space.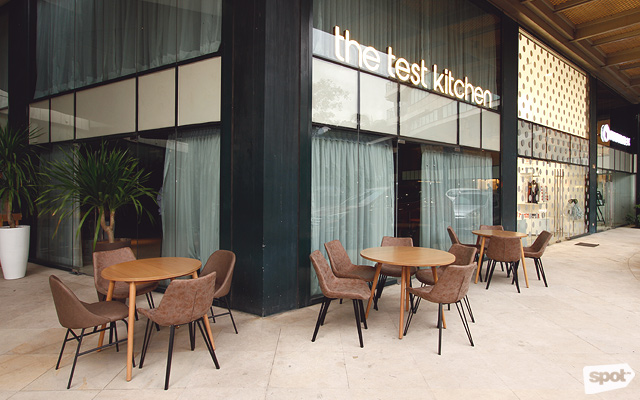 ADVERTISEMENT - CONTINUE READING BELOW
Downstairs is where all the action is—get your minds out of the gutter—and where you can really see the kitchen's cogs turning. But upstairs is where true magic takes place, especially if you're a real nerd about food.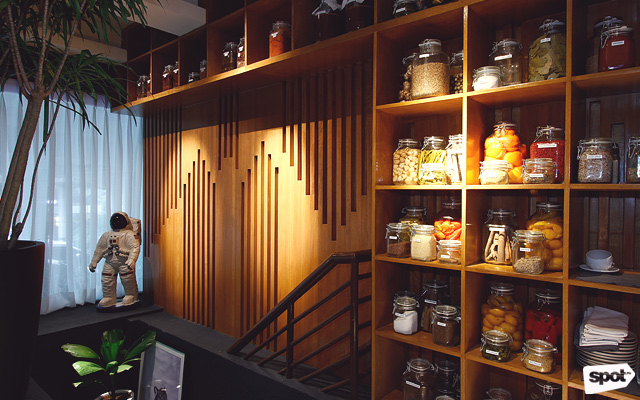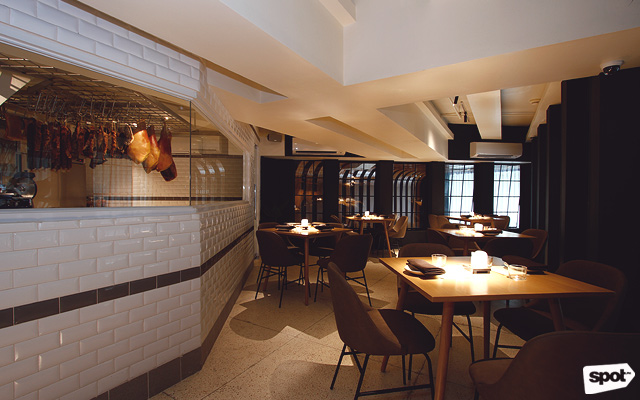 ADVERTISEMENT - CONTINUE READING BELOW
Recommended Videos
As you walk up the stairs, you'll notice several little touches that make it evident how personal this place is; how much of Chef Josh Boutwood's heart is in it, whether he meant to give that much or not. Some of you may recognize the little astronaut from Savage, which at the moment stands just above the portrait of Boutwood's late dog, facing the empty wine bottles that friends and guests have signed post-meal.
The shelves that transition to the upper dining space are lined with spices and pickling projects of all sorts, meant for future use. But taking your meal upstairs doesn't only mean a little extra privacy—actually, what you get is a good look at what we're calling The Big Fridge. (That's…not what they call it there, for the record.)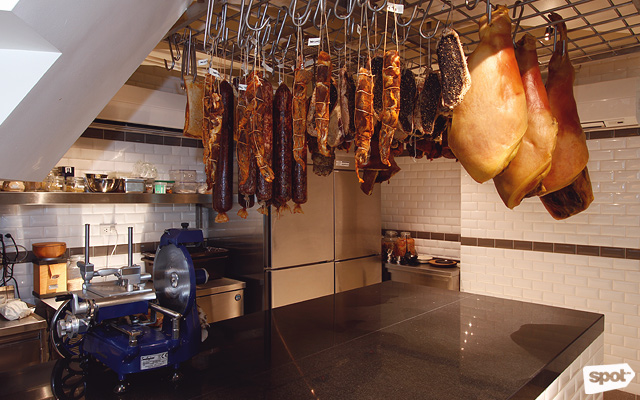 ADVERTISEMENT - CONTINUE READING BELOW
This is why this wordy fanfare is necessary; they cure a ton of meat in there. We're talking handmade salami, chorizo, guanciale, ham hocks, the works—and this is a great reflection of The Test Kitchen's soul. "These have been curing for years," explains Chef Josh, "and you have to understand that time makes all the difference in the flavor." He motions to one hock: "We don't cut that until tomorrow, [and that kind of timing is very important]."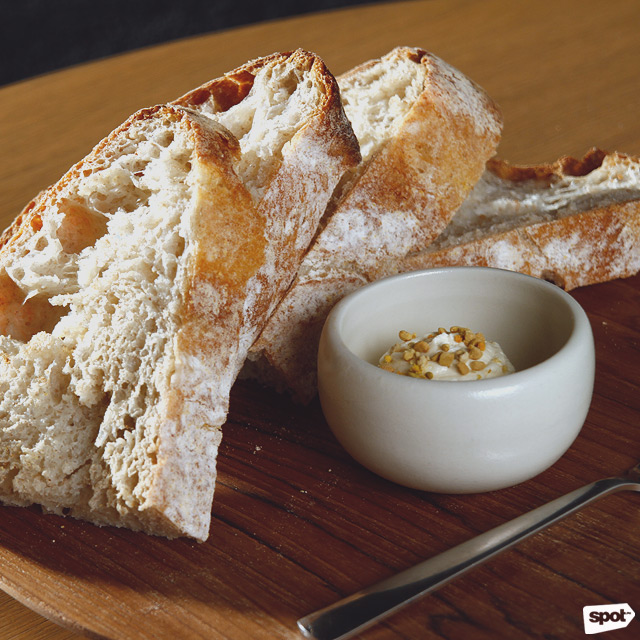 It speaks to patience, certainly; the process seems almost to have consumed the chef, but it shows. Even the Bread (P190), a larger-than-life sourdough that's also prepped in The Big Fridge, is so lovingly made that the final product is kind of crazy. The texture alone is phenomenal—the hardy but perfectly chewable crust, the almost pillowy crumb, the sheen in the pockets of aeration, and the resistance when you tear it up are almost enough to convince you that you won't be eating anything else. The accompanying butter is a dream of a condiment, made with yeast for a sour-salty kick and pollen for some floral notes and a hint of sweetness; it may sound obscenely unnecessary, but believe us when we say you may never see butter the same way again.
ADVERTISEMENT - CONTINUE READING BELOW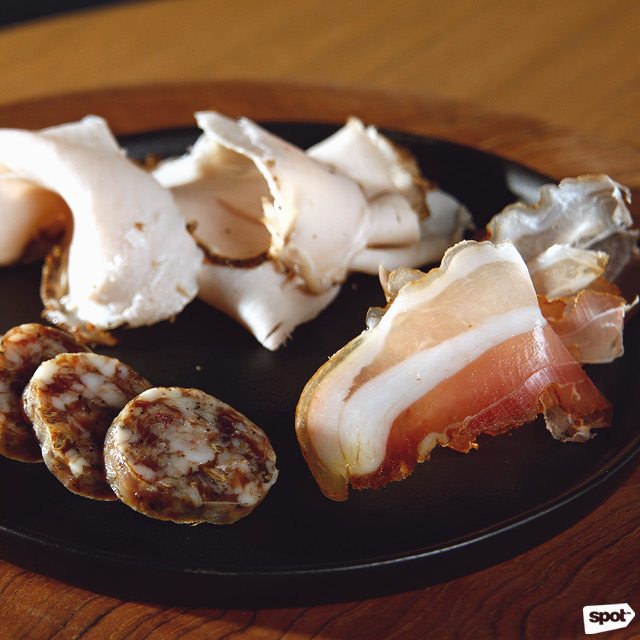 But it does get better—Today's Charcuterie (P320) features the in-house meats, and you can taste the dedication, if that makes sense. "Let the meat sit [on your tongue] first," says Chef Josh. "All the layers of flavor come out when it warms up." And it's true; the salami's oils in particular melt slightly to allow pepper and fennel to rise above the saltiness, but the meat loses none of its firm texture.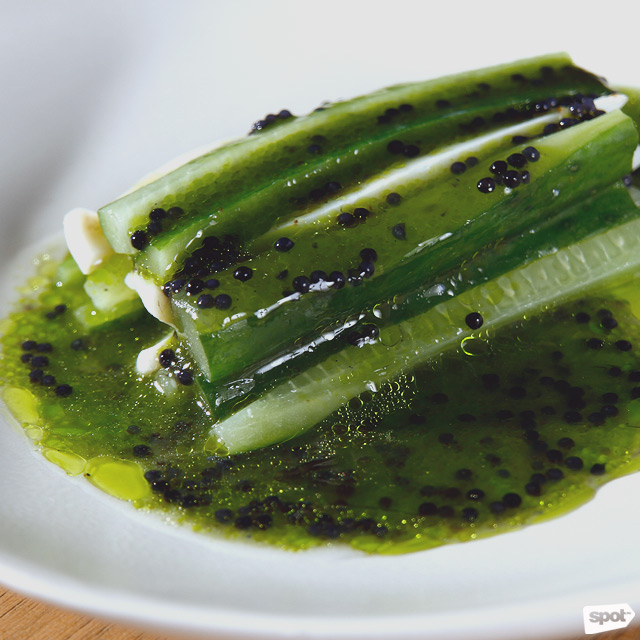 ADVERTISEMENT - CONTINUE READING BELOW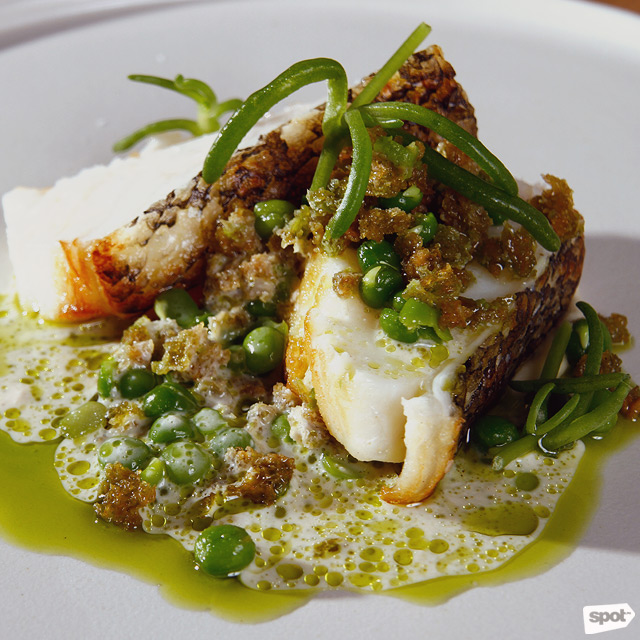 Speaking of texture, the Cucumber, Squid, and Dill (P260) is a fragrant playground of a dish, simultaneously refreshing and appetizing; the sauce, of course, makes all the difference, though it's not the only pillar of flavor. This transitions perfectly into the Sea Bass, Fennel, and Green Peas (P1,400), which is, by all accounts, even better than it sounds. White fish just shouldn't work that well with cream, but The Test Kitchen makes it work. A little salty crunch here and there is enough to round out that soft seafood, and it makes you appreciate the mild sweetness of the green peas.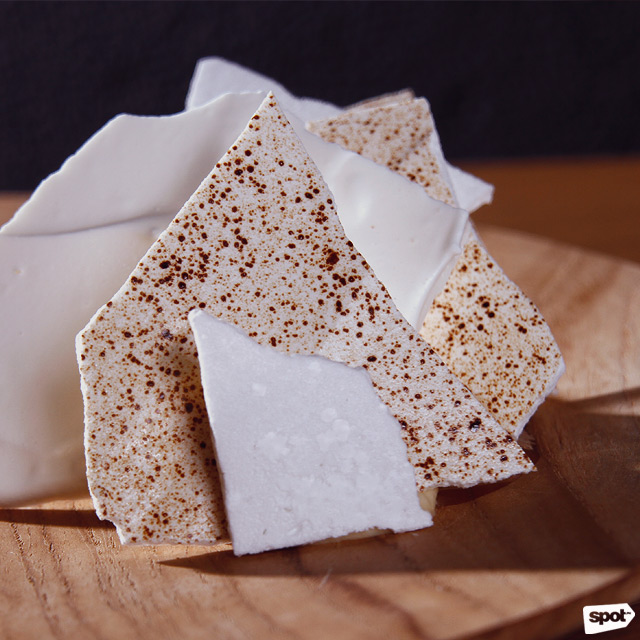 ADVERTISEMENT - CONTINUE READING BELOW
Don't get us started on dessert—it's devastating stuff. For all that the chef claims he doesn't bake (the bread alone begs to differ), the Burnt White Chocolate with Matcha and Egg (P150) is a masterpiece of a post-dinner treat. The barest hint of bitterness creates balance in what should be too rich a plate. Texture lends a hand as well—it's smooth enough to be luxurious, but far from monotonous.
 It's recommended that you visit at least twice, because the atmosphere really changes depending on the time. During the day, you get an almost ethereal feel to the place, as if the world outside of it is miles away. At night, you have something more wildly mysterious, intimate—the perfect dinner date, if you're bold enough. Either way, The Test Kitchen is the kind of establishment that requires the diner to slow down and savor the details; they took the time and only ask the same of you.
Photos by Vincent Coscolluela
Share this story with your friends!
---
Help us make Spot.ph better!
Take the short survey
Load More Stories