Skip the Beef and Try the Chicken Katsu Burger at This New Japanese Joint in Makati
This new spot is from the same owners of Ikomai & Tochi.
Chatto Bites
2/F Assembly Grounds at The Rise Makati, 7248 Malugay Street, San Antonio Village, Makati City
Open daily from 11 a.m. to 10 p.m.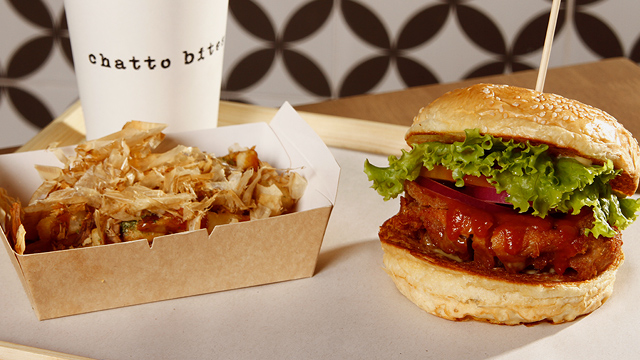 (SPOT.ph) There's no shortage of new restaurants in the Metro, especially in the bustling Makati area. But if the Central Business District feels too crowded for you, there are always other options in its outskirts. Heard of Assembly Grounds? It's a fairly new two-storey community mall that has around 20 food and beverage concepts. One of the newest is called Chatto Bites, a Japanese-inspired concept from the same group as Ikomai and Tochi.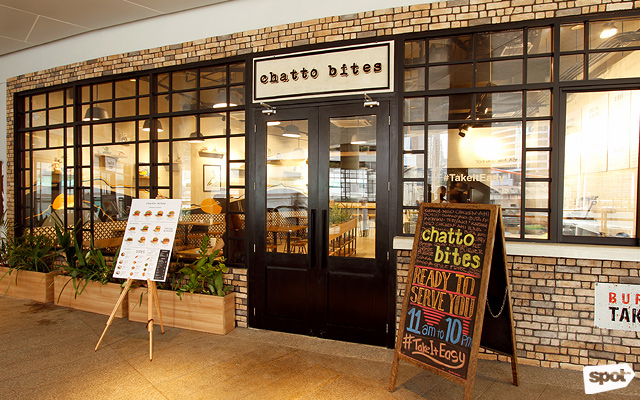 ADVERTISEMENT - CONTINUE READING BELOW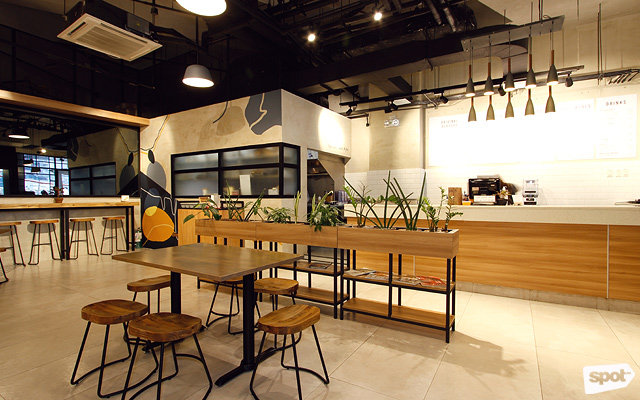 The establishment is quite easy to find with its brick façade and floor-to-ceiling glass, which lets you get a glimpse of the inviting and trendy interiors. It won't come as a surprise if it initially comes across as a full-service restaurant—it's a far cry from the usual brightly lit burger joints with its organic decor, concrete walls with hand-painted artwork by Blanko Murals, pop art, and other interesting knickknacks. You'll also find splashes of greenery surrounding the wooden furnishings, a good contrast to its modern industrial look.

The only similarity to the usual burger places is that you have to place your order at the counter—they'll ask for your name after they've taken your order and call you once it's ready. "Here, we want it quick service, fast service. That's why it's called Chatto Bites—quick bites—that's the idea," shares James Antolin, Executive Chef and one of the owners, along with Taro Hori. Chatto translates to "quick" in Japanese, and it could also mean "take it easy" in a sense.
CONTINUE READING BELOW
Recommended Videos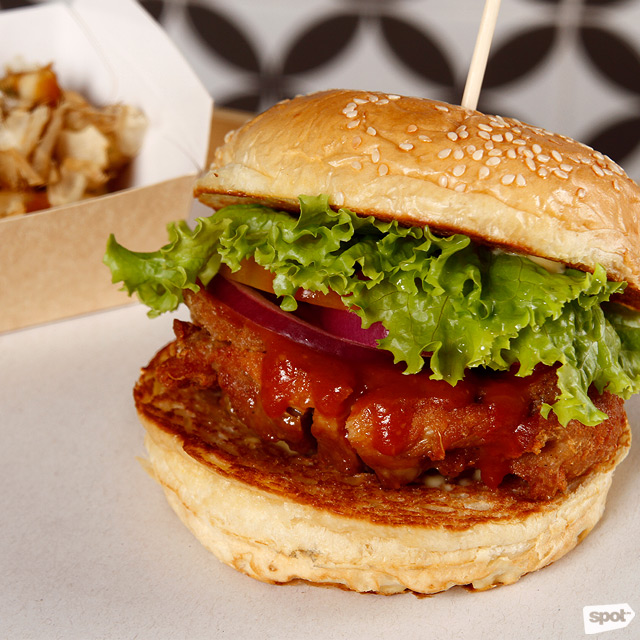 According to Chef Antolin, the highlight here is actually the special burgers and original burgers—and with an extensive selection of chicken and seafood burgers, you won't even miss the beef, although there's that option on their menu. First-time visitors should sample the original Karaage Burger (P200): Picture traditional chicken karaage that's topped with a wasabi-tomato sauce, lettuce, and slices of fresh tomatoes and red onions sandwiched between buttered brioche-sesame seed buns. The contrast of textures gives an exciting mouthfeel—from the crispy and juicy chicken down to the soft buns. You also get an explosion of flavors at first bite, with the wasabi-tomato sauce adding a surprise kick that amplifies the already-tasty chicken.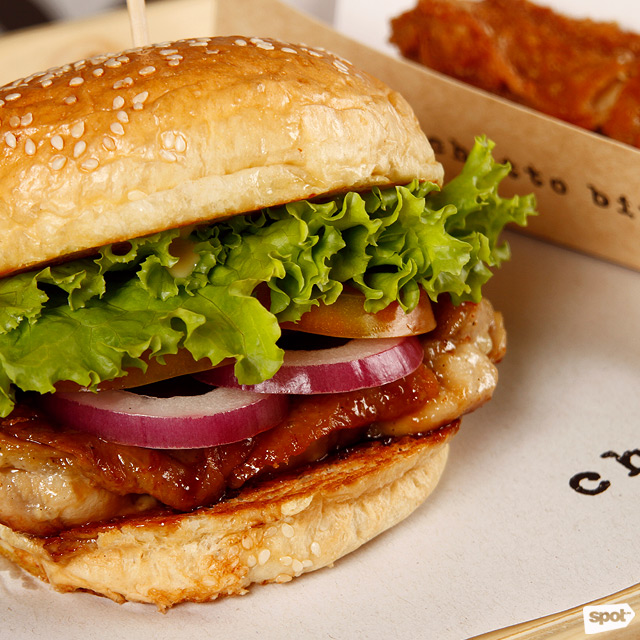 ADVERTISEMENT - CONTINUE READING BELOW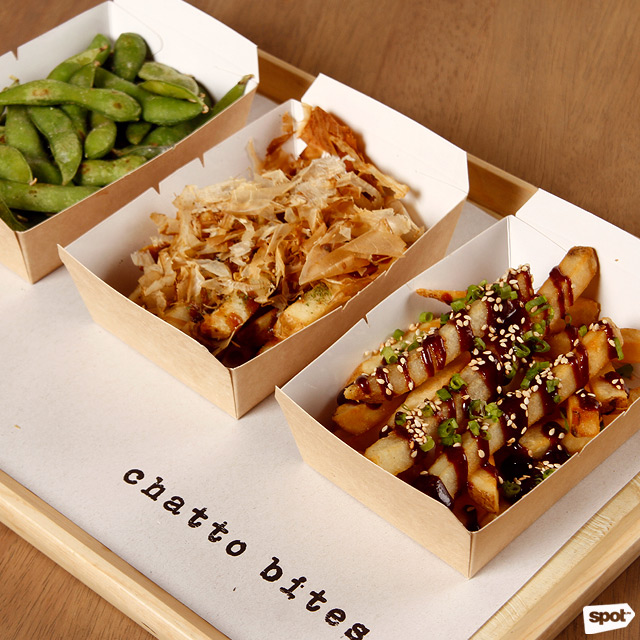 A healthier option would probably be the Teriyaki Burger (P200). Though it also comes topped with lettuce, tomato, and onion, the star here is grilled chicken, whose sweet-savory flavor profile makes all the difference. Should you feel inclined to get sides, some tasty options would be the French Fries Nagoya Style (P130) with red miso sauce, French Fries Osaka Style (P130) with okonomiyaki sauce and dried bonito flakes, Edamame Salt (P130), Chicken Skewer (P100), or the Daikon & Zucchini Fry (P180) served with tartar sauce.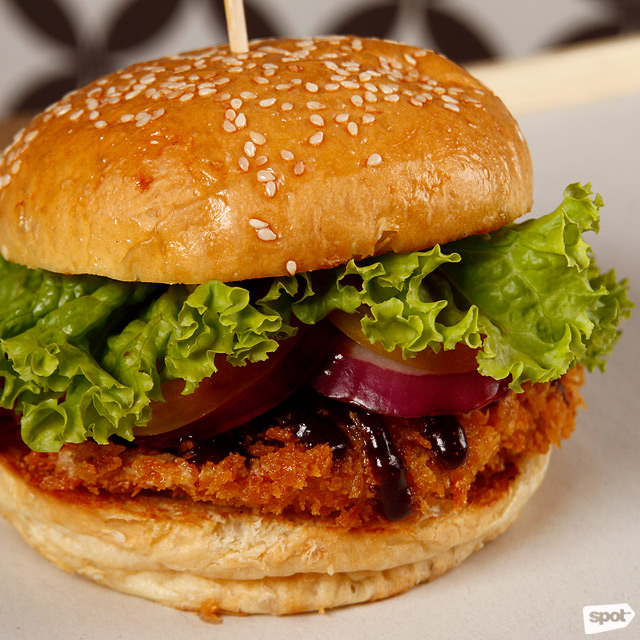 ADVERTISEMENT - CONTINUE READING BELOW
Yet another must-try is the Miso Chicken Burger (P230), chicken katsu topped with Nagoya red miso sauce. The deep-fried breaded chicken patty gives an addictive crunch, but it's the red miso's salty, umami profile that makes this burger unlike any other, adding a distinct dimension that nonetheless complements the meat.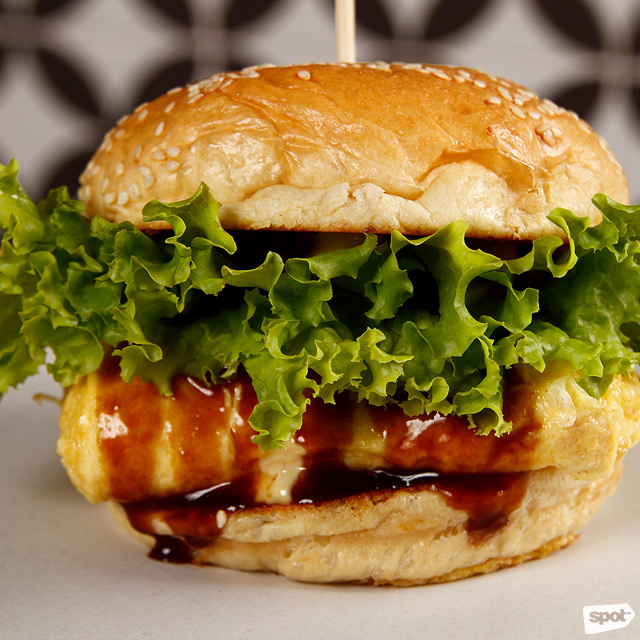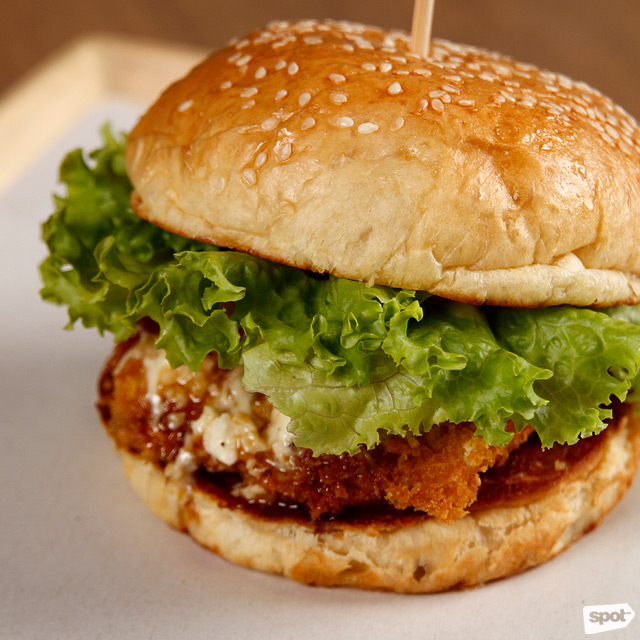 ADVERTISEMENT - CONTINUE READING BELOW
Beyond their poultry-based options lies the Tamagoyaki Burger (P180). Consisting of a Japanese omelet topped with red wine sauce, it's probably the simplest sandwich on the list, but it's no less tasty, what with savory-sweet egg given a boost by the hearty red wine sauce. And then there's Tachiuo Kabayaki Burger (P250)—a tongue-twisting palate pleaser that translates to deep-fried swordfish topped with kabayaki (unagi) sauce. Dissecting the burger, you'll find a breaded slice of fish given a savory-sweet boost from the unagi sauce—making for a crunchy, umami-filled experience in each bite.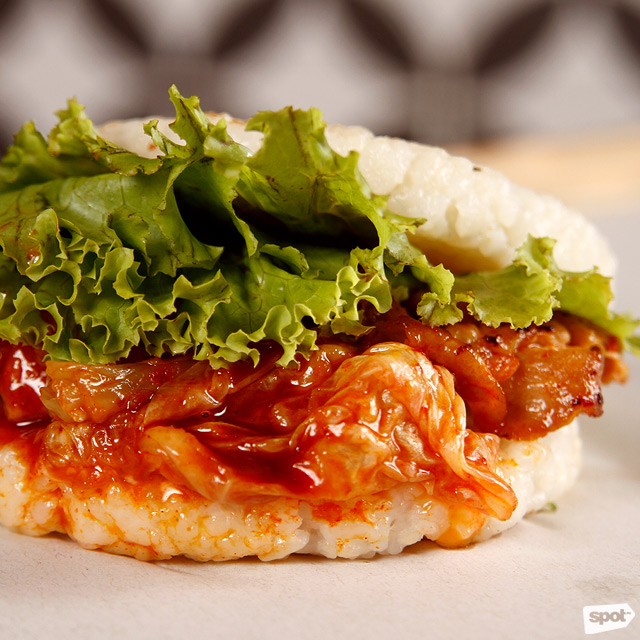 ADVERTISEMENT - CONTINUE READING BELOW
If you must have your rice, you're in luck, because Chatto Bites dedicates a special section of their menu to their rice burgers. Take your pick from the Yakiniku Rice Burger (P200), which has classic stir-fried thin beef topped with yakiniku sauce; or the Buta Kimchi Rice Burger (P180), which tickles lovers of spicy food with stir-fried pork and kimchi topped with chili sauce. Both options have lettuce and mayo in between the rice buns, which might appear smaller than its bread counterpart—but don't let looks deceive you. You'll feel like you've eaten a cup of rice after finishing the entire burger.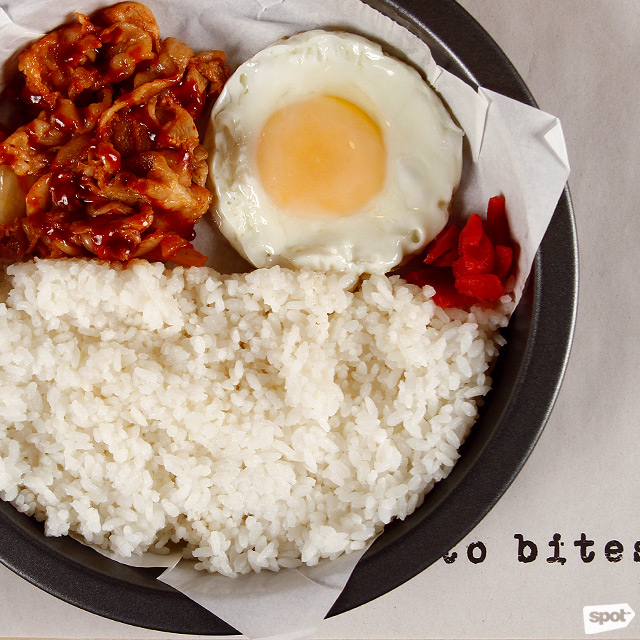 For those who'd rather go for a straightforward rice meal, Chatto Bites also carries a short selection on their menu. They've got curry and burger steak, but our top pick goes to the Buta Kimchi Rice Meal (P200). With stir-fried pork and kimchi combined with rice and sunny side-up egg, it could just about double as an all-day type breakfast meal. Make sure to get all the elements in each bite so you can experience the full effect of the exciting flavor combo—and be prepared for a hint of spice that enlivens the pork and fried egg's heft.
ADVERTISEMENT - CONTINUE READING BELOW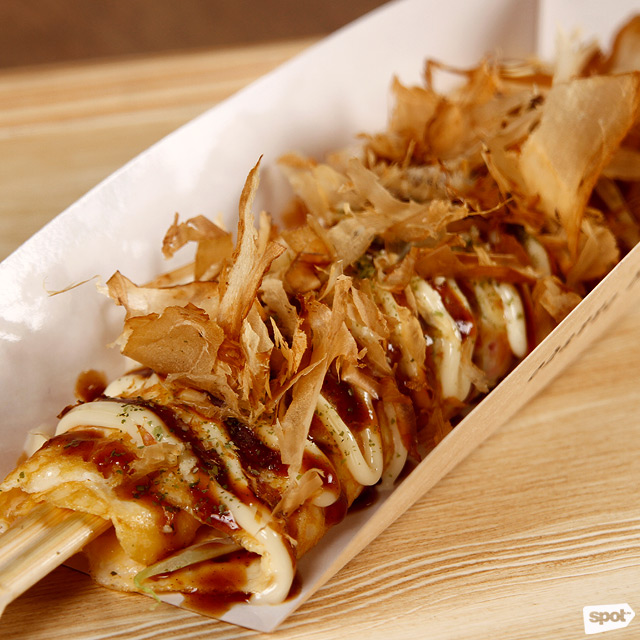 The Chatto Stick (P120) is a standout dish-cum-snack you'd be hard-pressed to find elsewhere. It's an okonomiyaki-style egg omelet skewer with your choice of filling—our pick is the Seafood variant that has shrimp and cabbage and bonito flakes on top. Eat it like typical skewer at first; once you get in the middle, you can remove the omelet and break off the skewer, which is in fact a set of chopsticks. From there, you can just use the chopsticks to finish off the omelet.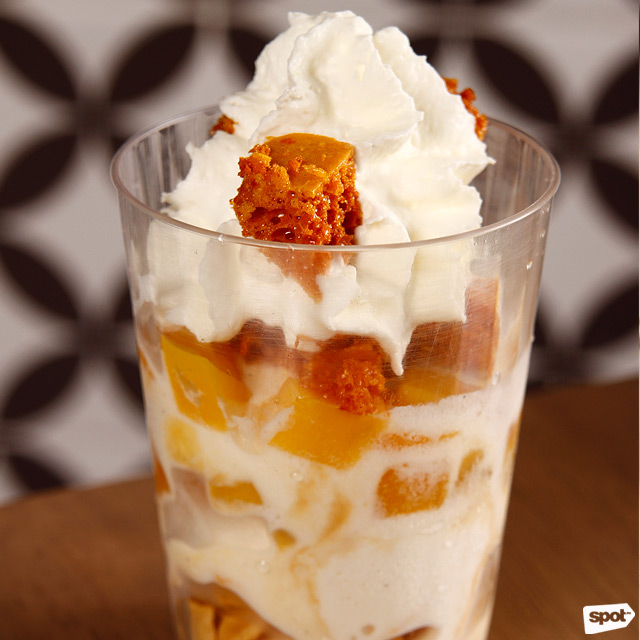 ADVERTISEMENT - CONTINUE READING BELOW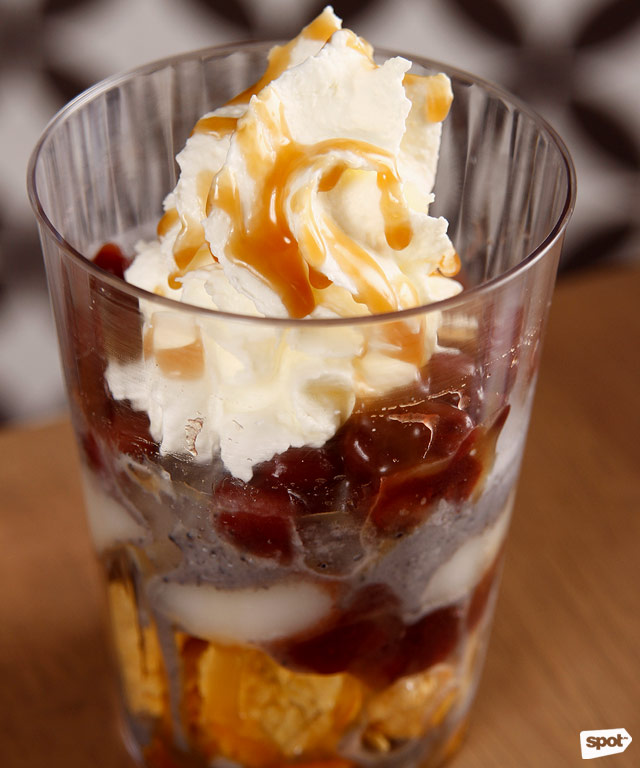 Make sure that you don't leave the restaurant without sampling their sweet parfaits. The Mango Honeycomb (P150) showcases the local fruit in mango-flavored ice cream, corn flakes, and whipped cream with chunks of honeycomb. Alternatively, there's the Japanese-inspired Black Sesame Shiratama (P150)—a cool mix of black sesame ice cream, red beans, corn flakes, shiratama (a type of mochi), and whipped cream. Better yet, start with dessert first—we won't judge.

With their unique offerings, Chatto Bites is by no means just another burger joint. "The thing is, you would taste the authenticity of the product but maybe the way we present it or plate it is quite different. It's our own style," explains Chef Antolin. Still, they don't want to get carried away. "There are traditional ways but then we would tweak it a little. We don't go too far because we still want people to be familiar with what we're trying to do and what they see in Japan," he shares. "Even in Ikomai, we don't want to call ourselves a fusion restaurant. People always ask me what kind of restaurant [we have] and I say it's a progressive [one], meaning [it's] moving forward all the time."
ADVERTISEMENT - CONTINUE READING BELOW
Photos by Vincent Coscolluela
Share this story with your friends!
---
Help us make Spot.ph better!
Take the short survey
Load More Stories