Would You Dare Try This Hummus-Flavored Chocolate Bar?
Just when you think you've seen everything.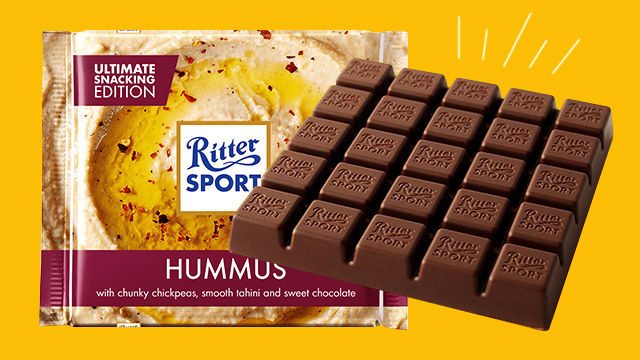 (SPOT.ph) We all know chocolate goes with a lot of things, whether it's fruit, nuts, caramel, coffee, or, well, more chocolate. But it's 2020. Why settle for your predictable old pairings when you can have chocolate with hummus? German chocolate brand Ritter Sport posted about a Hummus variant of their famous chocolate bars on their official English Facebook page.
ADVERTISEMENT - CONTINUE READING BELOW
CONTINUE READING BELOW
Recommended Videos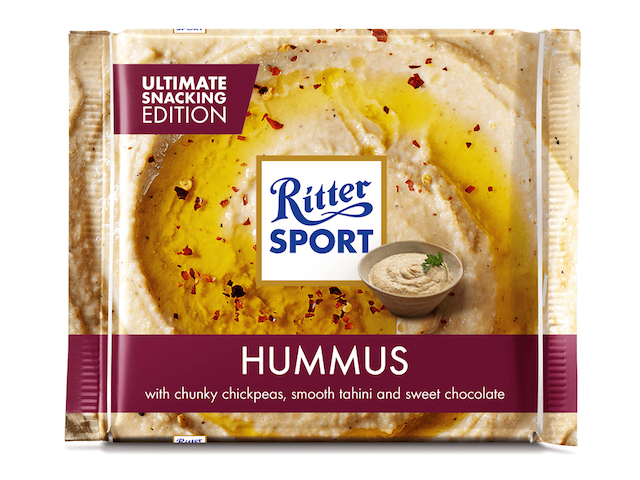 The original caption read, "The never-fail snacking flavour we've all been waiting for: Hummus! Who do you know that would love our latest creation?" As of 3:12 p.m., however, they've edited the post to include the hashtag, #RitterFake.
ADVERTISEMENT - CONTINUE READING BELOW
Whether this bar is an actual creation or merely a three-month late April Fools' Day prank remains to be solved. Still, it makes us wonder: Could hummus and chocolate work?
This Hummus Chocolate Bar is said to be made with chunky chickpeas, smooth tahini, and sweet chocolate. Now we've seen chocolate desserts with tahini before, such as the famous Ottolenghi brownies. This sesame seed-based ingredient has a nuttiness comparable to peanut butter, and peanut butter goes with chocolate—do the math.
It's the chickpea part where we're raising our eyebrows—this legume is often used in savory applications, whether it's stirred into a sticky pot of callos or blitzed to make crisp-on-the-outside, fluffy-on-the-inside falafel. There are traditional Persian cookies made with chickpeas, but those pair the legume with spices like cardamom and pistachios. There are also recipes for baked goods with chickpeas, but they're often used as a fat or flour substitute and its flavor is meant to be concealed by other ingredients in the mix—not featured front and center.
ADVERTISEMENT - CONTINUE READING BELOW
Either way, this isn't the first time chocolate has been paired with unusual flavors. Here are other chocolatey treats you can find around the world that prove that chocolate might just be more versatile than we think:
Toyo Eatery's Patis Bonbons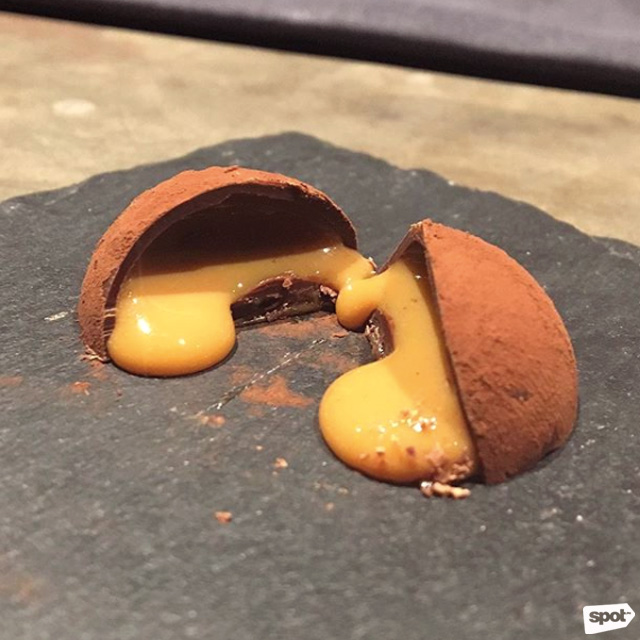 Toyo Eatery has opened our minds to the many possibilities of Filipino cuisine, one exemplification of which was this special petit-fours they used to serve with their tasting menus. Here, they use local fish sauce to add savoriness and depth to dulce de leche, which they then use to fill their homemade chocolate bonbons.
ADVERTISEMENT - CONTINUE READING BELOW
Cadbury Dairy Milk with Vegemite
Few things in the world are more polarizing than Vegemite... let alone Vegemite with chocolate. The notoriously savory Australian spread can turn some people off, but you've gotta give it a chance—we can imagine how its salty, umami character can compliment chocolate similar to salted caramel.
ADVERTISEMENT - CONTINUE READING BELOW
Zotter's Seaweed, Caramel, and Pineapple Hand-Scooped Chocolate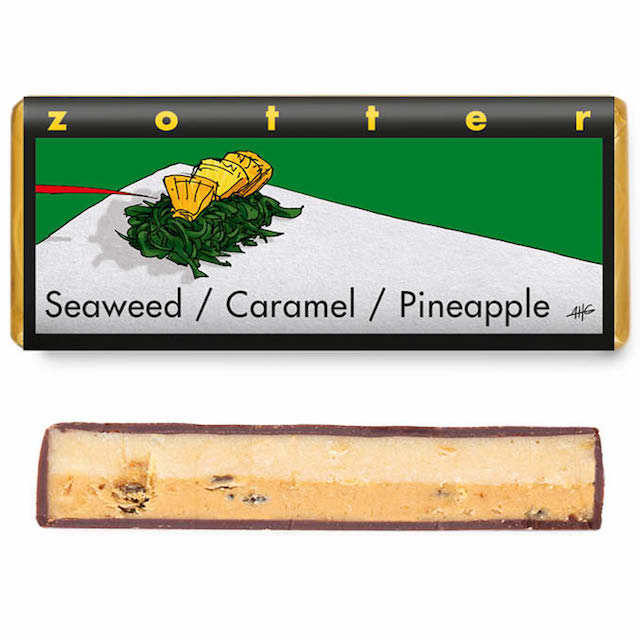 This Austrian brand of organic and Fairtrade certified chocolate is known for coming up with out-of-the-box creations—some previous variants they've released are the Peanuts & Ketchup and Coffee Plum with Caramelised Bacon. This intriguing bar from their current collection features flavors we wouldn't usually think to have together, what with a pineapple-chocolate ganache with a dash of lemon, seaweed caramel made from a caramel couverture, almond praline, white chocolate, caramelised dulse seaweed flakes from Ireland, and dark chocolate.
ADVERTISEMENT - CONTINUE READING BELOW
Tabasco Chocolate
You've had Tabasco sauce in your tacos and your burgers—why not try it with chocolate? This special Tabasco-infused creation gives dark chocolate a kick of heat that surprsingly compliments the chocolate's creamy, bittersweet backbone.
Tirol Pizza Chocolate
Japan is home to lots of wild and wacky confections, but this has to be one of the more offbeat confections we've seen. There are two variants in the bag—one that's cheese-flavored with a cheesy pizza-flavored cracker in the middle, and one that's pizza-flavored with bits of basil. We'll, uh, leave that to your imagination.
ADVERTISEMENT - CONTINUE READING BELOW
Hey, Spotters! Check us out on Viber to join our Community and subscribe to our Chatbot.
Load More Stories