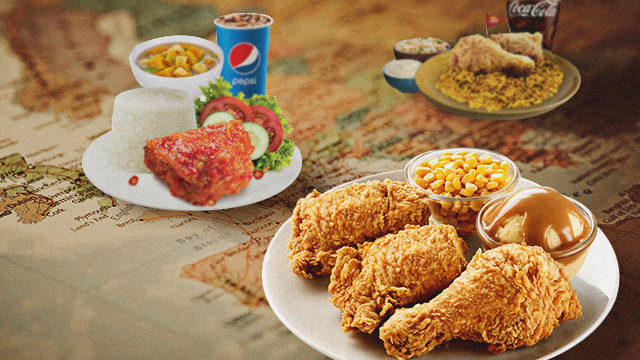 For some Filipinos, nothing brings instant happiness more than a bucket of Jollibee's Chickenjoy. The name and the "Bida Ang Saya" tagline say it all! Filipinos know that this tasty fried chicken comes with the fast food chain's signature gravy, then depending on one's preference, it is never complete without a serving of rice, Jolly Spaghetti, or palabok. 
ADVERTISEMENT - CONTINUE READING BELOW
There are thousands of Jollibee stores in the Philippines. For the rest of the world, Jollibee is starting to open more international franchises for overseas workers who miss the taste of home and locals curious to find out what the hype is all about. 
It probably won't be long until a visit to a local Jollibee abroad is part of your itinerary when visiting! Anyone else interested to know how different a Chickenjoy elsewhere matches up to the OG? Check out how they made the popular Pinoy fare more appealing to the foreign crowd via side dishes and sauces. Spoiler alert: Not everyone enjoys it with rice. We're scandalized, too. 
Also read:
Jollibee Chickenjoy Named One of the Best Fried Chicken in the U.S.
Jollibee Opens Its First Branch in Romea
Take a trip around the world with different variations of the Chickenjoy meal:
Jollibee Vietnam: Chickenjoy + Rice + Salad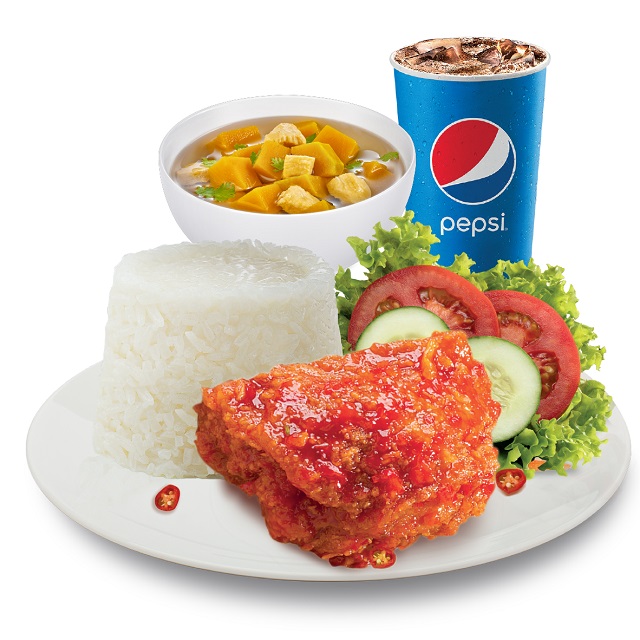 Most Vietnamese dishes have three ingredients in common: fresh herbs, fruits, and vegetables. So it's no surprise that Chickenjoy in Vietnam is served with a side of lettuce, tomatoes, and cucumber. And see that bright red glaze on the chicken? That's their Chilli Chicken version! They even have a Chickenjoy value meal where they add Pumpkin Chicken Soup. Can you imagine what that hearty soup must taste like?
Jollibee Brunei and Singapore: Chickenjoy Nasi Lemak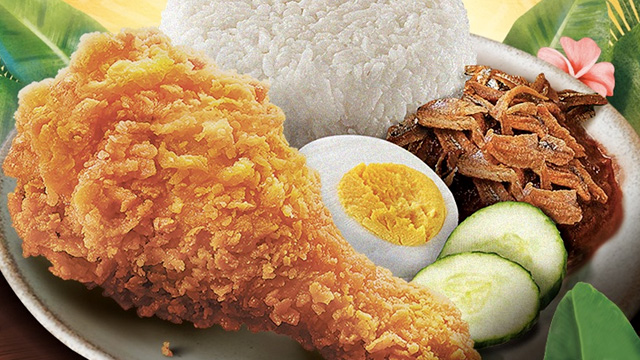 ADVERTISEMENT - CONTINUE READING BELOW
The Nasi Lemak is a popular Malaysian dish you can find in Brunei and Singapore. The nasi lemak-inspired Chickenjoy is served with sambal (chili) with ikan bilis (small dried fish) on top, served with fragrant coconut rice, and boiled egg.
There is a slight difference in the way Nasi Lemak Chickenjoy is served in these countries. Singapore adds slices of cucumber while Brunei serves this with gravy.
Jollibee Qatar: Chickenjoy + Arabic Rice + Coleslaw + Garlic Sauce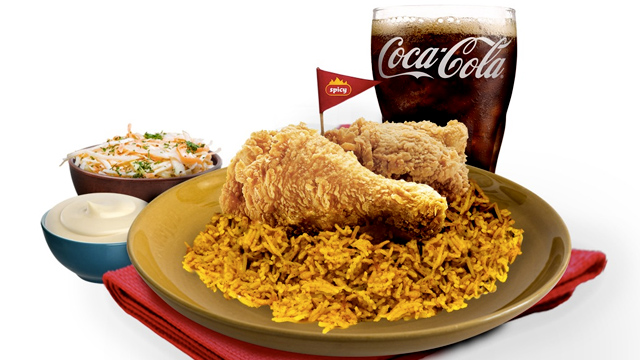 ADVERTISEMENT - CONTINUE READING BELOW
If Pinoys pair their chicken with gravy or banana ketchup, the Arabs' go-to condiment is garlic sauce, the type you probably like to overload your shawarma with. The Chickenjoy is served with a garlic sauce dip, a side of coleslaw, and Arabic rice. Arabic rice is typically made with long-grain white rice, vermicelli noodles, and butter or olive oil.
Jollibee U.K.: Chickenjoy + Corn or Mashed Potatoes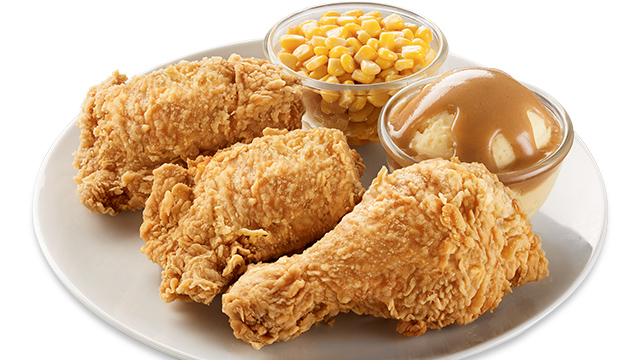 ADVERTISEMENT - CONTINUE READING BELOW
There are some parts of the world that don't consume as much rice as Asians do. In Jollibee's United Kingdom-based stores, there is an option for Chickenjoy to only have a side dish (like corn or mashed potatoes) instead of rice. Based on the fast food chain's delivery channel called Deliveroo, the popular Chickenjoy meal is the 3-Piece Chickenjoy and Side. TBH, it does not look like such a bad deal.
Jollibee U.S.: Chickenjoy + Adobo Rice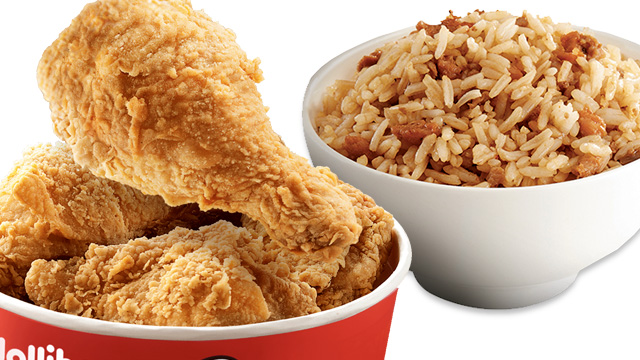 ADVERTISEMENT - CONTINUE READING BELOW
If there is another Pinoy dish besides Chickenjoy that foreigners rave about, it is none other than the adobo. In the United States, customers are given the option to upgrade their Chickenjoy meal's serving of plain white rice with adobo rice. According to Thrillist, it even has small bits of pork!
Hey, Spotters! Check us out on Viber to join our Community and subscribe to our Chatbot.
Share this story with your friends!
---
Help us make Spot.ph better!
Take the short survey
More Videos You Can Watch
Load More Stories