Why Is Everyone Talking About the Spinach Dip Pizza From Angel's Pizza?
We tried it for ourselves and here's what we think.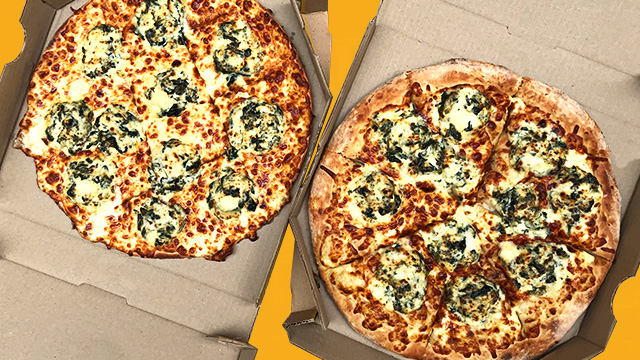 Angels Pizza Spinach Dip
(SPOT.ph) Pizza is always a good idea in our book, and in particular, there's one pizza that we've been seeing on our feeds lately. By that, we're talking about the Creamy Spinach Dip Pizza by Angel's Pizza. You'll find it around social media—while it doesn't have a dedicated hashtag (which makes searching for its popularity a tad difficult), it pretty much dominates the tagged photos on Angel's Pizza's Instagram page, and you can read plenty of raves about it on Twitter.
ADVERTISEMENT - CONTINUE READING BELOW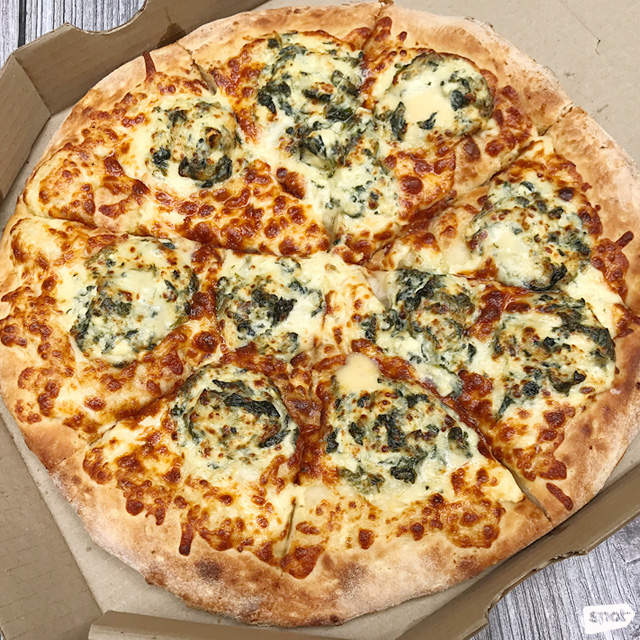 CONTINUE READING BELOW
Recommended Videos
Going by Angel's Pizza's social media posts, the Creamy Spinach Dip pizza was introduced in 2018. From observation—and as confirmed by a quick checking of the term "angels pizza spinach" on Google Trends—it seems to have gotten some spurts of fame in 2019 and even more in 2020 and beyond.
ADVERTISEMENT - CONTINUE READING BELOW
While spinach isn't the first pizza flavor that comes to mind as being popular among Filipinos, this version seems to transcend that notion—and we wanted to see just what it is about it that everyone seems to love.
We tasted the trending Angel's Pizza Spinach Dip Pizza for ourselves, and this is what we think:
What's in This Pizza, Anyway?
As the name implies, the Creamy Spinach Dip Pizza has ingredients typical to many spinach dip recipes. We're talking spinach, onions, mayonnaise, and cheese (four kinds, to be exact—cream cheese, parmesan cheese, mozzarella cheese, and what they call "pizza cheese").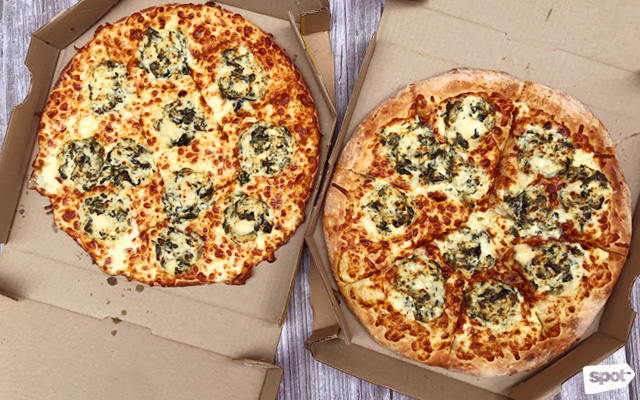 ADVERTISEMENT - CONTINUE READING BELOW
It's at the mid-range price point for pizzas, going for P350 for the Medium (nine-inch) size, P490 for the Family (12-inch) size, and P624 for the Big Family (14-inch)-size—although, pro tip, Angel's Pizza has what they call the "Double Deal", where you can get two family-sized pies for P570 or two Big Family-sized pies for P750. You can get even better discounts if you get their membership card—like scoring buy-one, get-one deals on their pizzas anytime and getting a 25% discount on all pizza purchases. It doesn't hurt that Angel's Pizza has a number of branches around the Metro, with some being open 24 hours a day. And yup, they deliver.
The Crust
The crust is more than just a placeholder of toppings—it's the very foundation on which the pizza rests—and at Angel's Pizza, you have the choice between hand-tossed and thin crust. We tried both and can totally vouch for the hand-tossed crust, which is the thicker (but not overly thicc) one of the two.
ADVERTISEMENT - CONTINUE READING BELOW
The hand-tossed crust is a tad crusty (and just a touch charred) on the outside and properly chewy inside, with a light, yeasty flavor that makes it tasty enough to eat on its own. We've experienced having raw spots at some points in the past, but this was not the case during our latest orders. And in stark contrast to many other resto-chain pizzas, it's also not too oily—not that it's dry, but you can hold it without getting grease on your fingers, and it's perfect with pretty much any of their toppings.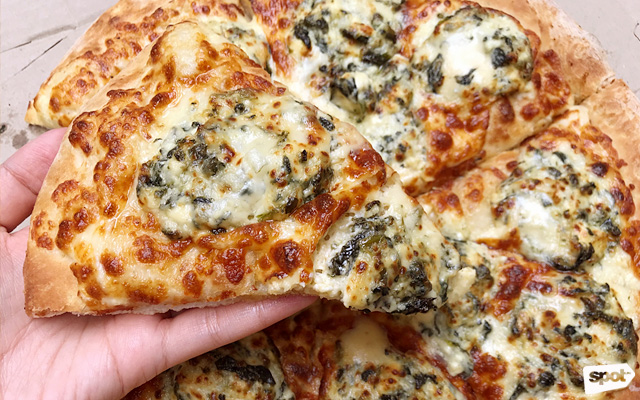 ADVERTISEMENT - CONTINUE READING BELOW
While we generally enjoy thin-crust pizzas, we're not particularly crazy about Angel's Pizza's version. It's thin, all right, and overall inoffensive, but has a rather one-dimensional (read: bland) flavor. Stick to the hand-tossed crust and you'll be fine.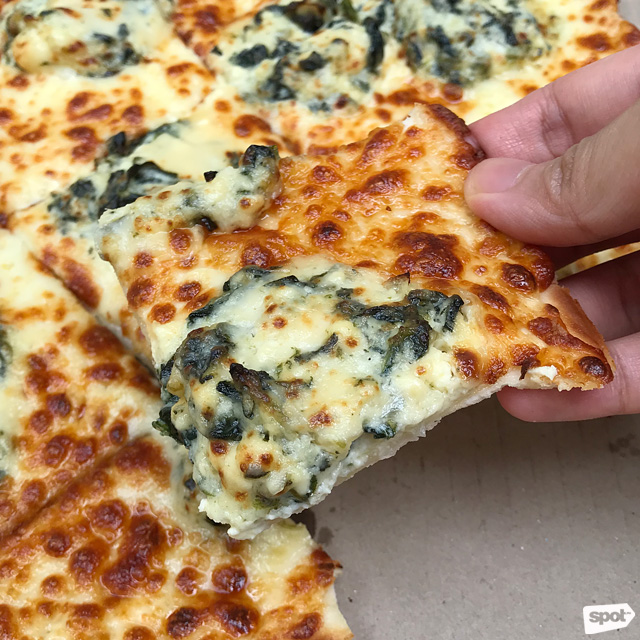 ADVERTISEMENT - CONTINUE READING BELOW
The Cheese and Mayonnaise
With four kinds of cheese in the mix, this pizza has a predominantly creamy, savory, tangy profile that's quite good when you consider how affordable and convenient it is to order. There's also a good amount of the cheese mixture—you won't feel shortchanged here.
It's unclear whether the mayonnaise is mixed in with the cheese or a separate entity, and it isn't the first ingredient that comes to mind when you think "pizza." But it does contribute a fattiness that's very welcome here, and we're all for it.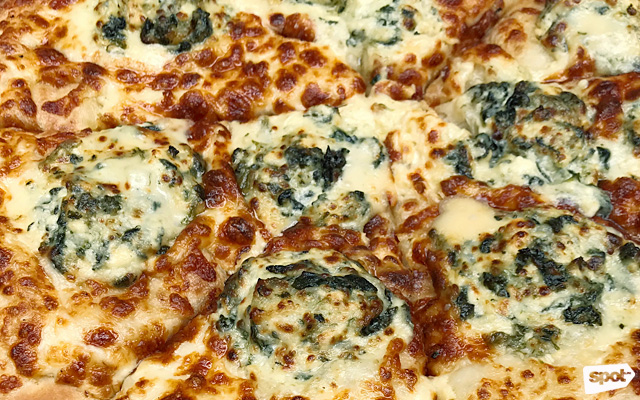 ADVERTISEMENT - CONTINUE READING BELOW
The Spinach
We know vegetables aren't exactly everyone's favorite food group, but the spinach is absolutely necessary here. The mayonnaise and cheese are definitely rich, to the point that it can be overkill, but the earthy dollops of soft, seemingly sauteed spinach add a wonderful earthiness that counters the more decadent character of the other ingredients. We actually wouldn't mind more spinach in the mix; there are enough dollops of the vegetable that you get some of it in every slice, but there are still quite a few spinach-less spots. But we get it; you're not here to eat a salad, you're here to treat yourself to the no-fail combo of cream and cheese and starchy carbs. You can also spread the spinach all around the slice with your fingers—we won't judge—or a spoon to help distribute the veggie better around the pizza.
ADVERTISEMENT - CONTINUE READING BELOW
The Onions
With the tang of the cheese-mayo mixture and the vegetal taste of the spinach, you need something to round these stronger tastes out—which is where the onions come in. They contribute a natural sweetness that evens out all the other flavors, much like the alto and tenor parts fill out the space in between the soprano and the bass in an SATB musical harmony. Though not specified in the ingredients, we could tell that there's some garlic in there, and it brings out the sharpness of the cheeses beautifully.
Spinach Dip, Without the Dip
Now If you've ever made—or just had—spinach dip, you'll know that part and parcel of its appeal is the dipping (or to be more accurate, the slathering-on) process. This lets you control just how much spinach dip you get in your crostini or bread or carrot sticks or whatever you're using to dip with… and, well, we just think it makes eating a whole lot more fun. This pizza, on the other hand, is baked with the spinach-dip ingredients already on it, you don't quite get the gratification of the said act of dipping. But with the A-plus combo of tastes here, it hardly matters—it may even be a plus point that all you need to do is take a slice and bite.
ADVERTISEMENT - CONTINUE READING BELOW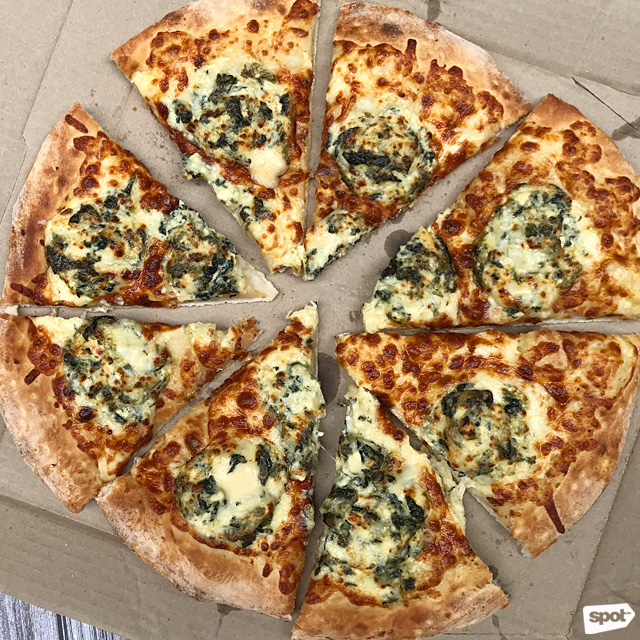 The Cold Pizza Test
Many will argue that pizza in its cold state is every bit as worthy of consideration as (if not better than) when it's hot and fresh, so we refrigerated our leftovers and tried them the next day. We're happy to report they're still really good—and it makes sense, when you think about how many spinach dips can be served cold, too. While more on the gooey side when hot, you get a creamier experience when you eat it from the fridge, with the tanginess seemingly taken up a notch.
ADVERTISEMENT - CONTINUE READING BELOW
TL;DR: We Love This Pizza
The hype is real and this pizza delivers great flavors and textures, from the crust to the toppings. While we do have some minor gripes, like wishing for more spinach, we're overall impressed—and ready to try all the other pies on Angel's Pizza's menu.
Angel's Pizza has branches at Puno Building, 47 Kalayaan Avenue, Diliman, Quezon City and 1 Constellation Street corner Makati Avenue, Bel-Air, Makati City. See a list of Angel's Pizza branches. For delivery orders, call 8922-2222 or see a list of alternative contact numbers. For more information, visit Angel's Pizza's Facebook page.
Hey, Spotters! Check us out on Viber to join our Community and subscribe to our Chatbot.
We are now on Quento! Download the app and enjoy more articles and videos from SPOT.ph and other Summit Media websites.
Your guide to thriving in
this
strange new world.
Share this story with your friends!
---
Help us make Spot.ph better!
Take the short survey
Load More Stories