Local Chefs Share Their Favorite Food Memories With Mom
As well as the people in their lives who've played similar roles.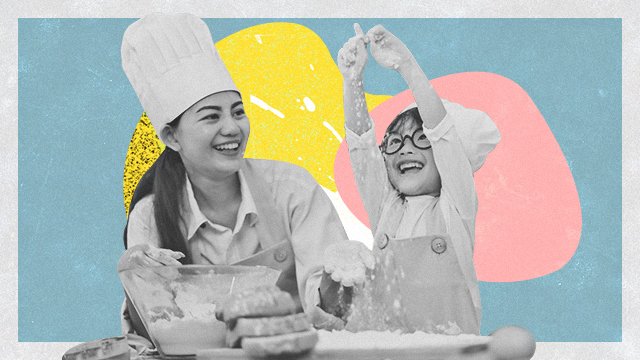 (SPOT.ph) No matter how high of a status they may hold today, for many chefs, much of their early food memories are linked to their mothers or the people in their lives with similar roles. They may have a signature dish that gave these chefs their own ratatouille moments, or they may be the driving force that inspired these chefs to go the culinary route and become the success they are today. In celebration of Mother's Day, we talked to six well-known chefs in Manila to ask about their favorite food-related experiences with the maternal figures of their lives.
Also read:
Wonder Women: The Filipina Chefs You Should Know by Now
You Can Get Food Delivered From Some of the Best Chefs in Manila Right Now
These are the standout food memories with mom and mom-figures for some of Manila's best-known chefs:
Him Uy de Baron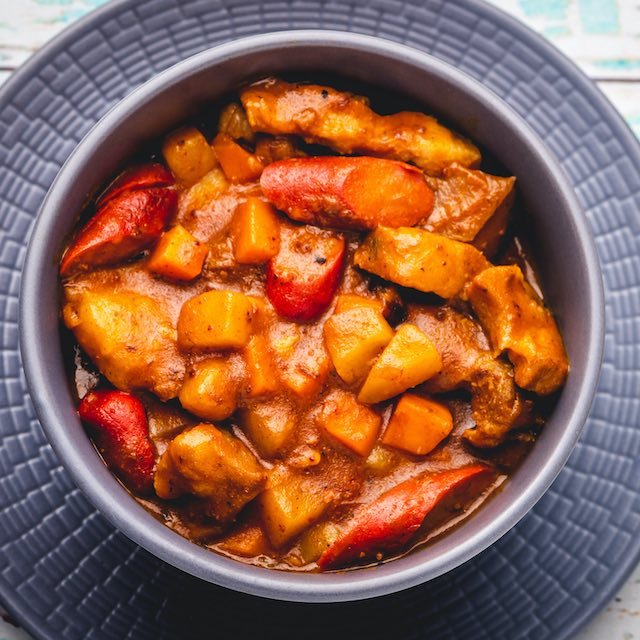 ADVERTISEMENT - CONTINUE READING BELOW
Himpossible Recipes' Chef Him Uy de Baron was inspired to cook by his mom Mercedita. "She was an avid cook, always experimenting and trying out new dishes on us," he relays. "She also started a home food business when we were young, and the house was abuzz with activity putting food orders together and delivery." Mercedita would drive her own Fiera car herself to deliver frozen food—and this is something Him has also done himself. "I deliver some of our kits myself, it just makes it more personal that way. I guess I got that from her."
"That's one of my favorite food memories—just helping out in the production and even [with] the delivery," says Chef Him. "Grinding was something I've taken from her." Chef Him is also proud of a couple of her dishes—namely, her menudo ("I don't eat menudo anywhere else because it doesn't compare!" and her sinigang na tilapia sa bayabas. "I grew up on good food and [it] wasn't fancy, but my mom put her heart into it."
CONTINUE READING BELOW
Recommended Videos
Natalia Moran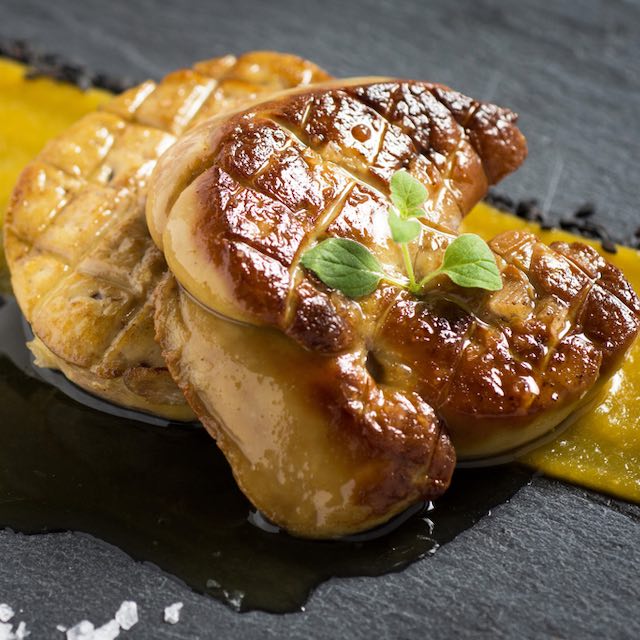 ADVERTISEMENT - CONTINUE READING BELOW
As the Sunny Side Group and Tasteless Group of Restaurants' Culinary Consultant, Chef Natalia Moran cooks up a storm at establishments like The Sunny Side Cafe, Granivore, and PizzaExpress. You can thank her mom, Fe, for her culinary leanings. "[She's] always been supportive of me and the things I do," says Natalia. "When I was in high school, I was already interested in cooking and wanted to take up culinary arts in college. My mom would take me out to different restaurants so we could try new and interesting food." The first place Moran's mom took her was M Café—"because I had told her the chef there, [Chef Sau del Rosario], was really good and well-known." During that visit, Moran recalls having had foie gras served with adobo with her mom. "I remember it to be divine."
"I will never forget how she would encourage me and the lengths she and my dad would go to, just to support me and my dream. I am very thankful and blessed to have her as my mom."
Francis Lim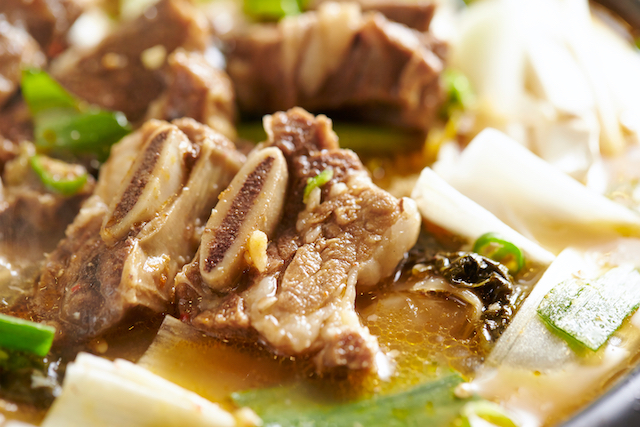 ADVERTISEMENT - CONTINUE READING BELOW
Nav Modern Cuisine and Tipple & Slaw's Chef Francis Lim shares that he learned to eat well, thanks to his mom. "She made this Korean [or] Chinese-style short rib stew that I can never forget. Too bad… I only learned to cook [during my] college days," he says. Chef Lim—who was inspired to start cooking as his eldest sister, Achi Pam, made a special rosemary-grilled chicken and pasta dish with two sauces—also wondered why his mom and sister would take so long to cook. "Then I realized that back then they really wanted everything prepared already before they did the actual cooking," he shares. "So then and there I realized how important mise en place was before I even learned how to turn on a stove."
Since then, Chef Lim shares that he's been trying to recreate both his Mom's and sister's dishes "through memories."
Kevin Navoa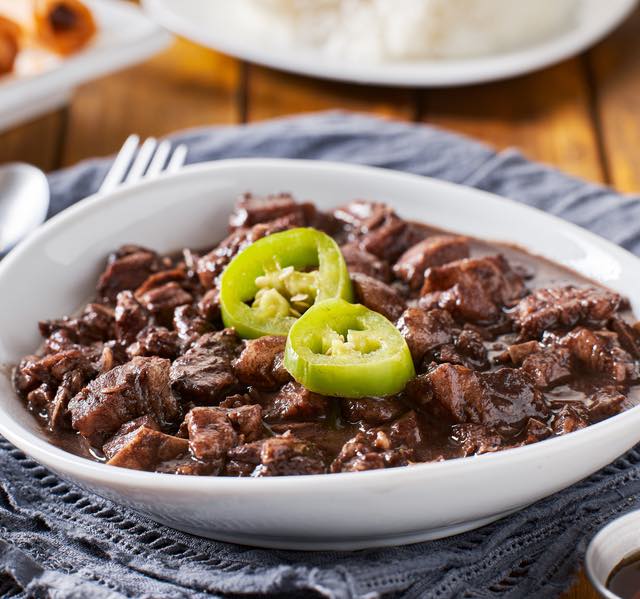 ADVERTISEMENT - CONTINUE READING BELOW
Hapag's Chef Kevin Navoa describes his mom, Mimi, as "one of the most passionate home cooks" you'll ever meet. "She cooks for our family every single day without fail," he shares, explaining that he got his love for cooking from her. "My mom is my first love [and] number-one supporter, and [she] will always be one of the reasons why I continue to cook with love," he shares. His favorite dish from her mom? Her tinumis—a dish from Nueva Ecija that has pork cooked in sampalok and pork blood, then finished with sampalok leaves. "It's somewhat the version of dinuguan of the people of Nueva Ecija," says Navoa. (It was also the inspiration behind one of the recent Hapag Family Meals specials they released—the Crispy Tinumis with Puto!)
Navoa also learned the value of "being organized and clean" in the kitchen from his mom. This was a trait his mom would exemplify as she baked cakes at their family-owned bakery in California. "This gives you more room to think and work efficiently, thus giving your dish more love and consistency," says Navoa." This lesson I've learned from my mom was brought to Hapag," he continues. "To this day, my number one rule is to keep everything organized, clean, and neat." They go as far as to make sure all labeling tapes are cut with scissors and never torn, and Navoa shares that he would even have the team redo the said step if not done correctly!
ADVERTISEMENT - CONTINUE READING BELOW
As for his most memorable meal with his mom, Navoa also shares the time that they ate together at a restaurant he used to work for at Kuala Lumpur, Malaysia. "It was a fine-dining restaurant that did tasting menus, and was part of Asia's 50 Best Restaurants as well," he relays. "This meal helped her understand and realize the path I was going for and what I wanted to do with Filipino cuisine. Ever since, she has understood and supported what we do at Hapag."
Miko Calo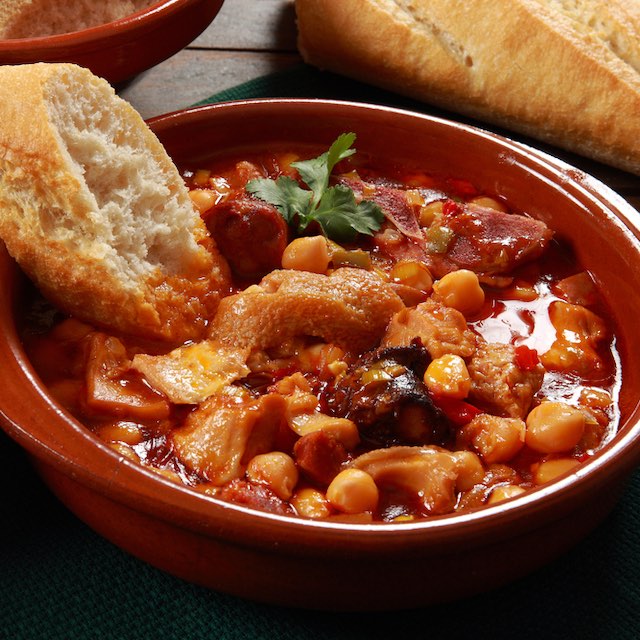 Chef Miko Calo of Metronome and Lazy Oeuf shares that she had "four mothers" growing up, three of whom she shares fond food-related memories with (in no particular order).
First up is Susan Calo-Medina, former host of local travel show Travel Time—or as she is to Calo, Tita Susan. "I always looked up to her [as] she was a very strong, intelligent, talented and sophisticated woman. She was also a very good cook," says Calo. "I could list down a whole lot of dishes she used to cook, but her callos were a family favorite," she relays, describing her tita's version as being "unctuous and bursting with flavor." "It [would take] her two days to make the dish, and the kitchen would smell so amazing. She would make a huge batch and we wouldn't mind eating it over and over again for days."
ADVERTISEMENT - CONTINUE READING BELOW
Next up is her Tita Bebot, a.k.a. Eleanor Calo Galang—a "very talented baker" whose cakes and other pastries were formerly available under Bakere. "She makes the most amazing Valrhona chocolate cake," Calo gushes. "She also makes the best lasagna [and even] makes the pasta for it. She rolls the pasta thin, so you get thin layers of pasta and lots of ragout and cheese. [It's] such a comforting dish."
Last but not the least is Calo's stepmother, Vecere, who she taught her all the basic kitchen skills—including how to gut a fish, as early as when Calo was 10 years old! "She taught me how to make rellenong bangus when I was 11, [and] I did it from start finish with her guidance," says Calo. "That was a very proud moment for me. We would have that dish often, [and] I can still remember how it tastes."
"I can't honor just one," says Calo. "All three of them were very much present in my life and I wouldn't be who or where I am today without seeing the example of their strength, resilience, and resolve."
Thirdy Dolatre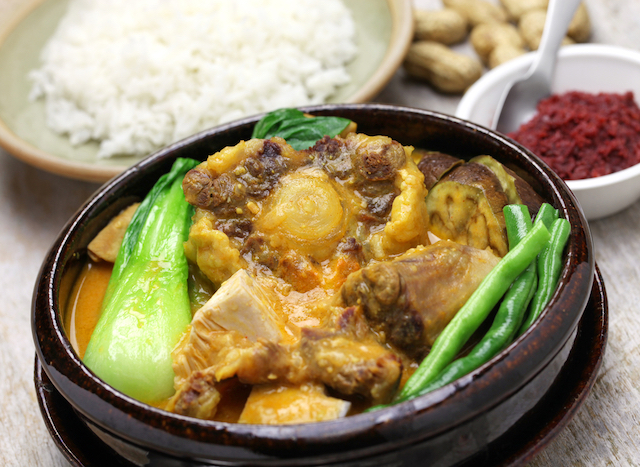 ADVERTISEMENT - CONTINUE READING BELOW
For Hapag's Chef Thirdy Dolatre, it was his Tita Tets who taught him how to cook—he learned how to do sunny side-up eggs at seven years old! "As I was growing up, I always assist her and observe the way she executes classical Filipino dishes inside our home kitchen," he relays—and among the many dishes he learned to make from her was her Classic Oxtail Kare-Kare.
"I would say that the key to her lip-smacking and rich kare-kare is the thick and savory peanut sauce, which [Tita Tets would] make from scratch using ground peanuts, annato, rice flour, peanut butter, and the collagen-rich stock from the slow-braised oxtail," he explains. "She serves it with bundles of long beans, banana hearts, eggplants, and a side of bagoong." No family dinner would be complete without Tita Tets' special Oxtail Kare-Kare. Dolatre also shares that his Tita Tet's Kare-Kare sauce would serve as a pattern of sorts for the Kare-Kare sauce that they use in Hapag, which is made completely from scratch and "100% made with love."
Patrick Go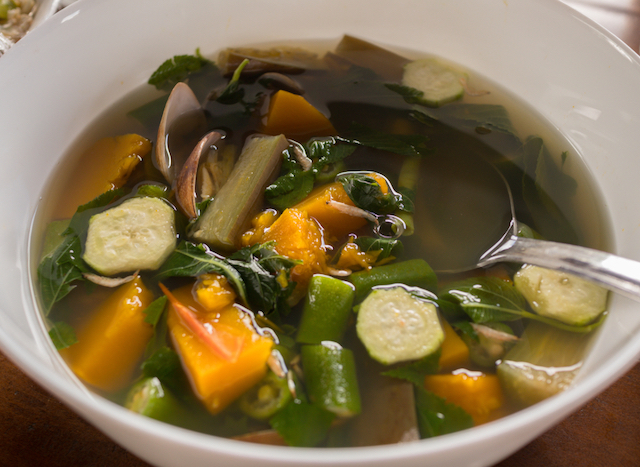 ADVERTISEMENT - CONTINUE READING BELOW
Gochu-Gang and Mister Dandan's Chef Patrick Go shares about how his mom would cook laswa almost every day. "It's an Ilonggo Soup Dish composed of different vegetables such as okra, tomato, sitaw, kalabasa, and shrimp heads," Go explains. "I would say that this is my favorite dish out of all the things that she has cooked. She was actually surprised because she thought that kids didn't like to eat vegetables." Go would even go on to do a laswa-inspired dish during the 2018 run of Madrid Fusion Manila, with a pumpkin puree, grilled sitaw, eggplant, okra, and fried kalkag (baby shrimp).
Photos used are for illustrative purposes only.
Hey, Spotters! Check us out on Viber to join our Community and subscribe to our Chatbot.
We are now on Quento! Download the app and enjoy more articles and videos from SPOT.ph and other Summit Media websites.
We are now on Quento! Download the app and enjoy more articles and videos from SPOT.ph and other Summit Media websites.
Share this story with your friends!
---
Help us make Spot.ph better!
Take the short survey
Load More Stories