Smackdown: Classic Chocolate Cakes in Cebu by the Budget
Does more expensive really mean better?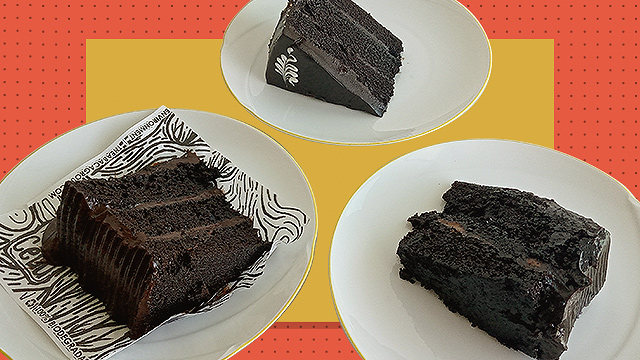 (SPOT.ph) A slice of classic chocolate cake is the poster child for dessert. It's easy to find virtually anywhere and it's available at any price point. So we investigate what makes any of these instantly recognizable Cebuano classic chocolate cakes special and if they actually are worth the price (and the calories!).
We reviewed Cebu's chocolate cakes to find out which slice you ought to scrimp or splurge on, here's what you need to know:
Scrimp: Chocolate Monster from Orange Brutus (P74/slice)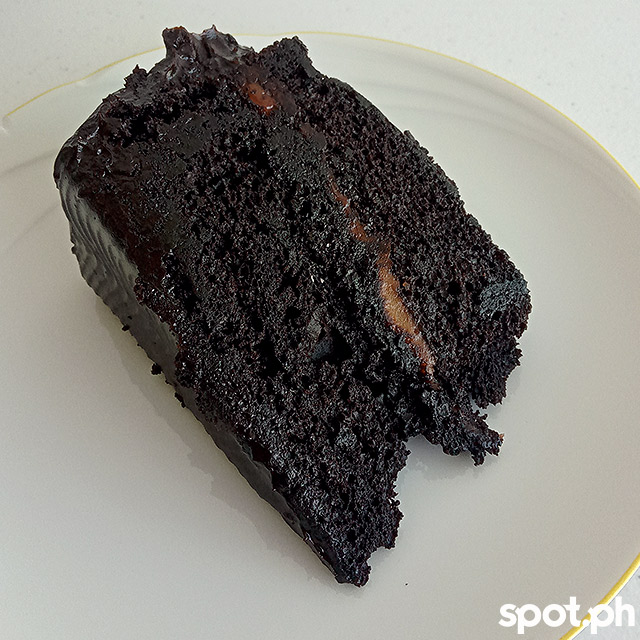 ADVERTISEMENT - CONTINUE READING BELOW
Right off the bat, the expectation for Orange Brutus was different, not only because of its affordable price—P74 a slice, P85 on Grab Food—but also because of nostalgia. This chocolate cake has been around for as long as we can remember and we've lost track of how many times we've had it as some form of reward that it's impossibly intertwined with those happy memories. However, putting on the lens of objectivity, there were some things that we found out about this chocolate cake. We'll get to those later.
In keeping with the nostalgia, the first taste had to be a swipe of the shiny frosting. After we washed our hands, we were a bit surprised to discover just how solid it was. There was hardly any give as it hit our finger. It wasn't bad, but it's just that we've come to expect chocolate to melt ever so slightly at the mere suggestion of warmth.
Tastewise, the ganache was undeniably nostalgic, like having something from your favorite grade school cafeteria. Something about the flavors of cocoa powder mixed with condensed milk and some other artificial component that ironically tastes homemade. This particular flavor was also present in the cake itself, although the latter didn't carry that much flavor on its own. The most we could pick out was cocoa powder. (It's got just the right level of sweetness though!) It reminded us of our neighborhood bakeshop. By some kind of deeper understanding of the local palate that can't be explained without the fondness of memory, it always hits the spot.
CONTINUE READING BELOW
Recommended Videos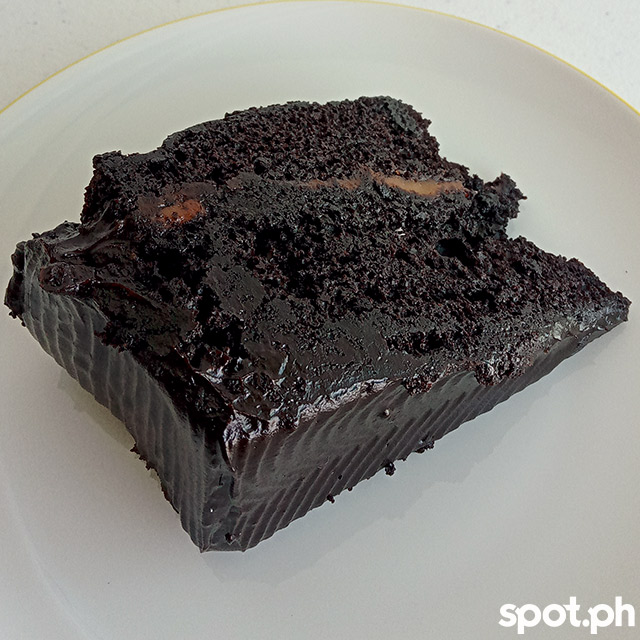 The absolute best part about the Chocolate Monster was the caramel filling, which you won't see on the other cakes on this smackdown. The filling had a consistency similar to the frosting. It was too thin to taste on its own, so we can only note that it tasted mild. However, together with the cake, it greatly improved the mouthfeel as it provided much needed moisture. With all those elements combined, this is one slice we wouldn't have trouble finishing on our own. And at that price, maybe we'd even get another to share. Overall, it's amazing value for money that just can't be beat. That, and it tastes like childhood.
Mid: Old Fashioned Chocolate Cake from Cafe Georg (P125/slice)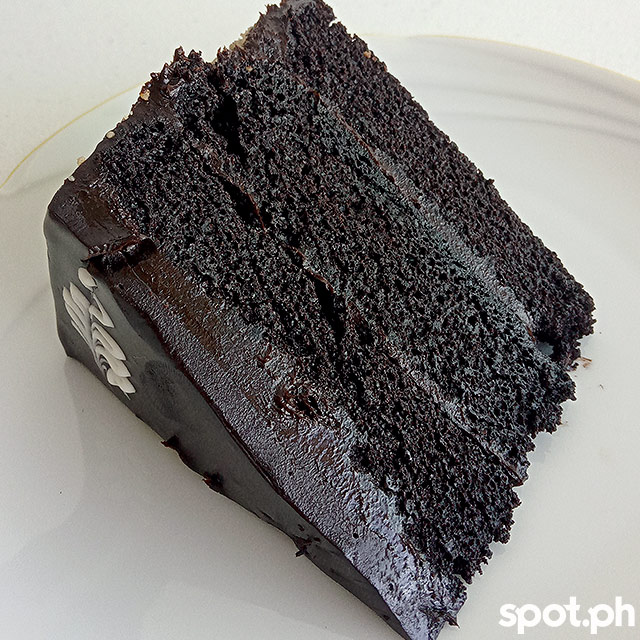 ADVERTISEMENT - CONTINUE READING BELOW
Like most midrange chocolate cakes in Cebu—La Marea, Leona, and Dessert Factory—Cafe Georg's Old Fashioned Chocolate Cake isn't frosted with a glossy ganache. This meant that it was stable as it traveled and looked restaurant-perfect as it arrived. It even has a white chocolate flourish on top and streusel crumbs on the side. (The fissure in the frosting that you see in the picture is our misstep when we plated the cake.)
But even when the frosting didn't budge in transit, it easily gave way when we took a swipe. It was sumptuous, with a clear dark chocolate flavor that's been softened by cream. It was hands down the best of the bunch. We could keep eating this stuff on its own, especially with crumble on the side. That very subtle texture just brought it to new heights. If it was folded in, it might even keep you guessing what that thing was that just made it so great.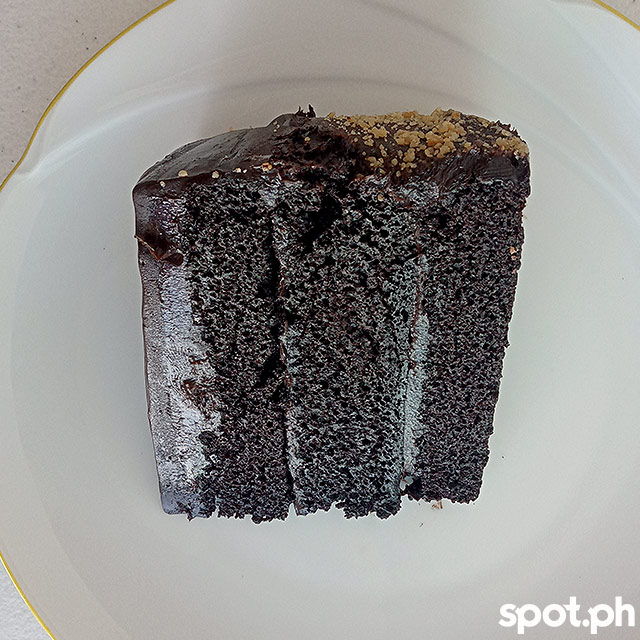 ADVERTISEMENT - CONTINUE READING BELOW
When it came to the cake, Cafe Georg's was the darkest in color and crumbled the most easily despite looking the most compact of the three. The cake alone was moist but not to the point of being fudgy. Altogether, the cake was rich enough to give us a bit of a cotton-mouth after a few forkfuls. It tasted familiar, yet it could stand on its own merit—a pick-me-up on any day you need real chocolatey flavor from your chocolate cake.
It's cliché to assume that middle-of-the-road means middling. This is clearly not the case with Cafe Georg. It's reliable and unpretentious. Like your trusty beaters, you can count on it to deliver and it's never a bad idea.
Splurge: Chocolate Cake from Abaca Baking Co. (P185/slice)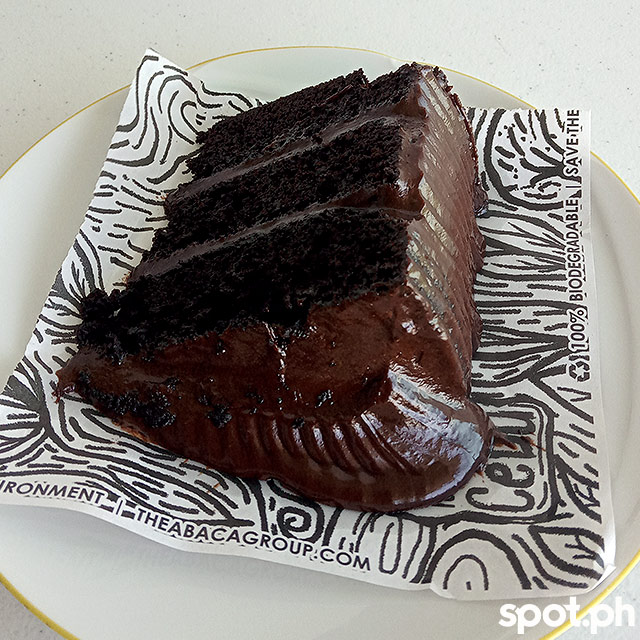 The first impression as we opened the takeout box—disaster! The ganache has slid off. There was no way to make this look appetizing in that way we've come to expect of all cakes with a price range upwards of P200—this comes in at P215 a slice on GrabFood, but only P185 in-store—and we all knew this cake looked oh-so-grand in their refrigerated counter display. Moving this tall yet delicate slice on to a plate was only made possible by the parchment paper it rested on.
ADVERTISEMENT - CONTINUE READING BELOW
Visually, this was the only cake whose frosting had a reddish hue. This translated to a red berry note, kind of like an artisanal chocolate bar. But there was also a buttery, coconutty, slightly oily but not greasy quality to it. Combined, the closest thing we can compare it to is a fried dessert pocket pie—fruit and fat in one delicious package. This had way more complexity, though—as it should, given that price tag! It's pretty hard to get over it when it's easily double the price of cake slices elsewhere in Metro Cebu.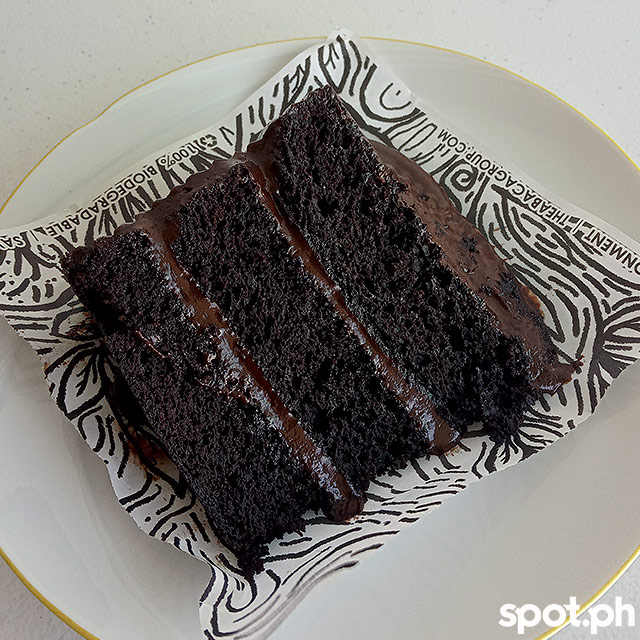 As for the cake itself, Abaca's had the most discernible chocolate flavor. This made it a delight to eat on its own. It was also the fudgiest among the three, even if it looked like it had the most loose crumb structure. However, there was no easy way to separate the cake from the generous layers of ganache, which ultimately overpowered the straightforward chocolate flavor of the cake. What came through with each forkful was the acidity of the cocoa amplified by the fruity notes. And even then it became too sweet, too rich.
ADVERTISEMENT - CONTINUE READING BELOW
Despite how it looks, it's not a straightforward chocolate cake that's there to comfort you. It made use of the complex flavors in cocoa mass, but we're not sure about how it all came together. We'd like to think it challenges your ideas of what chocolate should taste like. This is a cake that would be great to share with a friend as you dissect its flavor like you'd pick apart the details of your latest life update—or if like us, you have no life to speak of, then your latest Netflix binge will do.
Hey, Spotters! Check us out on Viber to join our Community and subscribe to our Chatbot.
We are now on Quento! Download the app and enjoy more articles and videos from SPOT.ph and other Summit Media websites.
Share this story with your friends!
---
Help us make Spot.ph better!
Take the short survey
Load More Stories