(SPOT.ph) What do Filipino and Italian cuisines have in common? How do they converge?
Unlike other great culinary traditions that have profoundly influenced our gastronomic heritage such as Chinese, Spanish, and Malay, the Fil-Italian connection is not as easily evident. But there are similarities, no doubt, between the archipelago and the boot-shaped country's food such as the undeniable influence of mothers and grannies in how we cook and eat. 
The confluence between Filipino and Italian flavors is what world-renowned chef Margarita Fores explored in her cuisine workshop at the Lyceum Culinary Institute last October 15, 2022, organized by the Philippine-Italian Association together with the Design Center of the Philippines.
Entitled Confluence: Merging the Best of the Philippines with the Best of Italy, the intimate event was attended by select guests and culinary students from Lyceum and saw the award-winning restaurateur demonstrate dishes that highlight the best of what both countries have to offer in terms of ingredients. 
ADVERTISEMENT - CONTINUE READING BELOW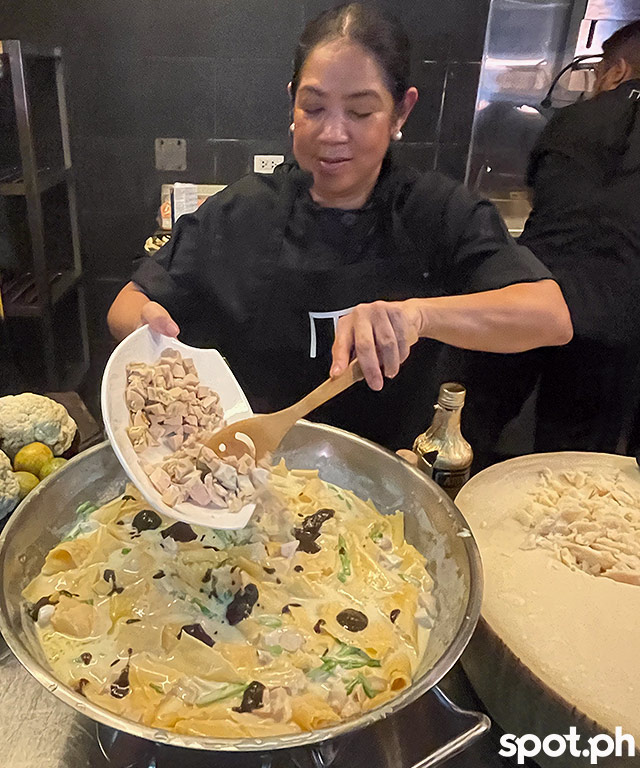 Also read: Asia's Best Female Chef Margarita Fores promises to push Filipino food further internationally
Chef Margarita Fores shows us the convergence of Filipino and Italian cuisines:
A love affair with all things Italian
"It is a little bit about the story of my journey, because in 1986 I went to Italy to learn about Italian cuisine. At that time, I had to spend a few years in New York, kind of like falling in love with everything Italian," Fores shared, "I was working at a fashion house of one of the most iconic Italian fashion designers and that is where I started with my love affair with everything Italian."
ADVERTISEMENT - CONTINUE READING BELOW
Recommended Videos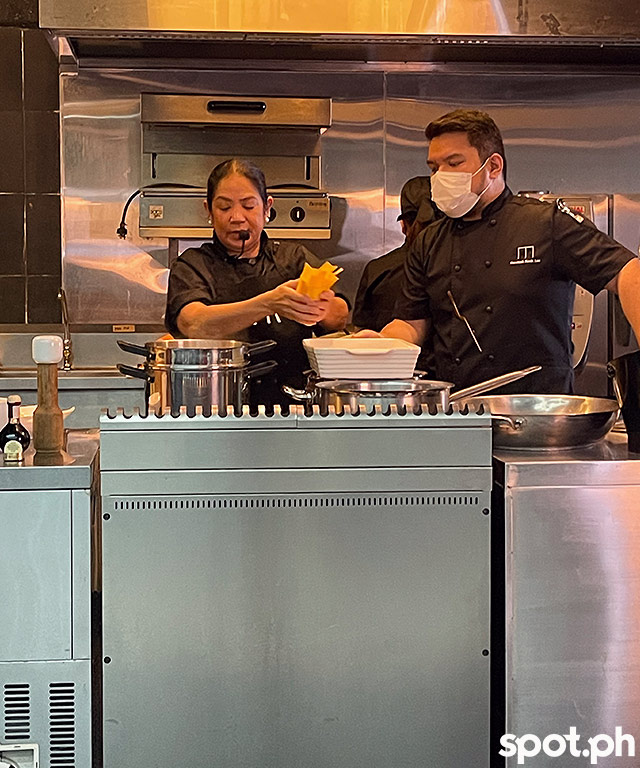 During her time there, the Big Apple was in the process of being "Italianized," with many young Italians moving to the city for greener pastures at a time when the Italian economy was in shambles.
ADVERTISEMENT - CONTINUE READING BELOW
She shared that she was more into the fashion scene of New York then, but what eventually got to her was the food. "I spent my evenings cooking for my Italian friends and I learned how to make pasta, first from my mom's cook, but eventually from eating out in New York," she said. Forés learned more about pasta, and Northern Italian dishes, among many other things during her stay in NYC.  
She joked that she must have been an Italian in her past life because of her affinity with Italian culture, which she added, was also partly because of its many similarities to our own heritage. Aside from religion, Forés explained that just like a typical Filipino, the Italian's everyday life revolves around his or her mother and the dining table. 
In 1985, Forés and her family came back to the Philippines after her grandfather died. "Having come back from New York, I got a bit restless because Manila was slow. By that time the Philippines had President (Corazon) Aquino. I had the chance to help her with her state visit. We were a group of young girls who helped with the activities. Right after that, that is when I asked my mom permission. I said that I really want to go to Italy and learn about the food."
ADVERTISEMENT - CONTINUE READING BELOW
In September 1986, she moved to Florence where she found a teacher, an Italian signora, who cooked from her apartment. Unlike many chefs, she did not attend culinary school. "That was a blessing because Italian cuisine is more home-style. It is not about the contrived, high-end French cooking techniques. I think the heart and soul is about the Italian mamma and nonna cooking for her family. That is the base of the cuisine."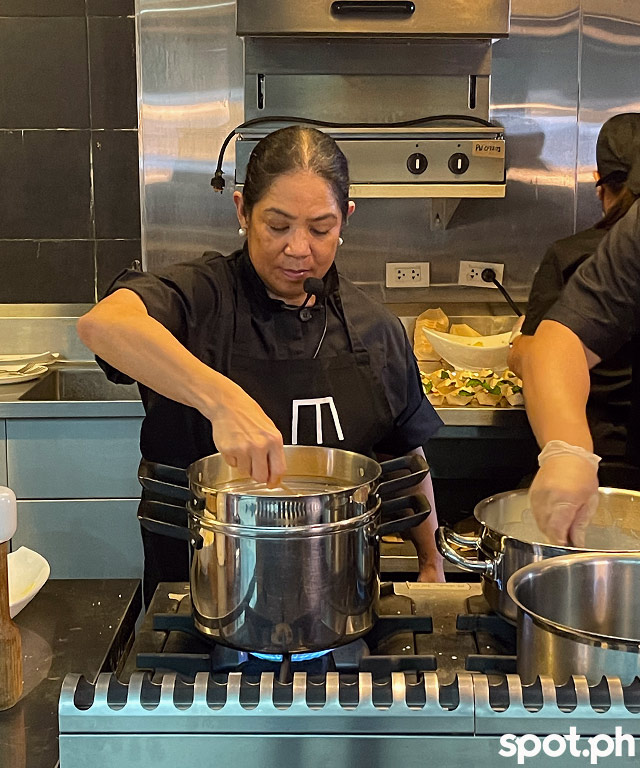 ADVERTISEMENT - CONTINUE READING BELOW
After four months of "intense" immersion not only in Italian cooking but also society through interactions with the locals, Forés learned as much as she could to cook Italian dishes back in the Philippines. 
Going back to Manila after a quarter of a year in Italy, what she found the most challenging was looking for ingredients. For example, it was at first difficult for her to get her hands on tomatoes that were as sweet as those in Italy. 
Local tomatoes are more sour as they grow on acidic soil as is most of our other produce, that is why we use them (tomatoes) largely as a souring agent in dishes like sinigang or ensalada. "We would not be able to use tomatoes the way Italians do for pasta. That was my challenge then," added Forés.
She struck a deal with her suki to give her tomatoes that were on the verge of being overripe as that was the closest thing we have to an Italian tomato. Despite this, she still had to work on it a bit more to approximate the taste of the original, even admitting to adding the tiniest bit of sugar to her recipes.
ADVERTISEMENT - CONTINUE READING BELOW
A celebration of the finest ingredients
36 years later, Forés is happy that more Filipinos are now growing tomatoes using Italian seeds or those who replicate the experience of growing them as they do in Italy. There are also local importers of Italian produce making it easier for her to procure authentic ingredients.
Going back to the Philippines forced her to look at our own ingredients and see how we can celebrate these as the Italians do. "We have many. Our mangoes are the best in the world; I declare this without reservation. We have beautiful palm hearts (ubod). We have beautiful rice. We have beautiful things from the south, for example, coconut. If Italy has its iconic products, so do we here in the Philippines," she said. 
However, the Italians have developed a system for making sure that the products you buy are the real deal—from mozzarella to guanciale—and are made in the original town or region with authentic ingredients. 
ADVERTISEMENT - CONTINUE READING BELOW
When buying Italian ingredients, consumers must learn to spot the "DOP" label, short for Denominazione d'Origine Protetta (literally, Protected Designation of Origin), which is a certification that what you are buying and eating is a local Italian delicacy and not an imitation. This guarantees that each step, from production to packaging, is regulated. Currently, Italy has over 400 DOP products.
Forés says it is her dream for the Philippines to certify its own iconic products like taba ng talangka from Pampanga or mangoes from Guimaras in the same way as they do in Italy. 
A convergence of Filipino and Italian flavors
Forés prepared four dishes for the audience to taste that exemplify the convergence of the best in Italian and Filipino flavors, not only in taste but also in ingredients. 
For starters, she prepared insalata di funghi, palmito, e parmigiano (mushroom, palm heart, and parmesan cheese salad), a salad made of Philippine ubod and sea salt, with sliced raw mushrooms, shaved parmigiano reggiano, and a drizzle of olive oil from Italy. She also added a squeeze of lemon for a hint of tang. 
ADVERTISEMENT - CONTINUE READING BELOW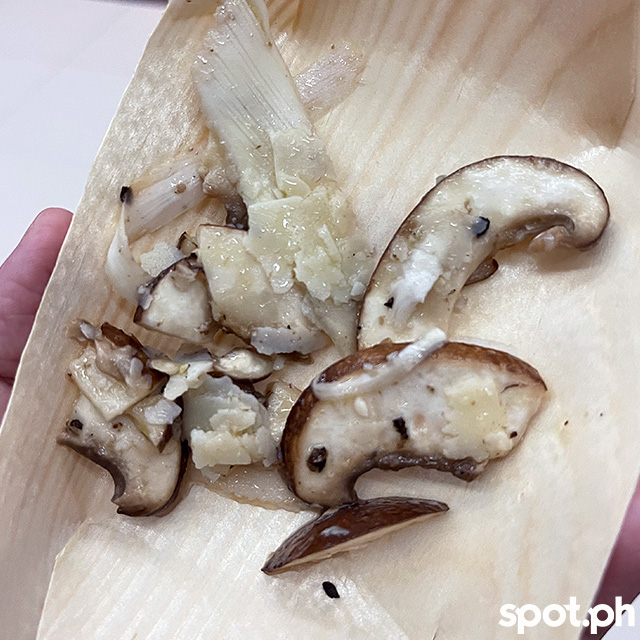 Forés said that the recipe was inspired by a salad she tasted in a trattoria in Florence which was made of raw local mushrooms and palmito from Puerto Rico. For the recipe, she made use of 24-month-old parmigiano reggiano (parmesan cheese) from the Italian region of Emilia Romagna and olive oil from Liguria. 
ADVERTISEMENT - CONTINUE READING BELOW
The next dish she prepared was prosciutto e fichi (Italian ham and fig), making use of locally grown figs from Laguna. "For me, the fusion of prosciutto and fig is like something that God created," the chef joked.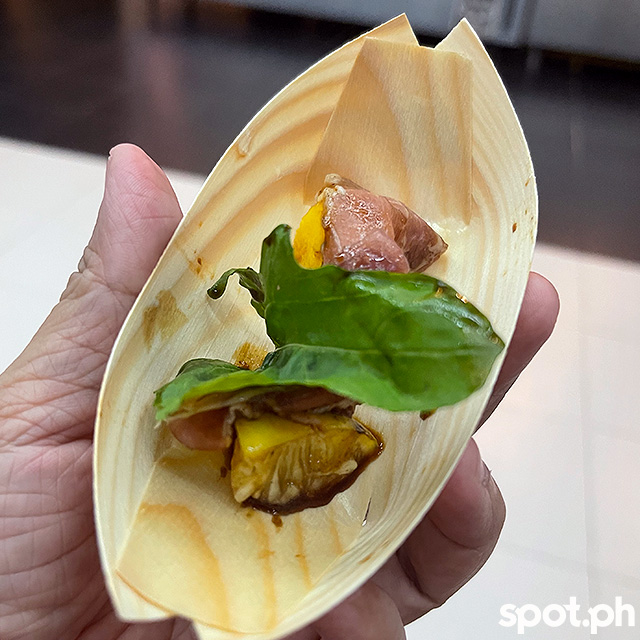 ADVERTISEMENT - CONTINUE READING BELOW
She shared that if you do not have any access to figs, you can use the ripest chicos you can find as a substitute, which was what she used when she first made the dish back in Manila. If you cannot get your hands on ripe chicos, then you can settle for ripe mangoes instead. She topped the dish with a drizzle of aceto balsamico tradizionale (traditional balsamic vinegar) from Modena.
For the "main event", Forés, whose family hails from Bago, Negros Occidental, prepared tartufo e uova (truffle and egg) pasta using our very own itlog na maalat as one of its main ingredients for the sauce, alongside cream and butter.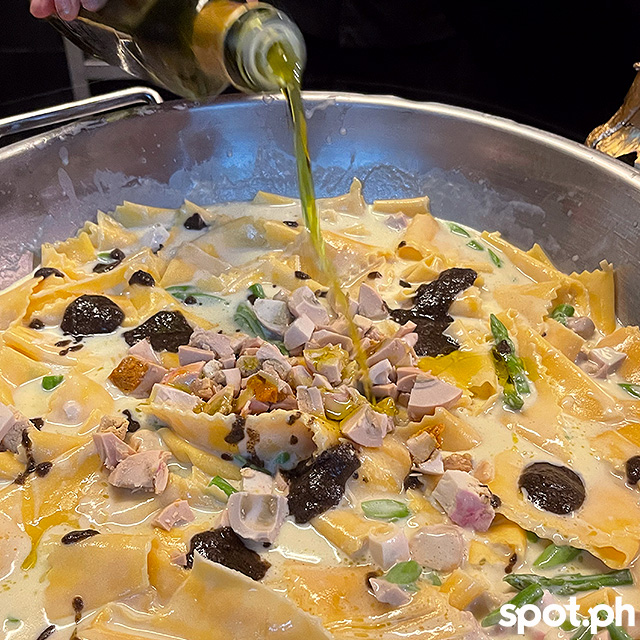 ADVERTISEMENT - CONTINUE READING BELOW
"The depth of flavor of an itlog maalat is like eggs on steroids. Imagine the flavors if you put that together with truffles." She quipped that the recipe is something that she considers a blessing because it was as if God whispered it to her ear.
It's truffle season in Italy so she wanted to use real white truffles from Alba, but her orders will not be arriving until November so she had to make do with truffle paste, oil, and salt from Italy. For the pasta, she made use of fresh pappardelle made from duck egg yolks. She also added a few slices of asparagus which goes well with truffles. 
Lastly, she made the iconic adobo, using lamb instead of the usual chicken or pork to show how adobo is more than just a dish, it is a method of cooking. Instead of using local vinegar, Forés made use of aceto balsamico. She added a dollop of achara with nata de coco on the side. 
ADVERTISEMENT - CONTINUE READING BELOW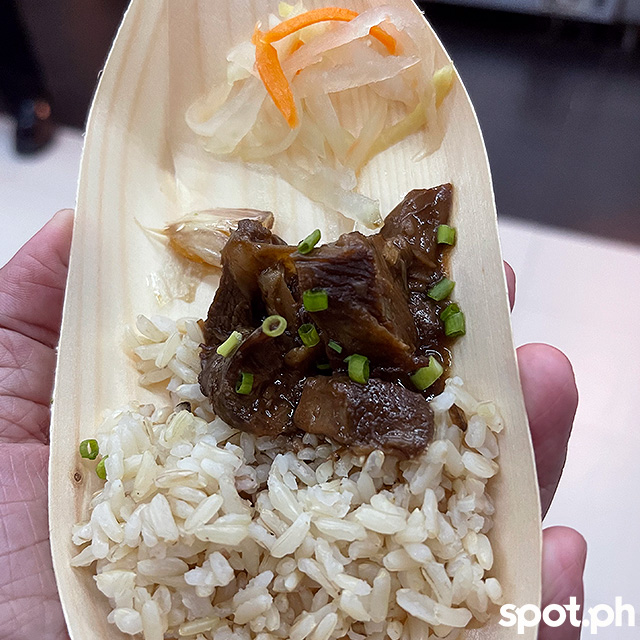 Toward the end of her demonstration, Fores gave a piece of advice to the students in the audience. "I never went to cooking school. I think it is incredible for those of you who have chosen this as a career path. But, I think there is commonality in the training that you experience in school. What will make you succeed and what will make you unique is putting your own personal experience—what your grandmother fed you, what your mom cooks at home, what grows in your home province, the things that you encounter when you travel," she said. 
ADVERTISEMENT - CONTINUE READING BELOW
"These are the things that will allow you to have your own personal stamp as you move forward in your career."
Hey, Spotters! Check us out on Viber to join our Community and subscribe to our Chatbot.
Share this story with your friends!
---
Help us make Spot.ph better!
Take the short survey
Load More Stories