CHECK IT OUT: 4 Restaurants Perfect for Meat and Beer Lovers
Meat + Beer = :)

(SPOT.ph) Give the man of the house a break this Father's Day and take him out on a night out with the fam. It's time to show your appreciation for dad the way he likes it most—through his stomach! Here, we've rounded up the best places in Eastwood City for a juicy steak and a hearty craft beer—the best one-two punch combo for any epic dad-feast. 

Big D's Smokehouse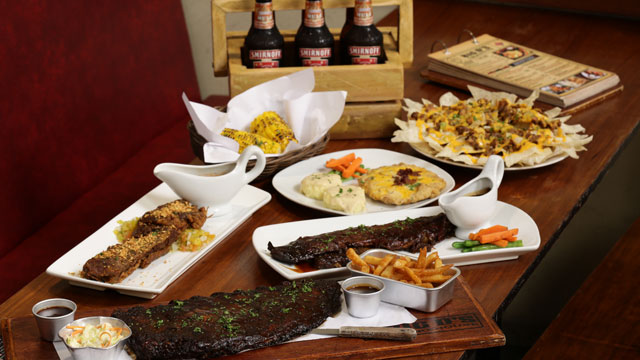 2nd floor, Eastwood City Walk 2, Eastwood City, Q.C.
Monday toThursday and Sunday, 11:30AM– 12AM
Friday to Saturday, 11AM-2AM
Noted for its fine South American-influenced barbecue, Big D's Smokehouse offers a no-nonsense eating session featuring meat, chips, and beer. Note: Chef Dino's ribs are truly divine. Go for either the classic or soft-boned ribs—both come smoked to within an inch of their lives, with a sweet, charry stickiness that'll send tingles down your spine.

Must-tries: Pulled Pork Nachos (Duo Php 165; Platter Php 265), Chicken Fried Steak (Php 240), Smoked Soft Bone ribs (Solo Php 230; Duo Php 390; Full Php 495; Platter Php 1,990), Twice Fried Ribs (Half slab Php 360; Full slab Php 495), Classic Baby Back Ribs (Solo Php 230; Duo Php 390; Full Php 495; Platter Php 1,990).

The Beef Barn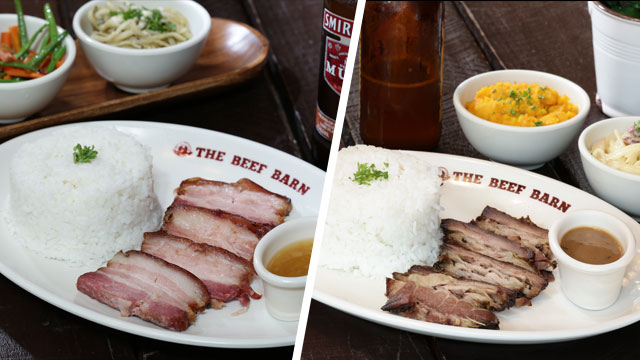 2nd floor Eastwood City Walk 2, Eastwood City, Q.C.
Open Daily from 11:00AM–4:00AM
The newest venture of Chef Ivory Yat (of Masterchef Pinoy Editions fame) is refreshingly free of the snooty, foodie attitude. The result is excellent grub without the pretentiousness. Take her simple, yet elegant, Angus Roast Beef rice meal: prepared delicately, it's smokiness a perfect compliment to the tender, juicy meat. Equally delicious side dishes make the perfect, well, sides to this magnum opus. Indeed, Chef Ivory hits the mark where it matters.

Must-tries: Smoked Bacon and Angus Roast Beef (From P160 to P250, depending on size and sides). Side dishes: Carrots and string beans strips, Pesto Pasta, Aglio Olio Pasta, Marinara Pasta, Mashed Squash, Carbonara Pasta (Php 50 each).

Outback Steakhouse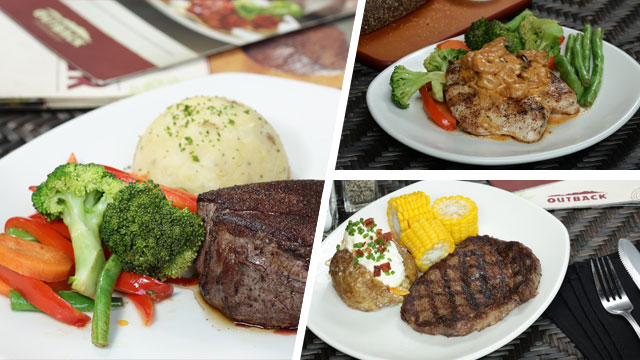 Eastwood City Walk 1, Eastwood City, Q.C.
Open Daily from 9:00AM–10:00PM
Located in the middle of Eastwood Central Plaza, you can't miss it. Just like steakhouses from down unda', Outback is a bonafide beer-and-beef joint. Succulent, tender cuts, fall-off-the-bone ribs, juicy burgers, and tangy wings, it's a meat party waiting to happen. Paired dad's meal with a rich Aussie beer and he'll surely be saying "G'day!" all the way home.

Must-tries: Toowoomba Topped Chicken (P549), Victoria's Filet (from P1,199 to P1,399), Ribeye (P1,599), James Boags Premium Pale Lager (P255), Guinness Stout (P255), Loaded Baked Potato (P149), Gold Cot 'Rita (P255).

Rue Bourbon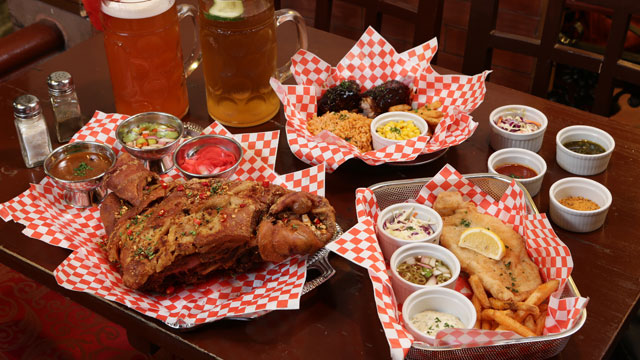 Eastwood City Walk 1, Eastwood City, Q.C.
Open Daily from 5:00PM–2:00AM
You don't have to visit the Big Easy to enjoy legendary Cajun and Creole flavors! Nestled along a row of pubs and bars, Rue Bourbon offers the Mardi Gras experience with a Filipino twist. Items like Wagyu Tapsilog and Sinigang Fish n' Chips bring this spirit to life. But dad's gonna want to sink his teeth into the Wagyu Sirloin or attack a platter of ribs, while washing it down with one of Rue Bourbon's signature flavored beers. Just saying.

Must-tries: Wagyu Sirloin Steak (P490, 220g), Crispy Corned Pork Scar Face (P790), Sinigang Pale Battered Fish N' Chips (P290), Juicy Ribs (Solo P260; Double P520; Feast P999), Cucumber Flavored Beer (Glass P120), Specialty Beers: Caramel and Watermelon Wheat Beer (Glass P140, Big Ass P300).