Whatever Happened to these '80s Stars/Starlets/Lilets?
After packing up their hi-top Reeboks and leaving yesterday behind, these '80s sensations are now mostly rock-steady.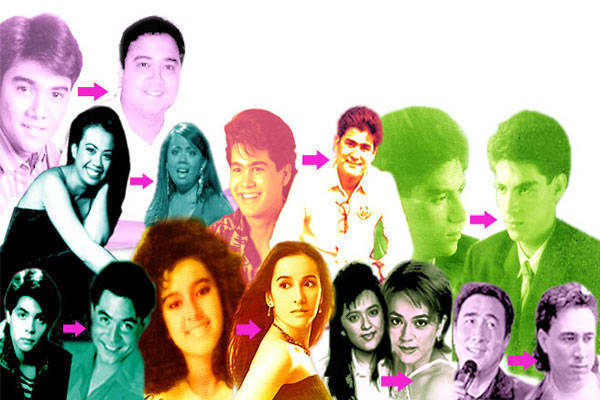 Top:   Jigo Garcia, Caselyn Francisco, JC Bonnin, Keno.
Bottom:   Louie Heredia, Lilet, Kristina Paner, Gino Padilla.
After packing up their hi-top Reeboks and leaving yesterday behind, these '80s sensations are now mostly rock-steady.
Caselyn Francisco
Then: Was part of the children's show Pen-Pen de Sarapen and German Moreno's a widely popular variety show, That's Entertainment. She left the Philippines to play Kim in the German production of Miss Saigon.
Now: Known as Casey Francisco, the Netherlands-based theater actress has appeared in plays such as Oliver! and Rent, and was nominated best actress for her performance as Mary Magdalene in Jesus Christ Superstar. She's come a long way since singing with Islaw Kalabaw.
Keno
Then: Struck gold in the late '80s by crooning tunes "Leaving Yesterday Behind" and "A Friend." The good-looking balladeer also tried his hand at acting by starring in Viva Films' Ninja Kids opposite Herbert Bautista and the late Francis Magalona. He retired from showbiz in 1991 after a successful major concert at the Ultra.
Now: Resides in Florida, USA with his wife and two daughters. Keno, also known as Joaquin Sanchez, is a real estate agent who has written a book called The Last Castrato under the name J. Wolf Sanchez.   Check out his fan site.
Louie Heredia
Then: Released three award-winning albums (Nagiisang Ikaw, Para Sa 'Yo, and Una at Huling Mamahalin) while hosting TV shows Penthouse Live and Lunch Date.
Now: Spends most of his time in the kitchen whipping up gastronomical delights like his specialty, Paella Valenciana, which he sells to the public. He also makes puttanesca and pomodoro pasta, as well as Thai curry dishes. For orders, call tel. no. 426-6346.
ADVERTISEMENT - CONTINUE READING BELOW
Lilet
Then: Rose to fame when she starred in the international Coca-Cola ad singing "Future of the World," a jingle about universal harmony. With three albums under her belt, Maria Luz Lilet Jodloman bid showbiz goodbye after deciding to pursue her studies in Japan.
Now: Once called "The Muse of OPM," she unsuccessfully attempted to revive her singing career in 2003 under the name Marielle. These days, Lilet is a mother of two and wife to Jay Esteban, anchorman of News Watch 2nd Edition and segment host of 700 Club Asia.
Jigo Garcia
Then: One of the numerous teen talents of That's Entertainment. Had a daughter out of wedlock with former girlfriend, actress Jean Garcia who was also part of the afternoon show.
Now: As barangay chairman, Jigo is responsible for the affairs of Quezon City's Barangay Doña Josefa–an area that includes Banawe Street–which has a growing population of more than 2,500 residents.
CONTINUE READING BELOW
Recommended Videos
JC Bonin
Then: A regular on That's Entertainment, he appeared in films like Bagets, Ninja Kids, Kamagong, and Cross My Heart and was generally considered a "crush ng bayan" cutie who was into martial arts and body building.
Now: Also known as Juan Carlos Bonin, he's stayed under the radar except for unconfirmed reports that he's now a pastor in London, England.
Gino Padilla
Then: Considered equal to Gary Valenciano, Gino shot to fame after he performed with Tina Turner in a Pepsi commercial and sang the catchy Close-Up toothpaste jingle, "Closer You and I".
Now: After an attempt to make a comeback in 2007 with an inspirational album titled Hands of Time, he's back to managing a family-owned security agency.
ADVERTISEMENT - CONTINUE READING BELOW
Kristina Paner
Then: Played one-third of an unofficial trio made up of young female stars, together with Manilyn Reynes and Sheryl Cruz. Tina Paner was a regular on That's Entertainment, Ora Engkantada, and Wanbol High, a spin-off of Iskul Bukol. She also sang "Tamis ng Unang Halik".
Now: Living in Barcelona, Spain, she's married, and has a daughter named Lucien Kristiel. Tina now works in a bank and occasionally produces shows featuring showbiz friends for the Filipino community.
Tiffany
Then: Sang hits such as "I Think We're Alone Now," "All This Time," and "If Love is Blind." The redheaded pop star was the youngest female artist to debut at number one on the Billboard charts. She sold four million copies of her eponymous debut album, briefly dated Jonathan Knight of boyband New Kids on the Block, and was the voice of Judy Jetson in the cartoon series, The Jetsons.
Now: Tiffany resurfaced after releasing two dance albums, Dust Off and Dance (2005) and Just Me (2007). She is currently delving into acting, appearing in two movies (The Isolationist and Necrosis opposite Heroes' James Kyson Lee).
Danica McKellar
Then: Played Winnie Cooper, the object of Kevin's (Fred Savage) affection on The Wonder Years. The nostalgic, teen-oriented TV series aired for six successful seasons until 1993.
Now: After graduating summa cum laude majoring in mathematics from UCLA, the former child star wrote two best-selling books namely Math Doesn't Suck: How to Survive Middle-School Math without Losing Your Mind or Breaking a Nail and Kiss My Math: Showing Pre-Algebra Who's Boss. She recently tied the knot with her longtime composer boyfriend, Mike Verta.
ADVERTISEMENT - CONTINUE READING BELOW
Robby Rosa
Then: As frontman of the über-popular Puerto Rican boyband Menudo, this '80s teen heartthrob drove girls wild when he performed "Please Be Good to Me," "If You're Not Here (By My Side)," "Explosion," and "Like a Cannonball." He only stayed with the group for three years (because of the band's age requirement) and pursued a solo career afterwards.
Now: Robby is known for writing songs for fellow Menudo alum Ricky Martin ("Livin' La Vida Loca," "Shake Your Bon-Bon") and Julio Iglesias, but he is a successful Latin solo artist in his own right. He is happily married and has two sons.
Tiffany Brissette
Then: A child actress best known for playing V.I.C.I. the Robot in the '80s family sitcom, Small Wonder. Robotics engineer Ted Lawson created the super-strong android and attempted to pass her off as his 10-year-old daughter.
Now: Bid farewell to showbiz after the series ended. She was a nanny and an experimental dancer, and is now a nurse residing in Boulder, Colorado.
Jonathan Ke Quan
Then: Made his big-screen debut in 1984 as Short Round, Harrison Ford's adorable sidekick in Indiana Jones and the Temple of Doom. The following year, he appeared in another Steven Spielberg adventure-comedy flick, The Goonies.
Now: Presently a martial artist and a stunt coordinator in Hollywood, Jonathan helped put together the action sequences for X-Men and The One.
Artwork by Yoni Veloso.
Share this story with your friends!
---
Help us make Spot.ph better!
Take the short survey
Load More Stories