Helium Club: Love 'em or Hate 'em?
The Helium Club members come clean on why they chose to do the show–and whether they really care if people think they're full of it.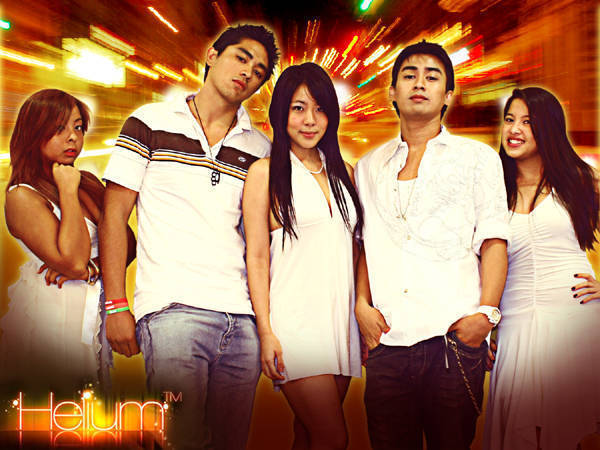 The Helium Club: (L-R) Tara, Martin, Kristine, JV, Bianca
It's the five-minute online trailer that's got brows raised, eyes rolling, and tongues shooting out snark and sarcasm at warp speed–that of The Helium Club, a locally made reality show that follows "the excess [sic, excesses] of society's" five of Manila's self-proclaimed "newest powerhouse of this era," scheduled to make its premiere on the web this month [or whatever's left of it]. The series, which unabashedly declares itself the "world's first reality series on the internet," has college student Quinito Villarosa to thank (or to blame? You decide) for its conception.
Carlos Celdran in his blogpost eliciting 63 mostly incensed comments says "This show packs in some of the most amazing faces, fashion, music, and grammar produced by this country of 7,107 islands in a long long while...Their copywriter should be fined for assault and battery on the English language, while the entire cast could be flogged for the improper use of the words 'Prada,' 'Dude,' 'Hell, yeah' and 'Rustan's.''' Celdran admits "it's worth finish[ing] the trailer just to catch soon-to-be-classic phrases like: 'Cats are better than men,' 'You snooped on my planner' and 'It just comes natural.' Finally, it's all wrapped up with a photoshoot with BryanBoy (Does he even know he is in there? Yikes). I mean, what's going on? Is this a joke? It must be a parody of Manila's 'high society' because endless shots of chubby Filipinos chowing down on North Park as they twang in worsh worsh just isn't ghetto fabulous, if you know what I mean."
ADVERTISEMENT - CONTINUE READING BELOW
Sporting awkward American twangs during inane conversations about Chanel and LV bags was guaranteed to get them some major online bitch-slapping, so why would anyone in their right mind choose to be part of The Helium Club? Surely, anyone who's got their heads screwed on right wouldn't subscribe to this brand of hoopla.  
Money. For sure there's got to be cold hard cash involved, maybe even a ton of swag. Who can refuse food and clothes gratis? You'll be surprised to know that there's none of that good stuff in the picture. Quinito admits that although they're hoping to bag a few benefactors and go the sponsored route in the future, as of now, they're on their own. Materially, these kids get zip.
CONTINUE READING BELOW
Recommended Videos
Each of them is still set to get something out of it, though. Tara, an aspiring singer who in the past did get her own 15 minutes (more like 15 seconds) of fame, is the first to admit her own hidden agenda. "I want to use it as a tool to get my music out there," she says. JV, the Fil-Am hoping to break into the local music scene, admits the same. Bianca, the now Manila-based probinsyana confesses that this could be just the thing she needs to boost her event-planning career.
The bulk of each one's reasoning, however, goes along the lines of "I want to prove (insert apt no-one-understands-me, angst-laden comment here)". Party girl Kristine is out to prove that (gasp!) she's one socialite who's got a brain to back her bod. Martin, the Alabang-bred athlete, is just dying to show the world who he really is beyond the dumb jock stereotype. JV's set on proving he's more Fil than Am. Tara's out to protest her spoiled little rich girl persona; Bianca seeks to break the damsel-in-distress probinsyana image.
ADVERTISEMENT - CONTINUE READING BELOW
When asked why they were cast to be on the show, Kristine says, "Quinito cast us. None of us auditioned, because we possessed certain traits that would look good on camera and for the show. Our lives were interesting enough to be videotaped."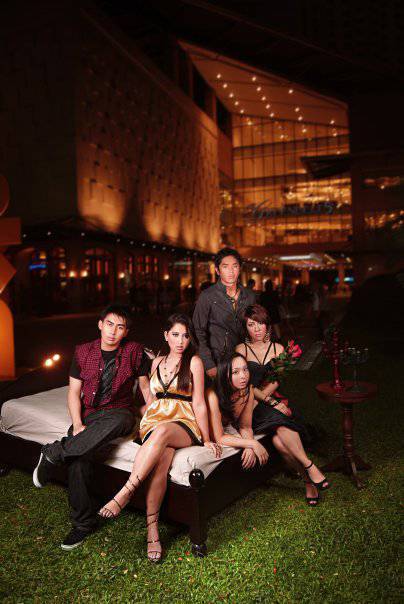 In bed in Greenbelt 5 (L-R): JV, Bianca, Martin, Tara, Kristine
And how do they react to comments like, "Sino ba kayo?" and "Bakit ba ang 'feeling' niyo?"

Bianca: I don't know, like, who are they to say that to us also? I don't know, siguro, just wait and see, baka maging interested din sila.
Kristine: We're trying to be not affected because their accusations, we know that they are false. Do you know who we are? You shouldn't judge us.
Tara: Lumabas na yan eh, sa Philippine Star. Sabi ko, ''feeling' naman talaga ako eh', I'm, not denying that, I'm really 'feeling.' This is Tara by the way, and I'm really 'feeling' pero at least carry ko yung pagka-'feeling' ko. And inaamin ko. Inaamin ko naman na 'feeling' ako, diba?
ADVERTISEMENT - CONTINUE READING BELOW
What kind of upbringing did they have?
Quinito: Everybody in the show, all the characters that you see on the show, are what they are in real life and how they are inside the family, inside the corners of their home, how they really are with their family. So I think, their upbringing, what you see on cam, is what they really are behind closed doors. Nothing really changes. It's pretty much more like, you don't really see how they interact more with their family kasi we have less family issues with some, and then the others are opening up more. So it really depends on the character.
Bianca: I had a very protected upbringing, 'cause like, I'm from the province so it's very different compared to here. Medyo conservative but like, when I came to Manila for college, my parents gave me the chance to be more liberal. They gave me a chance. That's what I'm showing here. I'm showing that with the freedom my parents are giving me, I'm not abusing it, but I am doing what I want to and I'm having fun. I mean, it's fine with them, as long as I know how to control myself and that's exactly how I am. I mean, I go crazy sometimes but then still controlled in a certain way.
Tara: Basically, my parents have always been very reasonable with me and they've never been strict or conservative. The best thing, I tell my parents, about being lax in disciplining me, is that they like seeing me make mistakes for myself and correcting them on my own. So I feel that I grow in that way.
ADVERTISEMENT - CONTINUE READING BELOW
Martin: Pretty much the same, pretty original, 'cause it's a reality show so whatever my parents would show me, it's the same.
Kristine: Since I was brought up in a very strict home, I have very strict morals with regards to how to behave in the outside world so I put my guard up and I take care of myself in such a way that I know what I'm always doing.
Whether you are curious to see if they succeed, or are waiting for them to fall flat on their faces, we think you'll probably be tuned in, just to see if The Helium Club can actually stay afloat.
Episode one is supposed to air this week on The Helium Club page on Facebook.
We'd love to know what you think. Post your comments below and vote in our poll in the HOME page.
Share this story with your friends!
---
Help us make Spot.ph better!
Take the short survey
Load More Stories