"I am a Quiz Night addict!"
For eight weeks running, I have ditched my nine hours of beauty sleep on Tuesday nights for Quiz Night, a.k.a. stress relief: guzzling a below-zero beer, scarfing a juicy burger, and making new friends.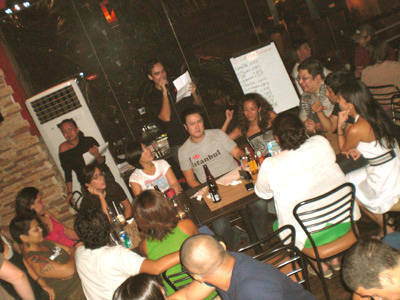 In the middle of Quiz Night at 121, thinking caps on
Tuesdays for me are like Fridays–a late night of fun. For over a year, on and off, I trooped to Murphy's Pub in Legaspi Village to contribute trivia and seemingly useless knowledge reposing in my subconscious to those of my teammates in answering 10 rounds of categories ranging from history (my fave!) to sports (annoying!). Our team, known as Entourage, enjoyed ourselves but never won one of those nights. We'd place second or third on rare occasions, but there's no glory in that (and no Murphy's Sunday brunch G.C.s as prizes either). When my gal pal Nat, who rounded all of us up, moved to Copenhagen, I stopped going.
The hiatus didn't last long. My good friend Bobby adopted me into this motley crew he played quiz night with at 121 on Pasong Tamo since February–the Angel's Angels team. I balked at going–Quiz Night, also on Tuesdays, had a late start at 10 p.m. and ended at 1:30 a.m. But I was, am and will always be, a nerd, so I showed up.
For eight weeks running, I have ditched my nine hours of beauty sleep on Tuesday nights for Quiz Night. Ironically, the happy riot of Quiz Night is stress relief, guzzling a below-zero beer (Yes, I love my beer), scarfing a juicy burger, and making new friends while throwing high-fives all around for that hastily scribbled yet perfect answer on the whiteboard. And I was finally part of a team that won and had fun while we were at it. The prize: P1,000 (for next week's drinks tab). Priceless: bragging rights (which I am exercising now through this post) and a 5 x 7 photo of the winning team on the 121 wall.
ADVERTISEMENT - CONTINUE READING BELOW
So here's how to win at quiz night (and have fun too!):
Welcome diversity.
Unless one of you is a walking encyclopedia, diversity in age, background and interests serves your team well. Thanks to the 40-somethings (uh, guess who?), we knew the Israeli Prime Minister who signed the peace accord with Jordan's King Hussein I in 1994 (Yitzhak Rabin). We boosted our score by valuable points when Vanessa and Barni, the "younger" ones, named the cartoon Murky was a villain in (Rainbow Brite). Thanks to Hasnain, we nailed the question "How many days difference is there between the Islamic calendar and the Gregorian calendar?" (11 days). Michelle's food knowledge came in handy; she named the popular Austrian candy brand that had peppermint as its first flavor (Pez).
CONTINUE READING BELOW
Recommended Videos
Pay attention to "current" events.
The movie you watched over the weekend or the news item you happened to skim on the Internet could merit a question in the General Trivia portion. All of us had watched Star Trek: The Future Begins. We knew that Capt James T. Kirk's second name came from his grandfather Tiberius, but no matter how much we wracked our brains until the clock ran out, we couldn't remember what his father's name was (George). Aaargh.

Huwag maging dayuhan sa sariling bayan.
Know your Philippine history and geography. It was embarrassing to realize how Manila-centric I had been, not knowing the answer to the capitals of some Philippine provinces. (Ilocos Norte? Laoag. Lanao del Sur? Marawi). We Pinoys on the team were shocked that Carlos, who's from Spain, knew the name of the place next to Maguindanao that was declared a province in 2006 (Shariff Kabunsuan; although its province status was revoked by the Supreme Court in 2008).
ADVERTISEMENT - CONTINUE READING BELOW
Dig into your own Slumdog Millionaire moments.
You can make like Jamal Malik by tapping into your life's experiences. I guess we all played hooky the day the nuns decided to lecture us on the saints so when the question "Who is the patron saint of dogs" came up, it was Bobby to the rescue. He remembered being a kid walking with his Lola, and when they encountered a dog furiously barking at them, Lola told him to pray to San Roque.
Don't take it too seriously.
The race among teams can be so close, and you'll be amazed at how competitive it is. But when the last round ends and the scores are tallied, we don't protest or demand recounts. The winning team gets everyone's congratulations and I head home knowing we all enjoyed and that better yet, there's always next Tuesday.
–Lara Parpan is Editor-in-Chief of Women's Health magazine
CATCH
Quiz Night every Tuesday
At 121, Allegro Center, 2284 Pasong Tamo Ext. (by Dasmarinas Village),
Makati City
Tel: (02) 856-0529/ 386-9224
Facebook page: 121
Share this story with your friends!
---
Help us make Spot.ph better!
Take the short survey
Load More Stories